Hey guys, it's Alastair here from Trail and Kale, and I'm thrilled to share my experience running with the Brooks Cascadia 17 trail running shoes over the last couple of weeks.
Being an avid trail runner, I've tried various iterations of the Cascadia in the past, and let me tell you, version 17 is something really special!
In this Brooks Cascadia 17 review, I'll be going over the key specifications of these all-terrain trail running shoes, what I really like about them, what could be improved, and finally whether I believe they're worthy of becoming a part of your running gear.
Let's dive into the details!
The key specifications of the Brooks Cascadia 17
Usage: Brooks' premier all-terrain trail-running shoe – stability, soft cushioning, and protection from the elements.
What's new: The latest updates include enhanced all-terrain stability, improved traction, and lightweight cushioning — all designed to keep you comfortable mile after mountainous mile.
Price: $140 at brooksrunning.com
Weight: 11.4 oz (323g) for a size US(M)9 (my pair)
Drop: 8mm
Toe box width: medium
Midfoot width: medium
Stability: Neutral
Cushioning: medium cushioning
Sustainability: over 50% recycled materials in the upper and nearly 10% plastic bottles diverted from landfills.
---
Brooks Cascadia 17 Sizing and Fit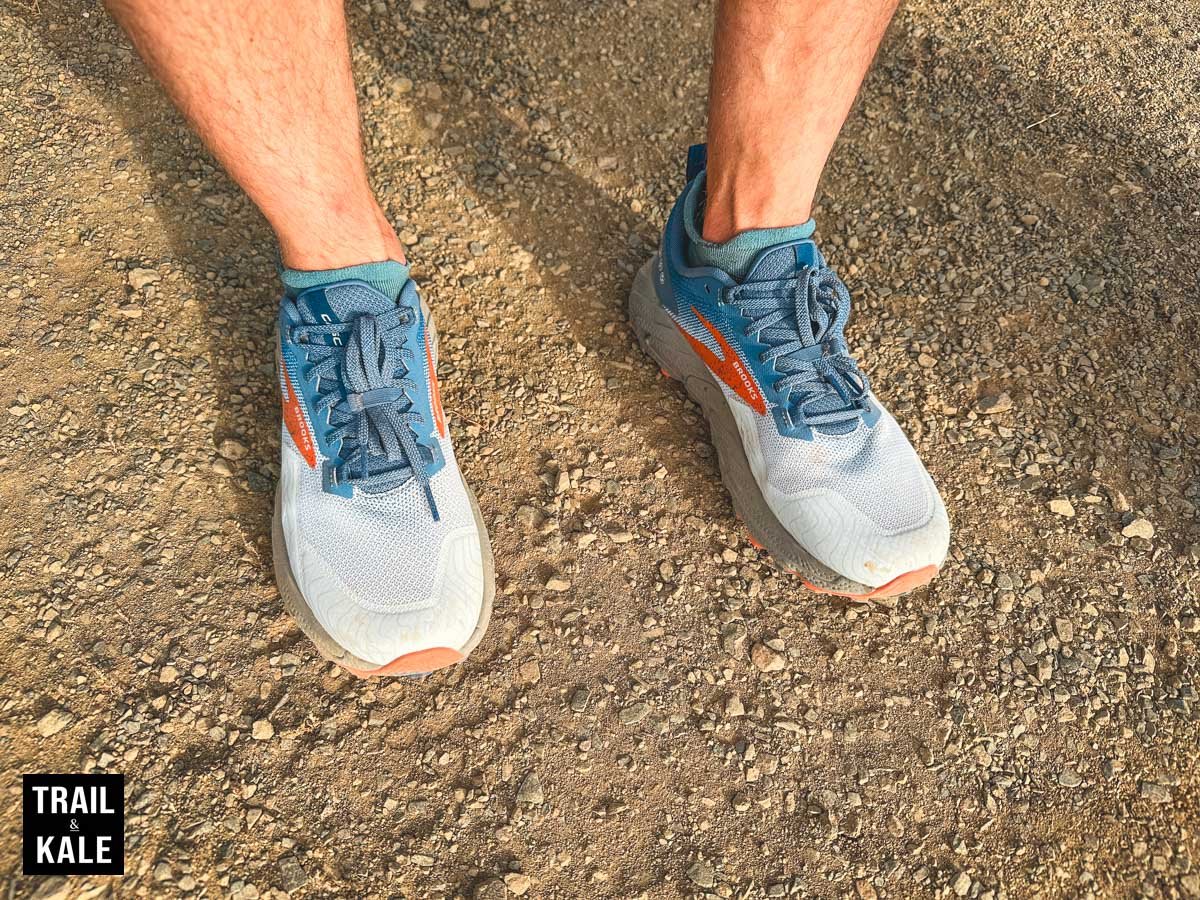 If you're wondering about the fit, I can confirm that these trail running shoes do indeed fit true to size and the medium width accommodates average-sized feet perfectly.
So, go with the sizing you are used to for Brooks and other running shoe brands including HOKA, On, and Salomon, and you won't be disappointed.
Comfort is an important factor when Brooks come to designing running shoes, and the Cascadia 17 makes sure your feet feel great even on those longer trail runs.
Key Features Worth Knowing About
1. The Upper
The Brooks Cascadia 17's upper is a well-thought-out design with functionality and comfort at its core.
The upper is made with a super breathable mesh, providing excellent airflow to keep your feet cool during those hot trail runs. Its flexibility ensures it molds to the shape of your foot, delivering a snug fit without constricting your movement.
One of the key features of the upper is the solid heel cage that locks your heel in place, providing extra stability during your runs.
This helps to align your foot properly, reducing the risk of injury and allowing for a more confident stride.
Further adding to comfort is the low height around the collar and counter areas, ensuring that your ankles are comfortable and free from pressure.
This design can significantly reduce the chance of irritation, allowing you to focus on the trail ahead.
2. The DNA LOFT v2 Midsole
Brooks' Cascadia 17 brings a new level of cushioning with the DNA LOFT v2 midsole. The cushioning is medium but firm, offering a perfect balance that caters to both comfort and responsiveness.
Whether you're hitting rocky terrain or soft trails, the cushioning adapts to the surface, providing support and absorbing shock.
Adding to the midsole's performance is a plastic plate that protects your feet from sharp rocks or other gnarly objects on the trail.
This plate not only provides protection but also helps the shoe adapt to varying terrain. It's a feature that lends stability and ensures a comfortable run, even on the most challenging trails.
Brooks has even offered a window into the plate within the midsole, an aesthetic touch that showcases the innovation behind the design.
It's a little reminder of the technology working beneath your feet as you conquer the trails, and I could really feel the support from this plate on my gnarly descents.
3. The Outsole
The outsole of the Cascadia 17 is designed for excellent traction, utilizing a unique rubber pattern with strategically placed lugs.
Whether you're navigating dusty paths, wet trails, or leaf-covered ground, the lugs grip into the surface excellently, providing plenty of stability and control.
The design is born from Brooks' experience with the Cascade range, and the outsole reflects their understanding of diverse and unpredictable trail conditions. It's a testament to their commitment to provide a shoe that performs across all terrains.
One look at the Cascadia 17's outsole and you'll notice the Jazzy rubber pattern.
It's not just about aesthetics; this pattern has been meticulously designed to offer the grip and control that trail runners need.
The Cascadia 17's outsole, combined with the innovative midsole and comfortable upper, truly encapsulates what a good pair of trail running shoes should really be doing: adapting to the unpredictable, providing protection, and delivering performance when it matters most.
4. Other Great Features
Priced at a very reasonable $140, the Cascadia 17 offers additional features like:
Gaiter attachment: Keeps debris out, especially handy on sandy or loose dirt trails.
Toe cap: Protects those toes from any unexpected encounters with roots and rocks.
Elastic stow strap: Keeps laces stowed away, tidy, and functional.
Also available in GTX and wide versions.
But wait… there's always room for improvement
I'll admit there's really not that much wrong with the Cascadia 17 especially considering they only cost $140, but I did pick up on one minor thing that could be improved.
It's a little on the heavy side
They're 11.4 ounces in weight which is around 320 grams which isn't the lightest trail running shoe by any means but they're a shoe that has a lot of cushioning and protection so I'd expect them to weigh a little bit more than some of those more minimal trail running shoes, and they're going to appeal to a lot of runners because of those benefits.
Brooks Cascadia 17 performance review (YouTube)
The video below shares my performance review, and how they actually perform on mountain trails. If you enjoy the video, subscribe to our YouTube channel for more running shoe reviews just like it!
I also created this short reel on Instagram which shows the wide variety of terrain I tested the Cascadia 17 on.
Are they worth your hard-earned money?
The Cascadia 17 costs $140, which I think is incredibly reasonable for a pair of trail running shoes that can essentially do it all.
So, yes they are totally worth buying in my opinion, especially if you're a beginner or intermediate runner who just wants a trail running shoe that can tackle anything, without worrying whether or not you have the wrong type of shoe for running on trails.
Many trail running shoes that cost more than $140 (that's most of them by the way) don't provide all these features, like the toe cap and gaiter attachment. So, you're really getting a lot for your money with the Cascadia 17.
---
Brooks Cascadia 17 review summary (rating with pros and cons)
Brooks Cascadia 17 review
PROS
The Upper is designed with breathable material, ensuring that your foot stays cool even during intense runs.
There's a solid heel cage in the Upper for added stability and alignment, keeping your stride in check.
The DNA LOFT v2 Midsole offers balanced cushioning, ensuring both comfort and responsiveness.
The plastic plate in the Midsole provides protection against rugged terrains and helps the shoes adapt to varying landscapes.
The Outsole provides excellent traction across various terrains, keeping you stable and grounded.
At only $140, they provide excellent value for money!
CONS
They could be a little lighter
Running with the Brooks Cascadia 17 is a true pleasure; from the protection and traction to the comfort and innovative features, these shoes are accessible to beginners and seasoned runners alike.
For $140, I honestly think these are some of the best all-terrain trail running shoes you can get your hands on.
So, if you're looking to conquer the trails in style, give the Brooks Cascadia 17 a try!
Happy trails and keep running strong!
---
Brooks Cascadia 17 Photo Gallery