Becoming a new mom is a journey, there's no doubt about that – it changes almost everything about your life.
If you ran before or during your pregnancy, you're probably keen to get back to running again after having your baby – I know I was.
Having a baby changes how and when you run, too, and so in this post I'm sharing tips for running postpartum based on my own personal experience of returning to running after having a baby.
Whether you've already had your baby and are looking for advice to help you return to running, or you're pregnant and contemplating how you'll be able to run once you've given birth, I hope these practical tips help you with your journey to reclaiming your me-time on the roads or trails. This post is in partnership with lululemon.
I lived in lululemon leggings, tops and hoodies throughout my pregnancy (yes, they stretched AND returned to their original shape after!), and walked miles in my lululemon Chargefeel workout shoes to stay active while pregnant.
I highly recommend them for the quality and durability of their apparel – not to mention they can help you look and feel great at a time when your body is going through so many changes and body confidence is so important to hold on to.
How soon can you run after giving birth
Because 'when can I get back to running postpartum' is the first question pretty much every mom-to-be or new mom runner wants answers to, let's touch on this now.
The answer is – you guessed it – it varies between individuals, and is going to depend on many factors including your childbirth journey, core fitness level and childbirth experience, as well as how long it takes for you to heal.
So, it's impossible to know just how many weeks or months it will take for your body to be strong enough for you to run again without putting you at unnecessary risk of complications.
For some people, that may mean just a few weeks, and for others, you may need to give yourself more time before putting it under the stress of running.
So, the sensible route is to check with your doctor before resuming running after giving birth – and exercise a healthy degree of common sense even when they do give you the all-clear.
Listen to your body and if it doesn't feel good, don't do it!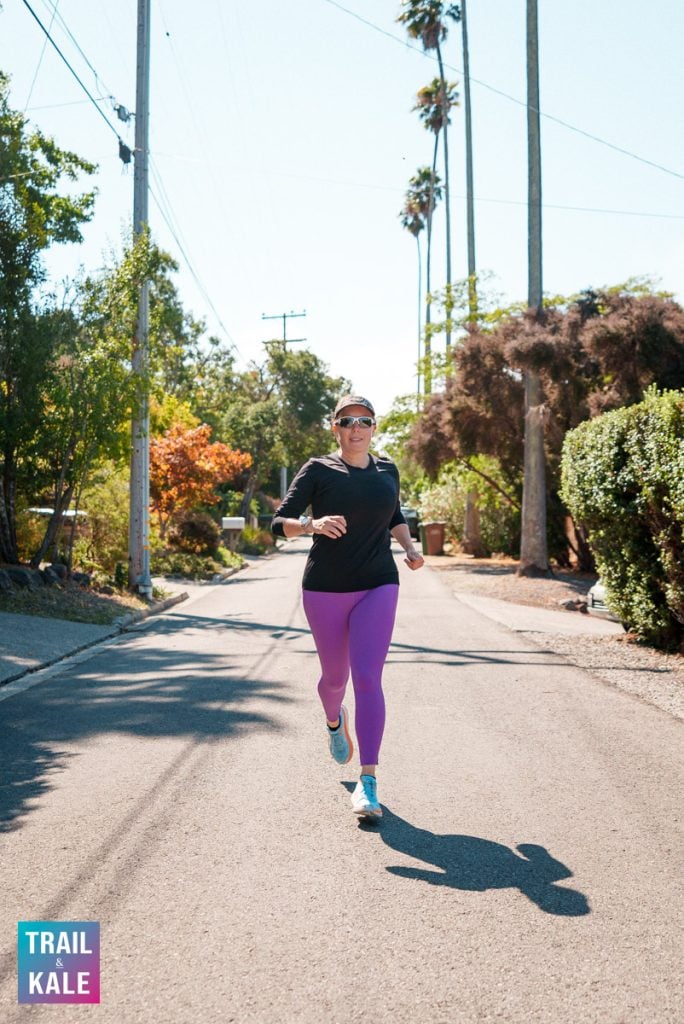 Why Running Postpartum is Different
It almost goes without saying that running postpartum is different to before childbirth.
It's not just different for your body physically, but also your mind, as well as the addition of practical considerations like when are you going to find time to run between balancing running with caring for a baby and your other pre-existing life commitments!
Accept (and embrace) the new normal
Running is important to you, and you shouldn't give it up or deprioritize your running once you become a parent – because your needs and fitness are important, for both your mental and physical wellbeing.
That being said, you may need to approach individual runs differently, and shift your perspective on what running means to you.
For many runners, myself included, getting out for a run – and even a very short, slow run – helps you feel more… YOU.
And at a time where your life seems dedicated to caring for everyone else but you, this is important to hold on to.
Plus, of course, running is great physical exercise, and can help with losing any extra weight you picked up during your pregnancy.
So the key is to find a way of making running a regular part of your new life – and that's probably going to require more effort and focus to make it happen.
Also acknowledge the effect of sleep deprivation
Sleep deprivation is real, and it's a game-changer. Running on little sleep can feel like running through mud.
But you know what? Even a 10-minute jog can shake off some of that new-mom fog and give you a boost.
To help make it happen, consider getting out on a quick, short run first thing in the morning, before you shower.
If, like my baby, your baby is still quite sleepy after their first morning feed, and you have a partner or someone who can keep an eye on them, first thing in the morning is a great time to get that run done, while you're as 'fresh' as you can be from whatever sleep you managed to catch.
Tips to enjoy running postpartum
1. Be kind to yourself and set realistic goals
Many women run during their pregnancy, but most don't run for all of their pregnancy.
What running you do while pregnant is another thing that varies significantly between women, based on how you feel, your health during your pregnancy and whether you actually felt like running.
It's ok to not feel like running during or after having your baby – your body is (or has recently been) busy growing a small person, after all – and it won't be doing that forever!
For example, I ran regularly until I was around five months pregnant, then found the baby put so much pressure on my pelvic floor and bladder that it was no longer comfortable or enjoyable.
Instead, I switched to mostly static cycling (on my Peloton bike) and hiking for the remainder of my pregnancy, knowing that I was doing the right thing for my body.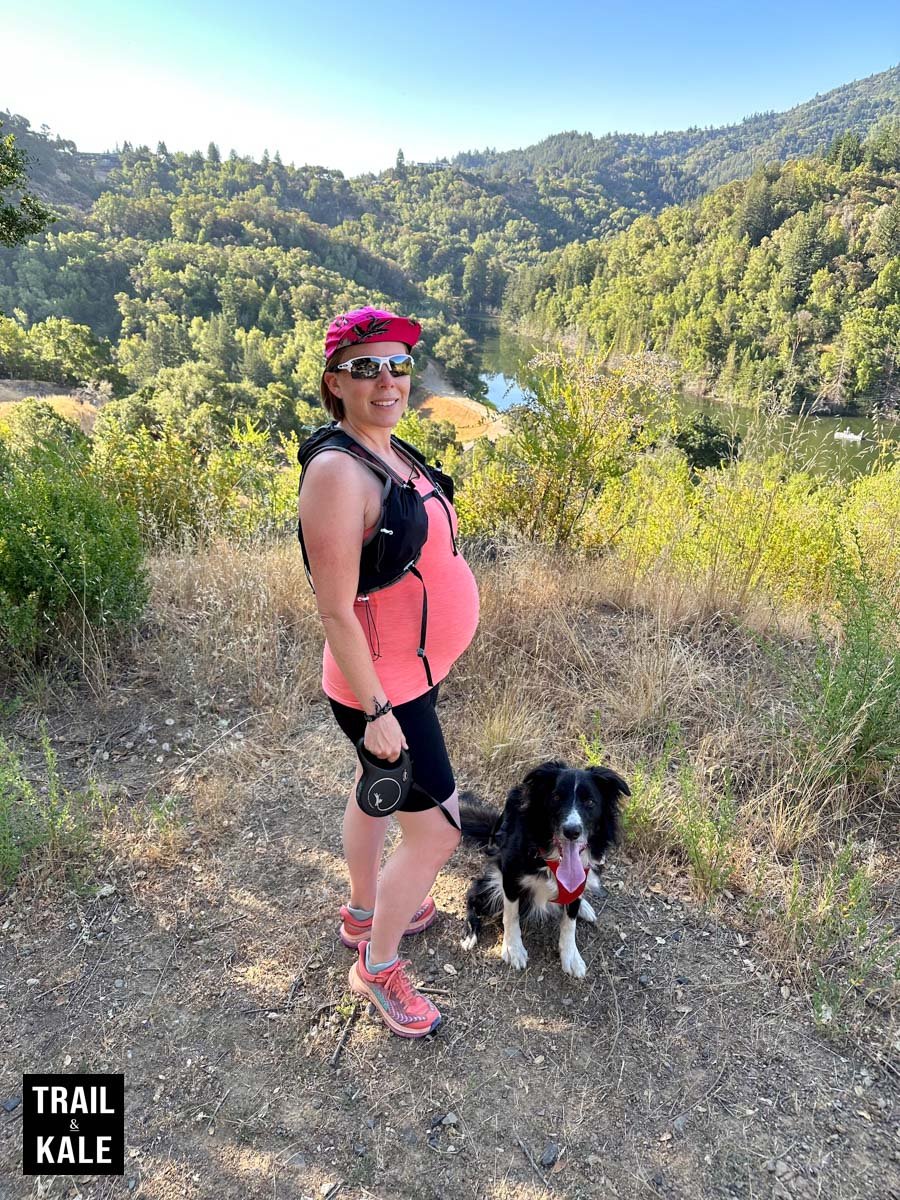 This means that on the date I gave birth, I had hardly run for four months – and before that, my pregnant runs had been slow, short and easygoing – so that's at least eight, if not nine months where I either didn't run intensively, or at all.
However, it also meant that I hadn't put my pelvic floor under too much stress while pregnant, and I believe that contributed to a speedier recovery after giving birth.
Whatever your choices, it's fair to say that at some point, every new mom is going to have at least a few months where you didn't run much.
So, when you get back to running, be kind to yourself.
Like any break from running, injury-related or otherwise, start back into it slowly and set yourself some achievable milestones.
Post-baby, I had to recalibrate what a "good run" meant. It wasn't about distance or speed anymore; it was about getting out there. Setting achievable goals that give you something to strive for, without overwhelming you, is a good idea.
Consider doing a Couch to 5k training program, to help you slowly rebuild your mileage and running duration.
Wait to do your speed training and long runs, too (as those can place more strain on your body) – give yourself some time to get back into condition and build up your core strength before putting your body under pressure.
It also helps to remember this great saying, 'comparison is the thief of joy'.
Think about it. Don't assume every runner you see on Instagram or speak to was back setting PRs and racing hard two months postpartum.
Even if they were, they made that choice and who knows if it's the best choice for them – they're different to you so it pays to avoid making comparisons which may be unhealthy, mentally and physically for you.
2. Celebrate small wins
Like with any fitness journey, it's important to acknowledge progress, no matter how small.
Manage to get out the door between feedings and naps? Another win.
Run for 10 minutes without stopping? That's a win.
The small victories add up, and each one is a stepping stone to your bigger goals.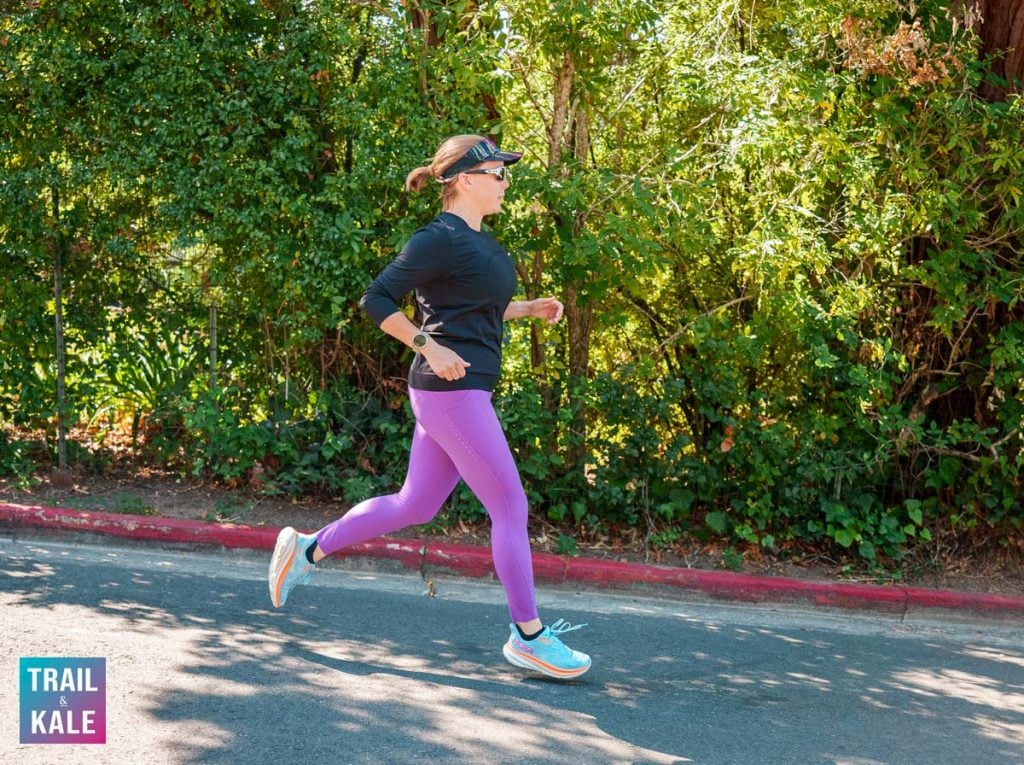 3. Gear up in comfortable, supportive running clothes
Pregnancy irreversibly changes your body. Your hips change. Your waistline may be different. Your breasts are almost certainly different, too.
All that said, your running wardrobe could probably do with a refresh. Remember that feeling you get when you step into a comfortable, flattering, supportive new running outfit?
Treating yourself to clothes that fit and will perform and support you when running can make a world of difference to how you feel for those first postpartum runs.
Plus – you can wear them for walking, yoga, hiking and other core and cross-training workouts, too.
My go-to running leggings have for a long time been lululemon's Fast and Free running tights, which provide excellent coverage, support and breathability, including a high waist that holds everything in and a flattering silhouette.
You can get them in a classic black or variety of limited edition colors (check the current availability on lululemon's website). The specific style I'm wearing in the photos throughout this post is the 'Fast and Free High Rise Tight 25″ With Pockets' – the leg pockets are super useful for everything from tissues to your phone and house key.
For more about why these running tights are my go-tos (as well as a comparison to other lululemon running leggings) read the best lululemon leggings for running and my in-depth Fast and Free running tights review.
4. Wearing a supportive sports bra is more important than ever
Particularly if you're breastfeeding or pumping, your breasts will look and feel different at least for the time you are breastfeeding.
So as well as an apparel refresh, post-baby most people's breasts need a more supportive running bra to run comfortably postpartum than you may have done before becoming a mom.
Our guide to the best sports bras for running gives advice on choosing the best high-impact bra for running.
My personal experience is that while one of these bras was ideal for running before having a baby, I now choose to wear two bras, despite only normally being a C-cup. This is the only way to get the support I need without buying a very heavy-duty bra that I'm unlikely to find comfortable.
As an added bonus, wearing two bras also helps keep my chest warm, which helps reduce breastfeeding-related discomfort.
While not a long-term solution, in the early months of running postpartum and breastfeeding (or pumping milk), this works really well for me so may be something worth trying if you find one high-impact bra isn't quite supportive enough for you at this time.
5. Pump or breastfeed before you run
To help with breast comfort when you run, I highly recommend breastfeeding or pumping within the hour before you run.
Plus, it works out well with timing your run as you can feed the baby and put them down for a nap (for someone else to keep an eye on) before you head out.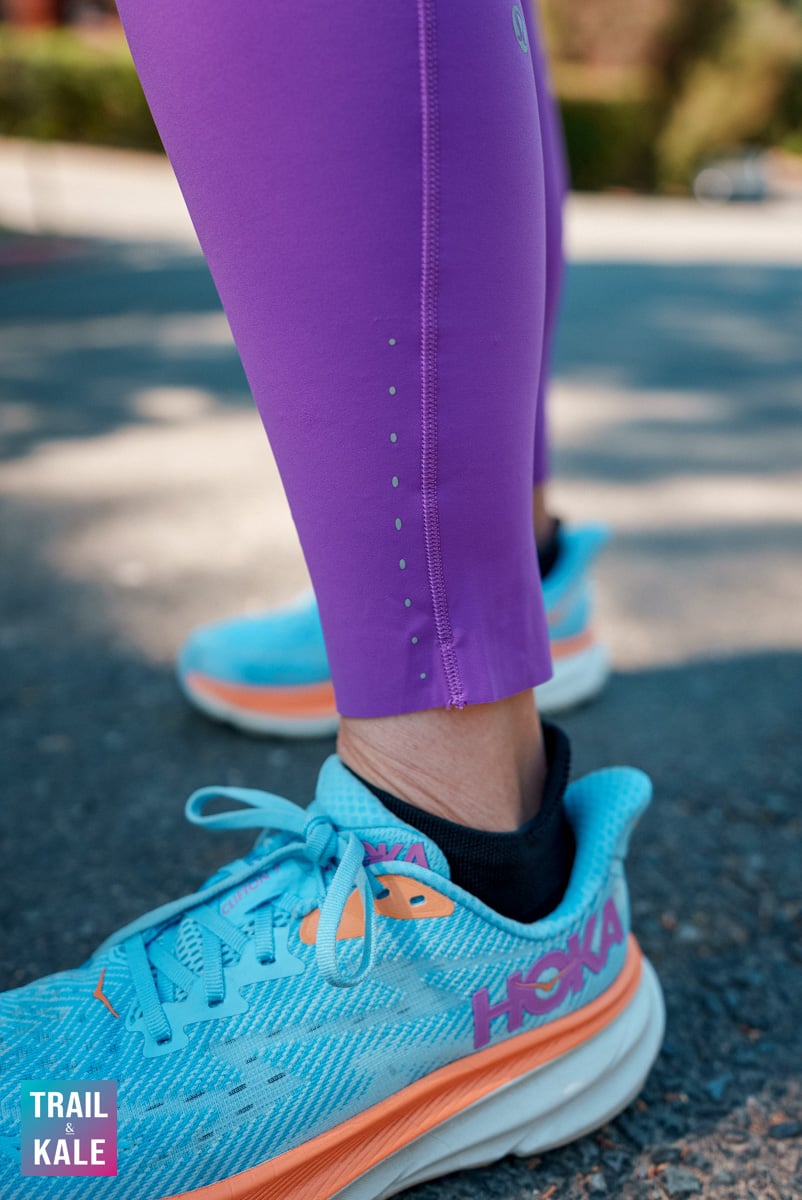 6. Check your running shoe size
As well as the rest of your body, pregnancy can cause some people's feet to go up half a size, permanently.
While not my experience, this is pretty common among new moms.
So check your running shoes still fit you, and if your feet are indeed larger, make sure you have a pair of trainers that fit your feet properly.
If you need new running shoes, our road running shoes and trail running shoes buyer's guides will help you find a great new pair.
7. Cross train and work on your core strength
As mentioned at the start of this postpartum running tips post, some women will need longer than others to recover from pregnancy and childbirth before you can run.
A key element of getting your body ready to be able to run again after childbirth is, for many women, working on their core and pelvic floor strengthening, as well as basic cardio – take guidance from your doctor or physical therapist to work out what's appropriate for you.
Activities may include regular walks with the stroller, hiking, yoga, pilates, and – assuming it's comfortable for you – static cycling.
8. A belly band may become your new BFF
Wearing a belly band is something I found helpful for walks and physical activities during my third trimester, and many women find them helpful postpartum, too.
My go-to was the Belly Bandit, which is essentially a wide, elasticated support band you wear around your hips and under your bump – it really helped with my posture and comfort levels.
9. Time management – how to find time to run
So perhaps you got this far into this post and are thinking, ok, but how do you find time to run?
I hear you. Perhaps finding (or should I say, MAKING) time to run can require a good amount of effort and creativity.
As mentioned above, you do need to be kind to yourself when it comes to setting expectations and goals, and that includes just how often and how long you can run at all.
In the first weeks after I started running again after giving birth to my son, I did a very short, slow, sub-20 minute run, once a week.
I went by myself, while my husband watched baby Seb, who was hopefully napping and stayed that way while I took 30 minutes out to run, shower and change afterwards.
I didn't choose the time of day – at that stage, the baby's nap/feed timings dictated when I could jump out for a run.
Yes, that meant that when it was approaching 100 degrees on a hot California summer's afternoon, I was going out for a run. Not ideal as I would not normally choose to run in that weather, but at least I got to run and the trails were quiet!
10. Involve baby – consider a jogging stroller
If you can't leave your baby with anyone to look after them while you run, consider taking them with you.
Once your baby gets to a certain age (as advised by your pediatrician but usually at least 4 months, if not 6 months or older), you can take them in a jogging stroller on your runs.
Before that age, depending on your doctor's advice, your choice of stroller and where you can take it to run, it may be possible to run with the baby in a carseat, which I have done with our Thule stroller and a carseat attachment that works with Seb's infant carseat.
Many parents find their baby likes to nap in the stroller, so this can provide you with more flexibility around when you run, and how long for.
While using the stroller limits where and when I run, I find it really enjoyable having baby Seb with me as I don't find myself wondering about his nap status while I'm out jogging him.
11. Know when to rest
As all new moms come to learn, your life becomes a cycle of windows of time between baby's feeding, changing and nap schedule (not to mention doctor's appointments and laundry…).
So when you do have scraps of time to call your own, you need to make a choice. Sometimes that may be to get out for a much-desired run, other times perhaps the best option is to rest.
However, you should always listen to your body. There shouldn't be a rush or pressure to get back to running more often, further or faster. Becoming a new mom is an exciting time that you should also try to enjoy and savor.
You may also be suffering from a degree of sleep depravation. So, make the best choice for you – and some days that could be to take a nap, or a warm bath, if that's what you need, more so than a run.
12. Stretch and recover
Making sure to stretch before and after your runs, as well as giving yourself five minutes to cool down and bring your heart rate back down is important for every runner, especially so a new mom who has had a break from running.
If you don't already have a good pre and post-run stretch routine, our guide to the best pre-and post-run stretches for runners will help with that!
You know what's also important for recovery? Drinking enough water and eating enough of the right food to fuel your body. Don't forget to do it!
---
I hope you found these tips for running postpartum helpful as you navigate becoming a mom and all the excitement (and life changes) it entails!
If you have other tips to help new moms get back into enjoying running postpartum, drop them in the comments – I'd love to hear them and I'm sure other readers will, too!