I'm really excited to be reviewing my first running shoe from the Craft Sportswear brand, the CTM Ultra 2, Craft's high-performance racing shoe. Their running shoes first hit my radar when I was scrolling through our Instagram, and a post from Tommy Rivs popped up.
Tommy has the most incredible comeback story by the way if you haven't read about it before – such an inspiring guy, and talented runner who is tough as nails and happens to run in Craft Sportswear!
I digress, but the point is, I saw him wearing Craft running shoes, and then started doing some research on the Swedish running brand.
I could tell just by looking at the silhouette of the CTM Ultra 2 that it would be a fast shoe with some similarities to the Nike Pegasus.
Oh did I mention it's also a door-to-trail running shoe too? This makes it perfect for road runners who also hit the gravel, or light trails from time to time.
Needless to say, I reached out to the brand to get my hands on a pair, so that I could put them through their paces – the Trail & Kale way!
And here I am, after weeks of testing, ready to finally put 'words onto web', to share my thoughts on this wonderfully 'crafted' running shoe (see what I did there? :oP).
I hope this Craft Sportswear CTM Ultra review answers your pre-purchase questions but if there's something I missed, or you have a question, feel free to leave it in the comments below – I'm a real person and love to chat about running shoes! 🙂
Right then, that's enough about the 'why?' I'm excited to review these running shoes, let's get into the details and, ultimately, my final opinion on them.
Craft Sportswear CTM Ultra 2 fit and design
Craft's CTM Ultra 2 fit is true to size so I would recommend going with your usual sizing and you should get the perfect fit. These particular Craft shoes are also consistent with other popular brands including On Running, Nike, and Adidas.
The CTM Ultra 2 has a medium-to-wide toe box and midfoot area, and provides just enough arch support, which I would classify as average (not too high, not too low).
It's extremely comfortable right out of the box and I didn't feel the need to 'break them in' at all. I put this down to the super lightweight, breathable upper material combined with a very flexible midsole.
The Craft CTM Ultra 2 has been engineered for speed for world champions and everyday heroes so I was a little worried that Craft may have sacrificed comfort a little in order to reach such high performance.
I can confirm, however, that they are super comfortable.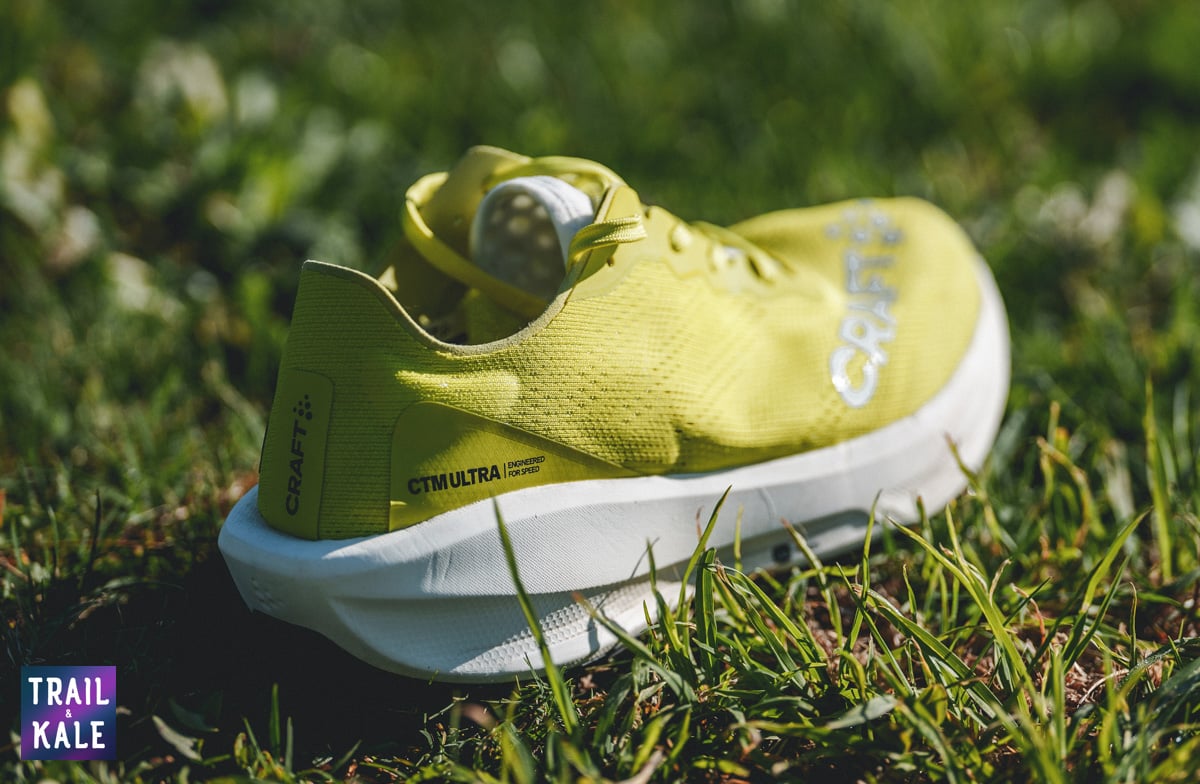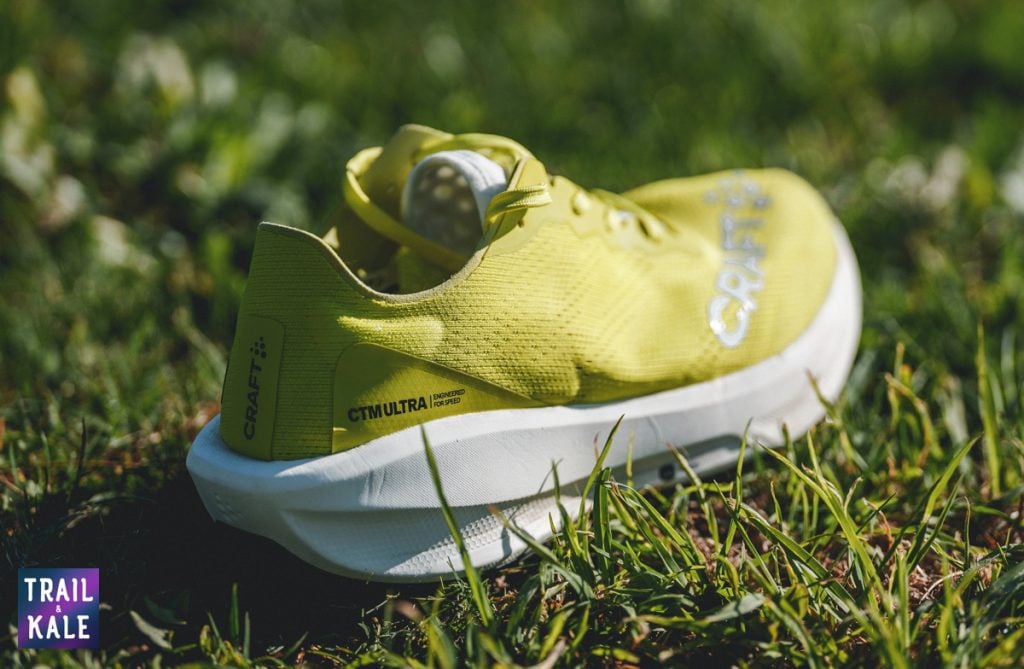 The one-piece engineered Upper is so lightweight and breathable
I really like the 100% polyester Jacquard+TPU no-sew one-piece upper. This is something that many running brands strive to create, and it's not easy!
It's not an easy thing to create an upper that's super lightweight, and at the same time very durable – those two features don't often pair well but Craft has managed to do a great job here.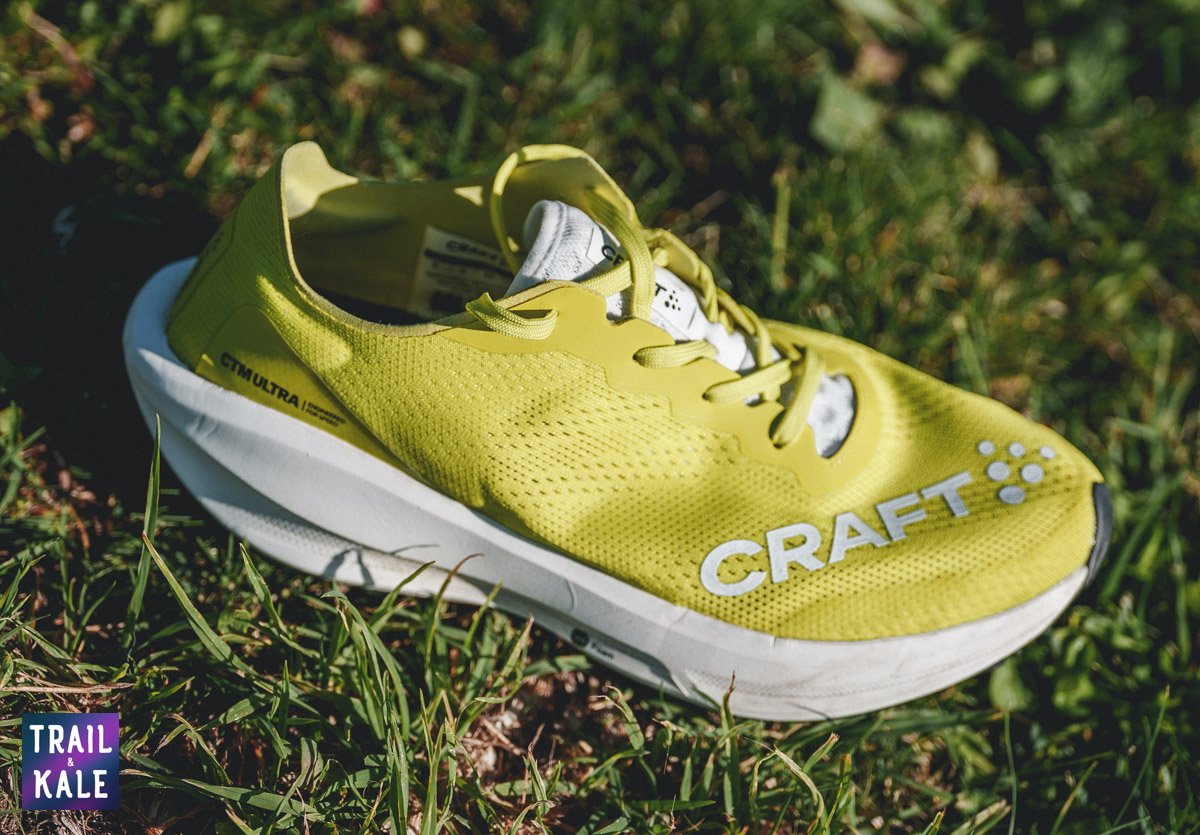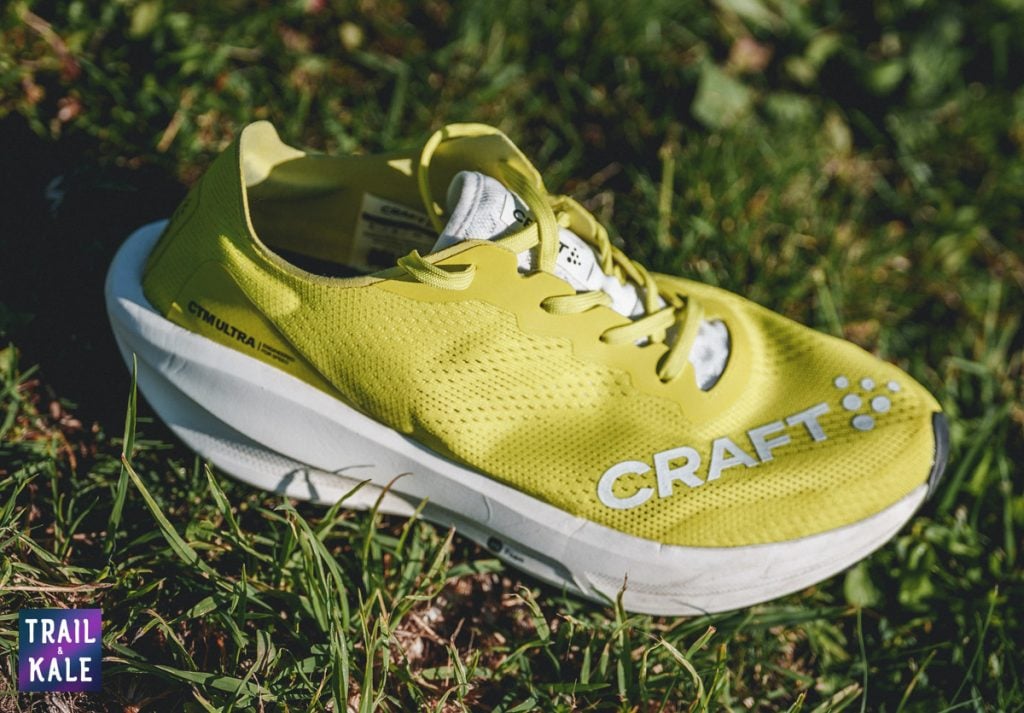 The upper is constructed from a single layer of material and has perforated holes cut out all over it, to help keep your feet cool when racing.
Good temperature regulation is an important feature to have when you're racing, as your core temperature will be much higher than during training runs.
The temperature of your feet will be even warmer also, due to the additional friction of moving faster than usual.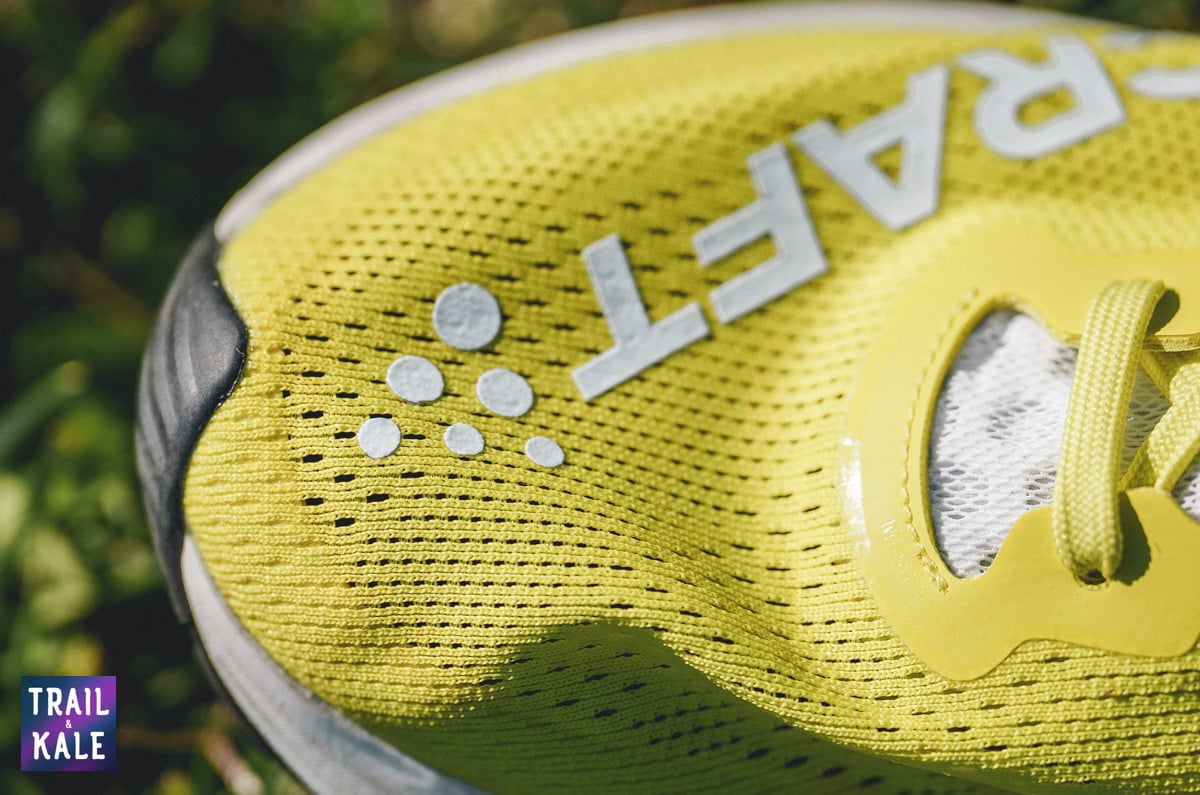 The CTM Ultra 2 isn't waterproof, however, so any rainwater will get absorbed into the material, and eventually onto your socks, or feet.
This is, in my opinion, a much better alternative to shoes that don't regulate temperature and let your feet breathe, however.
You shouldn't be racing in gore-tex or waterproof shoes anyway, they're heavier, and as I said before, don't breathe nearly as well.
The lacing system works well but for some reason, my pair of CTM Ultra 2's came with the last lace loop pointing inwards toward my feet – this makes them very difficult to pull tight.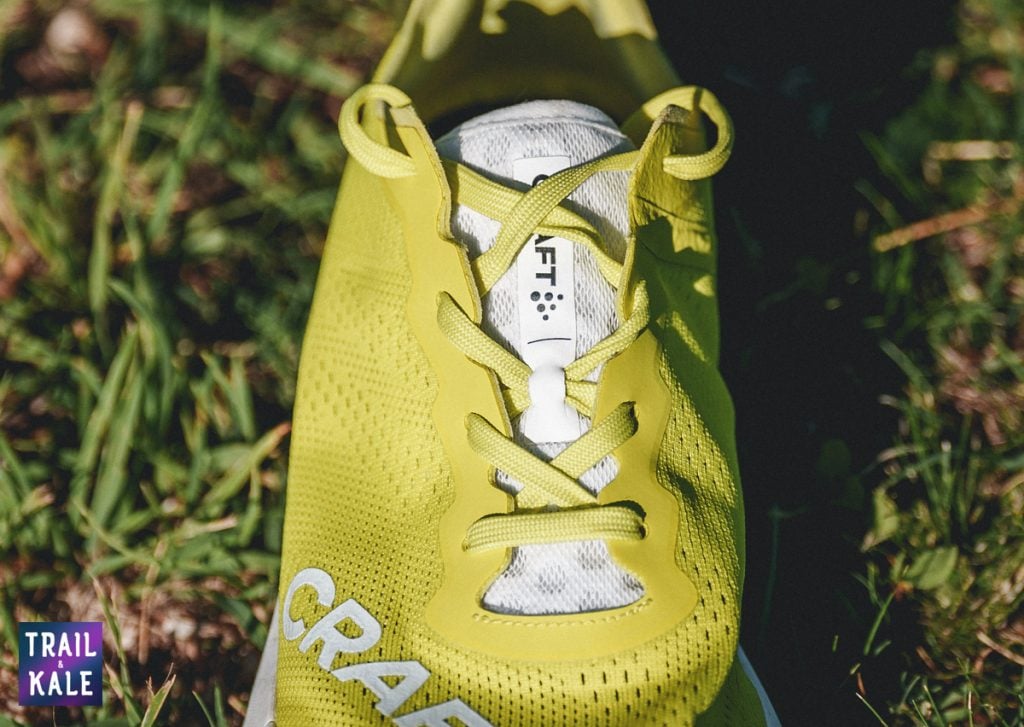 There's an easy solution to this if yours come laced the same way.
Simply remove the laces from the top lace holes, and feed them back through so that they poke out away from your feet, not towards them! 🙂
The laces look pretty standard but have a nice amount of stretch which gives your feet that little bit of extra movements and room to expand as they heat up while running.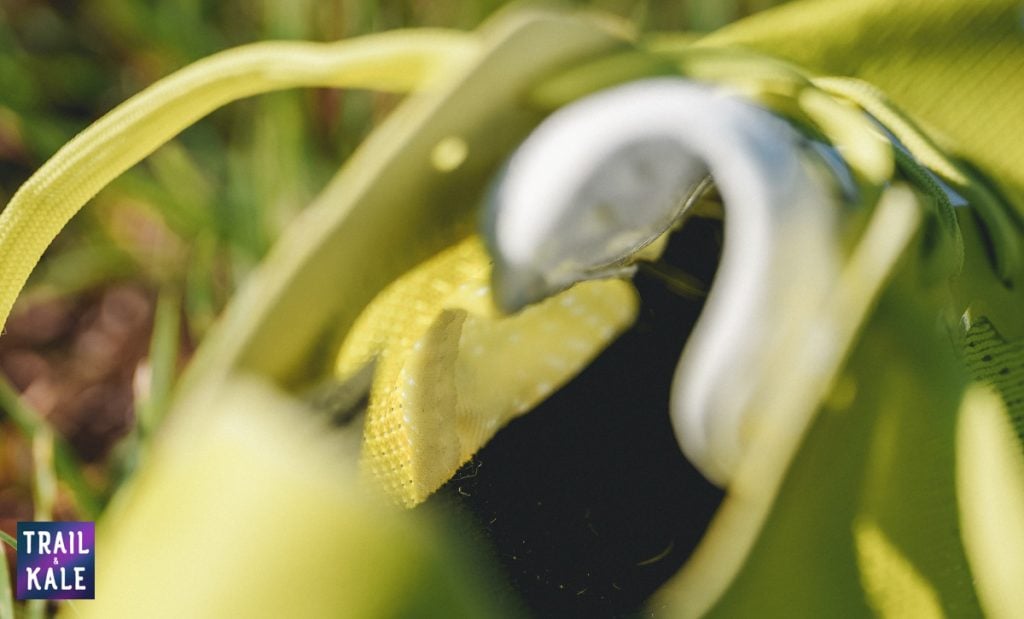 The tongue is nicely designed and is attached to the bottom of the upper, which creates a sock-like fit while pinning the tongue in place.
This feature means you don't have to worry about the tongue moving around mid-way through a run, or even worse, during a race.
The midsole is ridiculous, in a good way
The CTM Ultra 2's midsole is made with Ud Foam midsole which is essentially a softer EVA foam that's lightweight, has a high rebound, and is also durable.
The stack height at the heel is 40mm (30mm at the forefoot) for the men's shoe and 38mm at the heel (28mm at the forefoot) for the women's version.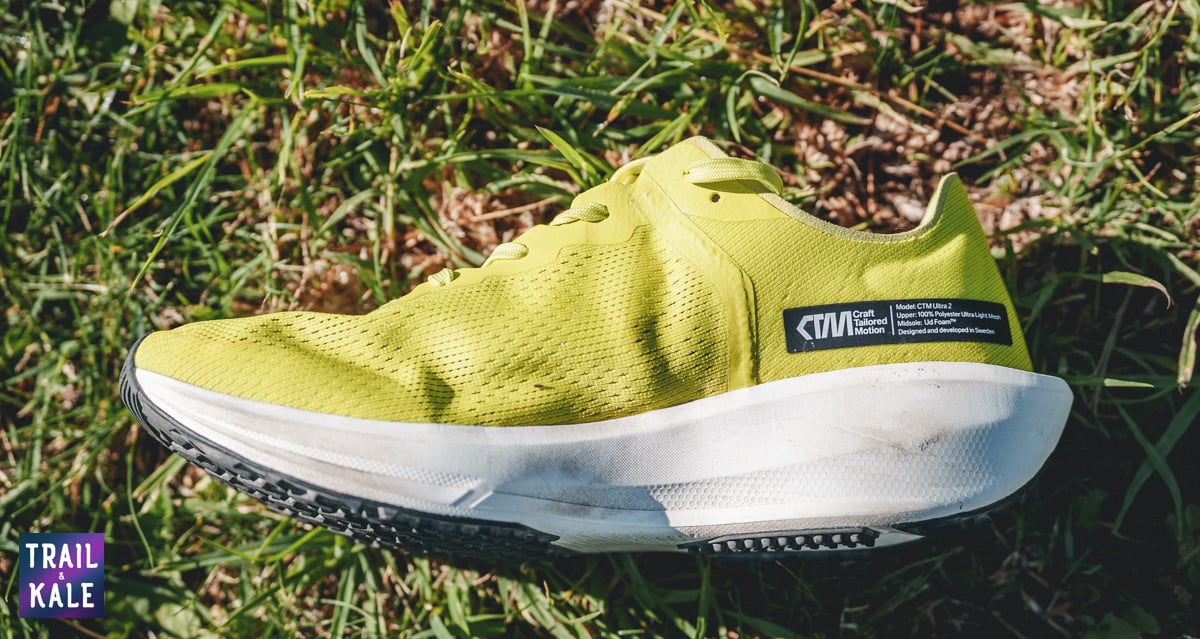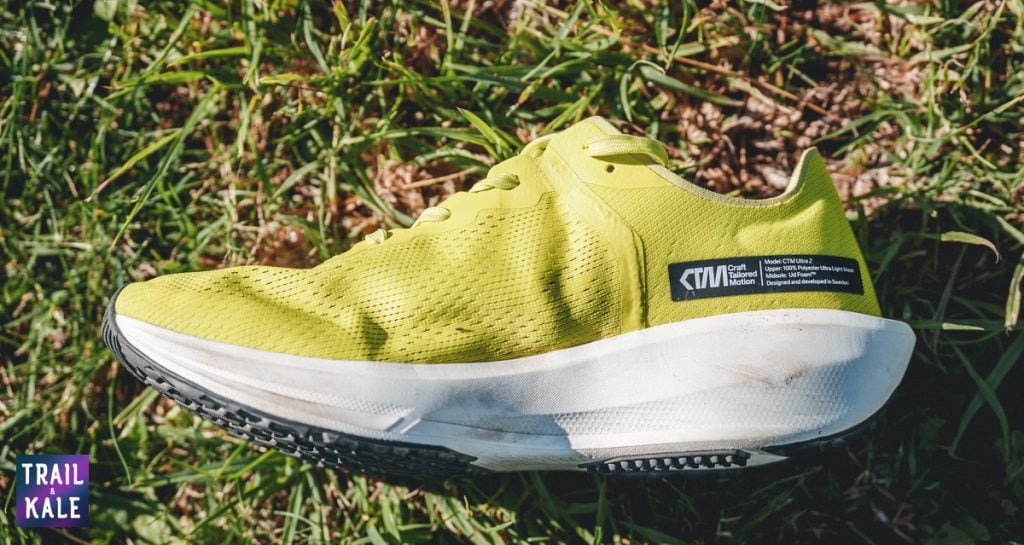 This stack height gives these door-to-trail shoes a drop from heel to toe of 10mm – some will love that, others not so much – and by others, I'm referring to those who would prefer to spend most of their time on technical trails.
A large stack height and drop can be conducive to lateral roll when navigating rocky, uneven terrain. Like I said, however, if you're running light trails then these are great for that.
This is great for road running and light, easy trails as it provides plenty of cushioning underfoot but I would consider it a little high for technical trail running.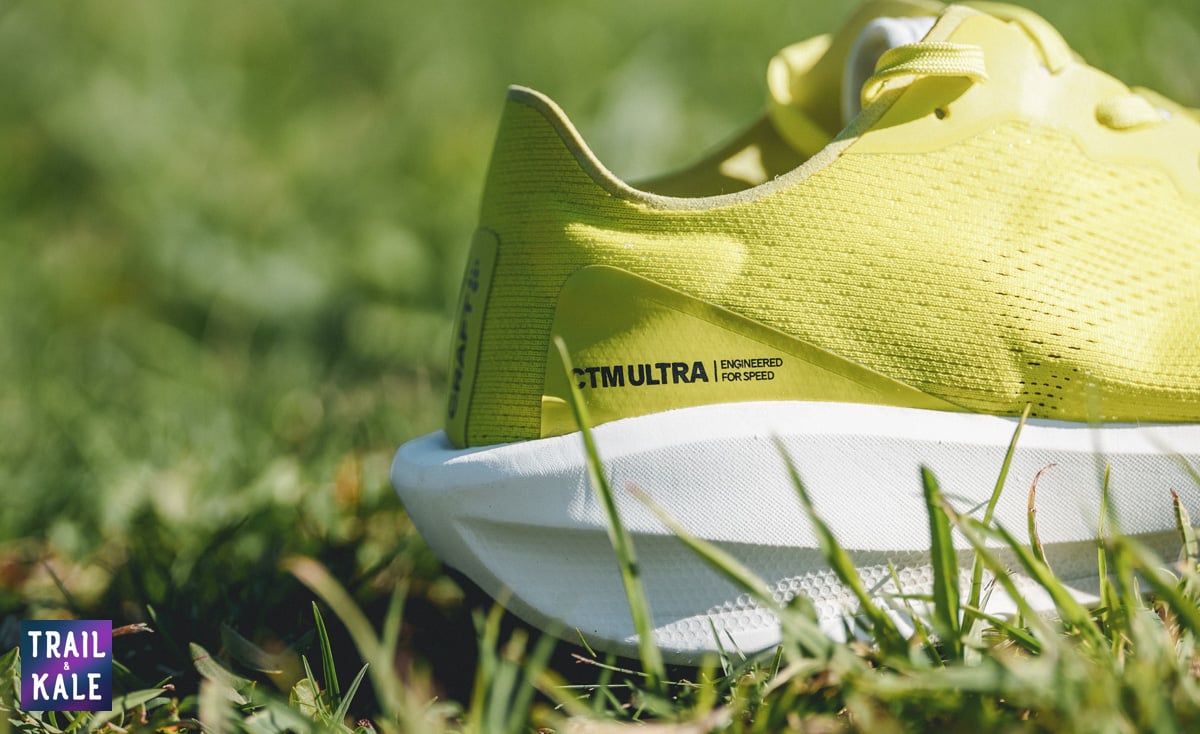 For those who don't know what stack height is, it's the height that your heel sits off the ground due to the thickness of the outsole, midsole and footbed combined.
Craft's Ultra Rebound insole (pictured below) helps these all-round running shoes propel you forward.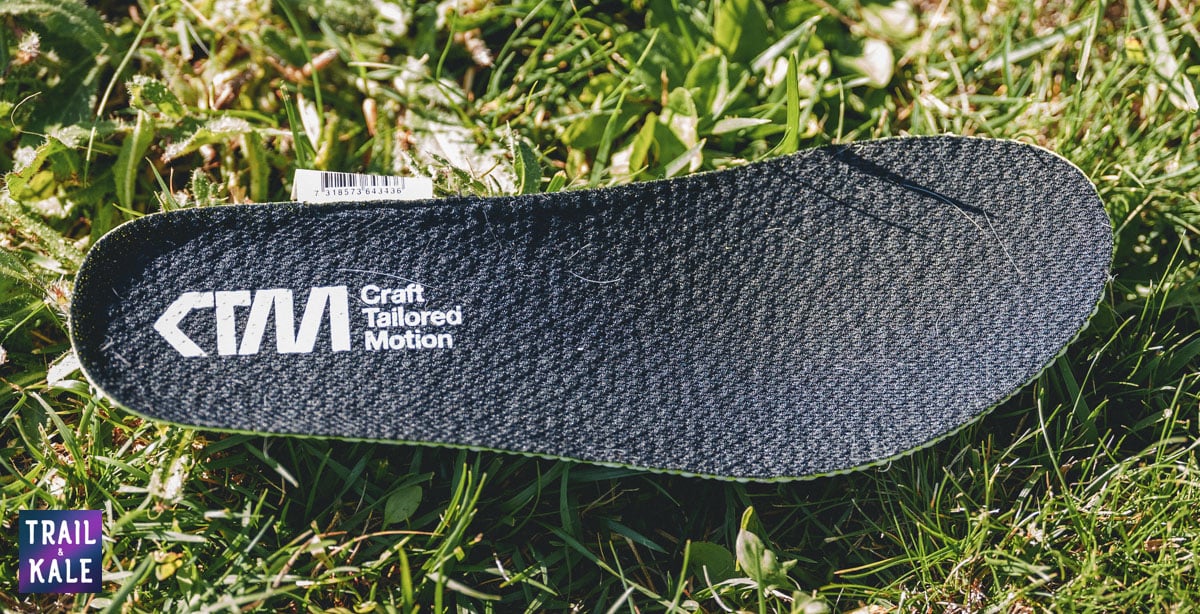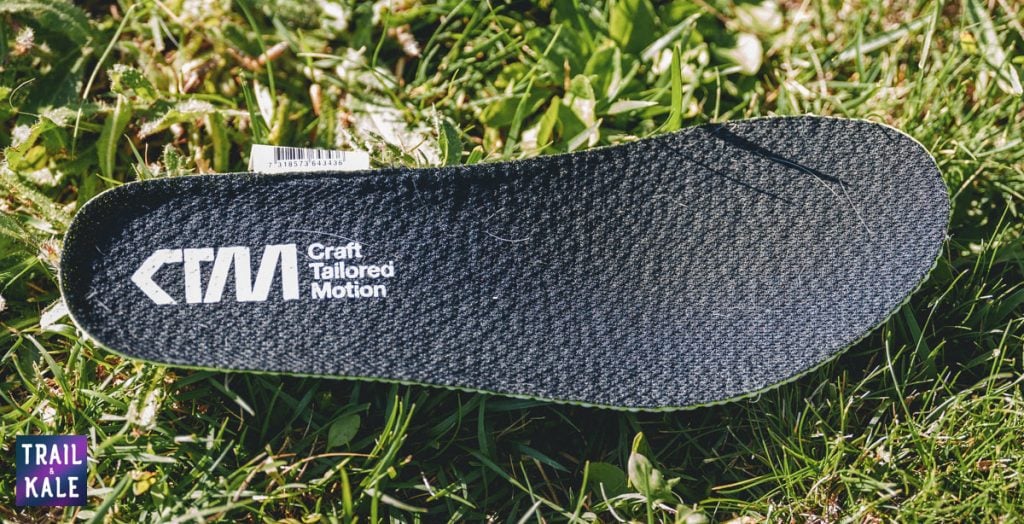 There needs to be some sort of propulsion, as there's no carbon plate in the CTM Ultra 2.
The lack of carbon in the midsole gives it more flex, and as a result, gives you more control and comfort on the trails but does lose a bit of speed on the road because of it.
I think David Laney puts it best when he describes the CTM Ultra 2 as the 'gravel bike of running shoes'.
So anyone who loves to gravel bike will get that analogy but for those who don't, let me try to explain in one sentence.
Being the gravel bike of running shoes means the CTM Ultra 2 moves effortlessly over roads, gravel, light trail, and forest trails, and over LONG distances.
The CTM Ultra 2 is lightweight and weighs in at 9.1oz for a size US(M)9.
The Craft CTM Ultra 2 outsole features 3 lugged traction zones
The outsole has great grip for most situations and Craft footwear has been really smart to put the rubber tread in specific 'hit' zones. This allows them to minimize weight across the shoe.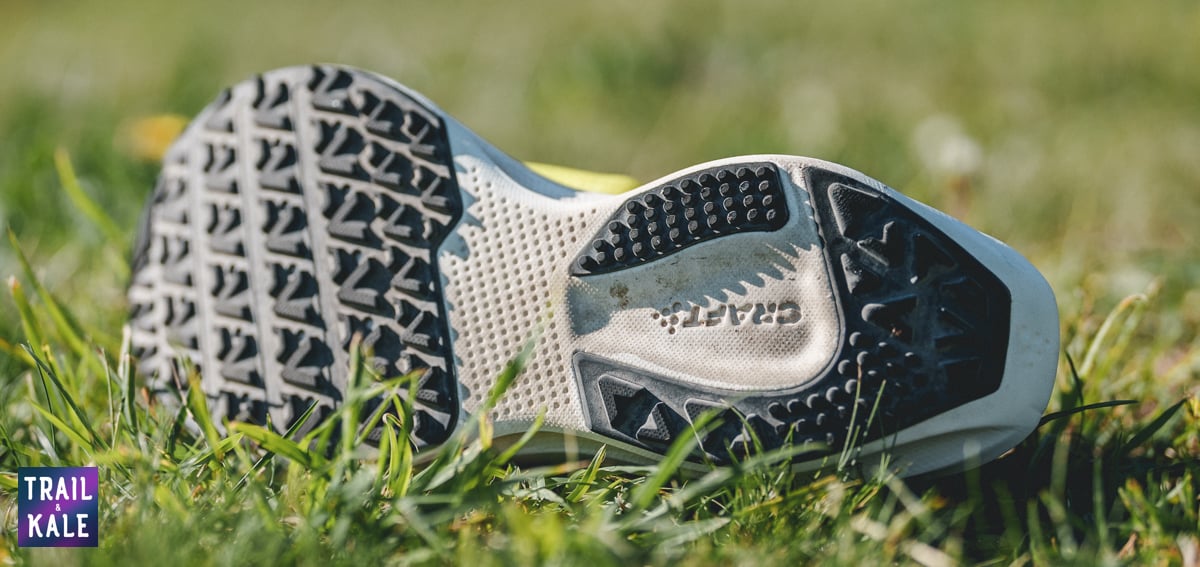 It's clear by the semi-aggressive outsole that Craft Sportswear is targeting those who like to venture out on the trails, as well as road runners who need grip in wet conditions.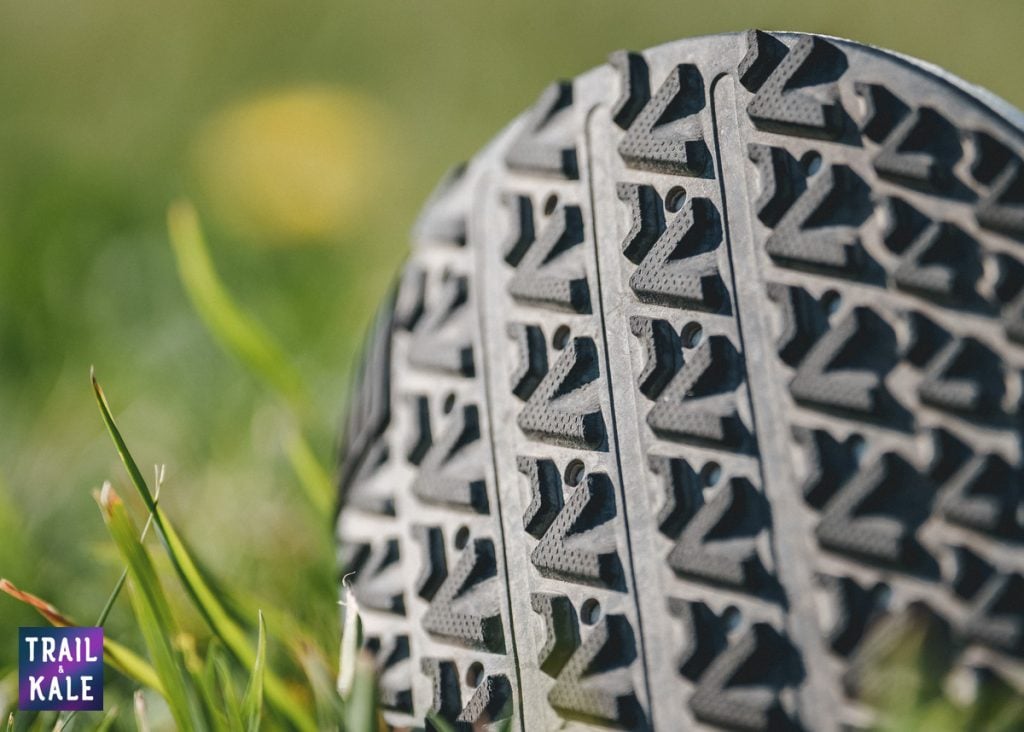 They have a nice large toe box area
As you can see in the image below, the tow box is wide due to the widened midsole under the forefoot – it's easy to see this when looking directly down on the shoes.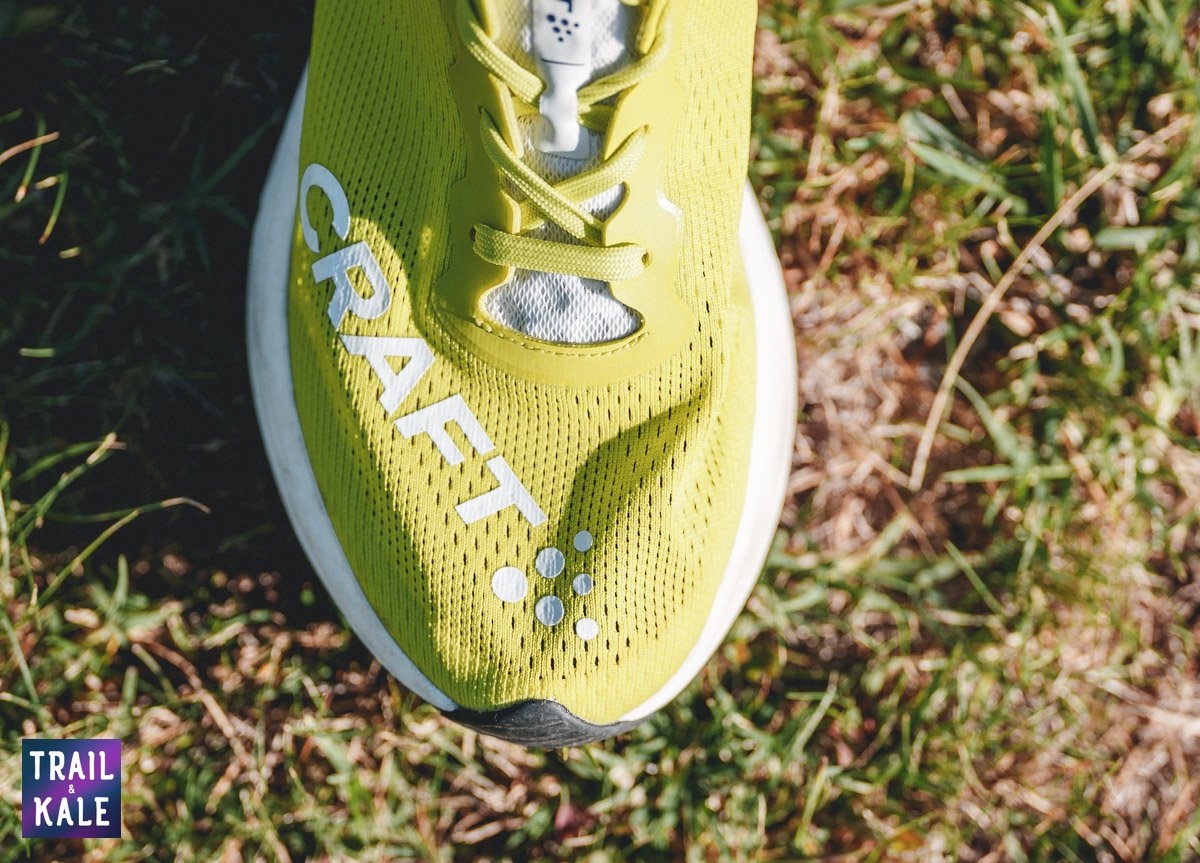 This gives a larger surface area under the forefoot where you should ideally be landing when running – and as a result helps prevent you from sinking on softer trails as it disperses your weight over a great surface area.
Science, that is… :oD
The heel walls are super thin but still lock your feet in place because of these…
The CTM Ultra 2 running shoes have padded zones on the inside of the heel walls.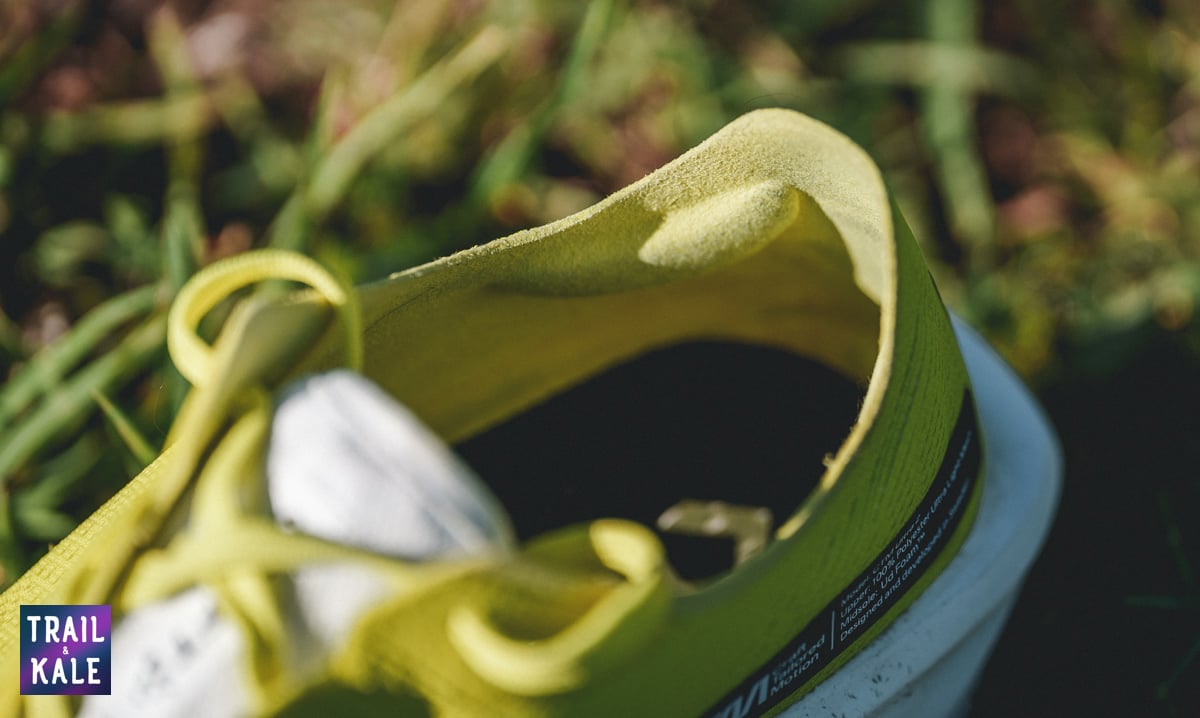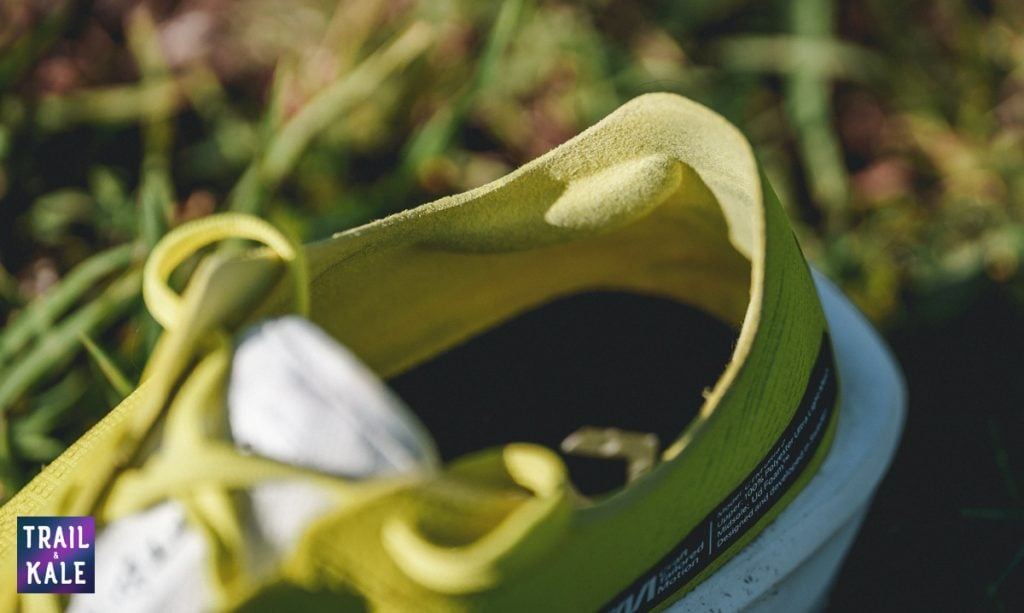 Although many shoe brands seem to be introducing this feature on their shoes, Craft has managed to do it in a way that feels super comfortable so kudos to them there.
So who is the Craft CTM Ultra 2 for?
The CTM Ultra 2 is a special shoe because it appeals to so many different types of runners.
If you simply want a fast, lightweight, breathable road running shoe then I recommend you give these a try.
Alternatively, if you enjoy running light trails, or you just love to run anything and everything including roads and trails, then these shoes will allow you to do it all.
Just don't venture too far off-piste as I wouldn't recommend taking them over harsh rocky uneven terrain, as that high stack height and super cushy midsole will compromise your control.
The CTM Ultra 2 certainly turns heads as Craft hasn't exploded in popularity in the USA, and not many people wear them… YET.
I'm sure Craft Sportswear will gain traction in the US market soon enough, as long as they keep producing high-quality running shoes with 'the runner' front of mind.
Craft running apparel is also a thing! Go check out the stylish Swedish designed Craft clothing at their online store – I think you'll like it.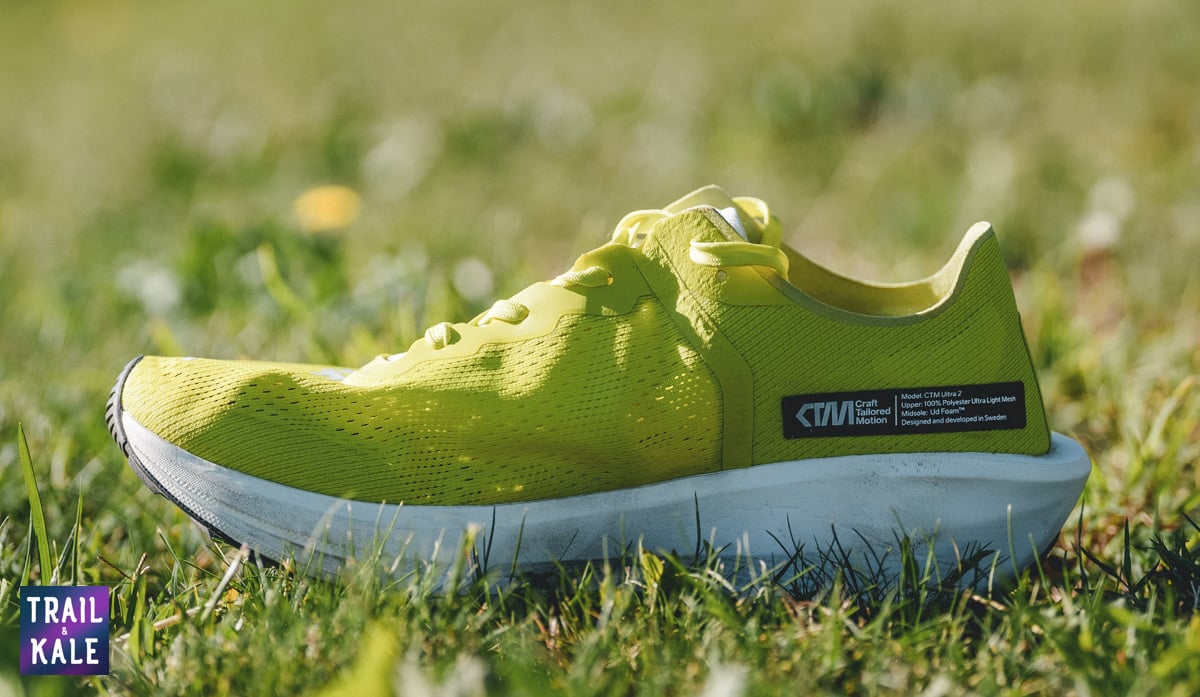 Is the Craft CTM Ultra 2 worth your hard-earned money?
Well, YES, for $164.99 they are definitely worth it because they're 'do-it-all' running shoes that give you a fun ride over light trails, roads, training runs, and even races.
I'm still using these shoes for training runs on the road and my favorite light trail routes – it's nice having a trail shoe that feels like a road shoe.
It reminds me of Nike's awesome first trail Pegasus released a few years back.
If you have more cash to burn, the Craft brand has an even more high-end version of this shoe called the CTM Ultra Carbon 2.
YES, you guessed it… there's a carbon plate running through the midsole foam, plus it's lighter and more expensive but will most certainly unlock a ton more speed on your runs.
Where to buy the Craft CTM Ultra 2
I recommend buying Craft running shoes directly from the Craft Sports store as they have the best colorways and the largest stock available for most shoe sizes – men's and women's.
The CTM Ultra 2 sneakers are also available at the following stores:
Craft CTM Ultra 2 review Summary
Craft CTM Ultra 2 Review
PROS
Great hybrid road/trail ability.
Lightweight coming in at only 9.1oz.
Amazingly breathable
Nice soft and bouncy midsole give a fun ride on hard surfaces.
Wide midsole under the forefoot gives a stable efficient ride - while the rocker silhouette encourages smooth, fluid running form.
Good value for money for such an all-round work horse running shoe.
The gravel bike of running shoes, as David Laney so eloquently puts it.
CONS
Not so great on more technical trails but them again they're not designed for that.
I'd like to see a more effective propulsion system in the midsole, like a speedboard of some sort.
Craft CTM Ultra 2 video review
Coming soon
More photos of the Craft CTM Ultra 2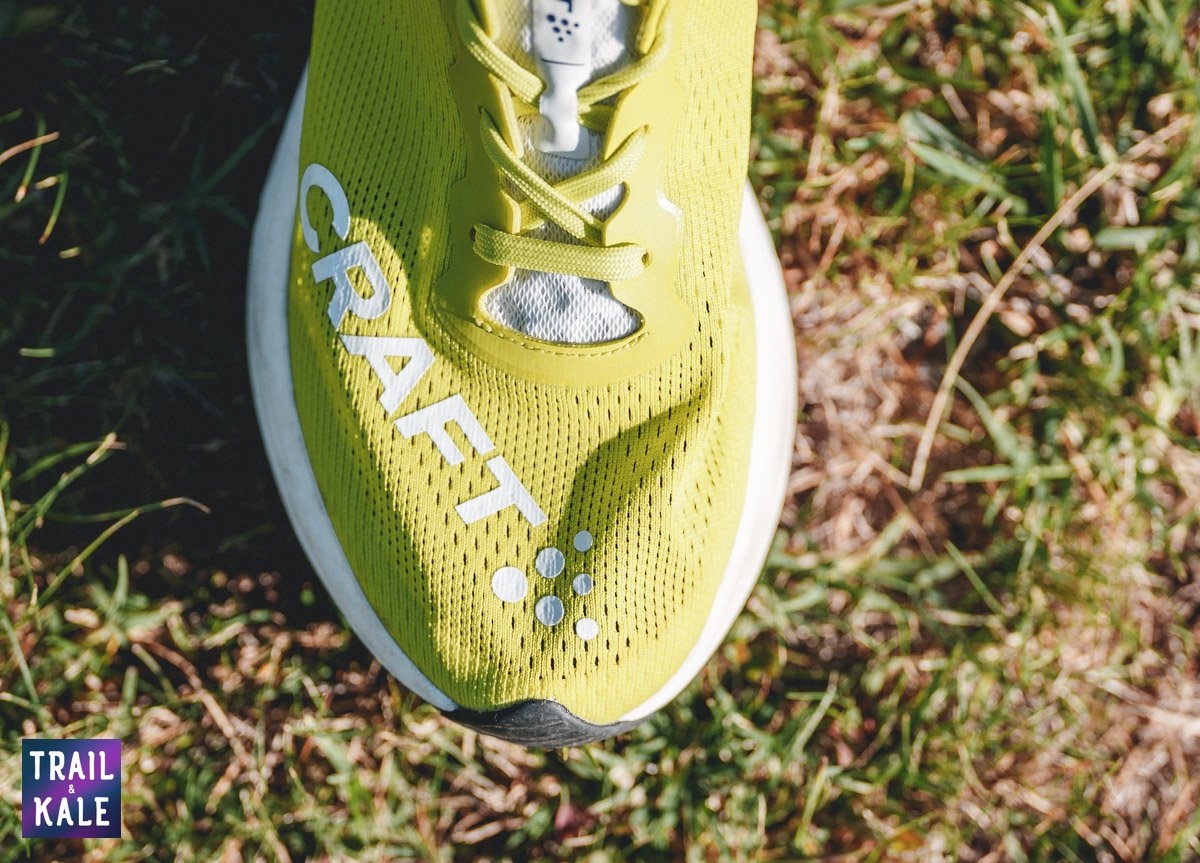 I hope you enjoyed this Craft CTM Ultra 2 review, if you've used Craft running shoes before, let me know how you got on in the comments down below – I'd love to hear from you.
Thanks for reading and I'll see you next time.