How safe is trail running?
Fear of an animal encounter is the main thing preventing many people from trying trail running, but the most dangerous aspects of trail running may surprise you. The number one concern most people have that causes them to ask the question, 'is trail running dangerous?' and may prevent them from getting out and trying out trail running is the fear of coming across a potentially dangerous animal, and what to do in such a situation.
However, while this is a valid concern and it is important to be aware of wildlife dangers on the trails for the part of the world you'll be running in, animal encounters are pretty low in the rankings when it comes to things you should be concerned about and prepared for when thinking about going trail running.
Common dangers and hazards when trail running
Most people's first question is:
What if I meet a snake / bear / mountain lion?
---
While this is a good question (and the answer should be the subject of three specific posts in their own right), this post sets out the more common dangers and hazards when trail running (click the links below to jump to each section, or scroll down to read them all):
---
Tripping or falling over when trail running
There's always the possibility that you could trip on a rock, root, loose scree, twigs – or, if you're like me, sand or thin air. Bad footing can easily lead to a sprained/rolled ankle. Trail running requires a good degree of concentration and focus, which is something that in my opinion makes it a fun, mentally stimulating experience.
If you're new to trail running, flatter, smooth sandy and gravel trails are easier to run on initially, before you start to tackle steep single-track trails that may have more loose and uneven elements, and can be more difficult to negotiate safely.
Weather and exposure to the elements
In most places, you have the potential to be exposed to sunburn, cold, wet or windy weather, sometimes unexpectedly. In more extreme environments more risks exist, and therefore running in these places requires more consideration, experience, and preparation. For example, even in summer in the mountains, you can start out your run on a very hot, sunny day but find yourself exposed to lightning, snow, hail and high winds a few hours later, especially at higher altitudes.
Exposure to the elements is actually probably the biggest (read: most common) issue people encounter on the trails. They get too hot, wet or cold, often because of being under-prepared, for example not taking the correct technical clothing to keep the sun/rain/cold winds off their body. It's no fun being cold, numb and shivering and can lead to more dangerous issues such as hypothermia. It's also not fun being sunburned and risking heat exhaustion and dehydration.
Longer-term skin issues should be considered too, so we always recommend taking a good sport sunscreen that's at least SPF 40, sweat-proof and water-proof with you while trail running in the sun. BUT – trail running is no different to any other sport in these environments – including hiking, mountain biking, even watersports such as kayaking – just be mindful and prepared!
Dehydration and running out of water
We've all been there and thought we have enough water, only to run out before the run has ended. It's no fun and can be scary. Thankfully if you have fast-absorbing salts/electrolytes with you then you can recover from dehydration very quickly when it's necessary.
Water is heavy to carry and it's tempting to carry the smallest amount you think you'll need but trust me, nobody ever kicked themselves for taking too much water on a trail run.
You don't have to carry the water bottle in your hand the whole time, most trail runners who go out for an hour or more will wear some form of hydration pack (small backpack) to carry water, snacks and other essentials (read this article on hydration packs to learn more).
Getting lost when trail running
Getting lost is never fun, and can result in some very serious consequences – you really don't want to be lost in the woods/desert/mountain and have no idea which way you came in, with the light fading/weather closing in, etc. If you're running in a well-marked area, or area that you know well, then the chances of getting lost are reduced.
Bad weather can still affect your ability to navigate, though, so it pays to be alert and aware of where you are, and bring a map and compass with you if you're somewhere with few people around or it's fairly remote.
I like to run out-and-back trails when I'm somewhere new, as it's easier to retrace your steps and have some expectation of what terrain and features you'll encounter and how long it may take (although it will still look different when covered in reverse – and the ups will be downs!).
It's always worth having a GPS watch with navigation. Many will let you set the home (starting) point for your run, so if you get lost, the watch features allow you to retrace your steps back to where you started. Good GPS watches will also let you upload and follow a route of your choice, Knowing your trail route before setting out is a great way to reduce any chances of getting lost. Read this article to the best way to find trails near you.
On an out-and-back route, you'll also know how far you have until you're back to the starting point, if you note the distance when you turn around. We like the reasonably-priced Coros GPS watches because they are lightweight, durable and have excellent battery life and great navigation features. Check out our best GPS running watch guide to learn more about GPS watches.
Stings and insect bites
Ugh, bug bites! Depending on where you're going and the time of year, bugs can range from a nuisance to something to really prepare for. Mosquitos, No-see-ems (midges), Horseflies and – bleurgh – ticks, are all pretty common in many places. I've also been chased by bees a few times. Some plants such as nettles and poison oak are also worth knowing about and avoiding. You can dress appropriately and wear insect repellent to reduce the risk of being bitten. It also helps to choose trails that are in more open spaces, and further from water sources and dense foliage, if you're in an area that has that option, if you're concerned about there being too many bugs at certain times of year.
If you keep moving (no standing and less walking!) then flying bugs such as horseflies, mosquitos and bees don't tend to land on you – this is helpful motivation to keep moving even when you're tiring at the end of a trail run. I also suggest having a read of this post on 'Ticks and Trail Running' for more tips on avoiding picking up ticks.
Larger wildlife encounters when trail running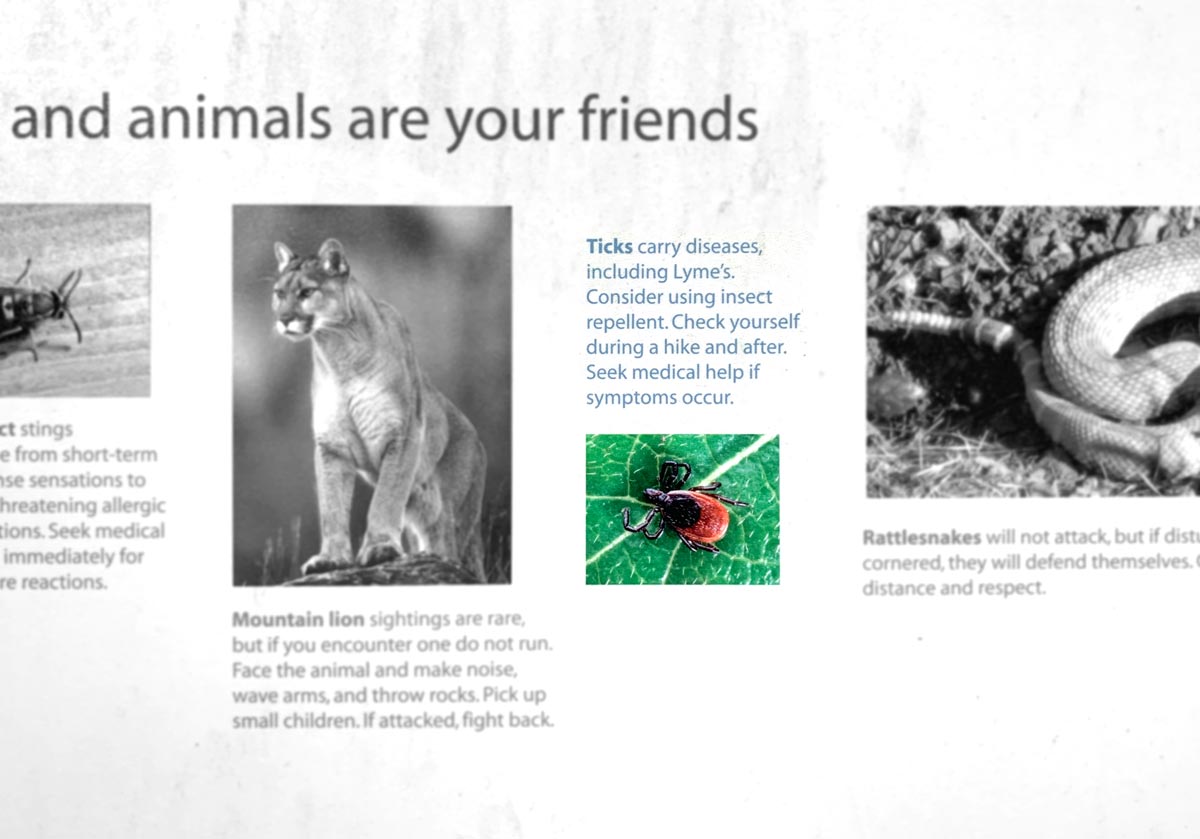 It's important to know the geography of where you're going, and therefore what animals you MAY encounter. In some countries, such as England and New Zealand, there are no large wild mammals or reptiles that pose a threat to people. But in other countries such as the US, if you're going somewhere where venomous snakes, bears and/or mountain lions call home, then it pays to do some research and take precautions. I'd love to see a mountain lion, but not when out trail running alone!
Generally, avoiding running at dawn and dusk, and sticking to more popular state parks, public lands and trails should make your chances of encountering bears, lions, and coyotes very low.
As for snakes, it depends on where you are, take the time to learn what species live in your area. For example, I often see snakes when trail running Northern California, but I know that only the rattlesnake is a danger to me here. So I exercise judgment and avoid narrow, overgrown singletrack trails on hotter days, because I can't see far ahead on those trails, and don't want to risk stepping on a napping rattlesnake in the grass. I also take extra care to study the trails ahead of me – AKA the 'stick or snake' game. Most of the time it's just a stick or a root, but I'd rather consciously think about what the 2ft long brownish thing is ahead of me than regret treading on or near it a few seconds later!
Other people – are they a real danger?
Unfortunately, you get weird people everywhere, but in my experience most other people on the trails are there for similar reasons to me, enjoying spending time in nature and minding their own business. I do, however, carry a small can of spray and an extremely loud whistle when I go out running on quieter trails (I am also pretty scrappy and have sharp elbows!).
Another great noise-making option you can buy inexpensively to take with you trail running is a personal alarm designed for runners and hikers, such as this Nathan Ripcord Siren, which is designed to be attached to your race vest or clothing for quick access in an emergency.
Probability-wise, if you're running in a popular park or trail, or near a few other people, then it's unlikely that other trail users pose much threat to you (assuming you avoid running in hunting season in areas where people hunt, unless you are confident you'll be safe and not targeted/shot by accident). I have come across one or two people making odd comments on the trails, but by far the most issues I've had when running have been when road running in towns and cities, from people in cars or on the street.
Probability vs. severity
While all of these could potentially have serious consequences, the most common issues that we normally return home with after a trail run are insignificant – the odd scratch or bruise, a few bug bites, a bit of redness where you missed applying sunscreen – all avoided, in an ideal world – but hey, nothing's ever perfect! I like to consider these as just being little reminders of a fun hour / few hours playing in nature.
What you can do to stay safe trail running
Here's a checklist of how you can help keep yourself safe and minimize the impact of an accident or other issues when trail running:
Planning and preparation – Know where you're going – the route, key features, types of trail and weather conditions you may encounter, and don't try a new route in the afternoon where there's a chance of still being out when the light starts to fade. If in doubt about your ability to get back in time, take a headlamp with you at least!
Take a phone (with a charged battery) and appropriate clothing and safety equipment including a map, compass, suncreen, technical hat and GPS watch (read 'essential trail running gear for unexpected emergencies').
Stay alert – I wouldn't recommend listening to music when running for the first time in a place you're unfamiliar with.
Take responsibility for your decisions and know your ability and limitations.
Tell someone where you're going and when you expect to be back, and consider going with a friend or small group.
So, is trail running really that dangerous?
In today's crazy world you can encounter danger everywhere, and the probability of getting into a dangerous situation trail running is likely much lower than it is when going about your everyday routine, such as driving to work.
I hope this post has helped not only inform you of the potential dangers of trail running, but reassures you that if you are sensible, aware, prepared and exercise good judgement about how, when and where you run, then these should not be concerns that prevent you from doing something that is inherently natural and very good for you, both mentally and physically.