This Coros watch review compares the five different Coros GPS watches currently available for running, being the Coros VERTIX 2 GPS adventure watch, Coros APEX Pro, Coros APEX 46mm and 42mm, and the Coros PACE 2.
We weigh up which Coros watch is best, based on their key features and what may be most valuable to runners with different needs and preferences.
---
Overview of Coros' Running Watches
You just have to look at the list of Coros pro athletes using their GPS running watches to see that the brand has decided that they want to dominate the trail and ultra marathon running scene, and it's impressive, to say the least. Even world-famous mountain adventurers Kilian Jornet and Emilie Forsberg are now Coros pro athletes.
All of the watches reviewed here are designed for running, including trail and ultra marathon running, and they are all also multisport watches with additional features for swimming, cycling, watersports and other activities where you may want to wear a GPS watch to track your personal fitness and performance data.
With the addition of the Coros VERTIX 2, APEX Pro and two different sizes for the Coros APEX, there are now five different Coros GPS running watches to choose from, so which is the best one for running?
On paper, the clear winner is the VERTIX 2 adventure watch for its huge feature list and unrivaled battery life.
However, each runner has different requirements from their GPS running watch and you don't need to buy the most expensive option if the other watches may suit your needs better in terms of size, weight or price.
All Coros watches have impressive waterproof ratings, on-wrist Heartrate monitors, barometric altimeters, long battery life (and the coveted UltraMax mode), and are very lightweight (in their class). So, with them all sharing these features as standard, which one should you buy?
Use the quick links below to jump to each review, or scroll down for an overview of all the watches in this lineup:
---
Coros VERTIX 2 Review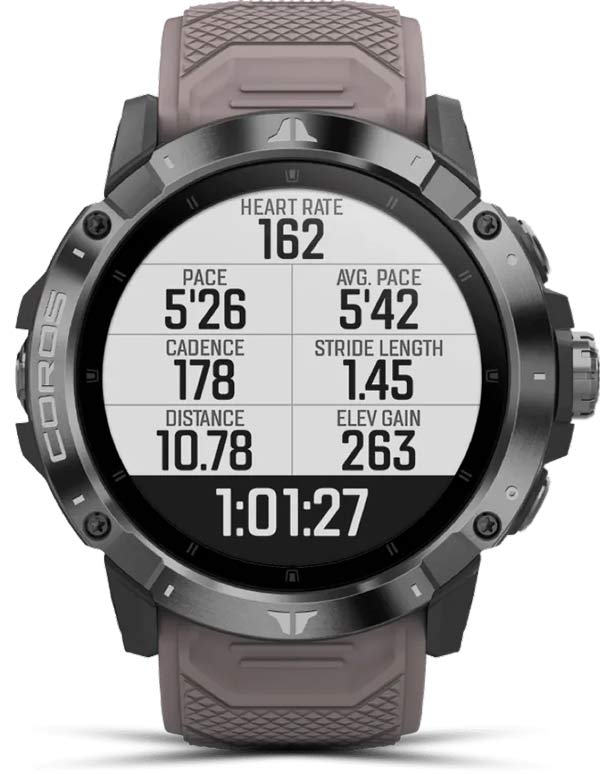 Last Amazon price update was: 1st June 2023 1:30 pm
Weight: 89g (3.13oz.)
Waterproof: 100m (10 ATM)
Watch Size: 50mm
Battery Life: Full GPS 140 hours (35hrs with music)/ Ultramax 240 hours / Regular Use 60 days
Price: $700
Choose if: you want a feature-rich, rugged GPS watch with the longest battery life of all COROS watches
Don't choose if: you have small wrists and would prefer a smaller, lighter watch.
The Coros VERTIX 2 GPS Adventure watch has been designed to cater to the most adventurous and tough explorers/runners who need the longest battery life possible.
Imagine having a battery life that can last an entire mountain climbing expedition in the coldest conditions, on one single charge, or how about thru-hiking the John Muir trail without ever needing to charge your GPS watch, amazing!
The VERTIX 2's durability and altitude acclimation assistance make it a great choice for anyone thinking about taking on a multi-day fastpacking adventure, or even a Himalayan summit.
The VERTIX (V1) is the only Coros GPS watch with a 150-meter waterproof rating, so you shouldn't ever have to worry about water damage and you can go scuba diving with the original VERTIX on. The VERTIX 2 has a waterproof rating to 10 ATM (100m).
Some other great features include its 24/7 blood oxygen monitoring with Altitude Mode, to provide daily acclimatization evaluation. It can also suggest when it is safe to climb higher.
More great features of the VERTIX 2 include being able to track your navigation path and also gain precise analysis of training load and performance. It evaluates your exertion and recommends recovery, so you can perform at your peak.
It also has an electrocardiogram sensor, and an All-satellite Dual-frequency GNSS Chipset. This means the VERTIX 2 can talk to all five major satellite systems (GPS, GLONASS, Galileo, QZSS, and Beidou) at the same.
This cool feature brings huge accuracy improvements to GPS plotting when navigating between tall buildings, deep within the forest, or alongside rock walls, which have been considered an accuracy challenge for previous generations of GPS watches.
The COROS VERTIX 2 has the most features and the longest battery life of all Coros GPS watches, but wait! If you want to spend less money and don't need quite so many features, read on to learn more about the APEX Pro, APEX and PACE 2 watches…
RELATED: Best GPS Watches for Ultrarunning & Trail Running
---
Coros APEX Pro Review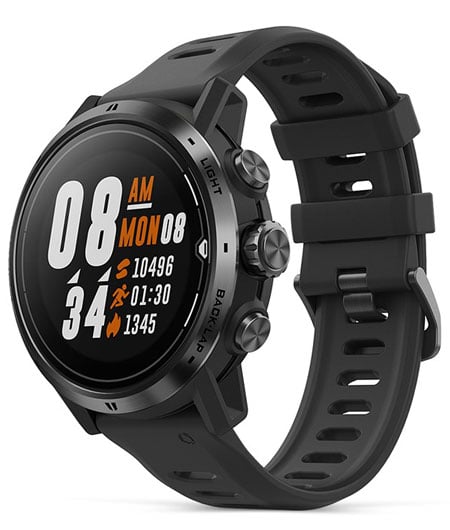 Last Amazon price update was: 1st June 2023 1:30 pm
Weight: 49-59g
Waterproof: 100m
Watch Size: 47mm
Battery Life: Full GPS 40 hours / Ultramax 100 hours / Regular Use 30 days
Price: $500
Choose if: you want a GPS multisport watch with excellent battery life even in full GPS mode, but don't need all the features of the more expensive VERTIX 2. Great for adventure racing, ultra-running and fastpacking adventures.
The Coros APEX Pro premium multisport watch is a higher-specification version of the popular Coros APEX GPS watches covered below, with similar features to the larger Coros VERTIX 2 watch (although a few key differences are explained below). This is the running watch that you'll see Kilian Jornet running with.
The key differences between the APEX Pro and APEX watches are:
The APEX Pro has longer battery life, at 40 hours with full GPS compared to the APEX's 35 hours.
The APEX Pro includes blood oxygen and pulse ox monitoring features, and the same altitude mode that the VERTIX 2, as well as the dedicated windsurfing, speedsurfing, and whitewater modes that the VERTIX 2 offers.
The APEX Pro multisport watch has a touch screen, similar to the VERTIX 2.
The APEX Pro is slightly larger than the APEX watch, and sits a fraction higher off your wrist at 13.4mm compared to the APEX's 11.9mm. It also weighs a small amount (4g) more than the APEX, although it is significantly smaller and lighter than the Coros VERTIX 2.
You may be wondering what the difference is between the APEX Pro and the VERTIX 2. The main differences are that the VERTIX is designed to have the longest battery life (60 hours with full GPS vs. the APEX Pro's 40 hours).
The VERTIX 2 also has a diamond-coated sapphire face (more scratch-resistant) and deeper depth for water resistance (150m vs 100m) although if you're using it for surface water activities and even most scuba diving activities 100m is plenty deep enough.
If you want the full range of features offered by the VERTIX 2 (particularly the pulse ox and blood oxygen monitoring capabilities) without the additional weight, underwater waterproofing depth, and scratch-resistance of the screen, 40 hours of full GPS at a time is enough for your needs, then the APEX Pro is probably the best Coros watch for you.
The APEX Pro is therefore our top pick for ultra running and fastpacking, assuming your venture doesn't require full GPS for more than 40 hours!
---
Coros APEX Review
Last Amazon price update was: 1st June 2023 1:30 pm
Weight: 50.8g/55.3g
Waterproof: 100 meters
Watch Size: 42mm/46mm
Battery Life: Full GPS 25/35 hours / Ultramax 80/100 hours / Regular Use 24/30 days
Choose if: you want an all-round GPS running watch equally capable of tracking full-day ultramarathons as your local 5k recovery run, at half the price of the competition. The Coros APEX is going to be the best all-round Coros watch option for most runners.
The APEX is the only Coros running watch to offer two different watch sizes, 42mm and 46mm. This is great news for those who want more features than the Coros PACE 2 but don't want to wear a bulky watch due to small wrists.
The APEX tracks course, speed, time, pace – all the usuals, as well as elevation gain / loss, weather (via the built-in barometer) cadence, calories and heart rate.
From this data the watch also calculates estimated fitness levels including VO2Max and lactate threshold, and the efficiency of your aerobic and anaerobic training activity.
I really like the simple clean look of the APEX watch because it means you can wear it to work without it standing out too much.
It's also great knowing that you have the power on your wrist to do those impromptu long runs when you need to though. There's also a sapphire glass screen for everyday and extreme protection.
The APEX is able to accurately determine your overall effort, broken down into stamina level (0-100) and training effect (0-6). This means COROS Trainer can notify you it's time to rest up or to pick up your training.
Based on the effort level and training history, you can then see an advised recovery window before you begin your next activity. This is available for Interval, Aerobic, and Anaerobic Training modes.
Once you've finished your workout, the COROS App will give you a complete graphical analysis of your training including VO2 max, recovery advisor, threshold pace, last-7 days training load, personal fitness index and plenty more.
Additionally, you can connect to your favorite 3rd party applications such as STRAVA and TrainingPeaks and automatically upload your workouts.
Routes can be uploaded to the APEX and displayed on a grid as a breadcrumb trail with real-time information on heading and elevation. It also gives you alerts to help you get back on course, should you go off track.
In UltraMax mode, the battery will last up to 100 hours using GPS. While using normal mode will yield up to 35 hours. This is easily enough for most ultramarathons.
Having the choice of two lightweight watch sizes, a very impressive battery life, and many features makes the APEX our top most affordable choice for trail and ultrarunning – assuming you don't need the extra features or additional battery life offered by the APEX Pro (for long-distance and multi-day ultras and fastpacking, for example).
The 42mm size is also a great option for people with smaller wrists who may find larger watch faces more uncomfortable to wear when running.
To read my more detailed review of the Apex, click here.
---
Coros PACE 2 Review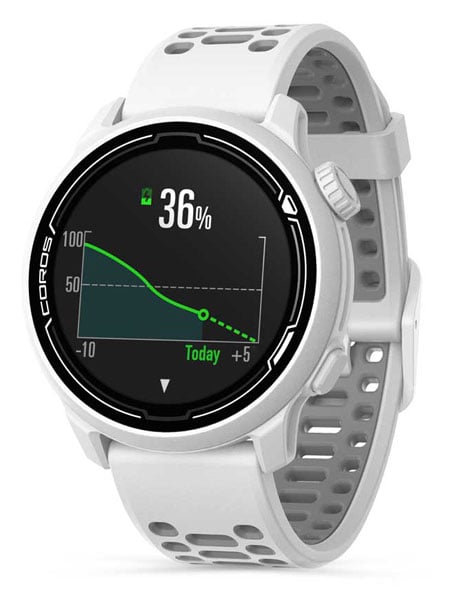 Last Amazon price update was: 1st June 2023 1:30 pm
Weight: 35-36g
Waterproof: 50 meters
Watch Size: 42mm
Battery Life: Full GPS 30 hours / Ultramax 60 hours / Regular Use 20 days
Price: $200
Choose if: You want the best value Coros watch for running and other sports, especially if you're seeking a more minimal, lightweight watch you can also wear during the rest of your day.
The PACE 2 is a really lightweight GPS watch, and a small-sized option for those who want to run fast, light and minimal. The PACE 2 weighs 35g but can weigh even less if you buy the version which has a nylon webbing band for the strap rather than the silicone bands.
As mentioned earlier, the PACE 2 is a multi-sport watch with an exceptionally long battery life that can be used for a triathlon, running a marathon, or freestyle swimming.
The PACE 2's innovative CPU system is engineered for power optimization so that it can perform up to 20 days in standard mode and up to 30 hours in GPS mode (compared to 25 hours for the original PACE watch that the PACE 2 replaced).
If you switch the settings to 'UltraMax' mode then the battery can last for up to 60 hours, which is great for longer ventures such as if you want to track a multi-day effort such as backpacking for several days.
The PACE 2 is an excellent watch for runners, swimmers, and triathletes who don't want to wear any more weight than absolutely necessary.
As with the other Coros watches, the PACE 2 has on-wrist heart rate capability that can be used while running, swimming or cycling too.
It also has the same 'backlight always on' mode that the APEX Pro and VERTIX benefit from, which helps with running in different levels of light.
The PACE 2 is available in two colors, white and navy, so you can pick a band that best fits your personality.
For the price of $199, this is an exceptional value GPS running watch considering all the features Coros is offering.
---
What is UltraMax mode and how does it work?
UltraMax mode is a setting for GPS on Coros watches. When selected, the battery life using GPS can be extended up to 150 hours on VERTIX, 100 hours on APEX 46mm and APEX Pro, 80 hours on APEX 42mm and 60 hours on PACE 2.