My in-depth Garmin inReach Mini 2 review covers the key features, pros and cons of this tiny portable satellite communicator.
As a trail runner, hiker, and adventure-loving person who enjoys spending time in wild places (and reviews outdoor gear), I've used and reviewed a variety of GPS communicator devices as well as of course plenty of premium GPS multisport and running watches, and am acutely aware of the safety and communication limitations of heading out into the backcountry armed with just a mobile phone for communication.
So, I was interested to hit the trails for trail runs and hikes with Garmin's smallest 2-way satellite messenger and see how it performs compared to other devices such as the Somewear Global Hotspot in terms of overall functionality, ease of use, portability and connectivity with other devices including my phone and Garmin Fenix GPS watch.
Before we get stuck in, I'd like to quickly thank REI (our favorite outdoor gear shop) for sending us the Garmin inReach Mini 2 to test and review – as always, thank you for your support!
---
Garmin inReach Mini 2 Review – Table of Contents
---
What is the Garmin inReach Mini 2 and when would you use one?
The inReach Mini 2 is a compact satellite communicator device that enables you to do the following, anywhere in the world:
Track and share your location
Two-way messaging with contacts globally
Use interactive SoS capabilities to relay information with emergency services
These primary capabilities are all available directly on this palm-sized device, and can be enhanced with added navigation and messaging features when paired with other devices including your smartphone or a compatible Garmin wearable, such as their higher-end GPS watches.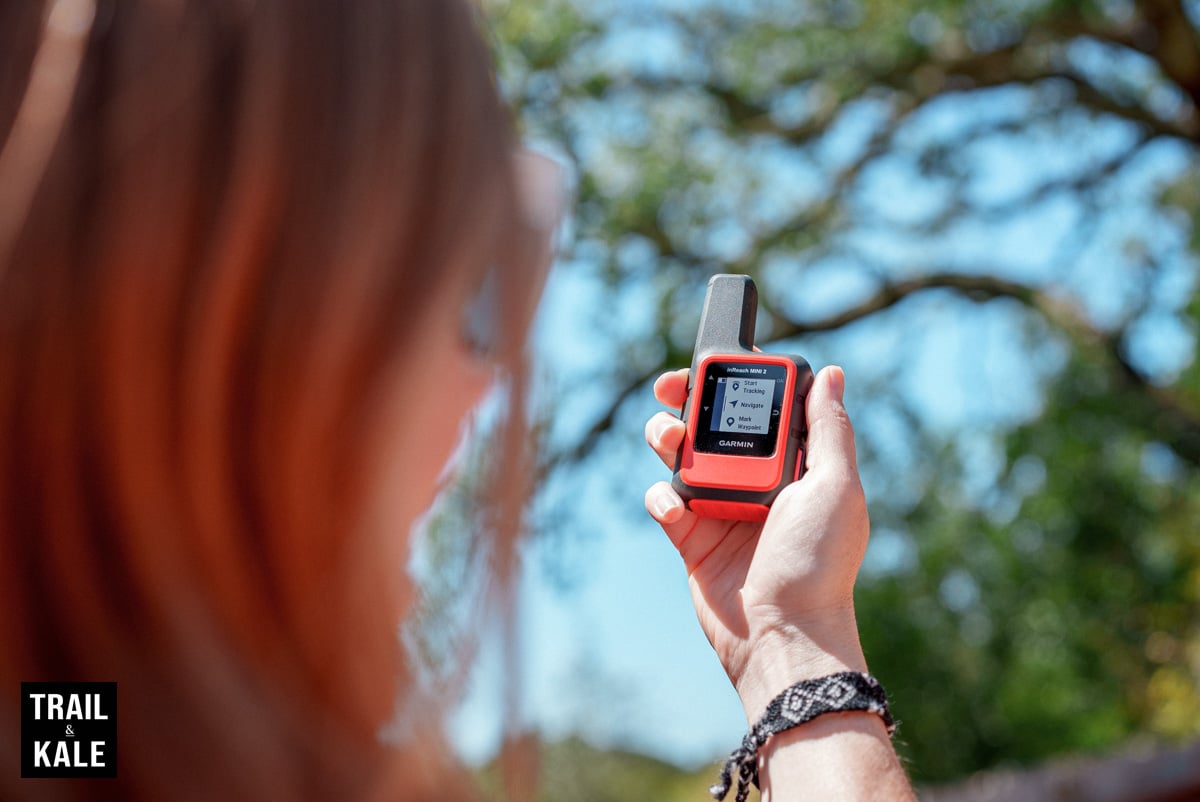 This portable satellite messaging device is particularly useful for anyone who spends time in areas with limited or no cell service, or people who live or work in the backcountry and don't need or have access to a bulky and expensive satellite phone or radio that will go the distance!
Recreational activities where you may find the features and safety benefits of having one of these compact handheld devices include:
You may find having one of these with you particularly appealing if you're doing any of these activities solo or may find yourself alone at times and need to check in with a friend or family member on a regular basis.
It's also a great option for international adventure travel where you may not have a local sim card or consistent phone service while you're traveling.
Additionally, some people who live in areas with poor cell phone coverage may find having one of these devices an important piece of gear for emergency preparedness in case of a power outage or other event.
Spoiler alert – there are several very good reasons why this particular device is rated so highly on our best satellite messengers buyer's guide, which I explain throughout this review.
---
Key features of the inReach Mini 2
Let's start with the basic physical features of the inReach Mini 2.
The first and most obvious thing to note is just how compact and lightweight it is. This is a truly tiny, pocket-sized device, not a walkie-talkie-sized handheld.
The marketing product images don't do it justice – take a look at my photos throughout this review to see its size with my hand and body as size reference!
It weighs just 3.5oz, and fits in the palm of your hand, with dimensions measuring 3.9 x 2 x 1 inches.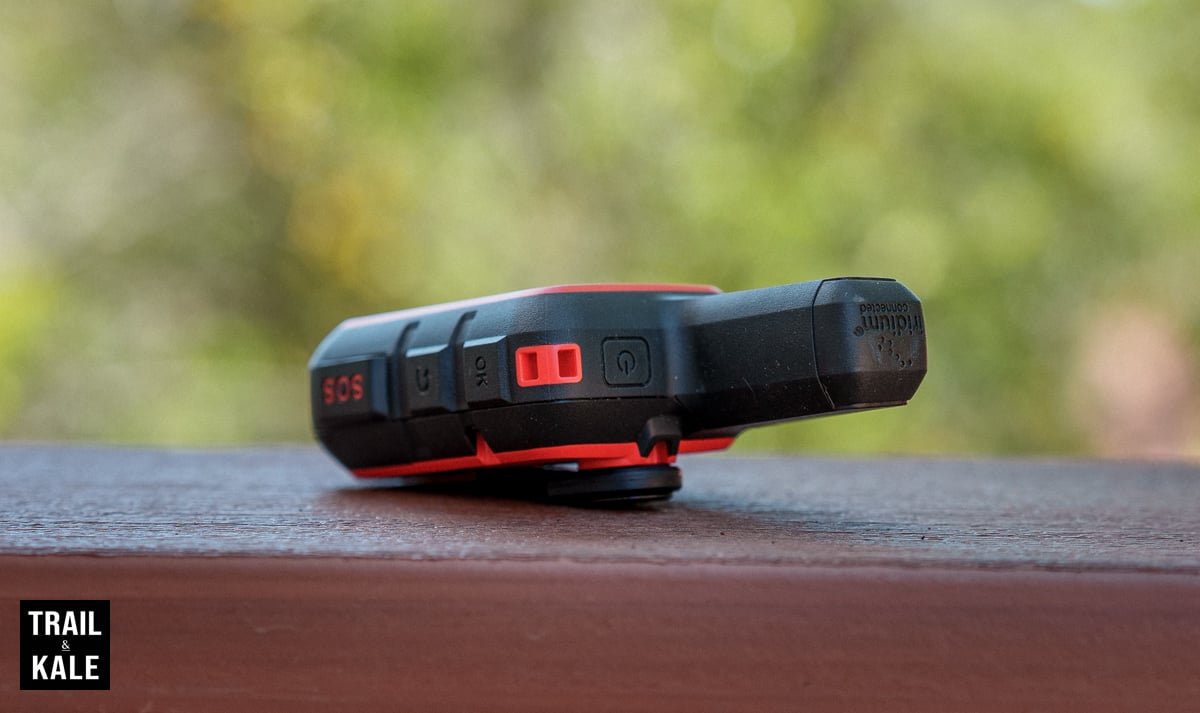 Despite being small, it is well-built and durable, with rugged rubber bumpers, impact-resistant construction, and is water-rated to IPX7. This rating means it will withstand rain, snow, and other water exposure of up to a meter (around 3ft) for up to 30 minutes. So if you drop it in a snowdrift or puddle then no big deal.
That said, it doesn't float on its own, so if you think that's a risk for where you plan to use one then definitely consider buying a flotation device for it – you can buy a flotation lanyard for it for around $10.
You can also submerge it deeper with the optional extra dive case that's available as an accessory.
It has a built-in rechargeable lithium-ion battery and comes with a USB-C charging cable.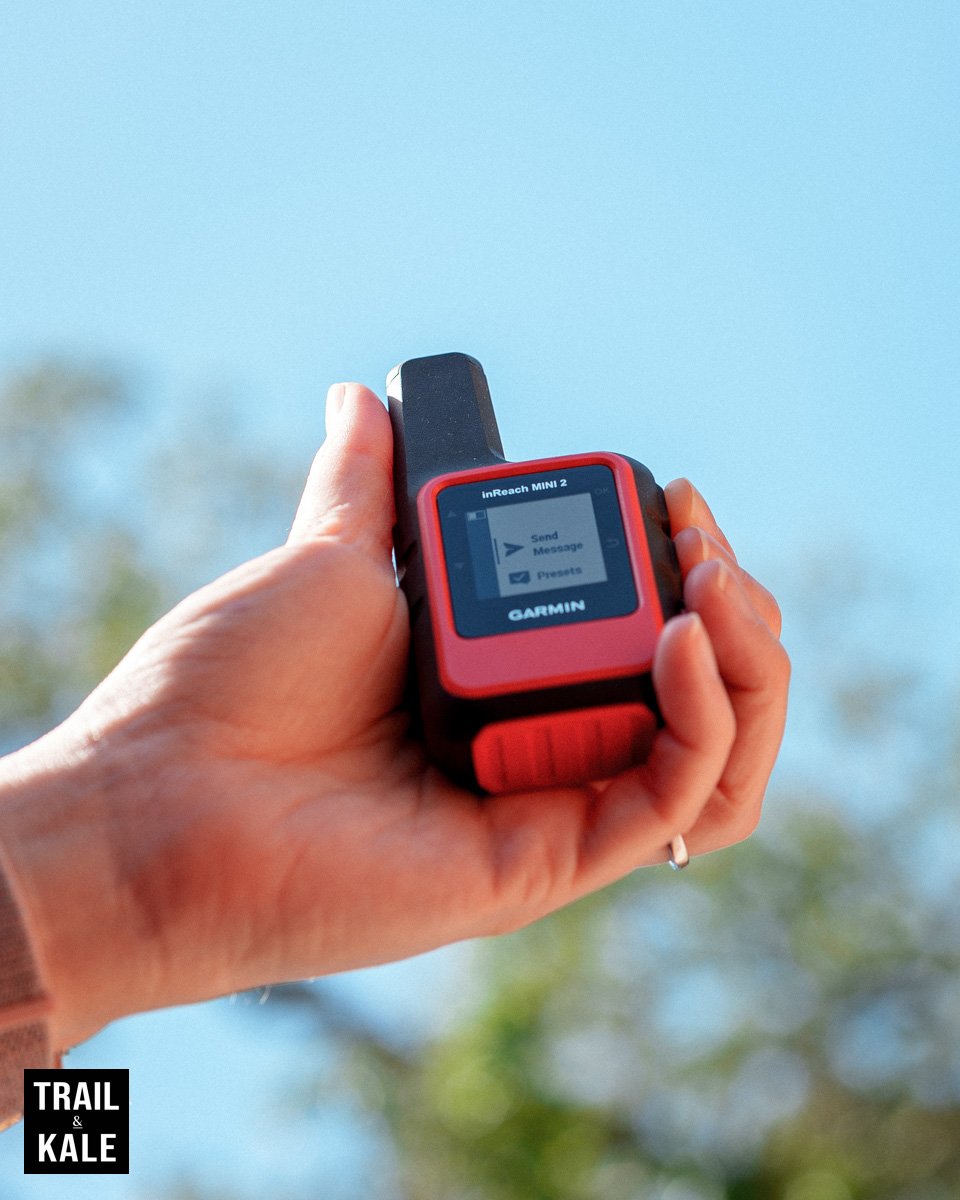 Preset messaging on the inReach Mini 2
This PLB and GPS communicator allows you to communicate directly through its screen interface, without the need to connect to a smartphone.
It uses the Iridium network for satellite data when you are in places without cell service, so you can send and receive them wherever you are in the world.
You can also create custom preset messages and set them up on your inReach device so you can send those messages without it being paired to your smartphone.
You will, however, will need to set up those preset messages and sync them to the device before setting out.
Added messaging capabilities using the Garmin Messenger App
For more versatile, easy two way text messaging, including group messaging, using the satellite network, you can download the Garmin Messenger app to your compatible smartphone and pair it with your inReach Mini 2 device.
Once paired, you can write, send and receive messages on your phone, using the satellite connectivity of the inReach Mini 2, which means you can be in touch with your contacts even when not in cellphone coverage areas.
You can also send them your location using messages.
The system is smart in that it automatically switches between wifi connectivity, cellular, and satellite network, so if you do have cell coverage at any point, it will use that rather than consuming satellite data.
This is a similar capability to the Somewear Global Hotspot, which we've reviewed on Trail & Kale previously – although that satellite messenger doesn't have a screen at all, so it's reliant on you using a smartphone for messaging.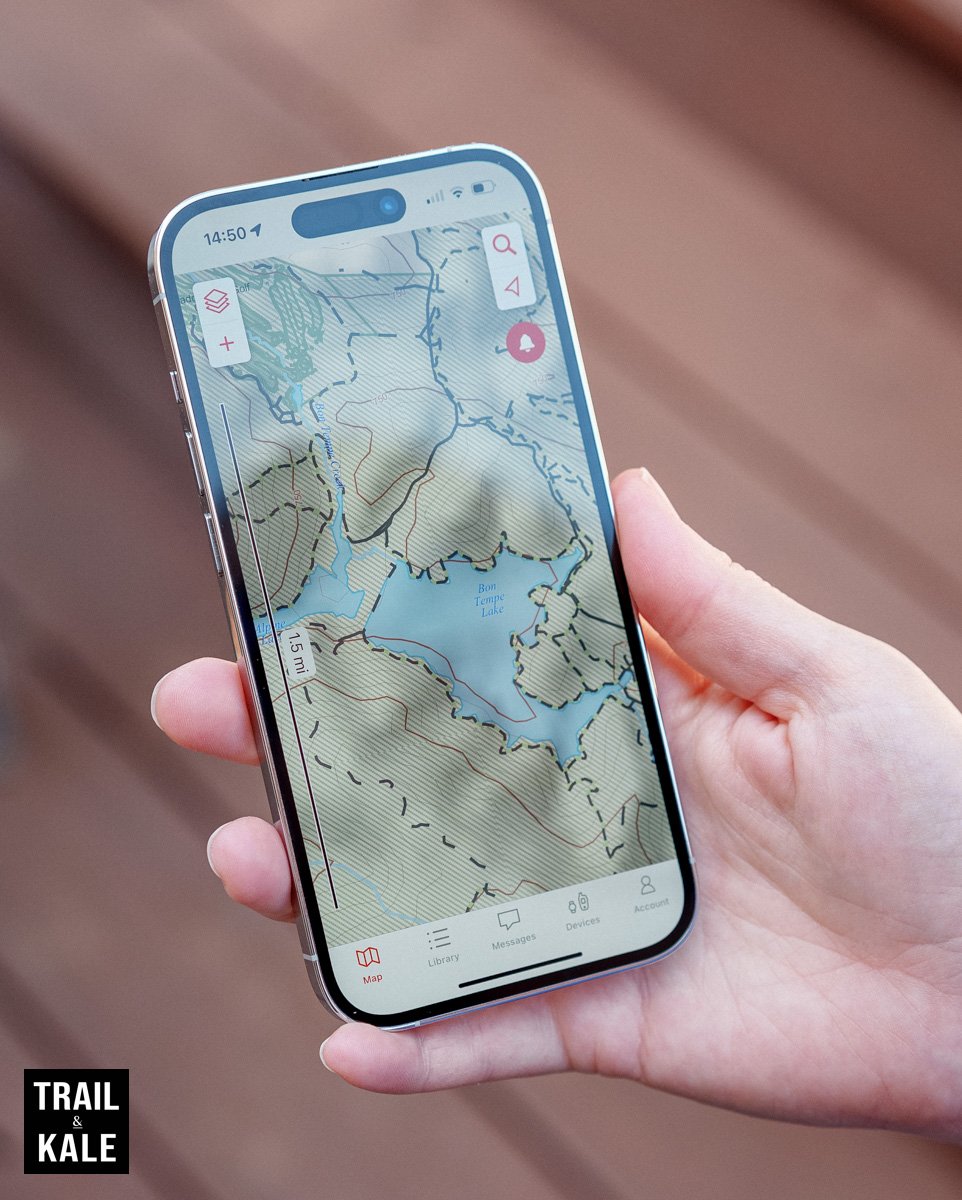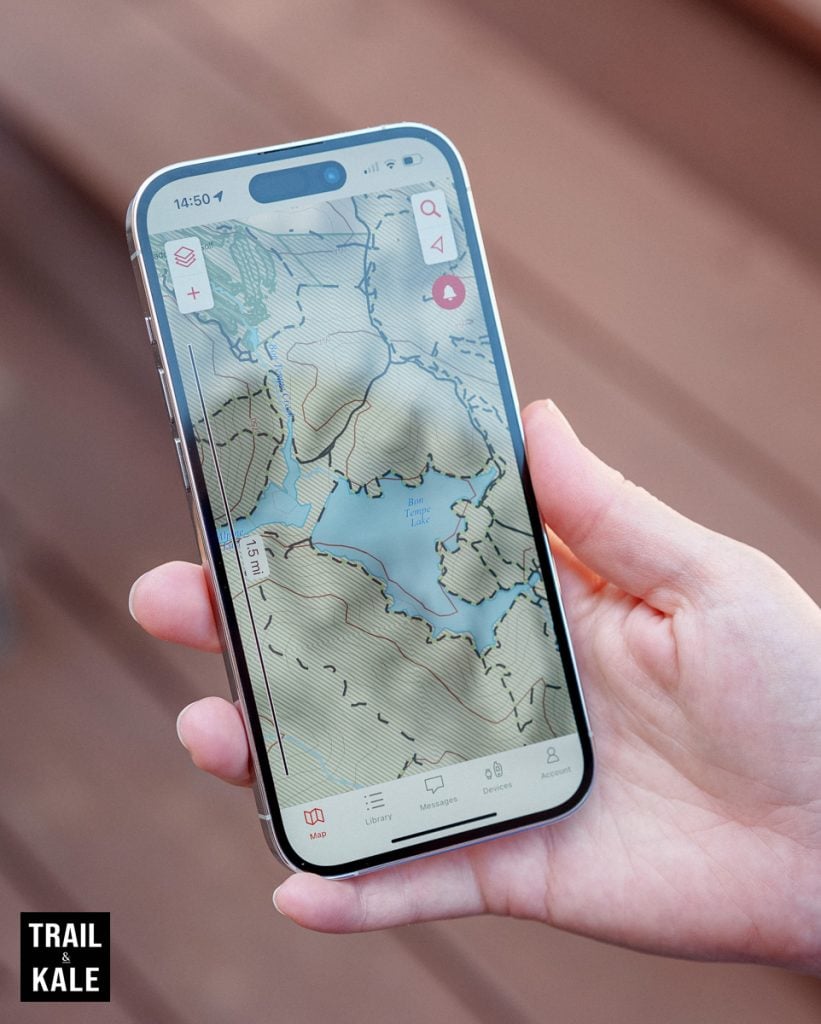 Added navigation capabilities using the Garmin Explore App
As well as the basic tracking, digital compass, and waypoint setting on the device itself, you also have the option to connect the Garmin inReach Mini 2 with your smartphone while using the Garmin Explore mobile app on your phone.
This app allows you to do more with respect to planning navigational routes, waypoints, courses, and activities.
This is a cool feature, however, my personal preference is to stick with using the inReach Mini 2 for satellite communication when out of cell service, and having it for emergencies if I needed to send my location or communicate with emergency services.
This is for a couple of reasons – firstly, I like to conserve my cellphone battery as much as possible when I'm out running, hiking, or backpacking, and using it for navigational features can drain the battery pretty quickly.
Secondly, I always run with a GPS multisports watch, which varies depending on what watch brands and models I'm testing for review purposes, but generally one of my go-to GPS watches for running is my Garmin Fenix (currently the 7S model).
The Garmin Fenix GPS watches have best-in-class navigational and mapping capabilities as well as excellent battery life (learn more about the latest version in our GPS watches buyer's guide), and can actually be paired with the inReach Mini 2.
Pairing the inReach Mini 2 with other Garmin devices
The benefits of pairing the inReach Mini 2 with your other Garmin devices (such as me doing so with my Fenix watch) include the ability to remotely control the inReach to send and receive messages, start and stop tracking, and trigger an interactive SOS.
This feature is called 'inReach Remote' and you can access it via the settings menu on the messaging device.
I can see this being helpful if you find yourself in a situation where you can't access the inReach but are able to get to your Garmin watch to send an SOS message, read messages received, or send present messages using your watch.
It uses ANT+ to make the connection, and you can toggle it on or off using your watch or the handheld's settings menu.
Interactive SOS Alerts
As well as the core ability to send and receive messages and share your location using satellite data anywhere in the world, your Garmin data subscription includes the ability to trigger an interactive SOS message to Garmin ResponseSM, a 24/7 staffed emergency response coordination center, in case you need help in the case of an emergency.
The inReach Mini 2 has an SOS button on the right side, which is covered by a hard but easy-to-open cover to prevent you from accidentally pushing it in a non-emergency situation, or when the device is packed with other gear.
There are also instructions on the back explaining how to use the button and how to reset it if you press it by mistake.
---
Using the inReach Mini 2
Controls and buttons
The inReach Mini 2 is pleasingly easy to use and find your way around the menus.
It turns on quickly using the power button on top.
The up and down buttons are on the left, as well as a covered USB-C port that's used for charging with the included USB-C cable.
The OK/Enter button and back arrow button are on the right side, as well as access to the SOS button (more on that in a moment).
You can use these controls to scroll through the inReach's features, including sending messages, starting or stopping tracking, mark waypoints, checking your service plan and data usage, and changing your settings.
A secured webbing loop on the back is used to attach lanyards and accessories.
Data plans
Before you can use the inReach features of your inReach Mini 2 device, including messaging, SOS, tracking, and inReach Weather, you must have an active satellite subscription.
With this, instead of relying on cellphone coverage like you would if you just had a cellphone with you, your messages, SOS alerts, and location tracking are transferred via the global Iridium satellite network.
You also get detailed weather reports with the forecast sent to your inReach Mini 2 or a paired compatible device. These are a pretty nice premium feature as you can not only get the weather reports for your current location, but other locations (for example, where you plan to go next).
Garmin offers a range of flexible data subscription options to choose from, so you can find one that works for you and the level/frequency of use you expect to get out of it in terms of the number of messages you want to be able to send and receive using satellite data.
You can also choose to have either a flexible month-to-month plan or an annual contract, with the monthly rates starting at $11.95 (annual contract) or $14.95 (month-to-month). More on that in the cost and where to buy section later in this review.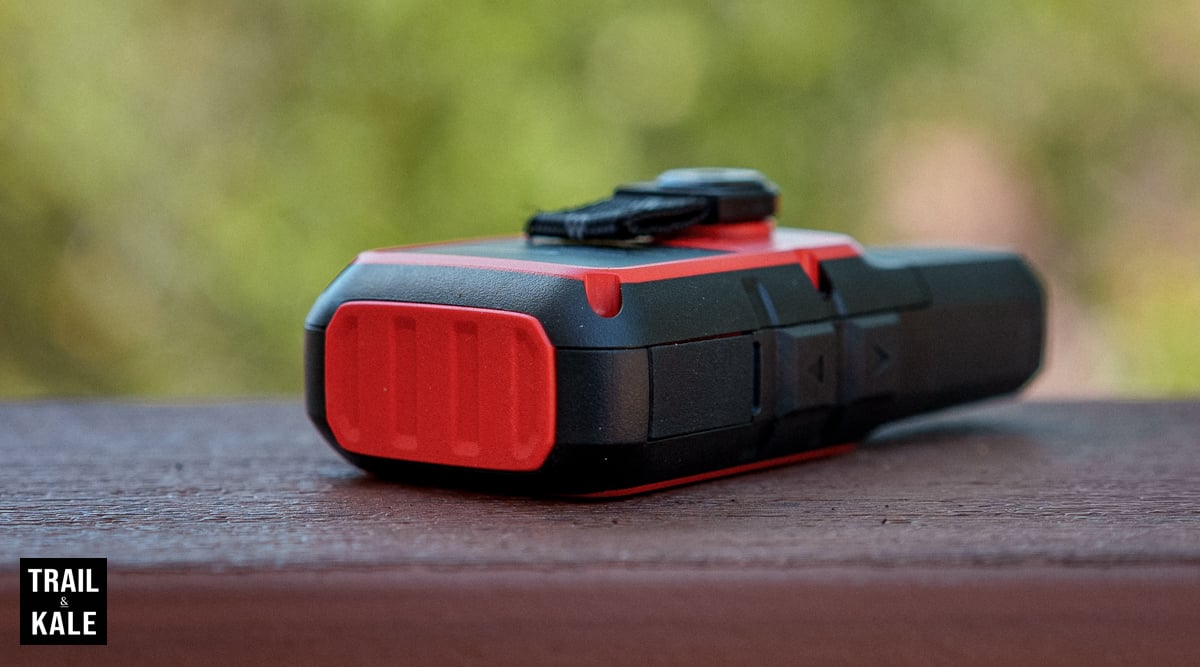 Battery life
If you're comparing the inReach Mini 2 with its predecessor, the original inReach Mini, one of the main differences is a significant improvement in battery life on this newer mini device.
The battery on this Garmin satellite communicator will last for up to 14 days in total while tracking you at the default 10-minute interval tracking mode with an open sky view. This battery life can be extended to up to 30 days if you increase the tracking interval to 30 minutes.
It's worth bearing in mind that, like with a GPS running watch, the tracking interval frequency and level of detail you have it set to record for your activities (which can be changed from standard to high detail activity, and back again, in the settings menu) will affect battery life, as will the extent to which you do have 'full sky view'.
With moderate tree cover or in very steep terrain, that 'up to 14 days battery life' could be reduced to around 4 days. The battery life is also reduced if you select the high-detail activity record rather than standard recording detail.
As a trail runner, skiier and mountain biker who can cover several miles in a 10 minute tracking interval, I would, however, still like to see the option of more frequent tracking intervals, or the ability to actually take the tracking data from my Garmin watch (which updates my location more frequently) and use that as an option for sharing my location with contacts and emergency services, if needed.
When the inReach Mini is turned off, the battery lasts a long time – up to 1 year.
Even if the battery's almost full, if you're planning an adventure, I would always recommend charging it up fully before you head out, so you have the longest possible battery life for longer trips or in case you end up spending longer than expected out there!
Obtaining satellite connectivity
In my experience, the inReach Mini 2 is quick to pick up satellite connections – similar to my Garmin Fenix 7S watch, within a minute or so I usually have a connection – assuming I'm somewhere with an open sky around me, not in a densely wooded area, for example.
As with other similar devices, you should always ensure (if possible) that you have a clear view of the sky when using the messaging, tracking, and SOS functions because these features require satellite access to operate properly.
Tips for use
Before using it for the first time, check the settings menu for any software updates that you should install to ensure you have the latest version, and make sure it's charged, of course.
You should also ensure you've taken the time to explore the Garmin Explore website and set up any routes, maps and custom preset messages you want to transfer to your handheld device to use while out on the trails.
I personally would not rely on the ability to connect to your smartphone, for the reasons explained above. If you really want a larger screen and mapping features that you plan to use regularly during hikes and trips, then it may be worth looking at other larger Garmin handhelds.
Nobody should be dependent on an iPhone or similar that has battery life that can wear down quickly when its out of cell service or being used intensively with ANT+/ Bluetooth connections to other devices, so get your inReach Mini 2 set up and try it out at home before you head into the wilderness!
With all that said, it's easy to see why the inReach Mini is so popular with trail and ultra runners, hikers and backpackers in particular, who value having an emergency messaging device that's so functional yet compact, and why it's consistently rated as the best two-way satellite communicator device for recreational activities. This is by virtue of its:
ease of use in terms of the device's controls and menus
ease of pairing with Garmin watches
quick GPS connectivity when you turn it on (outside under a clear sky, of course)
tiny credit-card size and lightweight
great battery life and
quality, durable construction that conveys quality in the hardware itself.
---
Cost and where to buy
The Garmin inReach Mini 2 device itself cost $400 at the time of writing this review and is available at REI. You can check the current price on REI's website using the button below:
It's also available from the stores below:
Last Amazon price update was: 29th September 2023 1:30 pm
Choosing the right data plan for you
As mentioned earlier in this review, you'll need a data subscription to use the features of this device, however, it is pretty straightforward to set up, with the most flexible and minimal package, the 'Consumer Safety' package, costing $14.95 per month.
You can view all data plan options and current pricing on this page of Garmin's website.
I expect for most people, like me, the 'Freedom Plan' (i.e. month-to-month) option will be your preferred choice rather than an annual contract, although you do save more per month with the annual plan, if you think you'll use it all year – that equivalent monthly cost for the same Consumer Safety package costs $11.95, for example.
The Freedom Plan is a flexible month-to-month option that only requires a 30-day commitment and you can suspend the service when you don't need it, for example, if you only use it seasonally or on trips and travels during certain times of year.
You can select and activate (as well as suspend and change) your subscription on the Garmin Explore website once you have bought your device.
As well as the device itself, a selection of mounts, cases, and lanyards are available from Garmin.
---
Review Summary
Garmin inReach Mini 2 Review
PROS
Easy to use
Very small and light weight
Great battery life
Impressive connectivity options for more complex navigation and messaging features
Flexible subscription options
CONS
Some may find the screen / font too small
The focus of this device is two way text messaging and as an emergency SOS communicator. Other options are better suited for you if you want more detailed navigation and mapping features without needing a smartphone connection
---
Image Gallery