I'm excited to finally be putting words down for this On Cloudboom Echo review, because this premium racing shoe for those who want to run their fastest times deserves a detailed writeup. It's not the running shoe you may expect from On running, and I'm looking forward to telling you why.
ADVERTISEMENT
In this On Cloudboom Echo review, I'm going to talk about the features that I love (and one or two that in my opinion, could be improved), how well they perform while running hard, how they compare with the other On running shoes, whether the high price tag is justified and ultimately whether or not they're worth buying, and finally a rating out of 10 with my pros and cons.
Before I get started open my Nike Air Zoom Alphafly NEXT% review in another tab, because they are another marathon racing shoe that sits in he same class as the Cloudboom Echo, and so could also be a consideration for you if you're looking to run your fastest times.
---
On Cloudboom Echo Review: Table of Contents
---
On Cloudboom Echo Fit, Features, and Key Specs.
General fit and comfort
Starting with the important question then: Is the sizing and fit consistent with other On running shoes and other brands? Yes, the Cloudboom Echo running shoes fit true-to-size and consistently with other On running shoes that I have tested and reviewed here on trailandkale.com. They are also consistent in size with other popular brands like Nike, Adidas, and Brooks Running.
The On Cloudboom Echo is an astonishingly comfortable running shoe when you first put them on, and walk around your house to get a feel for them. They're so lightweight and have so much cushioning underfoot that the Cloudboom Echo literally feels like walking barefoot on clouds.
Unfortunately, this feeling doesn't 100% crossover when you run in them – for various reasons that I'll share later in this review but know this, the Cloudboom Echo running shoes have been designed with the help of elite athletes where comfort is often sacrificed in exchange for performance. Ultimately though, this does result in record race times.
If you're familiar with, and enjoy how the Cloudboom (the non-Echo version of this shoe that hasn't been refined quite as much to hit record marathon times), Cloudrush and Cloudflash all feel to run in, then you'll be pleased to hear that the On Cloudboom Echo is fairly similar but has more cushioning in the midsole, and a slightly narrower fit – it's also lighter. On top of the additional midsole cushioning, there's that carbon-fiber-infused propulsion plate sandwiched between two Helion foam outsoles. You can actually see the plate in the image below, it's the black line that runs through the midsole.
These features give the Cloudboom Echo a very cushioned feel underfoot for running long distances fast, and for the most part, very comfortably. This all comes with the benefit of being propelled forward with the help of that springy carbon fiber plate.
The On Cloudoom Echo is very neutral in their support type, with an arch suited to most runners with average arches, and this is actually consistent with all the other On running shoes I have tested to date. The toe box and shoe, in general is of a medium to narrow width.
On Cloudboom Echo Design Features That Stand Out
1. Carbon-Fiber-Infused Plate/Speedboard and Dual Helion Foam Layers
The Carbon-fiber-infused Speedboard and rocker profile is a huge part of the Cloudboom Echo's secret to unlocking so much speed and efficiency. The carbon fiber plate was first introduced on the Cloudboom, and if you read my review of that running shoe, you'll already know that I was pretty much instantly impressed by how much faster it helped me run. Running on a regular route of mine I was able to knock off a considerable amount of time, without putting in an extra effort.
On has quite cleverly sandwiched the carbon plate between two layers of Helion foam which means the plate is still very responsive but at the same time far enough away from the bottom of your foot that you get a really comfortable, cushioned ride. This is how they positioned the carbon plate in the Cloudboom too. If you're unfamiliar with Helion, it's On's cushioned yet responsive midsole foam, that is appearing in most new On designs as of late.
A carbon-fiber-infused plate inside an On running shoe is really something that needs to be experienced to be able to completely understand how it makes you run faster. It's an awesome experience
2. Upper Mesh Construction
The Cloudboom Echo's upper mesh is single walled and extremely breathable as you can see from the image above. Having air flow through the shoes really helps to regulate the internal temperature of the shoes and stops your feet from over-heating and sweating too much. You may find that these shoes let in too much cold air on icy cold days.
The upper is made from 100% recycled polyester engineered material and it has targeted reinforcements to provide good ventilation and a strong hold of your foot when making sharp turns.
---
3. A lightweight minimal Outsole
The Cloudboom Echo outsole features a cross-hatch traction pattern similar to that of the Cloudboom that came before it. This cross-hatch pattern provides very good grip on city surfaces in dry and wet conditions, and this is something I feel On has needed to improve for a while now – so this is a great improvement for On's racing shoe lineup :).
The outsole is also very narrow compared to most other running shoes. I get why On has done this, as it kind of puts you on rails when running, and efficiently keeps your running straight, but for a runner who maybe isn't a seasoned marathon runner, being kept on rails (for want of a better phrase) can put strain on our ankles. This is because the narrow outsole to some degree, forces you into a style of running you may not be accustomed to initially.
---
4. Tongue
The tongue is very minimal and lightweight with not much padding, however, it doesn't cause any pressure points on the top of my feet from the laces, which I attribute to the subtle elasticity and flat form of the laces (i.e. not cylindrical).
Unfortunately, there's no internal sock in the Cloudboom Echo, which means you may need to pay a little more attention to ensure the tongue doesn't fold over itself on the sides as you're doing up the laces. This is a small gripe but something I've learned to forget happens since using On's and other branded shoes that use internal socks for so long.
---
On Cloudboom Echo Key Specifications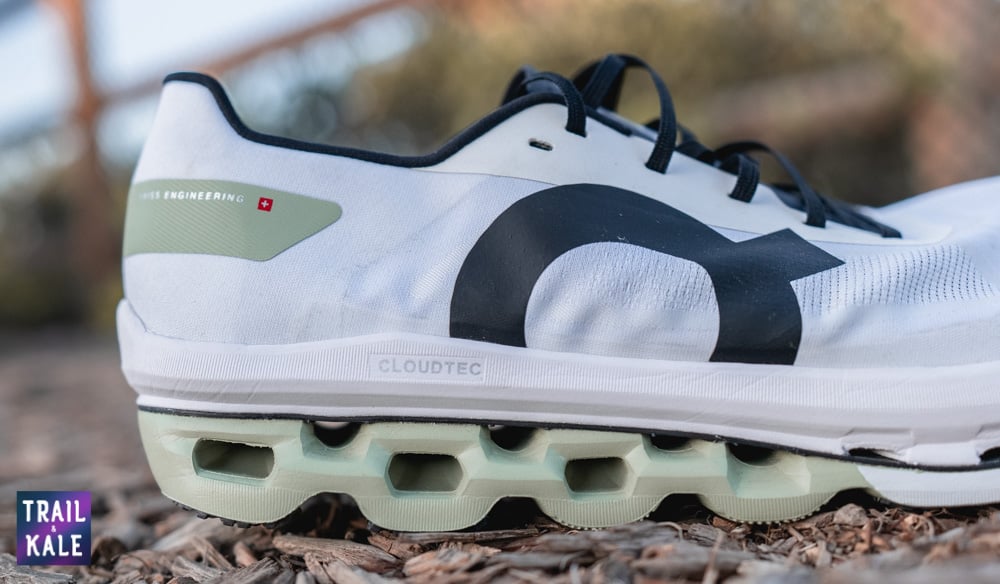 Weight
The On Cloudboom weighs around 7.76oz / 220g, so it's a hyper lightweight running shoe which is definitely noticeable when you pick them up or put them on for the first time. Having light shoes makes a huge difference to your muscles when you're running long distances like the marathon.
To give you some reference and some other popular On running shoes to compare to, the On Cloudboom weighs 225g (7.94oz), the Cloudflow weighs 235g (8.29oz) and the Cloudsurfer weighs 330g (11.6oz).
Cloudboom Echo Drop
The On Cloudboom Echo has a 9mm drop from heel to toe which oddly feels less than this, I'm not sure why but it feels better balanced than most shoes with a high drop. A 9mm drop puts you, the runner in a more aggressive racing stance that essentially helps position your form in a more forward leaning style. This is the same drop seen in the Cloudboom.
Support Type
There's moderate cushioning in the midsole and a neural footbed. So if you have average arches and feet then these should fit perfectly for you.
Shoe Width
The On Cloudboom fits true-to-size relative to all the other On running shoes I have tested, and the style of fit in the toe box and upper is of medium to narrow width.
---
On Cloudboom Echo running performance review
The On Cloudboom Echo has been designed for the higher echelon of serious half and full distance marathon runners but to be honest it's for anyone who who wants to perform to their absolute best in a race. The carbon-fiber-infused plate that runs along the midsole, sandwiched between two cushioned, yet responsive Helion foam layers provides very efficient and accelerated forward-propulsion.
The carbon plate manages to do this due to its rigidity that allows it to snap back into its original form, just as you take off from the ground. This plate when combined with this new rocker profile, and On's springy Cloudtec pods is a truly awesome experience. The rocker profile in the mid and outsole is there to help smooth out the transition from landing to takeoff, with reduced clunky impact. A new pair of On's with fresh cloud pods always seem to make me run faster, but when combined with a carbon plate, I'm flying.
Carbon-fiber-infused plates assist the muscles in your feet to some degree, which is why they're better for racing with rather than training. I would recommend doing some tempo training runs in a shoe without a carbon-fiber-infused plate like the Cloudflow, for example, in order to work on building up the muscles in your feet for real. Good running gear should never be a substitute for hard work and well disciplined training – instead, it should compliment that hard work.
Training for your marathon this way, means you'll feel turbo-charged when race day finally arrives, and you lace up your Cloudboom Echos.
As I mentioned earlier, the Cloudboom Echo has a very narrow outsole underneath your heel, this can to some degree force you into a running style that in not very forgiving to loose form. Season marathon runners may not notice this but I did feel like I was being kept on rails when running.
I do much of my running on trails and so my feet are often moving in all kinds of directions as I glide over various types of terrain, so having my feet forced into falling in a linear motion felt a bit strange to me at first. This is something you'll likely get used to faster if you're a seasoned marathon runner however. If you've run in these racing shoes before I'd love to hear your thoughts on that point – drop a message in the comments.
---
Cloudboom Echo VS. Cloudboom and how they compare with other On Running Shoes
If you were to compare the Cloudboom Echo to the Cloudboom, on paper they would look so similar that you may be left confused on which of the two to buy. Here's how the two running shoes compare:
They're both designed for medium to long distance marathon running
They both have a 9mm drop from heel to toe
They're both a competitive shoe, meaning they're for racing with
The Cloudboom Echo is a touch lighter (5g lighter to be precise)
The Cloudboom Echo has moderate cushioning whereas the Cloudboom has a more direct feel
Oh and the elephant in the room – the Cloudboom Echo costs $269.99 which is $70 more expensive than the Cloudboom
The On Cloudboom Echo feels similar to the Cloudboom but with more cushioningto allow you to run faster for anything up to a marathon distance. On has made a very fine tuned racing shoe out of the Cloudboom Echo and I can see it becoming a real favorite for elite marathon runners.
---
Are they worth buying?
Well, it depends! If you're looking for super-lightweight (7.76oz / 220g), breathable, and cushioned shoes to run your fastest marathon times, and you're a seasoned marathon runner already, then the Cloudboom Echo is definitely worth it – as you'll likely hit new PBs wearing them. If however, you're a marathon enthusiast who wants to also hit PBs but without paying $269.99, then I would recommend you go for the Cloudboom instead – they are still an awesome shoe and I actually prefer the run-feel of them because of the more normal width outsole under the heel.
The On Cloudboom Echo is the highest performance On running shoes for road runners to date, overtaking the Cloudboom by a small margin but that doesn't mean they re the best. Have a read of my On Running Shoes Buyer's Guide for a complete ordered listing of On running shoes ranked and reviewed in their specific categories (Road, Trail, hiking, Lifestyle).
---
On Cloudboom Echo Review Summary
On Cloudboom Echo Review
PROS
Carbon infused plate helps you run faster
excellent cushioning in the midsole
I like the rocker profile as it makes the transition from foot-strike to take-off much smoother
super lightweight
They do make you run faster
CONS
narrow outsole under the heel can inform your running form too much unless you're a seasoned marathon runner
only 1 colorway available
Expensive
---
On Cloudboom Echo Photo Gallery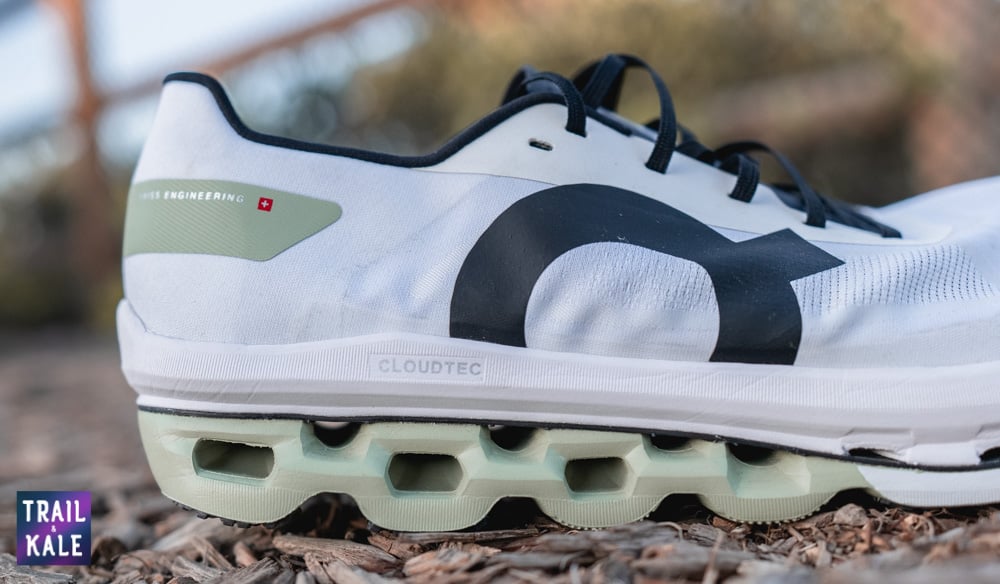 ---
I hope you enjoyed this On Cloudboom Echo review – if you have any questions about these running shoes, feel free to drop the in the comments below 🙂 –Alastair.
ARE YOU NEW TO TRAIL RUNNING OR WANT TO TRY IT? — Have a read of our Ultimate Beginner's Guide to Trail Running – it will get you up to speed on all things trail running! 🙂