The Nike Alphafly NEXT percent is something very special, and there's absolutely no denying that. Everything about this shoe screams speed, from the exterior design to the way they feel while running in them. Due to its rather long name 'Nike Air Zoom Alphafly Next Percent' you'll notice me mostly referring to these running shoes as the 'Nike Alphafly NEXT%' in this review. Important to note because there are other similar named Nike running shoes currently available but to clarify, these are the best Nike racing shoes that money can buy right now.
ADVERTISEMENT
In this Nike Air Zoom Alphafly Next Percent review I cover the key features of these Nike racing shoes, how well they perform while running including pros and cons, because there are some cons, whether they're worth buying, and finally a summary with my final rating out of 10.
---
Nike Air Zoom Alphafly Next% Table of Contents
---
Nike Alphafly NEXT% Fit, Features, and Key Specs.
General fit and comfort
The Alphafly NEXT Percent fits true to size and is consistent with other Nike running shoes I have tested and reviewed here on Trail & Kale. They are also consistent with other popular brands including On Running, Adidas, Hoka One One, and Brooks Running. Drop a comment down below with the brand you normally run in and I'll let you know how they fit relative to them too.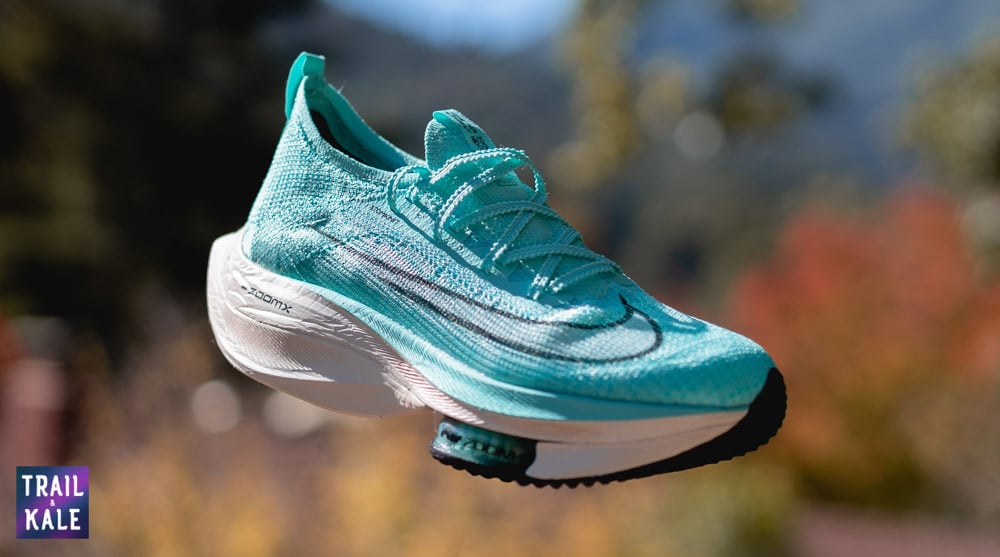 The Nike Alphafly NEXT% is a really comfortable running shoe right out the box but you'll likely notice that the mid-foot/arch area is very slim. As a result, your feet end up sitting on the bottom of the side walls. I understand it's hard to get what I mean without an image or video, so watch the video below to see what I mean.
This is a bit of a shame to be honest, and yes, I get it when you're trying to achieve a sub 2 hour marathon time, comfort has to take the sidelines in favor of performance. I only wish this shoe was modified slightly for the average runner looking to hit PBs rather than elite racers who may be more willing to sacrifice some comfort to increase performance.
That being said, although I can feel the sidewall underfoot, it actually isn't all that uncomfortable while running. Yes, you can feel it but no it doesn't cause major discomfort or the dreaded blisters.
The first surprise when you take the Nike Alphafly NEXT% out the box is how crazy lightweight they are. Then, when you step into the shoes and put weight into them, you'll notice the pretty astonishing cushioning underfoot, paired with a carbon fiber plate that helps propel you forwards while walking or running. It's a pretty amazing feeling I have to admit, and you immediately want to go out and run in them to see just how fast you can go. Just talking about it now makes me want to lace them up and go for a quick run.
The plush, yet responsive feel can be attributed to the ZoomX midsole and rocker geometry. The ZoomX foam is super lightweight and springy with an excellent response, much better than React foam in my opinion, which seems to lack responsiveness. The rocker geometry is designed to help you transition from heel to toe and finally to lift-off as you run, with minimal jolts in your joints as you make that transition.
These shoes also feel neutral in their support type, with a pretty standard, albeit narrow arch support. The toe box and shoe width both feel around medium in size which should fit most average feet.
---
Nike Air Zoom Alphafly NEXT% Key Design Features
1. Upper mesh construction
The Flyknit upper mesh on the Nike Alphafly NEXT% is called AtomKnit, which is a super-lightweight woven material that's also very strong, breathable, and stretchy. I read somewhere that Nike developed this new upper because when they upgraded the Vaporfly (in order to create the Alphafly that I'm reviewing here), they added two Air Zoom pods under the forefoot which increased the weight slightly.
This meant that they needed to redevelop the upper material from the Vaporweave to AtomKnit in order to get the weight back down again (See image below for a closer look).
2. Nike ZoomX cushioned midsole, Carbon fiber plate (Flyplate), and rocker geometry
The engineering that has gone into the midsole is even more creative than the AtomKnit upper. First off you've got two layers of ZoomX foam with the carbon fiber plate sitting between them, and then there's the striking, undeniably Nike, double Zoom Air pods under the forefoot to complete the admirable array of cushioning structures.
ZoomX foam does an excellent job of giving you plenty of cushioning with lots of response but when you have a rather high stack height as you see in the Alphafly, you do feel a sense of wanting to tip if you take corners too quickly.
The carbon fiber plate called the 'Flyplate' that sits between the two ZoomX layers does a pretty good job of stabilizing this lateral movement but it does still remain when cornering at speed. Marathon runners don't generally do all that much heavy cornering when racing as that's the nature of the marathon race so it's not really much of a deal for those runners.
The Nike Alphafly's stack height is 35mm in the forefoot and 39mm in the heel which gives it that enjoyable 4mm drop I love so much – and that 4mm drop helps keep the shoes more stable while cornering too.
Finally, on the midsole, you'll feel the rocker geometry doing its thing whilst you run. If you don't know what 'rocker' means, all I'm referring to is how the front and rear of the midsole and outsole both tilt upwards at either end, enabling that 'rocking chair feel' as you run. This is designed to keep you moving forward more efficiently and it does a great job at doing just that.
3. Nike Air Zoom Alphafly NEXT% Outsole Design
The outsole looks so futuristic in design yet minimal in terms of grip, and it's really cool how Nike has integrated the Zoom Air pods into the front half of the outsole. I haven't had any issues with grip on the roads whilst running in these shoes yet (this includes running in the wet, post rainstorm), but I haven't run on super slick surfaces while it's been raining. If I notice any issues in the future I'll update this review to let you know.
You'll notice that there's a unique Alphafly gap between the front and rear, due to the Zoom Air pods, and I'm not entirely sure why but I do notice more road noise than usual when running in these shoes. I'm usually a very light-footed runner, so when I pass someone on the sidewalk (or pavement, depending on where you live) they don't tend to notice me coming until I'm right on them.
So, when I first ran in the Alphafly NEXT% I was a little self-conscious while running past people, for fear of them thinking I was an 'asphalt slapper' (I just made that term up). For the life of me I just can't seem to run in these shoes without making some level of noise (above average) as my feet hit the ground – and I really really tried. Probably not a big deal for many runners but if you're someone who likes to be silent, swift, and ninja-like while running, it may take a bit of getting used to.
4. Tongue-sock and laces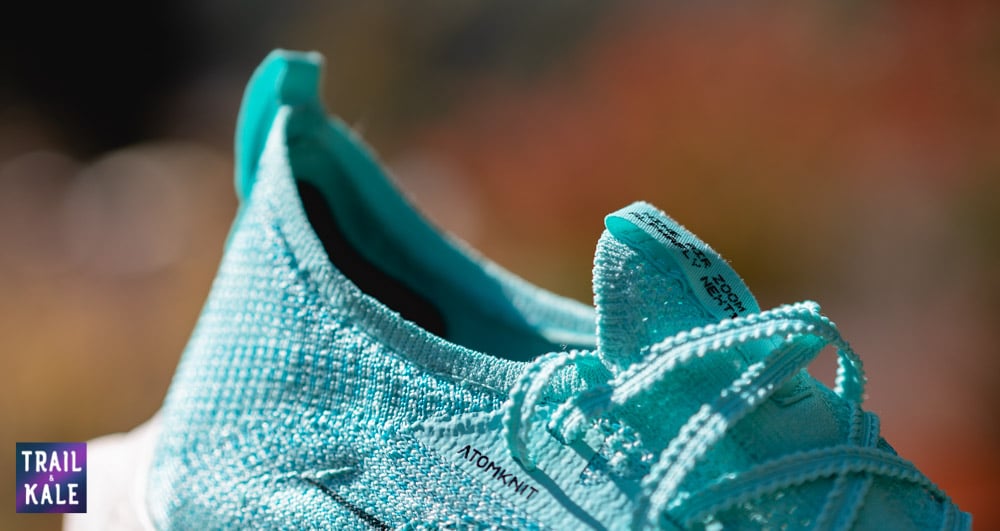 The tongue is made with stretchy Flyknit material, different from the AtomKnit mesh found on the rest of the upper. This works well because it's softer and has much more stretch to allow your foot extra freedom of movement. The tongue itself is connected to the rest of the upper, so you're effectively putting on a slipper/sock, rather than lifting a tongue and sliding your foot in. Watch the short video above to see how you slip your feet into the Alphafly.
Okay, now let's talk laces because these laces are probably the best shoelaces I've used, and not just because they look (and feel) like women's lace lingerie. That last statement may sound weird but they really do, especially in the light blue color of the Nike Alphafly that I own.
Anyway, I digress a little – so what makes these lace laces so special? Well, I'm glad you asked, for me, it's how lightweight they are, and how well they stretch and lock together when you tie the laces. Due to the lace pattern on the edges, they really do lock tight, very easily, and don't come undone when running. These laces need to be experienced to understand. If you've tried them before, drop me a comment down below to let me know what you think.
5. Heel-lock achilles pillows
I'm in love with the Achilles pillows on the inside of the Alphafly.
Without them, the heel wall would be far too minimal to run long distances with, and anyone who has followed our blog for a while now will know I've had issues with Achilles tendonitis in the past.
Here's how I fix Achilles heel pain by the way if you're suffering from it now.
So, to find another running shoe that allows me to run comfortably without agitating my Achilles is a real blessing.
I've tested other shoes that try to implement this Achilles pillow design, but none of them work as well as the ones on the Alphafly for 2 reasons. The first is that they're just outright too solid to feel comfortable on my Achilles, and second, the shoes have all been too heavy for a heel-lock system like this to work effectively without agitating your Achilles in some way. So, in short, this heel-lock Achilles pillow system works very well on the Nike Alphafly NEXT%
6. Finger loop at the rear and on the tongue
Finger loops can be very useful for slipping on running shoes, especially when you're wearing running gloves during those colder months, and Nike has gracefully included two – one on the tongue and one at the rear of the shoe. Another reason these Nike racing shoes need finger loops is that they're slip-on shoes, which means you need to hang onto the loops to get them on easily.
---
Nike Air Zoom Alphafly NEXT% Key Specifications
1. Nike Alphafly NEXT% weight
The Nike Alphafly NEXT% weighs 7.4oz/210g for a men's size 8.5 which is crazy lightweight by the way. You can really notice the difference that light running shoes make when you've been running for a while because your leg muscles are not wasting as much power on simply lifting your feet.
2. Drop from heel to toe
The Nike Alphafly NEXT% has a 4mm drop from heel to toe which feels great.
I normally go for a 4mm or 6mm drop while trail running to give me better control on technical terrain and a more consistent feel when running up and down hills so I was very pleased to see that these running shoes have a 4mm drop.
3. Alphafly NEXT% support type
These Nike racing shoes have maximum cushioning with a neutral footbed, so if you have average arches and feet then these should be a great fit for you.
4. Shoe width
The Nike Alphafly NEXT% is a medium-width running shoe that fits true to size and the toe box is also medium width. The mid arch section does feel narrow, however, but this could be all part of Nike's design to ensure they're one of the fastest running shoes on the market.
---
Nike Alphafly NEXT% performance
The Nike Air Zoom Alphafly NEXT% is a seriously high-performance marathon racing shoe that really does help you run your fastest times. The trouble I have with them is that they make me run faster than my cardiovascular system is capable of keeping up with, haha. This of course becomes less of an issue, the more I run in them because I have learned to start off slower and let my heart rate settle before pushing myself. This can be easier said than done, however, because the way the Alphafly's feel underfoot inherently makes you want to run faster.
The 4mm drop forces a very natural, almost barefoot running form which really helps you engage proper biomechanics and muscle use as you run. This in the long run is much better for you and helps reduce the chance of picking up running injuries. This is simply based on the belief that we have not evolved over thousands of years to be wearing elevated heels that throw off our natural, and efficient walking/running stance.
The Alphafly NEXT% midsole is a work of art with one caveat. The rocker geometry underfoot, when coupled with the carbon fiber Flyplate (to propel you forward), and the ZoomX foam & Zoom Air pods (to give you protection, cushioning, comfort and responsiveness) all offer you a combination that makes you run faster, all while feeling very comfortable.
The caveat, by the way, is the noise level from the shoes hitting the ground as you run. I feel like this is coming from the Zoom Air pods in the forefoot – if you've had experience with the Alphafly NEXT% I would love to get your thoughts on this in the comments.
Overall I can confidently say the Nike Alphafly NEXT% is the fastest running shoe I have had the pleasure of testing for Trail & kale, and it's somewhat of an engineering marvel that has been designed with real science, and data gathered from elite marathon runners in mind. I'm always interested in progressive running gear that pushes boundaries, and the Nike Air Zoom Alphafly NEXT% does exactly that.
This of course is always going to come at an increased price point, as the materials used are expensive, and the time and money spent on developing such a product is going to be far more involved than run-of-the-mill gear that doesn't receive such special treatment.
---
Are they worth buying?
Yes, the Nike Air Zoom Alphafly NEXT% is an incredibly well-engineered running shoe and is definitely worth buying if you're a runner who regularly races 5km to the marathon distance and want to hit a new PB. I say this because the likelihood is that you will get new personal best times for your favorite distance while running in these shoes – that's simply how they've been engineered to perform.
However, don't forget my caveats mentioned earlier which include additional road noise when running, comfort underfoot inside the shoe, and finally the big elephant in the room, the price of $275.
If none of those drawbacks bother you, and you simply want to run your fastest times and look pretty elite while doing it, then get these the Alphafly NEXT%. I don't often tell our readers that a shoe can make you run faster, instead opting for advice on smarter training BUT the Alphafly NEXT% really does – I know because I've experienced it first hand.
---
Nike Air Zoom Alphafly NEXT% Review Summary
Nike Air Zoom Alphafly NEXT% Review
PROS
They really do help you run your fastest times
Very breathable and lightweight upper mesh thanks to the AlphaKnit material - regulates internal temperature very well
The midsole is so well cushioned with a carbon fiber plate and rocker geometry to propel you forward and keep you moving
very comfortable long distance racing shoes
Super lightweight construction which makes long distance running feel easier
A really fun experience to run in - bouncy and responsive
Love the vibrant colorways available
CONS
Noisy to run in
arch is narrow on the inside edge, and so you end up standing on the inside sidewall - this thankfully isn't that uncomfortable while running however
Not the best lateral control when running around tight corners at speed
Expensive
---
Image Gallery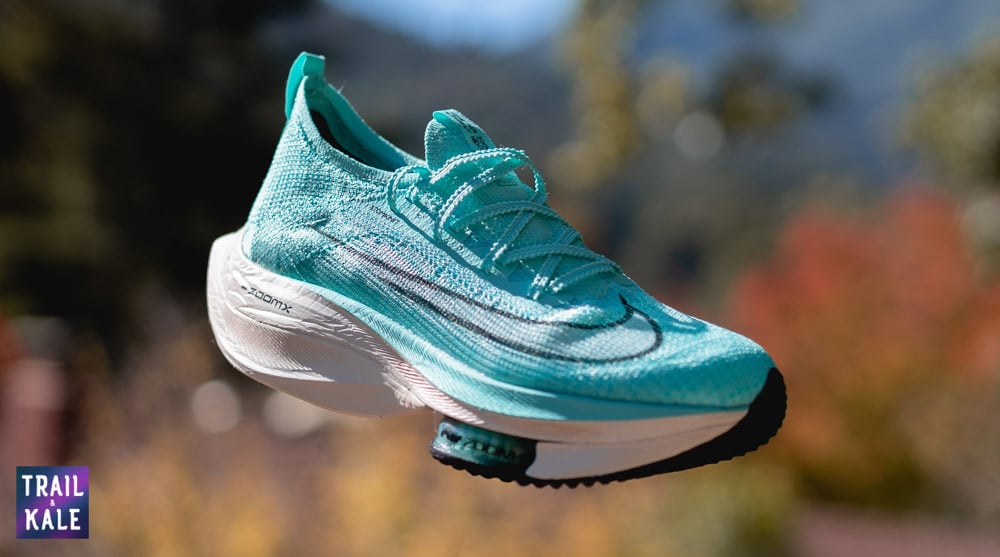 I hope you enjoyed reading this Nike Air Zoom Alphafly NEXT% review, if you have any questions about these Nike racing shoes, let me know in the comments below. Now, go visit our Best Road Running Shoes Buyer's Guide to see if they made it onto the list.