Once a year the On Running brand manages to design a running shoe that exceeds my expectations, and consequently shuffles the rankings of On Cloud shoes on my popular 'Best On Running Shoes Buyer's Guide' and road running shoes buyer's guide. This year, the Cloudmonster is that shoe in the road running category!
NOTE: The On Cloud still ranks number 1 in the lifestyle category. The Cloud 5 is still On's most popular shoe but is best suited for everyday lifestyle use, rather than running.
Interested in getting up to 40% OFF On running shoes? Visit On's Classic range page to see their latest deals.
Make sure you read my On Cloud review next if you're also looking for a great pair of daily lifestyle shoes that also one of the best On Clouds for walking or standing all day!
In this, On Cloudmonster review I'm going to reveal why this running shoe has been awarded our coveted Editor's Choice Award, and exactly what makes it such a special shoe for running.
---
More On buying guides:
---
I hope this review answers all your pre-purchase questions about the On Cloudmonster, but please feel free to leave any questions you may have in the comments section below.
---
On Cloudmonster shoes fit and design
The On Cloudmonster fits true to size and is therefore consistent with all the other On running shoes available. Helen is also loving these running shoes and she confirmed with me that the women's Cloud Monster also fits true to size.
The Cloud Monster is a medium-width shoe and the toe box feels nice and airy – so if your toes are 'average' to 'wider than average' then the Cloudmonster should feel great in the toe box.
It has a medium arch and feels very comfortable like On shoes generally do.
If you've worn On's before and enjoy the feel, then the Cloudmonster won't disappoint, it will likely impress because On has made a few huge improvements to the cushioning and rocker feel to this shoe.
Although the Cloudmonster has some similarities to the Cloudstratus, in terms of uber cushioning and comfort underfoot, it's most definitely a very unique-looking running shoe from the On Running brand.
I personally really love the design, and the Cloud Monster looks even better in person. I'm not the only one either, the Cloudmonster won an ISPA design award. This largely German-focused award highlights the most outstanding products and services in sports four times a year.
In my On Cloud shoe reviews, I always mention the fact that On Running is a Swiss company, and how proud the Swiss are of their design and engineering skills – a reason they always include the Swiss flag on every 'right' shoe (see photo below).
On's engineering pride is important to note because On shoes are extremely well designed and manufactured. This extra quality and flair is part of what you pay for when you get a new pair of On running shoes.
I really like the little details from the large reflective 'On' logo decal to the shiny Cloudmonster text that runs down the side of the shoe (it offsets the matte upper fabric really nicely.
The upper uses mixed fabrics with varying textures and a color palette that uses a classy range of pale green, orange and white tones (in this particular color variant called 'Frost | Surf').
This is the first generation of the Cloudmonster and there's already a ton of innovation gone into it, gathered from years of iterations of the On Brand's other running shoes.
I'm excited to see how what On does to the Cloudmonster 2 for its first update – but for now, I'm going to just enjoy running with this awesome sneaker.
On Cloud Monster upper is made with sustainable recycled materials
The mesh material used for the On Cloudmonster upper is very breathable, has a little bit of stretch, and is very soft on the top of your foot inside the shoes, due in part to the upper having two layers – a softer one on the inside, and a more durable one on the exterior.
The Cloudmonster sneakers are made from about 35% recycled material overall, which is great to see – and much of that recycled material is found in the upper.
For example, the tongue, vamp, heel, laces, and sock liner are all made with 100% recycled polyester.
We appreciate every move the On brand makes to help improve sustainability in the manufacturing process.
There are areas in the upper that have been protected with strips of 'no-sew foil' which will firmly hold fabrics together without the possibility of fraying edges.
On Cloudmonster running shoes Inner Sock
There's also an inner sock liner that attaches the tongue to the forefoot area, similar to the On Cloud, On Cloudflow, On Cloud X, and On Cloudace running shoes.
This sock liner keeps the forefoot snug and stops the tongue from slipping out of place. The sock also reduces any chaffing (and hence blisters) as there are fewer seams inside.
On Cloudmonster tongue
The tongue is very slim, lightweight, soft, and comfortable to the touch, so you could even wear these shoes without socks if that's something that floats your boat, lol.
This tongue really adds to the minimal and super lightweight feel of the On Cloud Monster.
On Cloudmonster lacing system – simple but a huge hit with me
On uses quite a simple lacing system but it works better than most other shoes I have used. I can actually pull the laces from the top and the whole system fastens the shoe around my foot.
Now you may be saying to yourself "well isn't that what all shoes should do?" – and I'd say yes, that is exactly what they SHOULD do, but I can tell you from experience, that more than 80% of the shoes I review on here, don't do this.
I chalk those mistakes down to a brand overcomplicating the lacing system, or just not having done their testing and research thoroughly enough before releasing the shoe – *shakes head.
I'm a big fan of the laces on the Cloudmonster too, On sometimes releases shoes with the oddest of thin laces, that just don't work, and shouldn't see the light of day in my opinion.
This was a mistake they made with their recent release of the On Cloudvista trail running shoes.
A shoelace mistake is generally easy to fix as you can swap them out yourself but let's face it, we shouldn't have to in this day and age.
Rant over, and to drive the point home again – the laces on the Cloudmonster are excellent!
CloudTec Misdsole get a MONSTER upgrade!
My lord, the new and stupendous Cloudtec midsole on this shoe is something to marvel at. Yes, it looks big, bouncy, and 'monstrous' for want of a better word – but this midsole is not just for looks.
I can honestly say that the Cloudmonster gives the bounciest, most fun ride of all the On Running Cloud shoes – that includes the original Cloudsurfer which had those original bouncy cloud pods that I loved so much (but weren't particularly durable for heavier runners).
The Cloudtec pods have been increased in size, making them the largest Cloudtec pods on any On Cloud shoe. And because this Cloudtec sole doesn't have any sandwiching of midsoles like the Cloudstratus for example, it has a much great energy return and springiness to it.
Other words that describe the feeling (straight from the thesaurus, haha) include: energetic, playful, and vivacious!
This is one of those running shoes that need to be tried for yourself to fully understand how fun they are to run in. It's a feeling that's actually quite difficult, even for a writer like myself, to get across.
This plushy midsole is felt right across the bottom of the foot from the heel all the way to the forefoot. So, all runners whether you heel strike or land on your forefoot like a teacher's pet (or a running angel) will experience the benefits of this playful midsole.
A refined outsole for tremendous control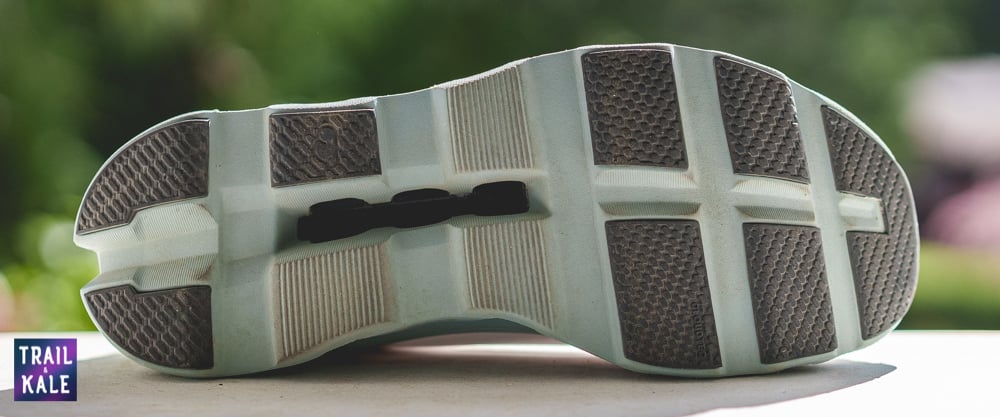 The outsole used for the On Cloudmonster is pretty interesting! For me anyway, but then again I am kind of nerdy when it comes to analyzing new releases from the On Running brand.
You could say I'm a bit of a cONnaisseur on the topic! haha 😛
The tread has multidirectional tread patterns which give the shoe grip in any direction you turn in them, yes, even when running backward while showing off to a friend!
I've taken the Cloudmonster on a mixture of terrain, and found the traction to perform very well on the road, but also excellently on gravel, and hard-packed dirt sections of trails. The Cloud Monster bites into dusty dirt trails admirably.
I wouldn't recommend wearing them on technical trails unless you have ankles of steel because there isn't much support on the lateral movement side of things but on light, hard-packed trails, I think these might be quite awesome!
Oh, I almost forgot to mention, the gully on the bottom of the shoe is very shallow, and I didn't pick up any gravel whatsoever!
You can see how shallow it is on the forefoot area in the photo above – the image below shows the rear end of the outsole which had deeper gulleys but they have been chamfered off to ensure stones don't get stuck in them.
On Cloudmonster drop and support type
The On Cloudmonster has a heel-to-toe drop of 6mm – this is great for road running, and also for all-day comfort, if you plan to wear these for walking or long days out.
Running shoes, don't just have to be for running! 😉
The Cloudmonster has a neutral support type which means there's not much additional arch support in the removable insole insert – this will suit most people who have average feet.
If you do feel you need extra arch support then I would recommend getting yourself a good pair of running insoles to help improve comfort and running form for those who need the extra support underfoot.
On Cloudmonster toe box will fit most feet comfortably
The toe box is medium width and feels very airy with enough space for the recommended amount of toe wiggle and splay, which is important if you plan to run on hot days or over long distances.
This is because our feet expand and contract as the temperature increases or decreases.
On Cloudmonster weight
The On Cloudmonster weighs in at 9.7oz (275g) which is very lightweight for a shoe with this much cushioning.
In fact, the first thing you'll probably notice when you pick up the shoe is how light it is to hold. This is what you want from a shoe if you plan to run fast over long distances up to the marathon.
Color options
The On Cloudmonster shoes currently come in two different colors for the men's and the women's shoes.
I predict On to release more colors at some point because I think this running shoe will quickly become a favorite among most who buy it, and they're bound to want more colors to choose from.
---
Running in the On Cloudmonster
The On Cloudmonster is a very special running shoe, and one I think will become a very popular running shoe for the On brand.
The Cloudmonster is probably the most fun running shoe I have tested from On.
The bouncy, joyful ride is backed with running times that reflect a shoe that is performing to high standards.
The Cloudmonster has impressive cushioning and protection underfoot, and energy return that just makes you want to run your fastest.
I also really like the rocker design of the mid/outsole which helps provide a smooth transition from landing to take off.
For those reasons, the Cloudmonster is a high-performing running shoe for anyone looking to run a fast-paced 5km training run (or race), but also anyone looking to beat their marathon personal best time.
So in short, the Cloudmonster is a beast of a shoe that's fun to run in, but also delivers the goods when it comes to improving your running route/race times.
---
Where to buy the On Cloudmonster
We recommend buying the On Cloudmonster for the lowest price of $169.99 at on-running.com as they have fast delivery, the best stock of colors and sizes, and a no fuss returns policy.
---
On Cloudmonster Review Summary
On Cloudmonster Review: My New Favorite Road Running Shoes
PROS
Very comfortable out the box.
The most fun I've had running on the roads in a while! The bouncy feeling is just awesome.
High performance - I find myself running faster than usual.
Very cushioned which makes them great for half marathon and even marathon running.
nice amount of space in the toe box for when your feet expand with increasing temperatures.
reasonable price for such a high performing shoe
CONS
Only two color options available at the time of writing this review.
I honestly don't have any other negatives to write about - On has done a great job designing the Cloudmonster.
---
Image Gallery
---
Still not sure which On Running Shoes to buy?
I hope you enjoyed this On Cloudmonster review, if you're still not sure which On Running shoes to buy, visit my Best On Running Shoes Buyer's Guide for an ordered list of the top ON Clouds for road and trail running. It has been designed to make your buying decisions easier.