When On Running first released the Cloudstratus a few years ago, I knew it was going to be a game changer for long distance runs. I've a lot of experience running with On running shoes that use Helion foam in their midsoles but no other On shoe has Helion in two layers – and that's what makes the On Cloudstratus shoe so special. Interested in getting up to 40% OFF On running shoes? Visit On's Classic range page to see their latest deals.
This in-depth On Cloudstratus review focuses on the key features of these marathon running shoes, how well they perform while running, and how well they rank against other On running shoes in our Best On Running Shoe Reviews Buyer's Guide.
The concept of stacking two layers of CloudTec® Helion foam started as a bit of an experiment in the On engineering lab in Switzerland but ended up becoming a serious hit with marathon runners who realized the benefit of having a super cushioned shoe with high energy return due to the speedboard that sits above the midsole and below the footbed.
The On Cloustratus is very much a marathon and half-marathon running shoe that has more cushioning than many of On's other shoes (except for maybe the On Cloudace), while keeping much of its responsiveness.
It will suit heavier runners with wider than average feet. On has also made a commitment to be a more sustainable company, and as such the Cloudstratus features a new upper which is constructed with 75% recycled polyester – more on that in just a moment.
Hopefully, this On Cloudflow review answers all the questions that you may have but if not, please feel free to ask me anything in the comments section down below, I usually respond within a few hours – or for a faster reply, ask me on Instagram.
On Cloudstratus Sizing and Fit
The On Cloudstratus is very comfortable right out of the box, which is something I have come to expect from the On brand.
Much of this comfort comes from the inner sock that's attached to the sides of the tongue, which wraps around the foot really nicely, reducing the likelihood of any chaffing.
Other features that give it comfort right out the box is the dual CloudTec midsole which provides cushioning underfoot and the soft thick shoe wall which rests around the top of your ankle.
The On Cloudstratus running shoes fit true to size relative to other On shoes and other popular brands like HOKA, Nike, Adidas, and Brooks Running for example, so there's no need to size up or down, just go with the size that you're used to.
If you have wide feet then these should fit you nicely too, as there's a good amount of room in the toe box area.
The On Cloudstratus Upper Construction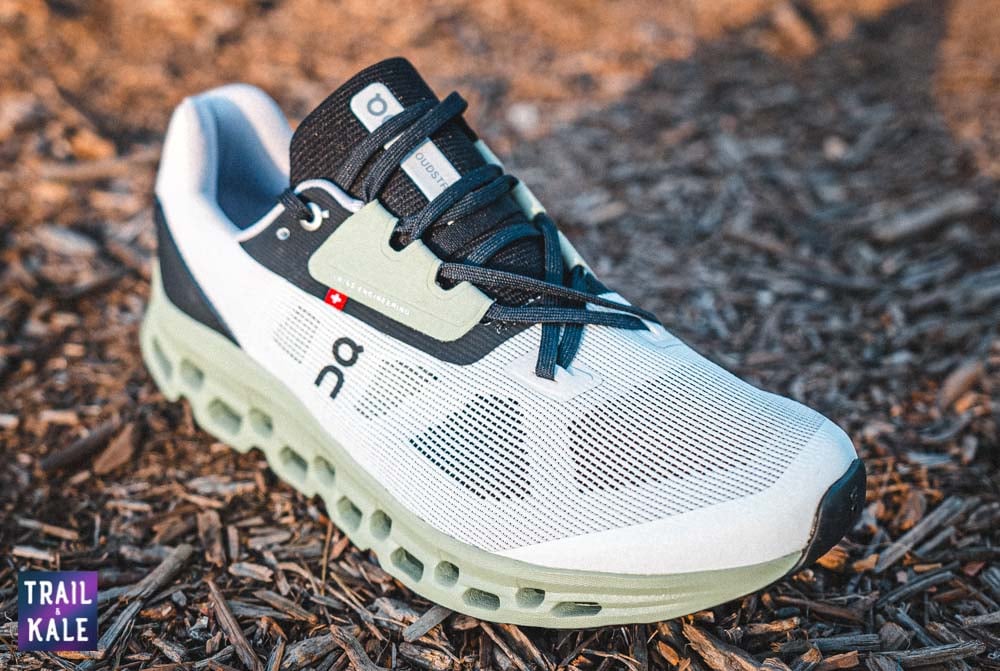 The On Cloudstratus upper has a nice anatomical fit that allows for better flex as you run, relative to the biomechanics of your feet.
As I mentioned earlier, On is becoming one of the most sustainable running shoe and apparel brands which means they are fully committed to reducing waste and helping to protect our environment as a result.
Their latest running shoe releases demonstrate this with increased use of recycled materials in their construction. On is also using fully recycled packaging now too in order to further reduce their footprint, which is awesome to see.
With that said the Cloudstratus is using 75% recycled polyester in their upper material, and about 20% of the shoe as a whole, uses recycled materials – that's 2x more than the previous model.
The most breathable parts of the upper are located on the mid-section sidewalls and above the toe-box – and the materials get thicker towards the rear for more cushioning and support in the tongue, heel and ankle areas (see image below).
Looking towards the rear of the shoe, you'll notice a solid plastic heel cage which is designed to lock your heel in place and reduce the chances of lateral foot roll (see image below).
This gives a good stable-feel while running longer distances.
Once again, On has gone with the same forefoot star formation lacing system which I'm still not a fan of.
According to On, it exists to help improve the fit and also to support your foot's natural motion in the areas where it flexes, but personally I haven't really noticed this and prefer On's standard lacing system.
The star formation towards the forefoot makes doing up the laces for the first time a longer process than it needs to be.
It's better than the previous model in that the upper doesn't get pulled when you tighten the laces in that area but I'd still prefer to see a more standard lacing setup on the Cloudstratus.
The Double Layered Helion Midsole and the On Speedboard
The latest double-layered Helion CloudTec midsole on the 2nd Gen Cloudstratus offers even more cushioning than the previous model with the dual-layer extending right to the front tip of the shoes.
The dual-layer stopped before the forefoot on the previous model, which was something that I noted On needed to improve on.
I'm pleased to say they have, and the new design works really well, as expected.
If you're completely unfamiliar with the Cloudstratus model and it's outsole design, On has effectively sandwiched two cloud layers into one, giving the shoe a super cushioned ride, without that plushy feel which can take away all responsiveness from a running shoe.
The doubled-up midsole does add a little extra weight to the shoe putting it at 11.1oz (or 315g) which is 10 grams heavier than the previous Cloudstratus, even though it doesn't feel heavier.
This weight is to be expected for a running shoe with so much cushioning in the midsole and in the upper's heel wall.
On's Speedboard combined with this midsole make the Cloudstratus a very cushioned shoe with a responsiveness that you may not expect from such a comfortable shoe.
On's speedboards allow you to run faster than you may be used to because they act as a propulsion plate that springs back into place after it has been flexed by your feet.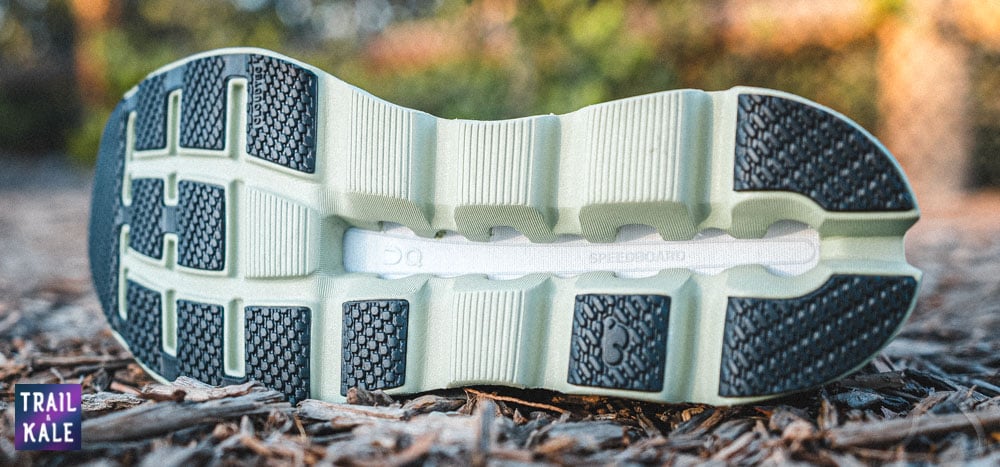 The Cloudstratus outsole has been greatly improved over the previous model with multi directional tread that will give you plenty of traction when running on the roads in wet and dry conditions.
You'll also notice a valley carved out towards the rear which reduces the weight of the shoe – On has also spaced the clouds out a bit more too.
Cloudstratus weight and drop
As mentioned earlier, the On Cloudstratus weighs 11.1oz (or 315g) due to the dual layer cushioned midsole.
There's a drop of 9mm from heel to toe which is 1mm higher than the previous model, it has the same ride feel, however.
I really like the ride of the Cloudstratus with this level of drop but I think it could be improved a bit if On could shave just a little bit of weight off the running shoe.
The On Cloudstratus has a neutral running footbed which means it's going to suit most people who have an average foot shape.
If you do feel you need extra arch support then I would recommend getting yourself a pair of good running insoles to help improve comfort and running form for those who need the extra support underfoot.
Toe Box
The toe box is wide and feels airy due to the breathable upper material.
Where to buy
The On Cloudstratus is available for purchase at on-running.com for $169.99.
---
On Cloudstratus Review Summary
In summary, the On Cloudstratus is a marathon and half-marathon running shoe designed for heavier runners who want to soften the impact while running long distances on the roads and the toe box is nice and wide with good ventilation for temperature regulation.
It's also a very supportive shoe that has a heel cage to help lock your foot into the shoe.
This is a long-distance performance shoe which carries a little more weight than some of On's other shoes due to the dual layer Cloudtec midsole and cushioned heel wall.
If you are a heavier runner, the weight of the Cloudstratus shouldn't really be that noticeable to you, and that dual-layer cushioned midsole will be your friend for many many miles.
I hope you enjoyed this On Cloudstratus review, if you have a question for me, please leave it in the comments below.
On Cloudstratus Review
Pros
Enjoy the soft landing feel of the doubled up Helion midsole
great for average to wide feet
comfortable fit, excellent cushioning with a responsive feel
Breathable
great shoes for heavier runners
Made with 20% recycled materials
Cons
a little heavy
The star-lacing system takes longer than traditional lacing to tighten for the first time
Image Gallery
---
Jump over to our Best On Running Shoes Ranked and Reviewed list to find out where this shoe ranks amongst On's other running shoes.
---
Still not sure which On Running Shoes to buy?
Visit our Best On Running Shoes Guide for an ordered list of the top ON shoes for road and trail running, each with links to our On Shoe reviews. Designed to make your buying decisions clearer.