There's a new On Running shoe on the block – and this time On is targeting beginner to intermediate runners. Although that's who the On Cloudrunner is designed for, I believe they are so much more than this.
I have added them to my own arsenal of training shoes to help me get those necessary miles in my legs when training for a race. Keep reading to find out why I rate them highly enough to give them the coveted Editor's Choice Award.
Interested in getting up to 40% OFF On running shoes? Visit On's Classic range page to see their latest deals.
In this, On Cloudrunner review I'm going to reveal why this road running shoe has struck such a chord with me, and why I believe it will appeal to even the most seasoned of runners.
I hope this review answers all your pre-purchase questions about the On Cloudrunner, but feel free to ask me any questions you may have in the comments section below – I'm always happy to discuss On running shoes.
---
More On buying guides:
---
NOTE: Although the On Cloud 5 is my favorite shoe in the lifestyle category of my Best On Cloud Running Shoes Buyer's Guide, the Cloudrunner has found a special place in my gear bag to help me achieve the necessary mileage when training for a race, and as such ranks highly in the running category of that buyer's guide.
Read my Cloud 5 review next if you're also in the market for a great pair of daily lifestyle shoes!
The Cloudrunner also ranks in the top 3 of my Best On Clouds For Walking Buyer's Guide thanks to it's all-round comfort, support and responsiveness.
---
On Cloudrunner shoes fit and design
The On Cloudrunner fits true to size and is therefore consistent with all the other On running shoes reviewed on trailandkale.com.
Helen is also really enjoying these running shoes for long, and easy runs – and she has confirmed with me that the women's Cloudrunner also fits true to size.
The Cloudrunner is a medium-width shoe yet the toe box has a little extra width to it, giving these running shoes a nice airy feel.
So, if your toes are 'average' to 'wider than average' then the Cloud runner should feel great in the toe box area.
It has a medium arch, plenty of support, and is generally very comfortable right out of the box – this is typical of most On Running shoes.
If you've worn other On's before and enjoy the feel, then the Cloudrunner will not disappoint you. I was pleasantly surprised by how great the Cloudrunners felt when I first put them on.
The support and cushioning are among the first few things that stand out.
The stability undoubtedly comes from the large outsole underneath the forefoot combined with a well-designed, heavily cushioned, and snug-fitting upper construction.
Although the Cloudrunner has some similarities to the Cloudstratus, in terms of extreme cushioning and comfort underfoot, this is a very different running shoe from the On Running brand.
I really like the design of them, and have been using them for at-home workouts as well as for recovery runs where I just need to get out there and put additional miles in my legs – as a means to recover from more intense runs.
I'm currently training for the Matterhorn Ultraks trail race this summer – a close to 50km ultra marathon in the Swiss Alps, so the On Cloudrunner shoes have fit into my 50k training plan really well.
It will be my 3rd time toeing the line in Zermatt for this epic mountain running race which has some of the best views of the iconic Matterhorn mountain and Monte Rosa Massif.
How fitting that I'm talking about training for a Swiss mountain race while reviewing shoes from the most famous Swiss running brand. 🙂
In my On Cloud shoe reviews, I like to mention the fact that On Running is a Swiss company, and how proud the Swiss are of their design and engineering skills.
This is why they always include the Swiss flag on every 'right' shoe (see photo below).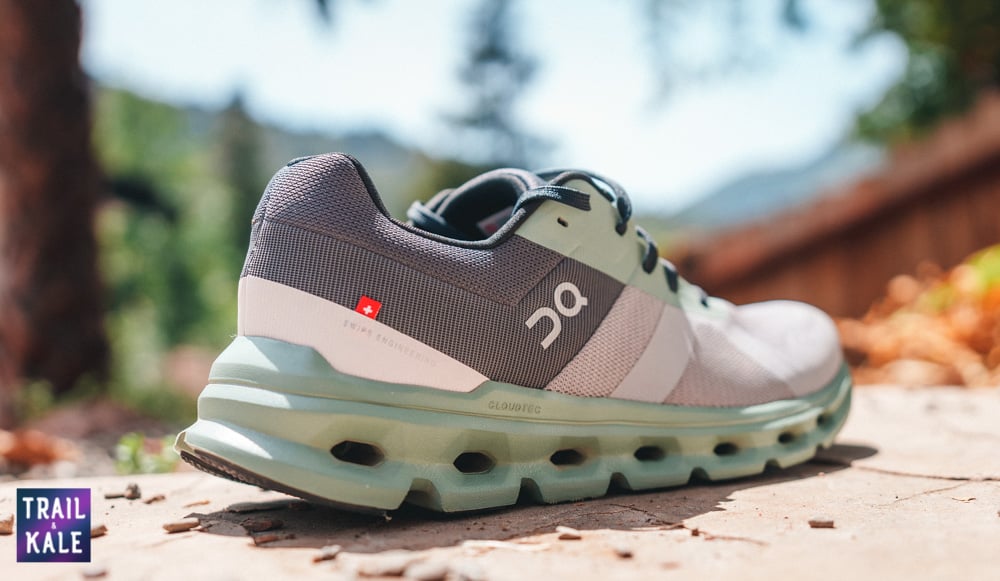 On's engineering pride is important to note because On shoes are extremely well designed and manufactured. This quality and flair is part of what you're paying for when you get a new pair of On running shoes.
The upper uses mixed fabrics with varying textures and a color palette that uses a pale green and a mixture of grey tones (in this particular color variant called 'Alloy | Moss').
At the time of writing this review, the Cloudrunner also comes in an 'Eclipse | Frost' color which is essentially black and white. The women's Cloudrunner also has two colors to choose from, you can see them here.
I'm excited to see what On does to the Cloudrunner 2 when they finally design it because I believe the Cloud runner model will be sticking around as it becomes a favorite of many runners.
On Cloud Runner upper has so much padding made with sustainable recycled materials
The mesh material used for the On Cloudrunner upper is breathable, has a little bit of stretch, and is very soft on the top of your foot inside the shoes, due in part to the upper having two layers – a softer one on the inside, and a more durable one on the exterior.
The Cloudrunner sneakers are made from about 30-35% recycled material overall, which is great to see – and much of that recycled material is found in the upper.
For example, the tongue, vamp, heel, and laces are all made with 100% recycled polyester.
We appreciate On's stance on sustainability within the manufacturing process.
There are areas in the upper that have been protected with strips of 'no-sew foil' which will firmly hold fabrics together without the possibility of edges fraying.
On Cloudrunner tongue and lacing system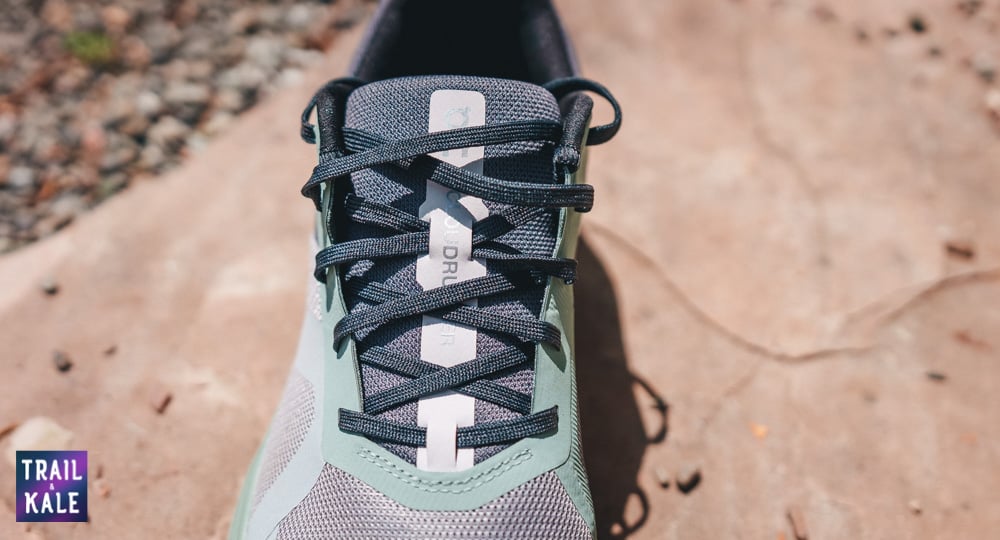 The tongue is soft and well padded so that when you fasten the laces you can get a very comfortable and snug fit without feeling pressure from the laces on top of your foot.
On Running uses quite a simple lacing system for the Cloudrunner but it works better than most other shoes I have used – not quite as well as the Cloudmonster but good nonetheless.
I like the laces on the Cloudrunner too. They stretch to the movement of your feet as you run, and as they expand during hot weather running.
I also approve of the flat lace design which distributes the pressure of tight laces more evenly – allowing for a more comfortable secure fit.
CloudTec Misdsole provides great cushioning and just enough response
The Cloudrunner provides a super-soft landing thanks to CloudTec® cushioning made with On's lightweight Zero-Gravity foam.
Whereas the Cloudmonster gives the bounciest, most fun ride of all the On Running Cloud shoes I have tested, the Cloudrunner gives me the most stability and cushioned protection.
This is just what I need when running easy recovery runs. This is one of those running shoes that allows you to keep running mile after mile – without asking too much from you.
It's my secret weapon for getting more miles in my legs when otherwise they would struggle to put the work in.
The Cloud runner is one of those running shoes that need to be tried in order to fully understand how helpful they can be when it comes to marathon training.
The plushy midsole is felt right across the bottom of the foot from the heel all the way to the forefoot.
So, all runners whether you heel strike or land on your forefoot like you probably should will experience the benefits of this playful midsole.
The outsole is scattered with multi-direction tread patterns for increased control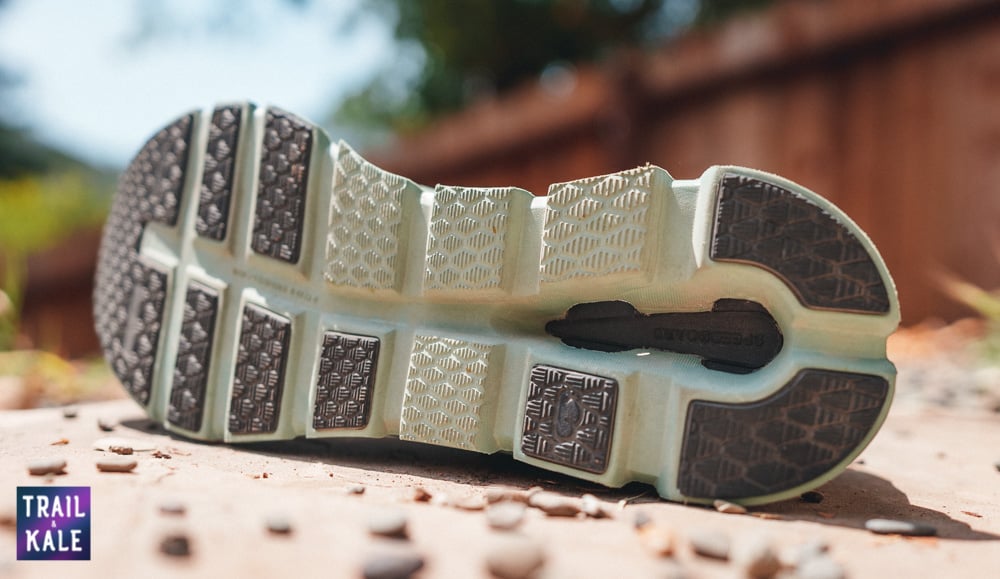 The outsole used for the On Cloudrunner is pretty interesting! The tread patterns are different across the forefoot, mid and heel areas of the outsole.
This allows for excellent grip whether you over-pronate, or don't.
This multi-directional tread will also give you much better traction in wet conditions.
Oh, I almost forgot to mention, the gully on the bottom of the shoe is very shallow, and so far, I haven't picked up any gravel or small stones whatsoever!
You can see how shallow it is on the forefoot area in the photo above – the image below shows the rear end of the outsole which had deeper gulleys but they have been chamfered off to ensure stones don't get stuck in them.
On Cloudrunner drop and support type
The On Cloudrunner has a heel-to-toe drop of 9mm which is quite standard for beginners / intermediate road running shoes, and also for all-day comfort, if you plan to wear these for walking or long days out as I have been.
The Cloudrunner has a neutral support type which means there's average arch support in the removable insole insert – this will suit most people who have average-shaped feet.
If you do feel you need extra arch support then I would recommend getting yourself a good pair of running insoles to help improve comfort and form for those who need the extra support underfoot.
On Cloudrunner toe box will fit most feet comfortably
The toe box is medium width and feels very airy with enough space for the recommended amount of toe wiggle and splay, which is important if you plan to run on hot days or over long distances.
This is because our feet expand and contract as the temperature increases or decreases.
On Cloudrunner weight
The On Cloudrunner weighs in at 10.58oz (300g) which is not the lightest On Running shoe by any stretch, but for a shoe, with this much cushioning I wouldn't call it heavy either. On has struck a good compromise with the cushioning to weight ratio.
The shoe feels pretty lightweight when running in them because of how comfortable the cushioning and padding feels.
Color options
These running shoes currently come in two different colors for the men's and the women's shoes.
I predict On to release more colors at some point because I think the Cloudrunner will become a favorite among those who buy it, whether they're a beginner runner or plan to use it for easy recovery runs like myself.
---
Running in the On Cloudrunner
The On Cloudrunner was a real surprise for me. To be honest I wasn't expecting anything special from them after looking at their specifications.
However, once I had tun in them a few times, I quickly realized the Cloud runner's potential as a recovery sneaker – or a super cushioned, supportive running shoe for long runs where my goal is purely to put mileage into my legs, and not worry about too much about speed.
When I'm running in the Cloudrunner, I feel very stable on my feet thanks to the wide outsole under the forefoot.
This stability allows me to focus on racking up the miles knowing that my ankles and heels can rest easier than a more minimal shoe may allow them to.
And this is exactly the reason why I'm enjoying running with them so much – because sometimes I just need to run for time on my feet, and to help speed up recovery after more intense runs on the road, or hill repeats on the trails.
For those reasons, the Cloudrunner performs very well as a running shoe for long training runs, easy runs, and recovery runs.
It's also a great running shoe for beginners looking to increase mileage without sacrificing comfort when training for a marathon or half marathon. The Cloudrunner's impressive stability will also help you get to the start line of your race injury-free.
---
Where to buy them
The men's and women's On Cloudrunner shoes can be purchased for a very reasonable $139.99 at on-running.com.
---
On Cloudrunner Review Summary
On Cloudrunner Review
PROS
Stability and cushioning is impressive
great for long, easy, and recovery runs where you just need to get miles in your legs
Lacing system and padded tongue/upper makes for a secure comfortable fit
breathable
reasonably priced
CONS
would like to see some more colors
Could be a touch lighter in weight
---
Image Gallery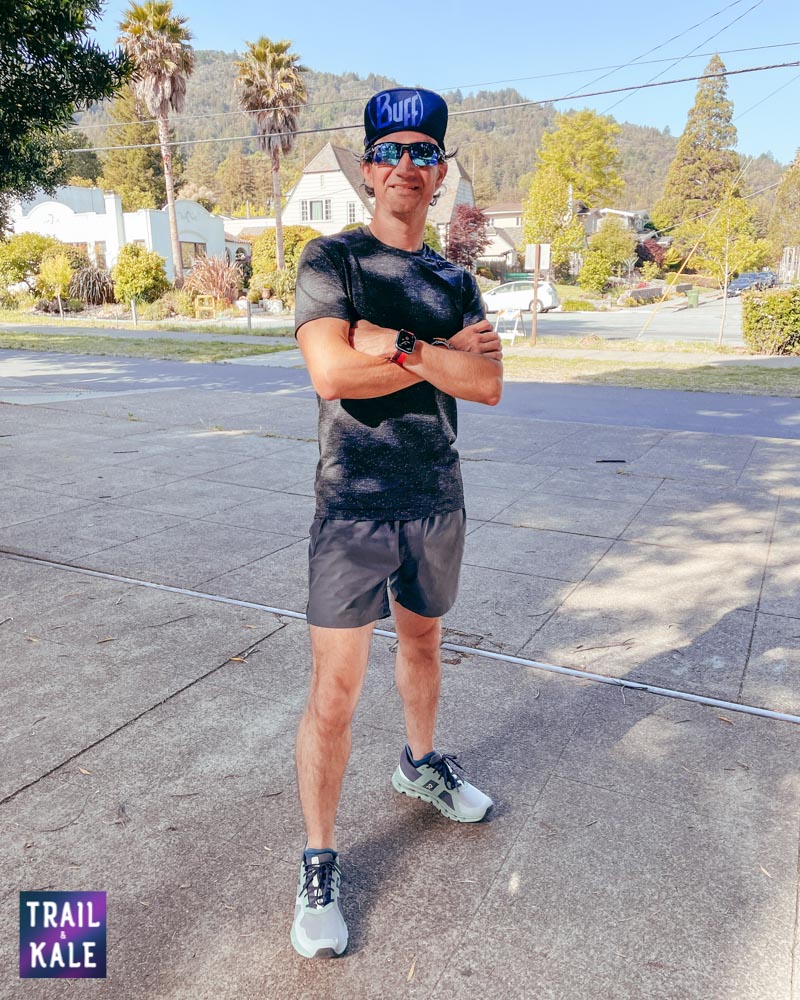 ---
Still not sure which On Running Shoes to buy?
I hope you enjoyed this On Cloudrunner review, if you're still not sure which On Running shoes to buy, visit my Best On Running Shoes Buyer's Guide for an ordered list of the top ON Clouds for road and trail running. It has been designed to make your buying decisions easier.