The standard running shoe inserts that come with your shoes may not provide much cushioning or support for your feet.
This is especially true if you have flat feet, high arches, or tend to overpronate when you run, and could benefit from an insole that has been specifically designed to provide benefits such as greater arch support and shock absorption.
In this guide to finding the best insoles for running shoes, we explain the different types of running shoe insoles you can buy so you can make an informed choice between the various brands and styles that are available to buy off the shelf.
Replacing your shoe's standard foam footbeds with a new, more supportive insert, can provide additional arch support and comfort to your feet, which can help improve your running form and performance and help deal with issues such as plantar fasciitis, shin splints, runner's knee pain and Achilles tendinitis.
---
Do you need insoles for your running shoes?
Regardless of the brand and type of running shoes you buy, they all come with insoles already in them.
However, these inserts (also known as 'sockliners') tend to be fairly minimal and don't offer much support for your feet.
If you grab a pair of your trainers, reach in to the heel area and carefully lift up the insole from the base of the shoe, you'll probably find that the insole is just a piece of thin, shaped foam, and not much more.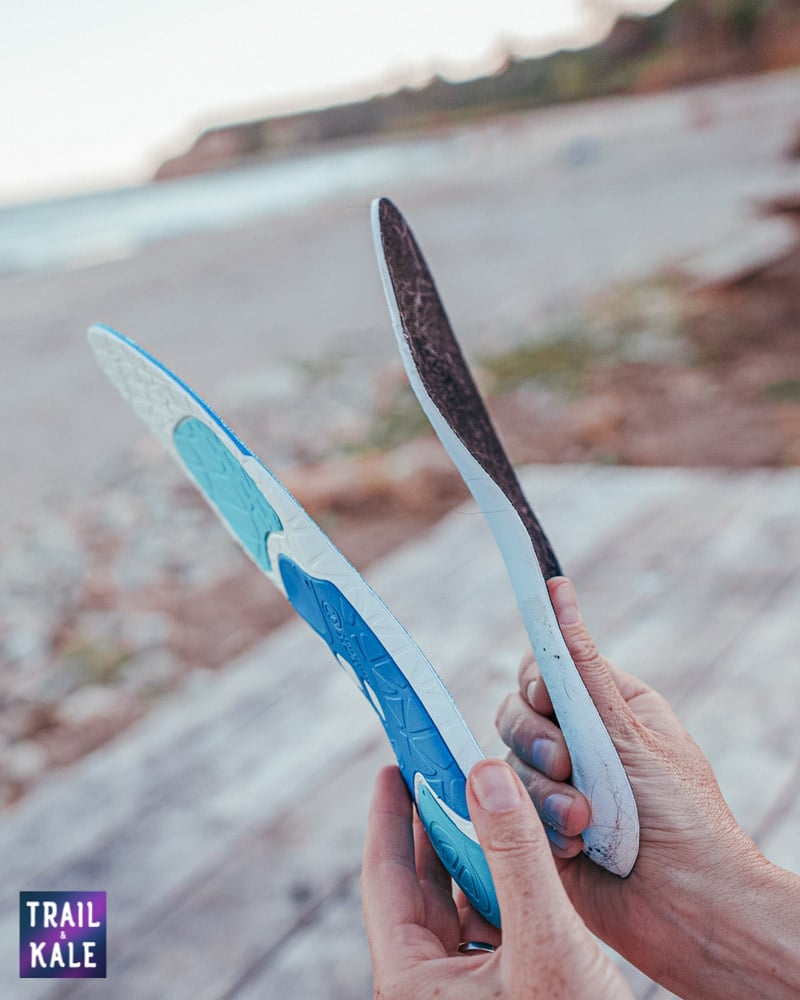 For most people, this is fine, especially if the rest of the running shoe provides enough support, shock absorption and comfort for you to enjoy your runs.
However, before you consider switching out your shoe inserts, consider whether your foot issues are actually being caused by wearing the wrong type of running shoe for your feet, or your shoes may just be too old and worn out.
Even if they still have tread, the foam on old running shoes deteriorates and loses its structure over time, and with that, the cushioning and support they provide gets reduced.
If you think you may need to first try running in a new pair, visit our guides to choosing the best running shoes (for road running) and best trail running shoes.
However, if you experience foot-related issues which may include aching after a run, or feel the onset of over-training issues such as plantar fasciitis, shin splints or Achilles tendinitis, then replacing the basic foam inserts in your trainers with more robust, supportive insoles could make a big difference for you.
As well as new insoles, also consider getting yourself some toe spacers, and if plantar fasciitis specifically is your foot issue, then read our Alleviate Therapy review to see if it can help you with your recovery.
---
Should you get insoles or custom orthotics?
If you've already seen a podiatrist for your foot issues then they may have already recommended that you consider getting custom orthotics made.
Custom orthotics are essentially custom-made shoe insoles based on an impression and measurements of your feet.
Being custom, they're specifically tailored to you and your feet, however you will find they cost several hundred dollars to have made.
In my experience, unless you have a very specific foot shape or unusual foot issue, off-the-shelf insoles can provide almost as good a level of support as custom-made ones, at a much smaller cost.
This is especially true if you're careful to choose the most appropriate brand and type of insole – which this guide will help you do.
---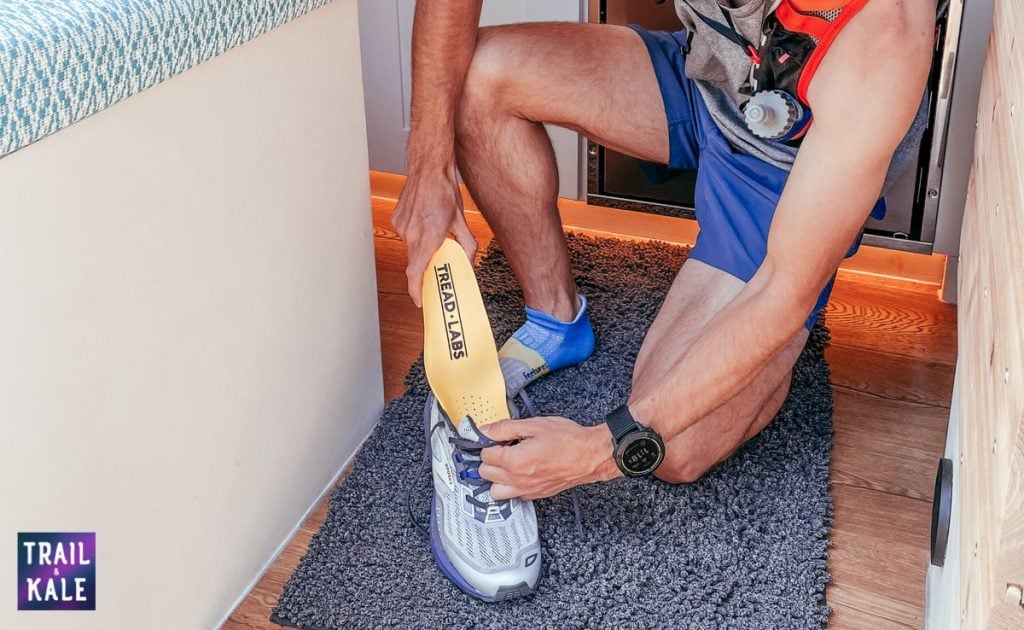 How to choose insoles for running shoes
Firstly, narrow down the reasons why you are considering insoles:
Is it for general comfort and shock absorption?
Do you need greater arch support?
Do you tend to overpronate when you run (land more on the insides of your feet) and want insoles that help stabilize your feet as you push off the ground?
Do you need a pair that are designed to help reduce foot pain such as plantar fascia strain? If this is the case, consider trying out Alleviate Therapy's Plantar fasciitis treatment system which will help you recover from that injury quickly.
Once you have a good idea of what you're looking for, read through the list below which outlines the best insoles we've come across, and explains what each type of insole is best for.
---
The best insoles for running
Below we've listed out the best insoles for running shoes, hiking boots and ski boots, from highly-regarded shoe insole companies that we have experience with as runners, hikers and skiers. This includes Superfeet, Sole, Tread Labs and Sidas.
Most of these over-the-counter insoles come in men's and women's foot shapes (or 'lasts') and multiple shoe size options that you then simply cut down to match your shoe's existing footbed size.
The main difference between the gender options is that women's insoles tend to have a slimmer heel and different arch proportions to more accurately fit inside women's running shoes.
---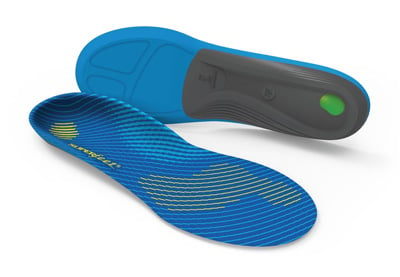 Superfeet Running Insoles ($55+)
Superfeet is one of the most well-known running footbed companies that makes several of the best insoles for running.
Superfeet Adapt Run Insoles
Arch support for low to medium arches, good wicking and breathability with odor control make these Superfeet Adapt Run insoles the best insoles for running pain relief if you have a medium or low arch (including people who consider themselves to have flat feet) and suffer from shin splints, plantar fasciitis and other foot pain issues.
Superfeet Comfort Thin
These orthotics have similar features to other Superfeet insoles including the nice heel cushion pictured above, but with a carbon fiber pad and 20% less thickness.
These features make the Superfeet Comfort Thin the best running insoles for slim-fitting running and trail shoes.
Superfeet Run Pain Relief
These insoles are specifically designed to help with common running foot and heel pain, including plantar fasciitis, with arch support, a removable heel stabilizer, and reinforcement in the deep heel cup to help cradle your foot and protect against the stress of repetitive ground impact.
The Superfeet Run Pain Relief insoles are a great choice if you want insoles for pain relief and have medium to high arches.
Last Amazon price update was: 28th November 2023 9:30 pm
Learn more about Superfeet insoles in our Superfeet guide.
---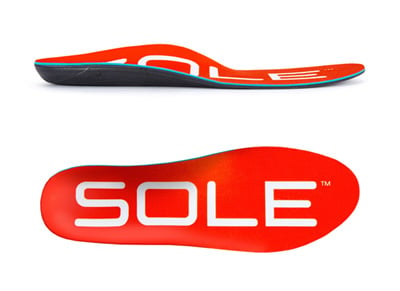 SOLE Footwear Running Insoles ($55+)
Sole makes some of the best insoles for everyday, hiking, skiing and other activities as well as running.
These men's and women's footbeds are heat and wear moldable, meaning you can mold them to make near-custom running insoles shaped to your feet. They're available with thin, medium and thick soles, and regular or wide-width options.
Sole Performance Insoles
With a recycled cork sole, these footbeds provide improved weight distribution, balance, shock absorption and comfort for running as well as everyday activities if you want to use them in other shoes.
The Sole Performance insoles are suitable for any arch height and are designed to reduce plantar fascia strain.
Sole Active Insoles
Sole's bestselling cushioned insoles, the Sole Active, are designed to fit comfortably into running shoes.
These support insoles have an EVA foam base, a deep heel cup and plenty of cushioning to help reduce strain on your feet and especially your plantar fascia.
Last Amazon price update was: 28th November 2023 9:30 pm
---
Tread Labs Running Insoles ($75+)
Tread Labs insoles are available in low, medium and high arch shapes and their website has a guide to working out your arch height to learn which is best for you.
These are great insoles for long term support that can be used in many pairs of shoes, and have a unique two-part design that means you can keep the carbon fiber foot plate and switch out the foam when needed, over time.
Tread Labs Dash (Performance insoles)
The Tread Labs Dash insoles provide additional support for performance runners looking for improved energy return and speed, with a 100% carbon fiber heel support and rigid arch support.
Because they're designed for performance improvement rather than relief from foot pain, they're much firmer than the more cushioned insole options on this list.
Tread Labs Pace (Recovery and pain relief insoles)
The Tread Labs Pace insoles are supportive insoles designed specifically to prevent pain, especially from plantar fasciitis.
Learn more about these insoles in our Tread Labs insoles review.
Last Amazon price update was: 28th November 2023 9:30 pm
---
Dr Scholl's Running Insoles ($40)
Dr Scholl's offers a few different types of running shoe insoles, with our top pick being the Dr Scholl's Performance Sized To Fit Insoles.
They come in most shoe sizes so they shouldn't need to be trimmed down to size and this means the arch and heel locations should be ideally located for your specific foot size.
Unlike other insoles on this list, the most rigid part of the insole is focused around the arch support rather than the heel area, which could appeal to you if you want a softer heel cup.
Last Amazon price update was: 28th November 2023 9:30 pm
---
currexSOLE RunPro Insoles ($55)
currexSOLE's RunPro insoles are very lightweight and unlike most insoles have decoupled heel pads, which provide greater flexibility and dynamic support for your feet as you move through the motion of running.
They also offer good moisture wicking and breathability for your trainers.
Last Amazon price update was: 28th November 2023 9:30 pm
---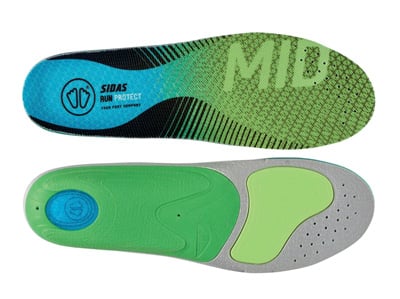 Sidas 3Feet Run Insoles ($55)
Highly popular in Europe, French company Sidas's 3 Feet Run running shoe insoles are available in three different arch heights and provide plenty of sturdy yet flexible support and cushioning for your feet.
Learn more by reading our Sidas insoles review.