I always enjoy reviewing new On trail running shoes because this is where the Swiss running brand appears to be making so much ground over competitors, and quickly I might add. Interested in getting up to 40% OFF On running shoes? Visit On's Classic range page to see their latest deals.
Sure, On's road running shoes have been impressive since their very first shoe release of the Cloudsurfer but it's their trail shoes that have left the most room for improvement since their first trail shoe release, of the original Clouventure Peak.
On is closing that gap from good to great very quickly with every new model (and iteration) release.
I think they've just touched on great with the release of the On Cloudvista – all bar one complaint that I feel needs improvement.
To find the best trail shoes for running right now, read our trail running shoes buyer's guide next, and if you like to run on the road too (variety is the spice of life!) here's our road running shoes buyer's guide too.
If you're an avid hiker as well as a trail runner, and are looking for a great pair of On Cloud shoes for walking on trail and road surfaces, the Cloudvista is our top pick in the hybrid shoes category for walking.
In this On Cloudvista review, I'm going to shine a light on the key features that I love (and one that needs improvement), how well they perform while trail running on a real mixture of terrain, how they compare with the other On running shoes, whether they're worth buying, and finally my rating out of 10 (with pros and cons).
---
On Cloudvista Review Table of Contents
---
General fit and comfort
Let's start with the consistency of sizing then – the Cloudvista trail running shoes are consistent with all other On running shoes I have tested and other brands including Nike, HOKA, Inov-8, Adidas, Brooks Running, and much of the Salomon running range.
On is very good at keeping their shoe sizing consistent across all the different models they sell.
So it's my recommendation that you go for your usual shoe size, if you're familiar with running in any of the brands listed above.
NOTE: On recommends sizing up half a size on their website, but in my opinion, this is not necessary, and I'm fairly certain this would make them too roomy.
If you run in a brand I haven't listed here, drop the brand you use in the comments below, and if I'm familiar with them I'll let you know how they fit relative to them too.
The On Cloudvista is comfortable right out the box without the need to go for a run just to break them in.
The Cloudvista trail running shoes are clearly targetted at runners who need a responsive shoe with mid-level cushioning that can deliver power, speed, and control on a wide variety of trails while running short to mid distance routes.
The Cloudvista fills the On trail shoes gap, and sits smack in between the Cloudventure Peak, and the Cloudventure/Cloudultra 2. This in terms of overall weight and trail handling/'feel'.
The Cloudvista feels great while running on most trail types including buffed, hard-packed trails, forest trails, rocky sections, and also man-made hard surfaces, like tarmac, concrete, and fire roads.
The On Cloudvista is neutral in its support type, with an average arch that will suit most runners.
This is actually consistent with all the other On running shoes I have tested to date. The toe box is roomy, but the shoe in general is medium width.
---
On Cloudvista's Most Noteworthy Features
Weight
The On Cloudvista weighs a cool 9.88 oz (280g), whereas the heavier Cloudventure weighs 10.93 oz, and the lightest On trail shoe, the Cloudventure Peak weighs in at 9.17oz.
So it's not On's lightest trail running shoe but it does beat the Cloudventure and Cloudultra 2 in that domain.
There is usually a trade-off between heavier shoes that offer lots of midsole cushioning, support, protection, and durability with lighter shoes that are super minimal underfoot and offer less protection.
The great thing about the Cloudvista is that it's a mid-level shoe that will appeal to most beginner and intermediate runners due to the fact it bridges the gap between those two types of trail shoes – and essentially makes it a do-it-all trail shoe.
The choice comes down to the ability level of the runner, and personal preference to some degree.
An advanced runner with great running form will be able to run ultra marathons in some of the most minimal shoes out there, and not even feel tired afterward.
This is due to experience, good biomechanics, strength, and of course pure mental grit of the runner.
Here is the weight of some other popular On running shoes to compare to – and bear in mind, trail shoes are always heavier than road shoes due to all the additional support and features required:
Drop
The On Cloudvista has a 7mm drop from heel to toe which works well for running on level trails with undulating hills. A 7mm drop puts you in a slight forward-leaning stance while which helps promote proper biomechanics when running fast.
The 7mm drop on the Cloudvista combined with grippy lugs under the forefoot really helps you climb like a boss – more on that below, and in my performance review video.
A lower drop would improve the Cloudvista's performance on steep downhills, however.
Support Type
There's moderate cushioning in the midsole and a neutral footbed. So if you have average arches and feet then these should fit perfectly for you.
Shoe Width
The On Cloudvista fits true-to-size relative to other On running shoes I have reviewed, and the toe box is airy but the shoe is medium width overall.
---
4 Design features that differentiate the Cloudvista
1. Breathable and durable upper
The Cloudvista upper is a bit of a double-edged sword for me. On the one hand it's very breathable, highly durable, and provides plenty of room in the toe box for expansion and toe wiggle – all great things.
It's also made with more than 70% recycled polyester, a perforated tongue, a solid toe cap/bumper, and a TPU mudguard.
On the other hand, this caused an issue for me when descending steep trails, quickly.
The issue relates to the upper's inability to hug your forefoot, and essentially lock your feet in place securely.
This means that my feet slide towards the front of the shoe putting pressure on the ends of my toes when running fast down steep sections of trails.
This is most noticeable when having to change direction quickly, or stop due to obstacles in my way. This is such a shame for me because the shoe climbs so brilliantly.
2. Helion™ superfoam with CloudTec® midsole
If you're unfamiliar with Helion, it's On's cushioned yet responsive midsole foam, that is appearing in most new On designs as of late.
This is a running shoe built for going fast over mixed terrain but mostly hard ground, and forested trails that are undulating, and mid-distance.
The Cloudvista also has a slightly rockered silhouette which helps you to round off a heel strike with a smooth landing rather than jolting your joints unnaturally.
Cloudtec pods are something you need to experience to truly understand why they've become so popular over the years. They allow for a soft cushioned landing with an explosive barefoot-style take-off.
The Helion superfoam helps this system work with more energy return than before, and also with more durability
3. Outsole Mission grip that's akin to the Cloudvista
The On Cloudvista outsoles feature a new closed-channel construction outsole that stops stones from catching and provides a better grip than the Cloudventure and a similar grip to the Cloudultra 2.
It has the same great Missiongrip as the other On trail running shoes, which gives good traction over mixed trails. You can see more images of the outsole in the image gallery below.
4. Elasticated strap to stow your laces
On the tongue there's a clever elasticated strap that you can tuck your laces away into while running.
This is smart as it stops them from flapping around, and really reduces the chance of them ever coming undone mid-run. This same feature is on all other On trail running shoes.
---
On Cloudvista trail running performance
The first time I took the Cloudvista out was on a local trail route. I tested them pretty much immediately after receiving them because I knew they were going to deliver the goods after trying them on.
I have a great local trail route I always test new trail shoes on now.
The route consists of varying terrain including forest single track, hard-packed trails, rocky sections, big ass climbs (and descents), winding rollercoaster single tracks, fire roads with gravel, and also road sections.
Yes, it's a wild route, and that's why I love testing trail shoes on it.
So now you know the types of trails I thrashed them on, let me share some performance insights with you.
The On Cloudvista is a totally new model in the On running range which makes it all the more interesting to dissect and determine who exactly the shoe has been designed for.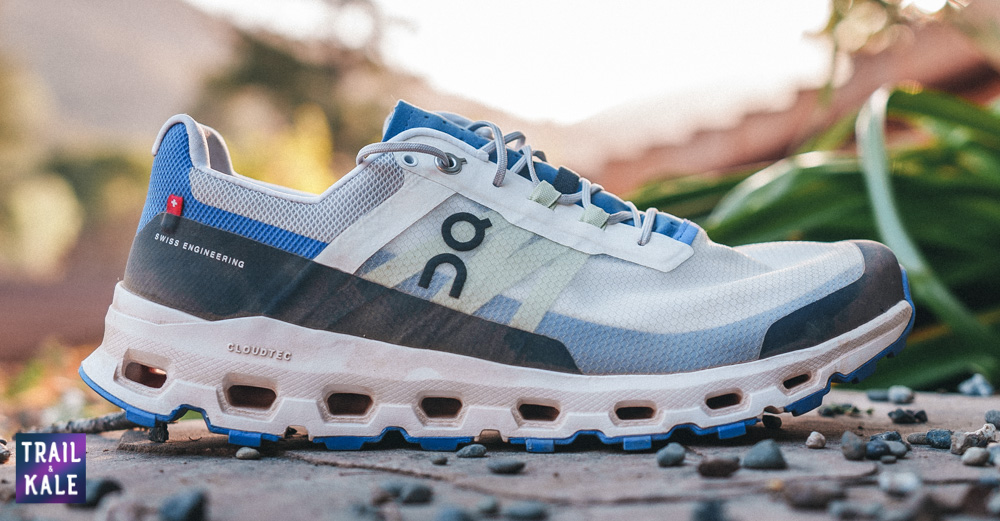 The On Cloudvista has been designed for trail runners who love to run undulating trails that are either hard-packed or soft forested routes.
These trail shoes performed great on any surface I threw them at – this is a sign of a well-balanced shoe with a solid outsole that offers control and grip.
My run starts with a 100m ascent over 0.5km, hits a plateau where I can unleash some speed, and then immediately hits a more relentless climb of 120m over 1.2km of distance.
I was able to run the entire time with the Cloudvista – I don't always do that.
This tells me that the Cloudvista climbs incredibly well – and they really do.
Where you'll really notice the performance in these trail running shoes is underfoot. The mid-level cushioning makes running on hard surfaces like packed trails, gravel roads, and concrete a pleasure.
There's plenty of spring in the midsole, which due to the rockered silhouette gives you a really nice smooth transition from footstrike to take off – as well as propelling you forward gracefully.
As I mentioned earlier, the only thing I can fault in terms of performance is when I'm running fast downhill – and find my feet sliding to the front of the shoe.
This is caused by the upper design and not because the shoes are sized incorrectly.
This Cloudvista has not been designed for steep running however so maybe I'm being a little harsh there.
Overall the Cloudvista is a great trail running shoe that will appeal to beginner and intermediate runners looking to increase their speed over the trails.
It offers great cushioning, support, response, and grip – all with a low overall weight.
ARE YOU NEW TO TRAIL RUNNING OR WANT TO TRY IT? — Have a read of our Ultimate Beginner's Guide to Trail Running – it will get you up to speed on all things trail running! 🙂
---
Are they worth it? – And where to buy them
Absolutely, Yes! If you're looking for a pair of do-it-all trail running shoes and plan to run loops or out-and-back routes of up to 21km, that don't have crazy descents, then the On Cloudvista is a really solid choice – especially at only $139.99.
---
How do they compare with other On Running Trail Shoes?
The On Cloudvista feels fairly similar to the Cloudventure but in my opinion, has better more well rounded feel that can tackle more trails with ease.
It's lighter, and the outsole is definitely improved over the Cloudventure too, due in part to the closed gully that runs down the middle of the shoe.
The much deeper gully on the Cloudventure had a tendency to leave you with an unpredictable footing when running over technical terrain.
It's not as cushioned as the Cloudultra 2, which will take you further on the trails. The Cloudultra 2 also performs better on those steep downhills. The Cloudultra 2 is for the more serious trail runner but it comes at a higher price.
Finally then, the Cloudventure Peak is a lighter shoe, and performs very well on climbs and also descents but the outsole is not as stable as the Cloudvista or Cloudultra 2.
Find out where it sits in the rankings of my popular On Running Shoes Buyer's Guide – this guide will also help you decide which On running shoes are best for you and how you like to run.
---
On Cloudvista Performance Video Review
---
On Cloudvista Review Summary
On Cloudvista Review
PROS
Great all round shoe for beginners to intermediates
Very responsive and feel good over all surfaces I tested them on
A simple lacing system makes it easy to get the right fit quickly
Breathable upper made with many recycled materials. Also very durable
Helion superfoam midsole responds very well to varying terrain
CONS
Doesn't descent steep trails very well.
Laces could be thicker - not a fan of skinny laces on trail shoes.
Jump over to our Best On Running Shoes Ranked and Reviewed buyers guide to find out how well the On Cloudvista ranks against other On running shoes, HINT – They're rocking it!
---
On Cloudvista Photo Gallery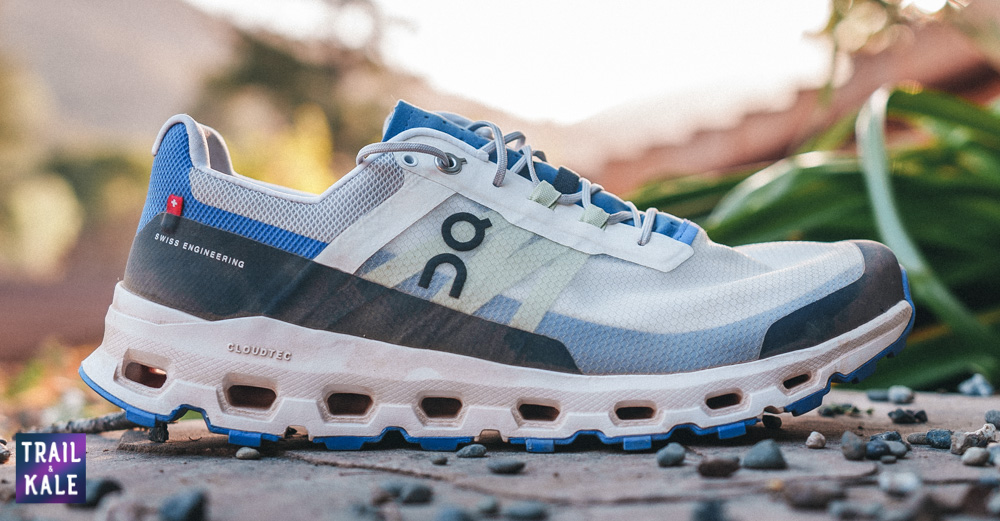 ---
I hope you enjoyed this On Cloudvista review – if you have a question about these trail running shoes, feel free to drop it in the comments below and I'll get back to you very soon 🙂 -Alastair.