If you've visited Trail & Kale before then you'll probably know I've been reviewing On Running shoes since the brand's first shoe release many years ago – and have literally reviewed every shoe they have released since they started.
Interested in getting up to 40% OFF On running shoes? Visit On's Classic range page to see their latest deals.
I've watched the brand grow and develop its range of running, hiking, and lifestyle shoes over this time, and am constantly surprised at the innovation that they have been putting into their new releases each year.
And each year the On Running brand manages to design a running shoe that exceeds my expectations, and consequently shuffles the rankings of On Cloud shoes on my popular 'Best On Running Shoes Buyer's Guide'.
This year, however, On has already over-delivered with a whopping 4 new shoes that have wildly stood out during testing. These stand-out On running shoes include the Cloudmonster (for running fast), Cloudeasy (for everyday lifestyle), Cloudtrax (for hiking), and now the Cloudgo (for training runs)!
In this On Cloudgo review I'm going to reveal why this running shoe has been awarded our coveted Editor's Choice Award, and exactly why I believe this is their most understated, yet high-performing running shoe for every level of runner.
I hope this review answers all your pre-purchase questions about the On Cloudgo, but if I missed something, please feel free to leave any questions you may have in the comments section below.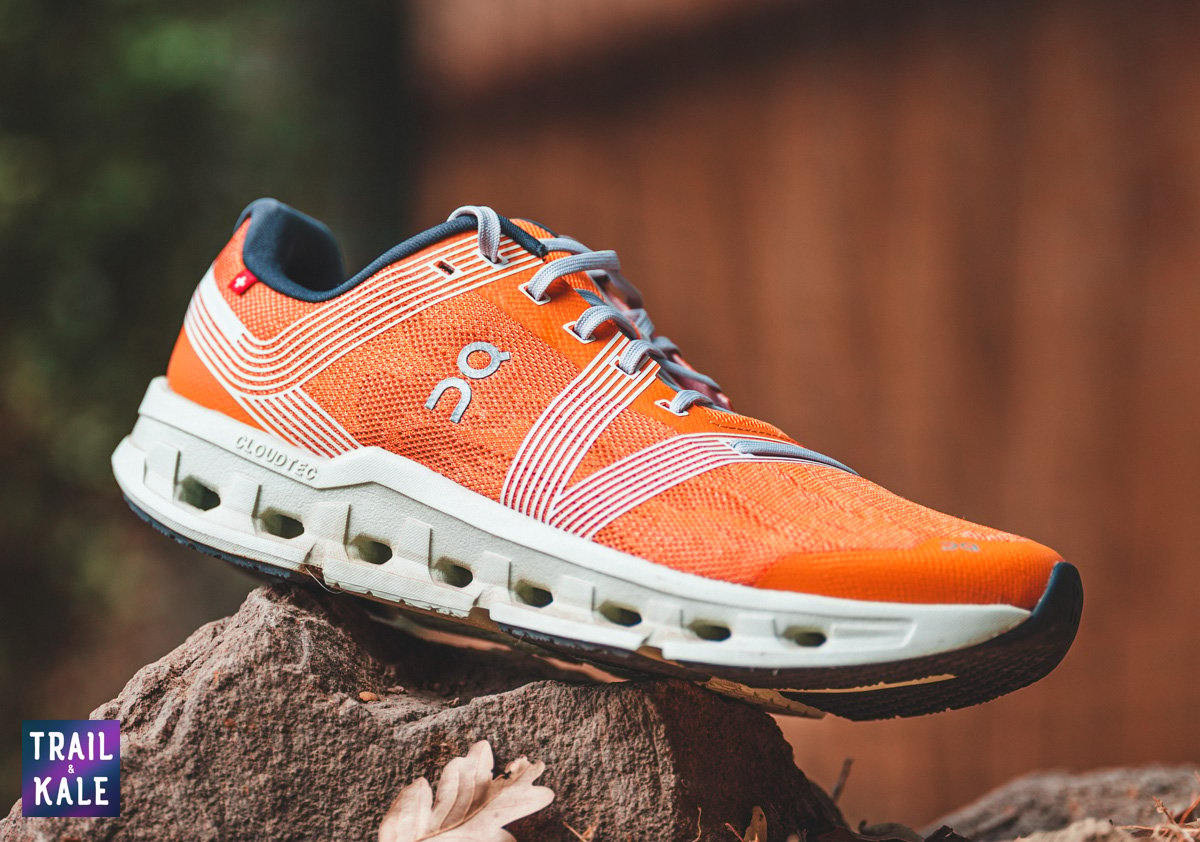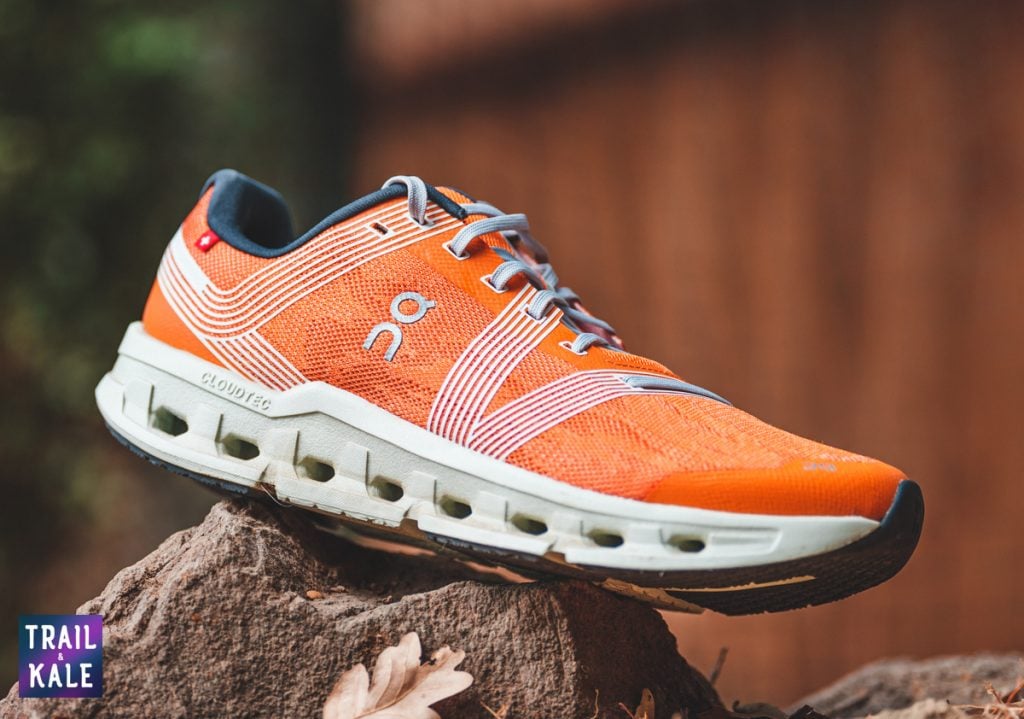 ---
On Cloudgo shoes fit and design
The On Cloudgo fits true to size and is therefore consistent with all the other On running shoes available.
Helen is also enjoying wearing these running shoes and tells me that the women's Cloud Go also fits true to size.
The Cloudgo is a medium-width shoe and the toe box feels airy – so if your midfoot, and toes are average width then the Cloudgo should feel great in the toe box. It's a similar feel to the Cloudrunner and Cloudsurfer.
It has a medium arch that sits ever so slightly more towards the front of the shoe than I'm used to with On running shoes but they feel extremely comfortable right out the box like On shoes generally do.
If you've worn On's before and enjoy the feel, then the Cloudgo won't disappoint, it will likely impress because On has made some great improvements to the cushioning around the heel, and tongue area.
The Cloudgo feels similar to the new Cloudstratus, in terms of padded cushioning and comfort in the upper, and also the cushioning underfoot to some degree.
Although the Cloudgo is a lighter shoe with a bit less cushioning in the midsole, and a lot like the new Cloudsurfer in terms of how they feel underfoot.
It's most certainly an understated running shoe from the On Running brand and I didn't really expect much from it just by judging its exterior – how wrong I was!
And it's funny because I was partly right in my judgment because the Cloudgo really doesn't have many stand-out features or unique selling points that target it to a specific type of runner.
But surprisingly, this is exactly what makes the Cloudgo one of those shoes that, put simply, does everything really well without trying to be too much.
This understated performance makes it tricky for me to put a finger on what actually makes the Cloudgo so good.
The only thing I can really say is that they just work really well, without trying to be anything too whacky or groundbreaking.
So many running brands nowadays have forgotten how to go back to basics, not 'over-engineer', and ultimately create a relatively simple yet effective running shoe that JUST WORKS WELL!
More on that later though!
I personally like the design, as I said earlier though, there's nothing all that flashy about their silhouette in my mind but I have to admit, they are comfortable and perform extremely well – so who am I to judge! 🙂
In my On Cloud shoe reviews, I always like to mention how On Running is a Swiss company, and how proud the Swiss are of their design and engineering skills – a reason they always include the Swiss flag on every 'right' shoe (see photo below).
On's engineering pride is important to note because On shoes are very well designed and manufactured. This quality and flair is part of what you pay for when you buy a pair of On running shoes.
The innovation is more noticeable while actually running in the shoes than you can see by looking at the outside.
I'm excited to see how what On does with the Cloudgo 2 for its first update – but until then, I'm going to just enjoy putting in plenty of training miles in them.
On Cloud Go upper is made with sustainable recycled materials
I really like the little details on these sneakers, from the streak of white lines that run all around them, to the almost camo pattern in the mixed weave/stitching pattern that you can see in the orange parts of the upper.
This is the first generation of the On Cloudgo and there's already a ton of innovation that has gone into these subtle and unassuming running shoes.
The mesh material used for the On Cloudgo upper is quite thick, comforting, and surprisingly breathable.
The shoe as a whole is made with 30% recycled materials while the upper is made with 90% recycled polyester.
We appreciate every move the On brand makes to help improve sustainability in the manufacturing process. This post shares their latest sustainability report if you'd like to read more about their efforts.
The material used for the interior is very soft on the top of your feet which is so important if you're planning longer runs in these.
There are areas in the upper that have been protected with strips of 'no-sew foil' which will firmly hold fabrics together without the possibility of materials fraying.
On Cloudgo tongue is so plush and padded – LOVE!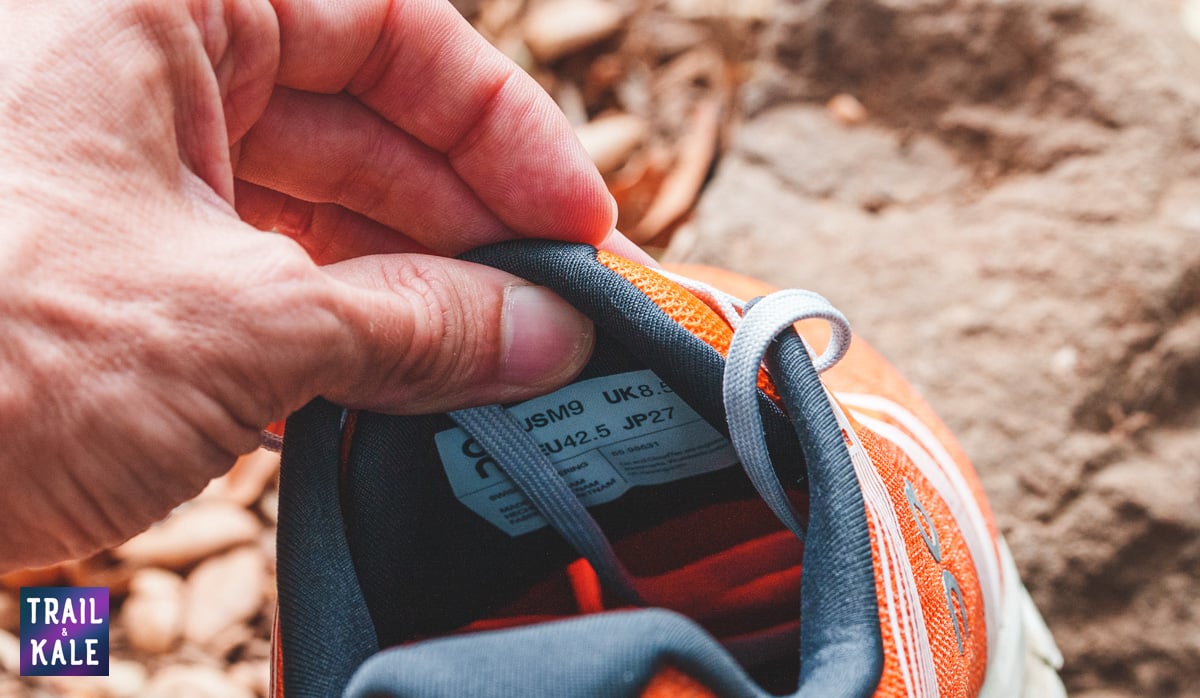 The tongue is soft and padded and wraps around your feet very comfortably.
There's also a loop in the top of the tongue which the lacing system passes through – this keeps the tongue in place very well during a run.
This tongue really adds to the minimal and super lightweight feel of the On Cloudgo.
On Cloudgo lacing system is classic and just works
On Running uses quite a simple lacing system here but it works better than most other shoes I have reviewed.
I can actually pull the laces from the top and the whole system fastens the shoe around my foot.
I know, you'd think that would be a given with any shoe nowadays but it actually isn't, believe it or not!
I like how the lace passes through the upper too which you can see in the image above – the only purpose this seems to have is to add to the design flair as I haven't noticed any function to it.
CloudTec midsole is bouncy-FULL and most importantly, FUN!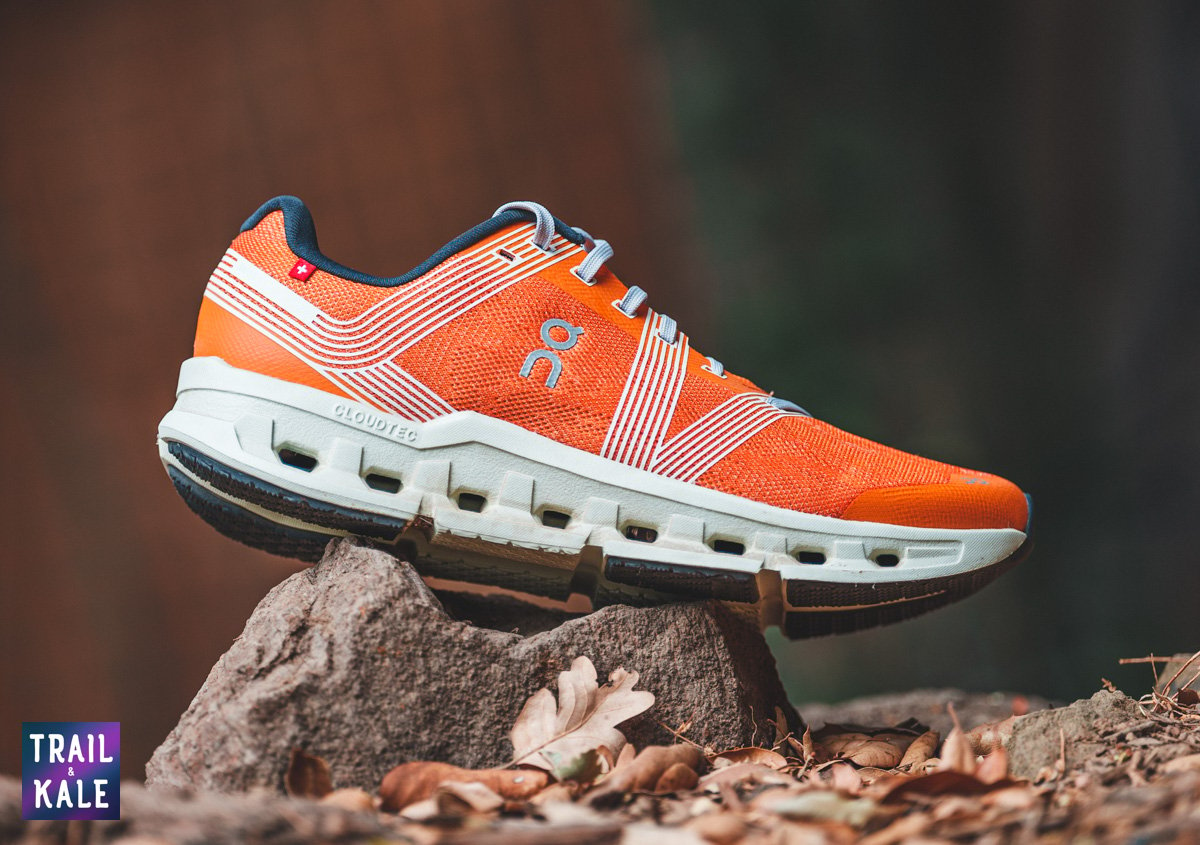 The Cloudgo feels a lot like the Cloudstratus in terms of how cushioned and comfortable the midsole is to run with.
That's a good thing by the way because in both these shoes I enjoy running long distances on concrete/asphalt.
I feel I can just get into a rhythm and keep myself in that place where comfort hangs around for much longer than some more minimal shoes I've tested.
This isn't the bounciest, most fun ride of all the On Running Cloud shoes, however, that title still belongs to the On Cloudmonster. Check them out later if you really want to turn up the fun while running.
The Cloudtec pods in the Cloudgo are large and as such there are far fewer notches in the outsole. This is good as it means gravel/small stones do not get picked up, and taken along with you for the ride.
Words that describe the feeling of the Cloudgo include: unassuming, reliable, and comfortable!
This is one of those running shoes that you can rely on, is unassuming, yet performs to very high standards.
It's a workhorse you can rely on which allows you to get in plenty of training miles in total comfort.
A new outsole provides grip and stability
The outsole used for the On Cloudgo is quite unassuming but the multi-directional micro-tread patterns mean they can hold their own in wet conditions very well!
If you've read any of my shoe reviews, you probably know nothing gets past me, and that I'm a total nerd when it comes to new features on updated versions of shoes.
This isn't an updated version of the Cloudgo, it's their first release but On always shares their proprietary tech across new releases and new product lines so it's always fun to see what changes.
Back to that multidirectional tread pattern – this gives the Cloudgo grip in any direction you turn in them.
The Cloudgo works well on mixed terrain too, including gravel, hard-packed dirt, and very light trails.
I wouldn't recommend wearing them on technical trails as the tread just doesn't have the lugs to support uneven terrain too well.
If you're looking for some trail running shoes read my trail running shoes buyer's guide next.
Oh, I almost forgot to mention that the gully on the bottom of the shoe is very shallow, and I haven't picked up any gravel during my runs.
You can see how shallow it is on the forefoot area in the photo above – the image below shows the rear end of the outsole which had deeper gulleys but they have been chamfered off to ensure stones don't get stuck in them.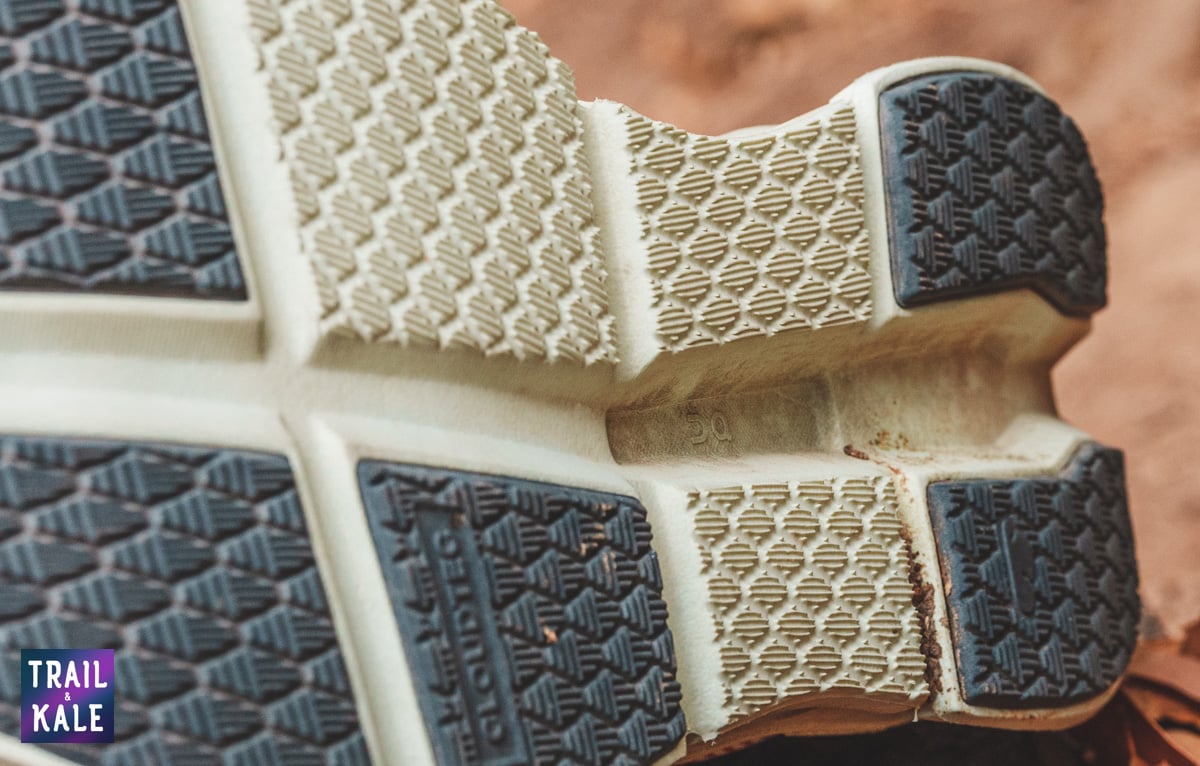 On Cloudgo drop and support type
The On Cloudgo has a heel-to-toe drop of 11mm – this is good for road running when you need support, but it's probably too much for all-day wear, however.
For an everyday lifestyle On running shoe, you have to check out the On Cloud – it has been my favorite everyday shoe for many years, and it still is.
The Cloudgo has a neutral support type which means there's not much additional arch support in the removable insole insert – this will suit most people who have average feet.
If you do feel you need extra arch support then I would recommend getting yourself a good pair of running insoles to help improve comfort and running form for those who need the extra support underfoot.
On Cloudgo toe box will fit most feet comfortably
The toe box is medium width and there's enough space for toe wiggle and splay, which is important if you plan to run on hot days or over long distances.
This is because our feet expand and contract as the temperature increases or decreases.
On Cloudgo weight
The On Cloudgo weighs 8.99oz (255g) which is super lightweight for a shoe with this much cushioning and padding.
The first thing you may notice when picking them up is how light they are to hold. This is what you want from a shoe if you plan to run fast over long distances up to the marathon.
Color options
The upper uses mixed fabrics with varying textures and a color palette (in this particular colorway called 'Turmeric | Aloe') that uses vibrant orange with grey and white tones.
At the time of writing this review, there are 4 other colorways that all look cool in their own ways.
There are also 4 colorways available for the women's Cloudgo.
On will probably release more colors at some point as I believe this running shoe will become a favorite for many runners who try it.
---
Running in the On Cloudgo
The On Cloudgo is a surprisingly high-performing running shoe and one I believe all sorts of runners will enjoy – from beginner to advanced.
It's a very unassuming running shoe when you look at it, but the stats on paper, and performance while actually running tell a very different story.
The Cloudgo is one of those reliable running shoes that I find myself gravitating towards when choosing a road running shoe to run with right now.
They do the job of helping you achieve the goal of 'getting miles in' so well, that I find myself not even thinking about the shoes when I'm running.
Apart from thinking "hey, these shoes are performing really well, I'm not even thinking about how they feel", haha! This allows me to think about other things like focusing on my breathing and good running form.
The Cloudgo is for anyone who can relate to the above 5 paragraphs – you know who you are!
The Cloudgo is for fast-paced 5km training runs (or races), and also for anyone looking to increase their mileage up to the marathon distance.
---
Where to buy the On Cloudgo
The On Cloudgo is available for $139.99 at the On Running store below.
---
On Cloudgo Review Summary
On Cloudgo review
PROS
Very comfortable out the box.
One of those shoes that JUST WORKS. I like how they haven't been over engineered - they're just precisely refined.
Unassuming yet high performance shoes - I find myself running faster than usual.
Medium cushioning gives them comfort and response - this makes them great for half marathon and even marathon running.
Very reasonably priced for such a workhorse of a shoe that just does it all really well!
CONS
Design looks a bit unassuming - some will love that, others may prefer something else.
I'd like to see more daring colorways.
---
Image Gallery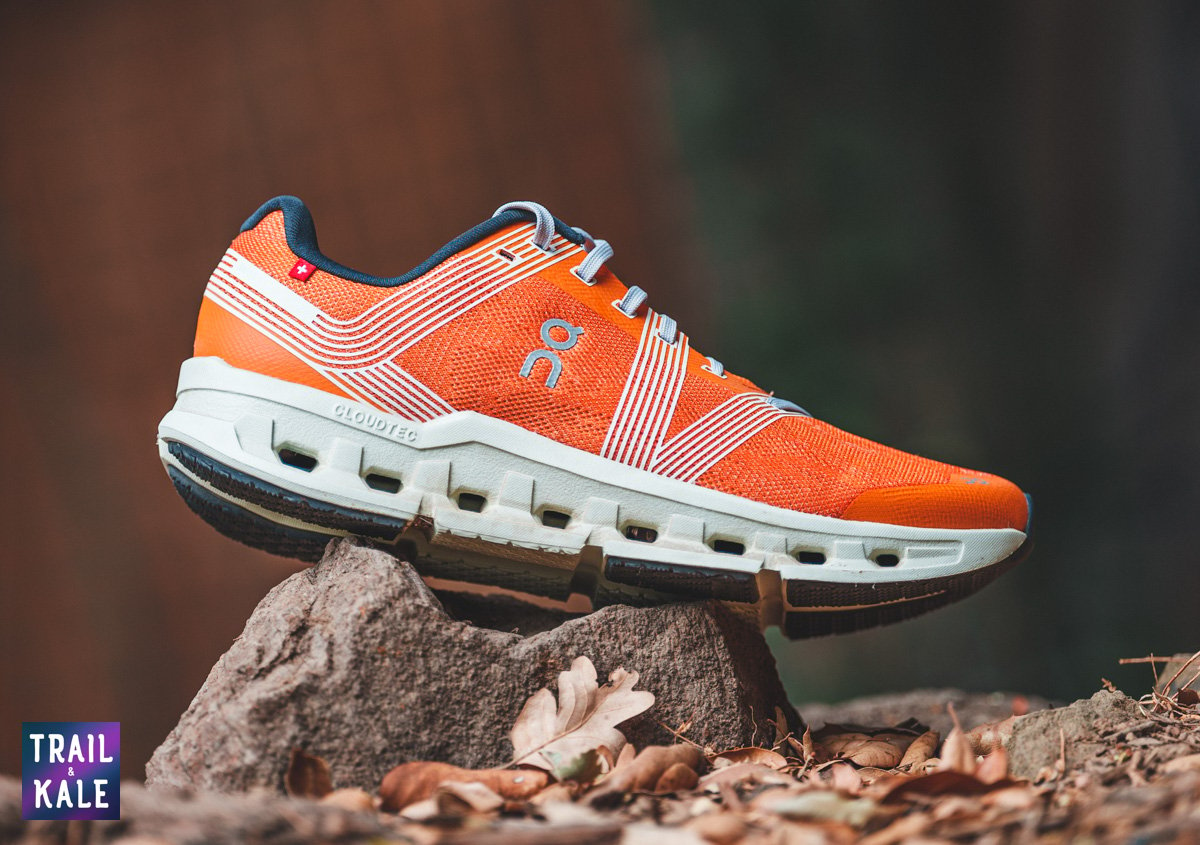 ---
Still not sure which On Running Shoes to buy?
I hope you enjoyed this On Cloudgo review, if you're still not sure which On Running shoes to buy, visit my Best On Running Shoes Buyer's Guide for an ordered list of the top ON Clouds for road and trail running. It has been designed to make your buying decisions easier.