In creating the On Cloudace, On's objective was clear: deliver the ultimate cushioning sensation without slowing the runner down. The sole of the Cloudace is the result. On's most advanced application of CloudTec® delivers a smooth ride allowing you to experience heel comfort and protection and still get an agile push-off due to the rubber landing zone in the forefoot. Hopefully, this On Cloudace review answers all your pre-purchase questions but if there's something else you'd like to know, please drop your questions in the comments below.
On Cloudace Fit & Design
The On Cloudace is very much a stability shoe that has a neutral fit, similar to other On running shoes. The shoes also feel very comfortable when you put them on. The high comfort level is especially noticeable once you begin walking or running in them because of the extra cushioning in the pods and footplate. This is without a doubt the most cushioned On Running shoe I have ever worn.
On Cloudace Inner & Outer Meshes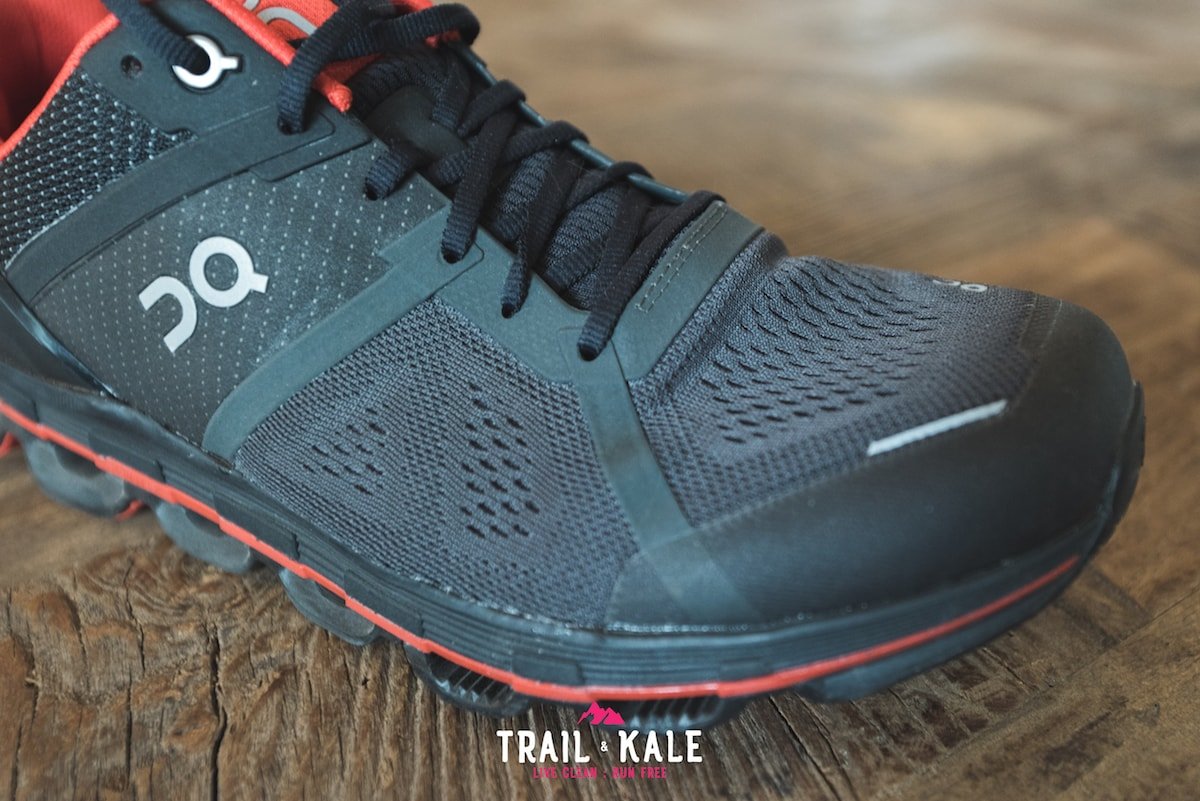 The inner and outer mesh materials being used on the On Cloudace are breathable, stretchy and protective. I imagine they'll last long too as all the fabric seams have been connected to the rest of the shoe with a 'no-sew foil' which appears very durable. The sandwich mesh fabric in the upper actually reminds me of the upper built for the new On Cloud X, which I love by the way. Having stretch in the mesh allows your feet to expand as and when your body starts to heat up and also allows for more toe wiggle for extra comfort.
On Cloudace Heel Support
The Cloudace is a stability shoe so expect extra support to what you may be used to from other On running shoes. This material has a really fine mesh for breathability and grip on your heel, whilst also feeling soft.
You may notice from my images that the Cloudace has an interesting angular shape from the heel support, down to where your ankle sits. Similar to the On Cloudventure Peak come to think of it. This seems to add extra weighting to the heel area, so if you have a particularly tender Achilles due to a historic or current injury then you may feel some pressure in this area.
---
RELATED:
---
Inner Sock
There's also an inner sock which attaches the tongue to the forefoot area, similar to the On Cloudflow and the On Cloud X running shoes. This keeps the forefoot snug and stops the tongue from slipping out of place. The sock should also reduce any chaffing as there are fewer seams inside.
The Tongue
The tongue is much thicker than most other On running shoes, offering up a lot of padding between the top of your feet and the laces.
The Laces
On are using the same laces as on the On Cloud X for these shoes, and I love them. They are a perfect length and only require 1 tie for a secure knot. This is down to their stretchy fabric which is another design feature to allow your feet to expand and shrink comfortably over the course of a run. This whole experience makes for a much smoother ride that your feet will thank you for.
On Cloudace Outsole
The outsole is always the juicy subject when it comes to On running shoes and the On Cloudace is no exception! If you haven't tried "Running On Clouds" before, you must! They always seem to make me run faster, especially when putting on a new pair. The cloud pods give you that feeling of a cushioned landing, as they compress under your weight and then provide the feeling of a barefoot take off as your foot leaves the ground and the pods spring back.
The On Cloudace comes equipped with sturdier than usual cloud pods bringing more cushioning and comfort underfoot.
On have also introduced a new liquid injected speed-board which helps propel you forward by snapping back once it has been flexed by your feet, even with the added extra cushion in the outsole. The orange board can be seen running along the side of the shoe. It kind of reminds me of a go-faster stripe!
Taking a closer look at the outsole reveals that the 'clouds' have had their inside edges sliced off, angling outward. This much-needed design tweak stops any small stones or debris getting caught in the pods, which used to be a problem shared amongst many.
On Cloudace Drop
The Cloudace has a heel to toe drop of 7mm, which is a little more than I would prefer. I'd like to see this reduced a couple of millimetres in the next version, which would provide a more natural ride.
On Cloudace Toe Box
The toe box has a medium width but feels a touch smaller than other On's, however the stretch mesh in the upper provides extra 'give' where needed. I have pretty average sized feet and they fit me snugly.
Interestingly, there's also protection in the toe cap, similar to what you may see on a trail running shoe and it's even coated with a durable plastic. This coating should act as a waterproof guard if you find yourself running through puddles with your forefoot.
On Cloudace Weight
The On Cloudace weighs in at 335g (US M 8.5) which is heavier than other On's. I guess for a shoe designed to be durable and provide cushioning of this level you should expect the extra weight but I still believe On can make this shoe lighter. The Cloudace would then surely be the ultimate shoe for running long distances on the roads.
The On Cloudace comes in two different colors for both the men's and women's so be sure to check them out in the On-Running store. The color scheme of the shoes In my review is called "Shadow & Rust" and the colour of the Cloudace Women's shoe, pictured to the left (above on mobile) is called "Ruby & Lava". I really like the understated colors for both.
Running in the On Cloudace
The On Cloudace shoes are so comfortable for running on the roads. I find myself really letting loose especially on downhill sections, which is where the extra cushioning really stands out. They are also good for running on buffed and dry trails due to the generous amount of support and durability. There's even a pretty solid toe cap for protection should you accidentally kick a rock.
While running longer distances on the roads I've noticed an improvement in speed as my feet don't tire as quickly as when I'm running in a more minimal shoe. This has been a real motivator for me to run more weekly miles so that I can improve endurance and speed ready for future ultra trail races.
On Cloudace
Pros
Incredibly durable
Excellent cushioning
Good for long distances
Great support for your feet
Reflective decals
Like the understated colors
Cons
Expensive (but maybe not if they last twice the distance of your average running shoe)
Could be a bit lighter
On Cloudace Review Summary
There's no denying that these shoes are capable of allowing you to run long distances in extreme comfort. All the tech and small detail design work are there, and I can comfortably say that the running company from Switzerland has once again come through with a very innovative shoe!
You will most likely see a flurry of PB's when running long distances in these shoes because your feet should remain pain-free. While your feet remain strong, the speed-board and CloudTec pods will just keep pushing you forward, mile after mile.
Now to release the elephant in the room: Is this shoe really worth the high price tag that may have caught your eye earlier in my review? Well I'd personally say yes and this is why: If you consider that the On Cloudace will more than likely last you double the mileage of your average running shoes because of its durability and high-quality build then it makes sense that they should cost twice as much.
They probably actually only cost 50% more than your last pair of running shoes so if you look at it like that, then it's a good deal.
Still not sure which On Running Shoes to buy?
Visit our Best On Running Shoes Guide for an ordered list of the top ON shoes for road and trail running. It has been designed to make your buying decisions easier.