In recent years, Lululemon has expanded their line of men's and women's running clothes and accessories in terms of the range of women's styles available, a greater range of sizes, colors and patterns, as well as their range of men's running clothes.
In this post, we're sharing our favorite Lululemon running clothes and accessories for men and women from this season's styles.
Did you know lululemon also makes womens running shoes? Visit our lululemon shoe comparison guide to learn more, or head straight to my latest review of the lululemon blissfeel 2 running shoe.
---
Lululemon Women's Running Gear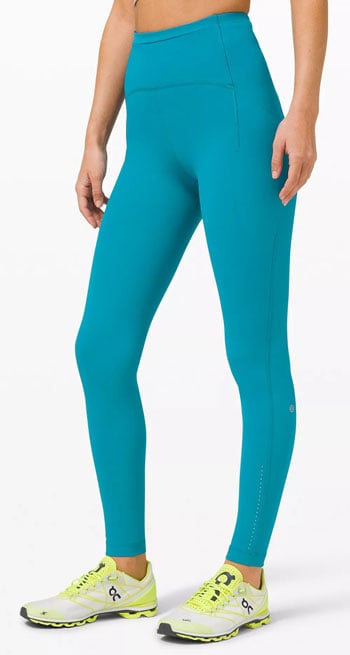 Running Tights: Swift Speed Leggings
Lululemon leggings come in a wide arrange of styles, fabrics, waist heights and lengths, so it can be difficult to narrow down which are best for running in.
In my opinion, the best Lululemon leggings for running in are the Swift Speed tights, which are available in several different lengths, including a 21 inch crop.
READ NEXT: Lululemon Running Shoe Review – How The Women's Blissfeel Shoe Stacks Up
These particular tights are made from Lululemon's 'Luxtreme' material, which is a high-quality and low-friction blend of nylon and lycra, woven thick enough to pass the squat test and have a flattering fit, while still being sweat-wicking and breathable enough for summer runs, and the tights are supportive for wearing for hours at a time.
It's also good to know that once on, they stay put and don't slide down, (which can be a problem with other running leggings).
These leggings are available in a selection of colors, including black (classic Lululemon), pink, camo and this delightful Hawaiian Blue shade, and come with two thigh pockets and a zip pocket on the lower back.
---
Running Shorts: Speed Up Short
The Speed Up Shorts are my favorite Lululemon women's running shorts.
They're made of a similar smooth sweat-wicking fabric as the Swift Speed leggings, but thinner and more lightweight, meaning the shorts are great at wicking sweat and drying quickly during hot summer runs.
These running shorts are available in 2.5 and 4 inch lengths, as well as mid and high waist options. Personally, I prefer the coverage of the 4 inch length and wear the mid-rise style.
As for colors, the Speed Up Shorts are often sold in a wide range of vibrant colors such as pink, blue, red, camo and other limited edition patterns, as well as more understated colors such as black and navy.
You can even get them in white if you're feeling brave (or want to wear them for tennis).
If you prefer a looser (baggier) fit of running shorts, also look at their Hotty Hot Shorts, which are also available in two lengths and a range of great colors.
RELATED: Did you know lululemon has a range of women's running and athletic shoes? To learn more about the different styles, read lululemon running shoes compared (with reviews)!
---
Running Shirt: Swiftly Tech Short Sleeve
When it comes to running tops, my personal favorite Lululemon shirt is the Swiftly Tech Short Sleeve.
This T-shirt is made from breathable, sweat-wicking material that dries quickly, has anti-stink properties, and seamless, anti-chafe construction.
The Swiftly running shirt range also includes long sleeve options, which are great for layering for cold weather runs.
Lululemon also has a range of sports bras suitable for running, in particular, the Swift Speed Bra is a great supportive option for high-impact activities such as running.
---
Running Cap: Race Kit Hat
This lightweight, packable Lululemon hat is ideal for road and trail running.
I like the flexible brim, which helps keep weight down in comparison to a regular trucker or baseball-style cap, and also appreciate how quickly this cap wicks sweat away during sweaty run sessions.
---
Running Belt: Fast and Free Run Belt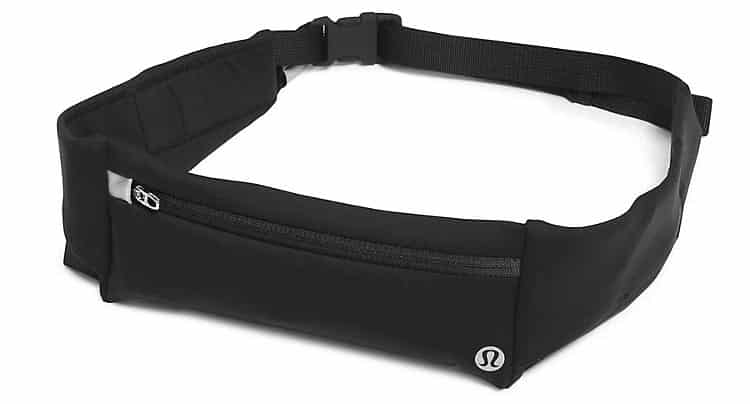 If you prefer to wear a running belt (or 'fanny pack') rather than a hydration vest to carry your small essentials and don't need to carry water on your runs, then this Lululemon running belt is a great choice.
It's made from stretch fabric to help it stay put and not ride up when on, and the zip compartment keeps your valuables safe when you move.
---
Lululemon Men's Running Gear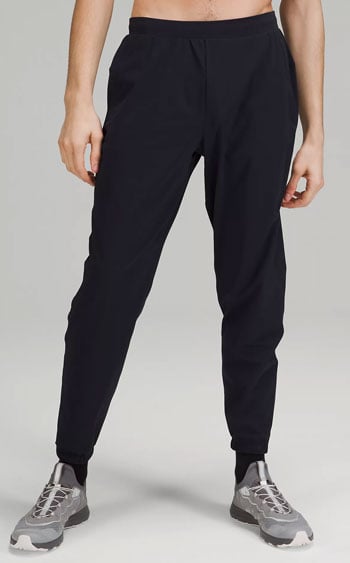 Running Joggers: Surge Pants
These men's Lululemon joggers are designed for running: they're made from lightweight, sweat-wicking fabric with 4-way stretch.
Importantly, they taper in width towards the ankle, helping ensure none of those awkward cases of 'tripping yourself up on your own baggy tracksuit pants' situations.
Other details include zips at the cuffs to help get them on and off easily, which is useful if you're just wearing them for your pre-workout warmup or post-workout cool-down
---
Running Shorts: Pace Breaker
These Lululemon men's shorts are perfect for running in but you'll find many other opportunities to wear them this summer.
We love the range of colors they're available in, especially the camo style, pictured. They're made from the same 'Swift' fabric as the women's Speed Up Short included above.
These men's shorts are available in three lengths, 5, 7 or 9 inch, with or without a liner.
To learn more about other styles of lululemons men's shorts for running, read our lululemon men's running shorts buyer's guide.
---
Running Shirt: Metal Vent Tech Short Sleeve 2.0
These popular men's Lululemon shirts are designed to be sweated in, and feature quick-dry, breathable and anti-stink fabric, made with seamless construction to prevent chafing, making them ideal for running.
They're really well made and maintain their properties and shape for years, so make a great gift that you know your dad will use a lot for a long time to come, plus they're available in a wide range of colors, including red, blue, black, white and patterns including camo, as well as a vest and long sleeve options.
---
Running Cap: Fast and Free Men's Run Hat
This Lululemon hat is designed for running, made from the technical, quick-dry 'Swift' material mentioned above.
The cap features a sweatband that wicks sweat away from your face (and stopping it from running into your eyes) and a structured brim that you can pull down low to keep the glare of early morning or late afternoon sun out of your eyes during those dawn and dusk runs.
---
Lululemon Limited Editions
When shopping Lululemon leggings and apparel, it's important to know that they change their color options frequently, and many colors are made in a limited run, so if you find a style and color you like, it's best to snag it while it's available, as the chances are it will be out of stock in your size if you wait a week!
When it comes to limited-edition styles, they often have these available, too, in addition to the classic running clothes styles that Lululemon has sold for years, such as the women's Swiftly and men's Metal Vent tech t-shirts.
Lululemon Sizing
When it comes to sizing, refer to their size charts ('size guide') which you can get to from each product page, or click here to see all their men's and women's size charts in one place.
I always find it helpful to re-measure myself with a tape measure to double check before ordering that the size is going to fit me for that particular item of clothing.
In my experience, if you actually measure yourself, then you'll find that their apparel runs true to size (even if that means you're wearing a Large when you normally wear a Medium in other brands, for example).
If you are between sizes, then I highly recommend sizing up, rather than down, especially if you are concerned about athletic apparel riding up or being too clingy, which can happen if you choose clothes that are a little too small.
Lululemon gift cards
If you're looking for Lululemon gear as a gift for a runner in your life, you may also be interested to read our article featuring Lululemon gifts for runners and see if there's anything on there that would make a great gift for them!
Alternatively, for the difficult-to-buy-for people, you can also buy Lululemon gift cards.