This Lululemon running shoe review focuses on their first footwear release, the women's Blissfeel, and covers the key features, pros and cons, what I think after running in them over the past few weeks, and how they stack up to the more traditional running shoe brands. For a review of the latest version, the Blissfeel 2, read my Blissfeel 2 review!
In 2023 lululemon launched the second edition of the blissfeel, the blissfeel 2! To read a review of the latest version of the blissfeel running shoe, head over to my blissfeel 2 review.
As regular visitors to Trail & Kale will be aware, we review a lot of running shoes, which we run in for everything from 5ks to half marathons, marathons, and the occasional ultra marathon.
We're also fans of Lululemon's apparel, so when the news hit that the brand was launching its first running shoe (after four years of research and design), I couldn't wait to get my hands on a pair and to share my thoughts with our readers in this review!
Looking for a workout/running crossover shoe from Lululemon? Read my Lululemon Chargefeel Review next or read our Best Lululemon Shoes buyer's guide to see which ones are best for you.
Lululemon Running Shoe Review:
---
Appearance and design
From first impressions, the Blissfeel appears similar to a traditional running shoe. At least in black and white, it appears confident and understated, ready to get down to business.
Indeed, it looks like a cross between one of our all-time favorite running shoes, the Nike Pegasus, and the Adidas UltraBoost, with a dash of Salomon.
As a key step in designing this women's shoe, Lululemon scanned the feet of one million women.
This has enabled them to design a shoe that is based around the shape and form of women's feet – as well as learn the mechanics specific to how the majority of women may run.
Traditionally, running shoes have been designed for men and modified to fit women's feet, so this approach turns the process around on its head.
Lululemon leaves no doubt that this is their shoe – the Lulu logo features on the heel, sole, tongue, and insole.
I expect the logo detailing on the Blissfeel shoes will make them very popular with Lululemon aficionados – and now you don't even have to be wearing the running tights with the logo on the back of your leg – it's already on your heel (and sole), bold and bright!
The upper is soft and perforated, which helps keep the shoe lightweight, and enhances breathability so your feet stay relatively cool and dry when you run.
Color options
While this style of sneaker is available in a range of bright colors, at the time of ordering my pair of Blissfeel running shoes I was left with the black and white colorway, as shown in the pictures throughout this review.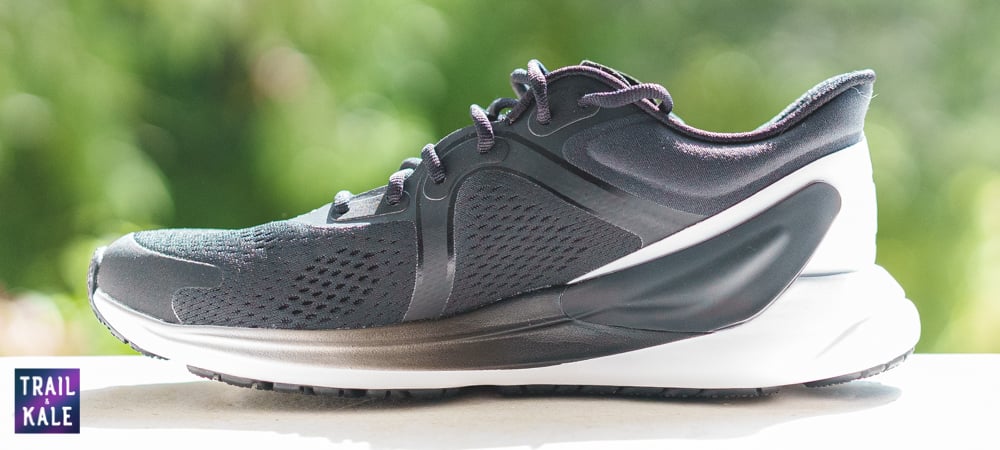 I'd normally go with something brighter that screams 'take me out to play' whenever I look at it, however, the black and white design is a classic and may appeal to those who want a more understated trainer to wear to do things around town other than running.
Fit and sizing
The Blissfeel is designed to be an everyday, neutral running shoe. For most people, I would suggest going with a neutral shoe like this is the best option. This style of shoe has a moderate amount of support for your feet and is not built to over-compensate for under or over-pronation.
When I first put these on, my first impression was that they feel narrow compared to other shoes, and that is by design.
Women's feet tend to be narrower than men's, and this hug-like fit is going to appeal to many women who struggle with having too wide a toe-box and feet that slide around within a higher-volume shoe (both of these issues can lead to blisters).
The Blissfeel's arch is supportive, but not noticeably so – it's very comfortable.
These shoes come up true to size and are similar to other popular brands such as On Running and Nike.
So if you're looking to buy a pair, I'd suggest going with your regular size. That is, unless you have wider feet.
Lululemon recommends you consider going up half a size if you do have wider feet. Mine are slightly wider than average and I felt just about comfortable wearing them in my regular size, but it's worth considering as an option.
---
Key features of the women's Blissfeel shoe
Midsole cushioning
The Blissfeel weighs 8.9oz (in a women's size US 7), which is lightweight for a running shoe and comparable to other road running shoes I tend to choose.
It features a 9.5mm heel-to-toe drop. This is on the higher end of the range of heel-to-toe drops, with most shoes we review falling between the zero-drop through to 10mm drop range.
A higher heel-to-toe drop is typically more comfortable for casual runners and those who tend to 'heel-strike'.
It allows for more cushioning in that area of the shoe. It can also be more comfortable for people who are new to running. This is undoubtedly reflective of the results of all those women's foot scans, and so, for many runners, should be appealing.
This cushioning feels plush, yet supportive. After starting out my first mile with my usual running form (typically, I land on the front of my mid-foot), I didn't experience much spring in my step.
However, in shifting the landing position further back on my foot, I immediately noticed an improvement in responsiveness and the comfort of that cushioning.
Interested in getting massive discounts on Lululemon gear? Visit Lululemon's 'We Made Too Much' page to see their latest deals.
Tongue and lacing system
The tongue is soft and padded. You don't feel the laces through it like you can with some running shoes.
The lacing system is easy to adjust. It's a pretty standard system, with those slightly squashable laces that tend to stay put, and stay done up when you run.
Outsole and traction
Moving on to the outsole, these running shoes have a good amount of grip.
The outsole was designed using pressure-mapping, to work out the most appropriate location to place traction.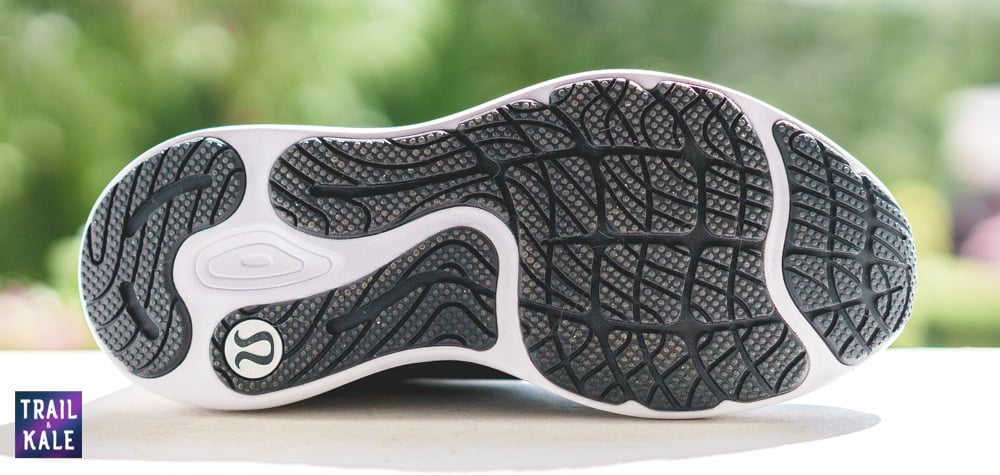 I have run in them on those rare Spring rainy days here in California and enjoyed the traction, either in the wet – no issues here. You can land confidently in these, on wet or dry surfaces.
They're also super-grippy indoors. If you plan to use them for the gym, to do a mix of – say – treadmill and other cross-training, they'd be a great choice as an indoor running shoe.
If you tend to do more weight training in the gym, then I'd say wait for Lululemon's cross-training-specific shoes, the Chargefeel and Strongfeel.
---
Cost and where to buy
At $148, the Blissfeel is mid-range when it comes to women's running shoes pricing. You can find other options for less, but in general, for a shoe with good cushioning, support and that's built to last, around $140+ is a typical price to pay.
For the best choice of colors and sizes, shop directly from Lululemon at their website using the button below:
---
Lululemon Blissfeel review summary
These women's running shoes are simply comfortable, all-round, with no pinch points or areas of discomfort, I could easily wear them all day and happily run shorter distances (typically, 5 to 10k) in them.
For most runners, especially those who are casual runners, enjoy a mix of running and other activities, and for new runners, the Blissfeel is up there as top contenders to consider.
They look great, feel great, and will be especially enjoyable and supportive for those who tend to heel-strike when running, and women with narrower feet who often find there's too much volume in shoes from other brands.
Lululemon Running Shoe Review
PROS
Women-specific design
Comfortable out of the box
Cushioned for mid to heel-strikers
Attractive, especially in brighter colorways
CONS
May be too narrow for those with wider feet
---
Image gallery