The chances are that you've probably heard of TENS machines and electric muscle stimulators, but did you know you can buy a muscle stim device for your own personal use?
ADVERTISEMENT
This Compex review explains how you can use one of these muscle stimulator devices to aid with athletic strength, training, warm-up and recovery, as well as when you may want to use it as a TENS unit to help with pain relief resulting from training or rehabilitating a past injury.
I have used a variety of Compex muscle stimulators over the years to aid my running strength training as well as to help with efficient recovery from intensive training efforts and races.
This review focuses on the Sport Elite 3.0, which is the top-of-the-range muscle stim machine they offer.
I have also included a brief comparison of the Sport Elite 3.0 with the Compex Wireless, Mini Wireless and their other wired muscle stim devices, which may help you make an informed decision if you're looking to buy one for yourself.
---
Compex Review – Table of Contents
---
What is electric muscle stimulation?
Electric muscle stimulation (EMS), also known as neuromuscular electric stimulation (NMES), muscle stim or e-stim, sends electronic pulses to your motor nerves in order to create muscle contractions.
EMS can help with your athletic training by helping to maximize your muscular effort by engaging a greater percentage of muscle fibers.
It uses these electric stim pulses to target your type 1 (explosive strength, or 'fast-twitch') and type 2 (endurance, or 'slow-twitch') muscle fibers, training your body to recruit those muscle fibers more efficiently and reinforcing those neural pathways from your motor nerves to muscle contractions.
The benefit of using one of these muscle stim devices means that when you subsequently use those muscles in your workouts, your performance can be enhanced.
Depending on the type of program and your training priorities, this could impact everything from building your muscular strength and explosive strength to reducing post-workout recovery times.
---
What is a TENS unit and how is it different from a muscle stim device?
While the electric muscle stim devices target motor nerves to activate muscle contractions, TENS units target sensory nerves that relay sensations, including pain signals, to the brain.
The primary use for e-stim devices in our context is on building muscular strength, endurance or improving recovery times, whereas the main reason you may want to use a TENS unit is to help with pain relief, which it does through either inducing an endorphin release or blocking pain signals to the brain.
With that said, it's important to know that the Compex NMES devices mentioned in this review all offer a TENS setting, so you can use them as TENS devices for pain relief as well as the various e-stim settings.
You can also buy separate, dedicated TENS machines (like this one, which costs $50) that only offer TENS and not the electric muscle stim programs.
These TENS machines are less expensive than the EMS – but they will not provide the strength and recovery benefits of the EMS.
For more on TENS vs. NMES, this page on Compex's website has some useful information.
---
About Compex
Compex is a Swiss company which has been around for more than 30 years and is a forerunner in electro stimulation technology for athletes and health care professionals.
Their wired and wireless electric muscle stimulator devices are categorized as medical devices class II, and are commonly used for muscle warm-up, recovery, injury prevention and pain management.
I have been using different models of Compex muscle stim devices for many years now since I started trail and ultra running, for everything from warm-up to helping manage pain from injuries.
In addition to their world-renowned electric muscle stim devices, Compex also sells a range of muscle massagers including the Compex Fixx percussion massage gun, heat and cold treatments and TENS units targeted at athletes, as well as for post-injury rehabilitation.
---
Which Compex muscle stimulator should you choose?
Compex currently sells five different models of muscle stim devices, of which two are wireless (the Compex Wireless and Compex Mini) and the other three are wired, with different ranges of features.
To summarize the different types of Compex devices:
| Compex Model | Edge 3.0 | Performance 3.0 | Sport Elite 3.0 | Wireless | Mini |
| --- | --- | --- | --- | --- | --- |
| # of programs | 4 | 6 | 10 | 10 | 6 |
| Battery | 8hrs | 8hrs | 8hrs | 20hrs | 6hrs |
| Cost | $200 | $250 | $350 | $500 | $200 |
| Weight | 210g | 210g | 210g | 110g | 41g |
| Wired? | Yes | Yes | Yes | No | No |
As of 2021 the three wired models are the 3.0 versions, replacing the 2.0 versions.
All three wired electric muscle stim devices are the same size and weight, and have the same battery life expectancy of up to 8 hours.
Where they differ, however, is the range of modes they offer the user.
The Compex Edge has the fewest features, with the key ones being 'endurance', 'resistance' and 'active (or training) recovery'.
The Competition model offers these features, plus a 'Strength' and 'Pre-Warm Up' setting, and the Sport Elite 3.0 offers the full suite of modes, including 'Explosive Strength', 'Competition Recovery' 'Massage/Muscle Relaxation' and 'Potentiation' settings.
The Compex Wireless is essentially a wireless version of the Sport Elite, and costs the most as you get all of the features without wires connecting from the electrodes on your body back to the device controller.
The Compex Mini is a much smaller, lighter and more portable version of the Compex Edge, with the addition of the Pre-Warm up and Massage/Muscle Recovery settings.
It has fewer levels and operates at a lower intensity, but is a good choice for travel and taking to races, for example.
If you're interested to learn more about the Compex Mini, you may find my video review helpful:
All five muscle stim devices have the capability for you to use them as TENS machines to aid with specific parts of your body needing pain relief.
Should you get a Compex wireless or with wires?
This is really down to personal preference.
I have owned both Compex wireless models, and found them to be very convenient and easy to use as you don't have to connect a wire from the electrode pads to the controller device.
However, with that said, I'm usually sat or lying down when using my muscle stimulator machine, so being connected to the controller isn't a big deal for me, so whether you need a wireless stim machine depends on how, where and when you see yourself using your Compex unit.
If, on the other hand, you plan to do a lot of strength workouts while using the resistance training setting (like this workout, but with the e-stim device on your quads), then wireless is better as you won't have to contend with wires while making fast movements like split jump lunges, for example.
---
Key features of the Compex Sport Elite 3.0
Let's get stuck into this Compex review, which covers the top-of-the-range Compex Sport Elite 3.0 that I have been using for my training and recovery over the past few months.
Ease of use and electrode placement
The Sport Elite 3.0 features a palm-sized controller which has an easy-to-navigate LCD screen showing the different settings you can choose from, together with illustrations showing the types of placements you should use for attaching the electrode pads to your body.
It also tells you how many minutes each program will run for.
It comes with 4x electrode pads that you attach to your body.
These pads come with hydrogel adhesive that makes it easy to stick them to your skin.
You connect the electrodes to the controller using a set of cables that plug into one of the four ports on the controller and snap onto the electrodes.
If this interests you, I suggest taking the time to build a high-level understanding of your body's anatomy, which will help you with locating where the electrode pads should go and what muscles they're working when placed on different parts of your body.
That being said, the illustrations on the controller screen, and guidance on Compex's website (if you need it) should be enough information to get started with.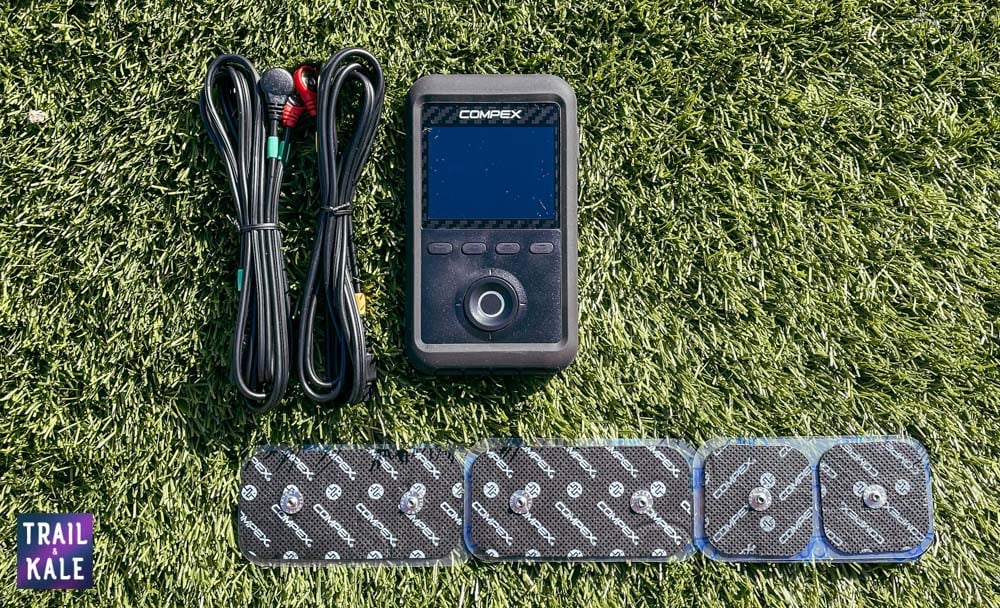 When you buy the device, it comes with four small (square) and two large (rectangular) electrode pads, which you can use in varying combinations depending on which program you use.
When it comes to sticking the electrodes to your body, it pays to be prepared first, in terms of:
Ensuring your body and hands are clean and free from dirt, sweat and grease – this will ensure that they adhere well to your skin (which is important for the stim to work as intended), as well as helping the electrodes to retain their stickiness and prolong their life, as they need replacing once they can no longer stick on adequately.
Ensuring you have sufficient entertainment to occupy yourself – Once you start using the Compex device, and especially if you have it attached to your legs (particularly, the back of your legs on your hamstrings or calf muscles), it may limit what you can do during the 20-30 minutes of use, so gather your work, a book and your phone in one place so you can be productive during that time. Or, just watch TV or have a power-nap!
Muscle stim programs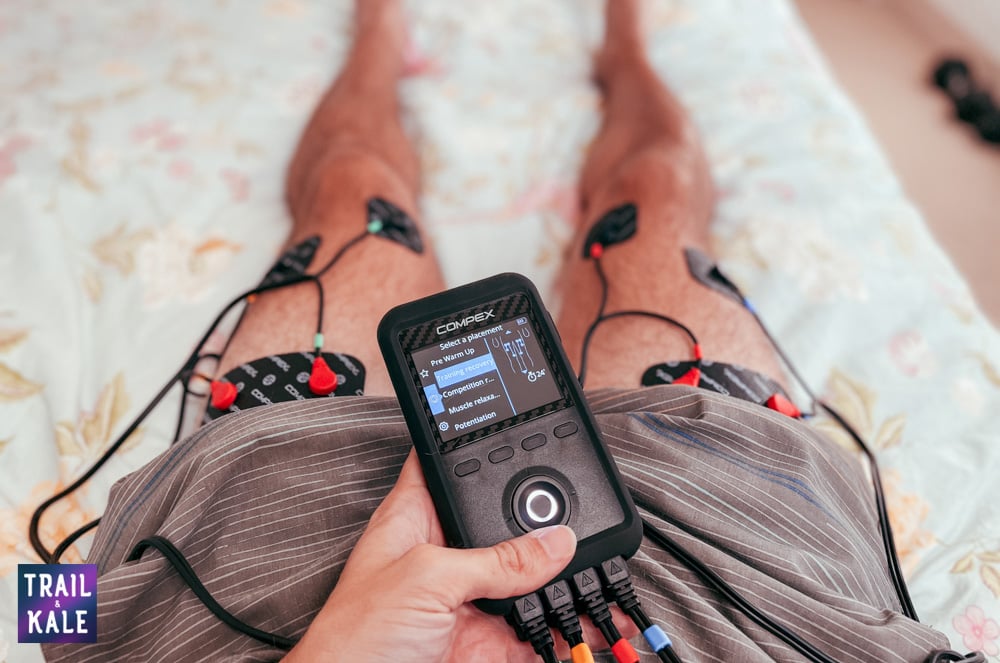 As explained above, the Sport Elite 3.0 offers the widest range of different muscle stim programs: 2x warm-up, 4x strength, 3x recovery and 1x TENS:
Warm-up: Pre-warm up, Potentiation
Strength: Strength, Explosive Strength, Endurance, Resistance
Recovery: Training Recovery, Competition Recovery, Muscle Relaxation/Massage
TENS: TENS Pain Relief
As a runner, the parts of my body I tend to use the Compex on the most for warm-up, strength and recovery settings are my calfs, quads and hamstrings.
I have used the TENS setting on lots of different niggles and to help with injury pain in areas such as my achilles tendon, ITB and a random power-tool-related elbow strain picked up while working on our DIY camper van.
Here's how I fix Achilles heel pain by the way if you're suffering from it now.
Can anyone use a Compex muscle stimulator?
It's obviously important that before using a device like this that it is safe for you to do so – as it involves passing an electrical current through your body (albeit localized) it means that people with certain health or medical conditions should not be using one.
There is some information on the FAQs section of their website and you can check with Compex's customer services team, as well as, of course, your doctor.
If you are medically cleared to use such a device, make sure you read the user guide and instructions before you do so!
How I use my Compex muscle stim device for training and recovery
If this is your first time buying a muscle stimulator then you may be wondering how these are commonly used by other athletes and active people.
As regular readers will know, I am a trail runner as well as being generally active in other sports including paddle boarding, hiking, mountain biking and skiing, and use my Compex stim machine to help with a variety of training and recovery needs.
Here are some specific ways I use this device, which may help you get a feel for how you may use one yourself.
The settings I find myself most frequently using are the 'Resistance' and 'Competition Recovery' programs.
The Sport Elite 3.0's 'Endurance' setting is specifically for working on building your endurance (slow-twitch muscle fibers).
I also like that the 'Resistance' setting is designed to target both your fast and slow-twitch muscle fibers, as I do still like to work on my explosive strength for facilitating leaping and responsive proprioception when crossing streams, jumping between trail obstacles, over rattlesnakes, that sort of thing!
As my running and cross-training is pretty varied between days and weeks, I am not overly scientific about which setting I choose to use and when, as it's important to work your body in different ways unless you are specifically focused on one extreme vs. another.
For example, if I was primarily into a more focused sport such as power-lifting rather than long-distance trail running, then I would probably spend most of my Compex time using the 'Strength' setting, which is focused on building sheer muscle strength.
Equally, if I ran mainly on roads and was training for a fast road marathon (rather than spending most of my time running more unpredictable trails and mountain paths) then I would probably be prioritizing using the Endurance program more frequently.
When it comes to recovery, I have a preference for the Competition Recovery setting, which does not contract the muscles – rather, it focuses on encouraging blood flow, flushing out lactic acid and reducing DOMS (delayed-onset-muscle-soreness) in the day or two following an intensive effort.
I also use the Training Recovery setting on other days – this setting is designed to facilitate the relaxation of your muscles after a tough workout.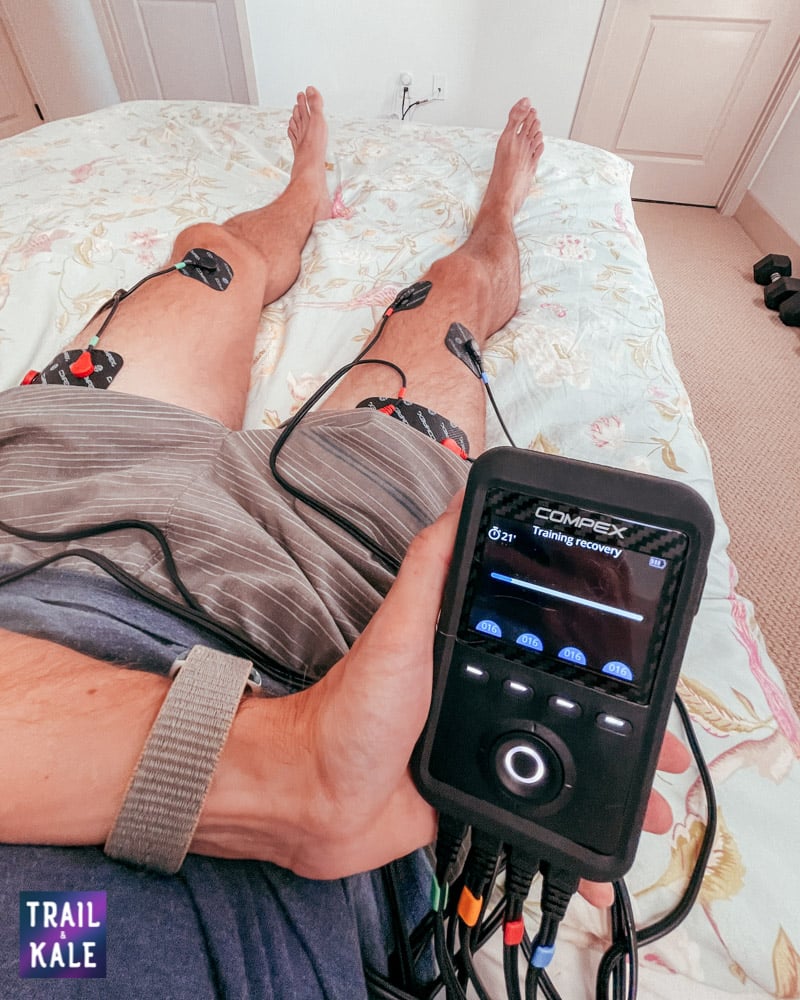 For more on how I work on my endurance training and my tips for efficient recovery after intensive workouts, read this post.
With all that said, one of the great things about these Compex muscle stim machines, and especially the fully feature-packed Sport Elite 3.0 model and Compex Wireless, is that they are so versatile that the possibilities for how you can use them are almost endless.
The biggest challenge I (and probably most people) have is finding the time to sit down for successive 20-30 minute sessions to work on strength or recovery in multiple parts of my body, which could easily add up to a couple of hours a day!
Using the TENS device mode
I use the TENS setting fairly often as I find that because it helps with the pain I get from niggles, I'm able to relax more, which in-turn helps me to get over those injuries – even if it's simply because I can sleep more easily without having the pain keep me from falling asleep quickly.
As mentioned above, I used to have occasional achilles heel tendinitis flare-ups, so this is the part of my body I used to use the TENS function on the most frequently.
Helen has also used it to help her while rehabilitating various ankle injuries such as sprained ankles or simple aches from intensive off-road training.
Battery life and other features
The Compex Sport Elite 3.0's battery is designed to last up to 8 hours on one charge. When you consider that each use of the Compex unit lasts around 20 minutes (sometimes a little more, or less, depending on which setting you use), you can get many uses out of it before the battery starts to get low, and it's no big deal to plug it in periodically to charge it back up between uses.
The device also features a water-resistant silicone sleeve. There's no reason why you'd get it wet, however seeing as it's an electric device this is good to know!
Compex electrode pad replacements
When you consider buying one of these muscle stim devices it's important to factor in how frequently you may need to replace the electrodes (sticky pads).
This really depends on how often and where you use them, as well as other factors such as how much effort you make to keep them as hair and dirt-free as possible.
The electrodes are made of fabric-backed material with a hydrogel adhesive on the side that sticks on your body.
Depending on the level of dirt, grease and hair you may have in the parts of your body you use it on, they will pick up dirt and become less sticky (and therefore less effective) over time.
You need to replace them when they no longer stick, or when the same intensity setting of the program you normally use creates less intense or uncomfortable muscle contractions.
Generally I find that I use more of the small square (2 x 2 inch) electrodes than the double-sized rectangular ones, and these need replacing every month or so during periods where I'm using the Compex frequently (every couple of days for a few sessions).
---
Where to buy
You can buy the Compex Sport Elite 3.0 for $229.99, and the other Compex models mentioned in this review, directly from Amazon, using the button below.
Last Amazon price update was: 30th March 2023 10:00 pm
Buying compex replacement electrode pads
It's better to buy these in bulk to get a discount.
At the time of writing this review, Amazon.com are selling 5 packs of 4x square snap-on electrode pads (that fit the Sport Elite 3.0), so 20 pads, for $46.99, which is discounted heavily.
---
Compex Sport Elite 3.0 review summary
Compex Sport Elite 3.0 Review
Design & Program Modes
9.5
PROS
I love all the different modes available on the Sport Elite 3.0
The unit is consistently reliable and responsive to use
8 hours battery life is excellent for traveling with the device
CONS
A little expensive but it is best in class, and will give you a training and recovery edge - so it's worth the price in my opinion
I can't think of any others - Compex has consistently delivered high-quality e-stim devices, and the new Sport Elite 3 is no exception
---
Image Gallery