Since launching their first women's shoes in early 2022, the Blissfeel running shoe, Lululemon has released several different styles of women's athletic shoes in their footwear category, each with its own unique design features.
Interested in getting massive discounts on Lululemon gear? Visit Lululemon's 'We Made To Much' page to see their latest deals.
To help you choose between them, this post provides an overview of the various women's lululemon shoes, what each style is best for, and how to choose the right pair for you. Although there's no men's collection yet, I'm sure that will come one day.
Before we dive into talking about Lululemon's shoes, you may also be interested to read our other reviews of other Lululemon running gear.
Overview of the different women's Lululemon shoes
Lululemon currently has several different styles of women's shoes, which are all purposefully engineered for workouts (definitely not your average fashion sneakers!):
---
Continue reading for more about each of these shoes and their key features, price, and color options.
If you're a runner, also check out our comparison of the Blissfeel and Chargefeel Low, to work out which is best for you.
At the end of this post, I've also included details of where you can find Lululemon's shoe sizing guide.
---
The Best Lululemon Shoes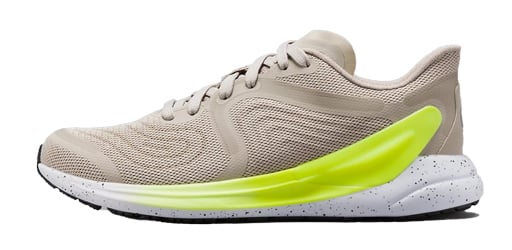 1. Lululemon Blissfeel 2 | Running Shoe
To learn more about these running shoes and how they stood up to my running wear testing, read my Blissfeel 2 review next.
You may already be familiar with Lululemon's first women's running shoe, the Blissfeel, now available in its second edition, the Blissfeel 2.
This shoe's pressure-mapped outsole has been designed specifically for the female foot, weight distribution, and running style of female runners, based on research including more than one million scans of women's feet and analysis of running mechanics.
The midfoot frame on these shoes offers a nice amount of support to the stability of your feet when running. The Blissfeel would also make for great tennis shoes due to their stability and maneuverability!
The Blissfeel is available to buy in a range of color options, which, like the Lululemon running apparel, include limited runs of certain colorways, so if you have a particular color in mind, it's best to pick it up in your size before it sells out!
Check the current color options and prices, as well as for any sales discounts, by visiting the Blissfeel product page.
---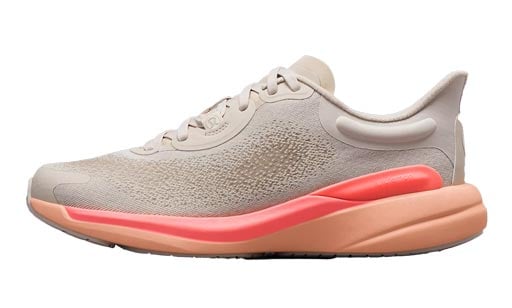 2. Lululemon Chargefeel 2 Low | Workout Shoe
To learn more about these workout shoes read my Chargefeel 2 review next.
If you like the look and features of the Blissfeel, but are more of an all-around gym-goer with less of a focus on running specifically, then the Chargefeel 2 is a more versatile option.
This Lululemon gym shoe is a great all-round workout trainer for a variety of gym and cross-training activities, as well as simply a comfortable, stylish sneaker to wear as you go about your day-to-day activities.
You will likely find it more supportive underfoot when it comes to a wider range of workouts and gym activities.
That's not to say you can't run in the Chargefeel Low. You absolutely can, and it's comfortable to run in – especially if your runs tend to be on the shorter side (say, less than 10k at a time).
In fact, Lululemon describes Chargefeel 2 as being a workout shoe built for running and training.
As such, it falls into the same category of workout / gym footwear as the On Cloud X, which is also popular with readers (and available in men's, as well as women's sizes and colors).
Similar to the Blissfeel, it's really great to see such a wide range of fun and bright (as well as understated) color options to choose from.
This includes black, white, bright yellow, pink, grey and other color options – all of which may vary depending on availability.
If you're more into weights and plyometrics and need shoes suitable for lifting, the Strongfeel (as described further down in this post) could be a better choice.
---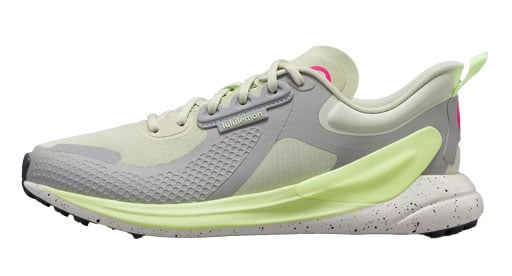 3. Lululemon Blissfeel Trail |Trail Running Shoe
Lululemon's first trail running shoe, the door-to-trail Blissfeel Trail is designed to be a do-it-all women's running shoe that you can wear for running on a mix of pavements and light trails.
Learn more in my in-depth lululemon Blissfeel Trail running shoe review, where I also provide a comparison between the Blissfeel 2 road running shoe, and the Blissfeel Trail, which will help you out if you're a runner and looking to choose between these two styles of shoe!
---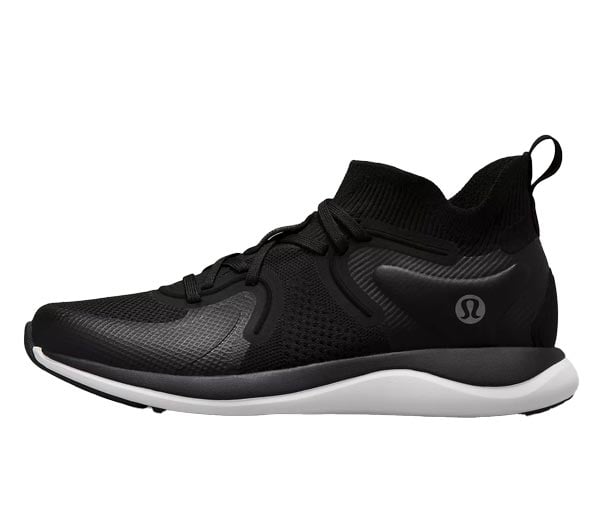 4. Lululemon Chargefeel 2 Mid | Training Shoe
The Chargefeel workout shoe is available in two styles, the Low and Mid.
Both are workout shoes designed for all-round training, including running, however, while the Chargefeel Low looks more like a classic trainer and all-around workout shoe, the Chargefeel Mid offers something a little different.
Instead of your typical workout shoe upper, the Chargefeel Mid has a soft collar (described by Lululemon as 'the engineered mesh upper') that sits around your ankle, giving a more retro, 80s style to your gym look as well as intending to provide comfort in that area.
It definitely feels different to the Chargefeel Low, as there's less structure around that area of the shoe.
The Chargefeel Mid's different upper also means there's slightly less weight to the shoe. It weighs 8.6oz compared to the Chargefeel Low's 8.9oz (for a size US 7).
The Chargefeel Mid is more distinctive as a workout shoe and appeals to those who want a differentiated look, as well as feel.
Like the other Lululemon shoes in this post, the Chargefeel Mid is available in a range of colors, the availability of which varies on their online store, depending on inventory levels.
---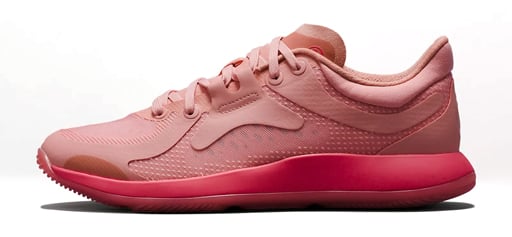 5. Strongfeel | Women's Training Shoe
Strongfeel is lululemon's workout shoe specifically for women who enjoy weight training and other activities involving multi-directional movement.
With the Strongfeel shoe, it's all about feeling grounded and supported in your movements, including jumping, cutting and lifting. They provide a powerful platform in which to build your overall body strength from.
I've really noticed the difference when working out in these shoes vs. wearing other styles of sneakers that aren't necessarily designed for weight training in. My balance and stability is so much more grounded and secure in the Strongfeel!
They have low-profile cushioning compared to the running-specific lululemon shoes (which have more cushioning to help with the impact of running), which helps you maximize power in your movements, as well as stability.
There's also a good amount of traction on the sole, designed to be multidirectional so there's traction in whichever direction those gym workouts take you.
At $128, the Strongfeel are also the most affordable lululemon workout shoes on this list!
---

6. Restfeel | Recovery Slide
We're big fans of recovery sandals, slides, and shoes, and the Restfeel recovery slide is Lululemon's offering in this space, earning a high-contested place on our best recovery shoes, sandals and slides buyer's guide.
The Restfeel is designed to be worn when you want to soothe your feet post-workout.
That said, of course, you'll probably want to wear these slides more often than that, given how comfortable they are.
These foam slip-ons may not be lulu lemon shoes as such but they make for really good house shoes or slippers for when you want to support your feet without going overboard with your indoor footwear choices.
At a cost of $58, which is comparable to (and in some cases less costly than) other recovery shoes we've reviewed (such as these Kane shoes) the Restfeel slides also make a cost-effective treat for yourself, or a thoughtful gift for an active person in your life.
Additionally, the Restfeel slip-on recovery shoes are the first Lululemon shoes to be made available in men's sizes as well as women's.
---
Blissfeel vs. Chargefeel Low shoes compared
The Chargefeel Low and Blissfeel do appear to have a number of similarities, so if you are a runner you may be wondering which Lululemon sneakers to choose.
Firstly, they do look pretty similar.
And, like the Blissfeel, the Chargefeel Low offers neutral support, which should be right for most women wanting a comfortable workout shoe that you can also run in.
The most noticeable difference between the shoes is the Chargefeel Low is a little heavier, at 9.4oz compared to the Blissfeel's 8.9oz (both women's size 7). The Chargefeel Mid is the lightest of them all.
The weight of the Chargefeel Low is partly due to the Chargefeel's dual-density midsole – this shoe feels a little more agile, and less cushioned than the Blissfeel, which is more noticeable when running.
It also has a slightly smaller heel-to-toe drop, at 9mm compared to 9.5mm for the Blissfeel – although this is still at the higher end compared to other running shoes we've reviewed.
So, if you plan to run longer distances in your shoes, then I would suggest the Blissfeel as a more dedicated pair of running shoes.
If running is just part of your overall workouts and training activities, then the Chargefeel should be more versatile in meeting your needs – either the Low or Mid style.
Finally, it's also worth noting that if price is a concern, the Chargefeel Low costs $10 less than the Blissfeel, whereas the Blissfeel and Chargefeel Mid cost the same, at $148 at the time of writing.
Lululemon shoe sizing guide
All the lululemon shoes we've reviewed fit true to size so there's no need to size up or down – just go with your usual sizing. That is to say, the same size as most other running and workout shoes should fit you – including brands such as Nike, On Running, Adidas and Asics.
Visit the official Lululemon sizing guide for specific guidance.
---
Shop at Lululemon's Like New Resale Store!
If you're also looking for great deals on lululemon running tops, leggings and other gear, lululemon now has a fantastic trade in program and 'Like New' resale store you can shop at online.
The Like New resale store sells genuine lululemon men's and women's gear that has been pre-owned but either in 'like new' or 'gently used' condition.
This is not only an environmentally-friendly way to shop but you can also get some great deals on gear that would normally cost significantly more if you were to buy it new.