Welcome to our hand-picked selection of the best Lululemon gifts for runners, with the most affordable options starting at just $28.
We're long-time fans of Lululemon running gear, which is consistently well-designed and well-made – so much so that it lasts for many years and many pieces we have owned for a long time still fit, look, and function as they did when new.
If you are looking for a gift for a runner in your life and aren't sure where to start, then any of these picks will make a great choice.
---
Fast and Free Run Belt | Men's and Women's Running Belt
This Lululemon running belt zips up fully to keep your stuff safely stashed, and also includes a clip for your keys.
A running belt is a great gift to choose for someone who runs if you don't know your gift recipient's exact size, and these are available in a range of great colors (such as bright pink as well as more subtle black and camo black, pictured).
These belts are also great for traveling and festivals when you want to keep small valuables close to you in a crowd.
---
Down For It All Vest | Great For Cold Weather Runs
This Lululemon insulated vest is designed for running in – it's water-resistant, stretchy, made from super-soft fabric and has two of my favorite features for cold-weather running gear – reflective details and thumb holes.
Although it's a running vest, it looks and performs great for everyday wear – it looks just as great with jeans as with running leggings.
It's also available in men's sizes and colors.
---
All Day Essentials Duffel Bag | Bags Are Our Favorite Lululemon Gifts!
This large Lululemon duffel bag is my favorite item on this list of Lululemon gifts for runners!
It features multiple pockets, including a zippable exterior pocket for dirty shoes or gear, and an inside pocket for small essentials.
With a 32L volume, it's a great gym kit bag, but equally great for travel, especially as it features a strap for securing it to the handle of your trolley suitcase, making portage through airports and between accommodations a breeze.
---
Cold Terrain Gloves | Lululemon Men's Running Gloves
These lightweight men's running gloves are perfect for cold weather runs, as well as everyday winter wear.
The fabric on the back of the hand is water-repellent and breathable, while the palm has a grippy silicone pad and tech-friendly fingertips.
The Cold Terrain Gloves are available in grey and blue colorways in addition to the classic black option.
---
Run For It All Gloves | Lululemon Women's Running Gloves
Similar to the men's gloves above, these women's Lululemon running gloves are a great gift for a runner in your life!
They're available in pink (pictured), yellow and black, and have the same tech-friendly digits and similar silicone palm grip as the Cold Terrain gloves – great for avoiding dropping your phone when changing songs mid-run.
It's also worth knowing that you can buy matching running headbands, the Run For It All Earwarmer, in the same colorways, which make the two items a thoughtful matching set, when given together.
---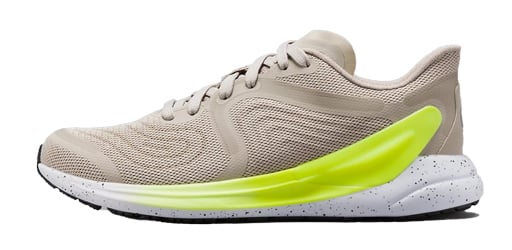 Lululemon Blissfeel 2 Shoes | Womens Running Shoes
As a key step in designing this women's shoe, Lululemon scanned the feet of one million women.
This has enabled them to design a shoe that is based around the shape and form of women's feet – as well as learn the mechanics specific to how the majority of women may run.
They're super comfortable and perfect for everyday runs for most runners – plus, they look great!
To learn more about these Lululemon shoes and what they're like to run in, read my Blissfeel 2 running shoe review. If you're also interested in the other lululemon shoe styles available, you'll find our lululemon shoes comparison guide a helpful read, too.
---
Swift Speed High-Rise Tights | Women's Lululemon Running Leggings
The fabric used to make the Swift Speed running tights is breathable, sweat-wicking and has four-way stretch.
They're super comfortable to wear for long runs and are thicker material than other running tights, making them good for cooler weather runs, too.
These tights retain its shape wear after wear, wash after wash, and they pass the 'squat test' – they're not going to go see-through or gape when you squat or bend over!
For sizing guidance, see the product page on Lululemon's website.
To learn more about why these tights are so popular, read my post comparing the best Lululemon leggings for running – and for shorts, learn more in our buyer's guide to the best lululemon shorts for running.
---
Release and Recover Ball Set | Affordable Lululemon Gifts For Men and Women
These massage balls are designed to help with relieving tension in tight muscles in areas such as your legs, back, hip and soles of your feet, post-run.
Due to their compact size (much smaller than a foam roller!) they make a great addition to any runner's gym bag.
---
Shop at Lululemon's Like New Resale Store!
Another great option when you're shopping for gifts for a runner in your life is to visit lululemon's Like New resale store, which sells genuine lululemon men's and women's gear that has been pre-owned but is either in 'like new' or 'gently used' condition.
This is not only an environmentally-friendly way to shop but you can also get some great deals on gear that would normally cost significantly more if you were to buy it new.