A gift from Lululemon is always going to be well-received – after all, who doesn't like a new piece of quality workout gear for making winter running that much more enjoyable? Lululemon is not just about yoga pants, they have some great running gear, and being a Canadian company, they know all about the right running clothing and accessories for cold winter runs – in the city and on the trails! In this post we have hand-picked a selection of the best gifts for runners from Lululemon, both men's gifts and gifts for women.
---
JUMP DOWN TO:
Lululemon Running Gift Ideas For Women
Lululemon Running Gift Ideas For Men
---
Lululemon Gifts for Runners – Gifts for Women
Fast and Free Run Belt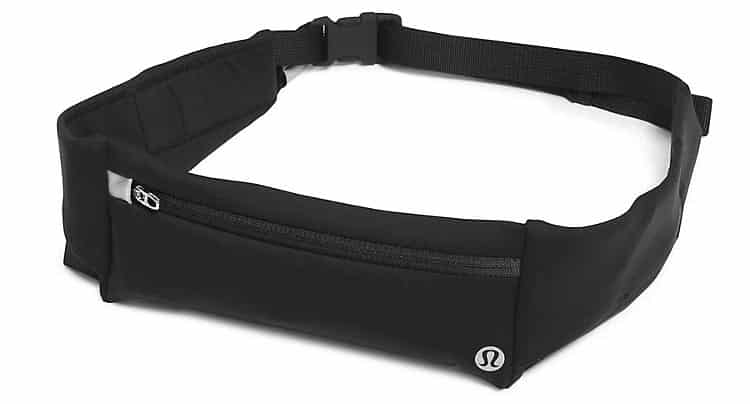 A running belt is great for those runs where you need to take a few essentials, like your phone, keys and a card – plus a few snacks, and don't need to wear a full race vest. We appreciate that Lululemon's Fast and Free Run Belt zips up fully to keep your stuff safely stashed, and also includes a clip for your keys.
This running belt is designed to be worn with the phone pocket at either the front or the back and is unisex so although we've included it as a gift for women, it would also make a great gift for guys!
---
Fast and Free Tight 28 inch Non-Reflective Nulux
I love everything about these running tights – especially in the Grey Camo and Laguna Green colors. Lululemon's Fast and Free Tight is lightweight and quick-drying, reducing the instances and longevity of sweat marks. The fabric is super smooth and stretchy, which helps provide a flattering fit.
These tights also have waistband pockets to store a gel or snacks, and side pockets on the thighs, which are good for smaller essentials. I have the cropped version of these running pants, which I like to wear for colder runs (they got me through my first ultramarathon, which took nine hours, with zero chafing!), as well as travel (leggings are essentials for air-travel and the thigh pockets are handy for stowing headphones, eye masks and boarding passes :-)).
---
Cross Chill Run Earwarmer
If you (or your lucky female gift recipient) is like me and gets a hot head when running, but freezing cold ears, then this is the perfect gift! This running headband is designed to keep your ears warm and hair out of your face.
The Cross Chill Run Earwarmer also has the all-important ponytail hole in the back to keep it staying on and not slipping up or down during an energetic workout.
---
Down For It All Jacket
I received this Lululemon Down For It All Jacket in purple as a gift from a loved one, and wear it all the time – and usually not even for running, although it is designed for running in – it's water-resistant, stretchy, made from super-soft fabric and has two of my favorite features for cold-weather running gear – reflective details and thumb-holes! I often wear it for cold winter trips out, it looks just as great with jeans as with running tights. It's pricey but well-made, looks good, and I have it on all the time in winter.
If you'd prefer to choose a padded running vest instead, there is also a sleeveless version of this running jacket, the Down For It All Vest.
---
Out of Range Duffel 33l
Sometimes the weather is just downright awful and your running time is better spent on the treadmill or switched out for a strength training session in the gym.
Who doesn't love a well-designed gym-bag, complete with a separate bag for your shoes? Oooh, or this Out of Range Duffel bag, complete with some other Lululemon gift goodies inside it – like the best-ever stocking and stocking fillers?!
---
Define Jacket
Another classic Lululemon product, the Define Jacket is designed for sweaty activities but is also great for everyday wear. While not specifically for running, it's a great gift for active people.
I love that it comes in so many different color options and has such a close-fitting, flattering fit, which means it can be layered under a larger jacket or hoody. I have this in dark grey and it goes with everything!
---
Lululemon Gifts for Runners – Gifts for Men
Metal Vent Tech Hoodie 2.0
The ultimate technical training hoodie, complete with 'anti-stink' technology. This men's Metal Vent Tech Hoodie 2.0 is a running and workout top that was designed for sweating in! This makes a great gift for guys who like to run but also dress athletically in their everyday life.
We particularly love this top in the Midnight Shadow / Tempest Blue color for its pairing versatility.
---
Surge Warm Full Zip Reflective Running Jacket
The Surge Warm Full Zip Reflective Running Jacket is a technical running top with reflective paneling, perfect for night runs and running in low-light.
The Surge Running Jacket also features Lululemon's super-soft 'Rulu' fabric – soo comfortable – and would make an awesome gift for a fellow runner.
---
Lightspeed Run Hat
If you're a regular reader of the Trail & Kale blog, then you'll know we are very fond of well-designed, technical running caps.
This Lululemon Lightspeed Run Hat is lightweight and sweat-wicking, perfect for running in. Even when the sun isn't out, the cap helps keep rain and sweat from going in your eyes… plus it comes in a few different color options and looks great on.
---
Command The Day Duffel 37l
The men's Command The Day Duffel bag is ideal for taking running and working kit to a race or the gym, as well as travel and commuting. We particularly like that this bag is water-repellent and has a separate shoe compartment, which can also be used to stash sweaty and/or dirty post-run gear. This duffel bag comes in heathered grey or classic black color options and also features a large pocket at one end (ideal for small items such as sports nutrition), an inside pocket, and padding for an up to 13 inch laptop.
---
Active Jacket
The Active Jacket is the perfect water repellent, breathable running jacket with a stowable hood, phone pocket and reflective detail. This Lululemon jacket is super-versatile for running from Fall, through Winter, and into Spring.
This men's running jacket is also great for other activities such as hiking and traveling as it's so lightweight, so you know they'll get a lot of use out of it.