The EcoFlow DELTA 2 Max is a 2048 Wh rechargeable power station designed for you to access home-standard power in off-grid environments, whether that's at home during a power cut, camping or while you're on the road traveling.
I've reviewed a number of portable power stations here on Trail & Kale, the best of which are featured in our portable power stations buyer's guide (and including the EcoFlow Delta Pro) so I was excited to see how EcoFlow's newest power product stands up to the competition and other Ecoflow products we've reviewed here at Trail & Kale.
This EcoFlow Delta 2 Max review covers all the key features, what I love/dislike about it, and how it performs in a variety of scenarios – especially when it comes to being a home power backup option for power cuts and blackouts – but also as a potential power source for van life, RVs and camping.
As regular Trail & Kale readers will know, this review, like our other outdoor gear reviews, also includes plenty of photos of the power station's key features and details of what it's like to use.
---
Ecoflow Delta 2 Max review contents:
---
Ecoflow Delta 2 Max – overview of this rechargeable power station's key features
Output
The Ecoflow Delta 2 Max portable power station can put out 2,400w, with a boost of up to 3,400w, which means it can power a lot of devices simultaneously while also preventing overloading and overheating.
This means you can also use it to power high-demand electronic devices such as an induction cooktop, heater or power saw – something that smaller clean energy power units are unable to do.
This output, combined with the battery's capacity of 2048Wh, means its capable of powering many common home devices in the event of a blackout, including lights, your TV, wifi router, refrigerator and even your washing machine.
In a camping context, it's highly capable of running common appliances such as electric coolers, lighting, projectors, and coffee makers as well as charging devices such as your phone and laptop.
Be aware however that the fan does produce some noise however, so if you plan to power any higher powered appliances or something like a portable 4k laser projector for example, the you may hear fan noise during quieter scenes.
Outlets
The Delta 2 Max has plenty of outlets for all your appliances and devices; this includes:
6 AC (household outlets)
4 USB-A (2x regular USB ports, 2x fast-charging USB ports)
2 USB-C (faster USB-C ports)
2 DC5521 (typical DC / 12v ports for 12v devices)
1 12v car-charger style outlet
The AC and DC outlets are located on the back of the unit, and the USB outlets are on the front.
There's no wireless charging pad on top, like some other smaller portable power stations we've reviewed (such as the Bluetti EB3A), however as wireless charging tends to be slower than simply plugging your phone or other device into a USB port, I can't say I miss it much, and it keeps the top of the unit clear for resting items or maybe even sitting on.
Wireless charging is a pretty slow and inefficient way to charge your devices anyway, so I don't personally miss this feature.
Screen
The screen is clear and easy to use to monitor charging and energy consumption, as well as what percentage of charge it has left.
You can also monitor energy metrics using the comprehensive app.
Options for charging
In common with other Ecoflow portable power stations, there are several options for charging the Delta 2 Max.
This includes plugging it in to a regular household wall socket, car charging with a 12v cigarette-lighter cable (included), and solar charging using portable solar panels.
With the AC wall charging you can get it from empty up to 80% in 1.1 hours, which is crazy fast!
You can also simultaneously charge using AC power and solar panels for an even quicker charge time, although it could be a challenge locating it somewhere where you have access to an outlet as well as a good solar angle and space to lay the panels out.
With the app, you can control the automation of charging, such as setting times to charge the unit from a household outlet when energy is at a lower cost to you.
It's also worth noting how (relatively) quiet the Delta 2 Max is while charging. These lithium power stations can get hot when charging, so they all have fans to help regular temperatures while in use, and while charging.
Fans on other power stations can make a lot of noise while charging – the Delta 2 is one that is fairly quiet.
Solar generator
I mentioned solar charging above, and our Delta 2 Max came bundled with a 220w bifacial (two sided) solar panel which can be used with the unit to work as a solar generator.
A bifacial solar panel means the panel is double-sided, so not only does it pick up direct sunlight but any light reflected onto the back of the panel will contribute to the overall wattage it contributes.
There is a correct way round to have it though as the back side is 80% as efficient as the front.
Buying solar panels to go with your Ecoflow power station is optional, but definitely something to consider, especially if you want to be able to charge the unit while traveling or camping away from other power sources for more than a couple of days, or expect a blackout that could last longer than that, too.
Plus, of course – solar energy is free and doesn't burn fossil fuels, so it's a pretty satisfying way to meet some of your electricity needs.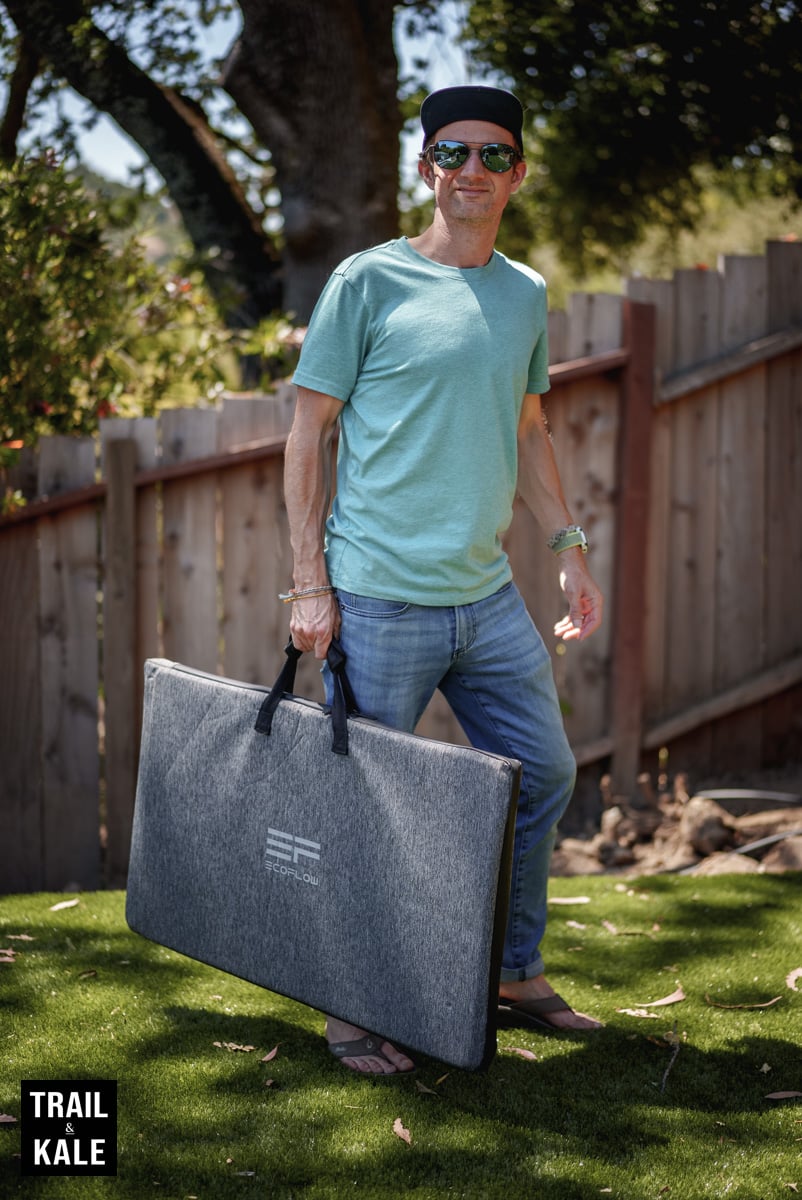 The solar panels pack down flat into a large briefcase-style case which also doubles as the stand for positioning them at 90 degrees to the sun, as you can see from my photo below.
This power station can handle solar input of up to 1000w, so that means you can actually connect up to 2 EcoFlow 400W Portable Solar Panels or 4 sets of 220W Bifacial Solar Panels, for the most comprehensive solar panel-powered charging.
Expandable capacity and home transfer switch option
Another way to extend your power capacity for prolonged periods of times, such as blackouts lasting more than 3 days, is by getting extra batteries for the Delta 2 Max.
You can buy up to two of these, that extend the Wh capacity from just over 2,000 up to 6,000, and they simply connect to the sockets shown below.
To simplify powering your entire home with this setup, Ecoflow also sells a 'home transfer switch', which you can have installed (by a licensed electrician) on your breaker box to simplify switching your home's power source from the grid to your Ecoflow power system.
However, the home transfer switch option is only viable with indoor breaker boxes so it isn't an option for my home, unfortunately.
Portability
I mentioned at the start of this review that we've reviewed a number of other portable power stations here at Trail & Kale – including Ecoflow's largest option, the Ecoflow Delta Pro, and other smaller units from brands such as Biolite, Bluetti, and also Ecoflow.
As portable power stations get larger in terms of output and capacity, they get heavier – lithium batteries are not light, after all!
The Delta 2 Max is certainly not what I'd describe as portable in that you're not going to tote this unit around one-handed – it weighs 50lb, or '1x Kepler'. Fun fact – 50lb is around the weight of Trail & Kale's resident adventure dog, Kepler!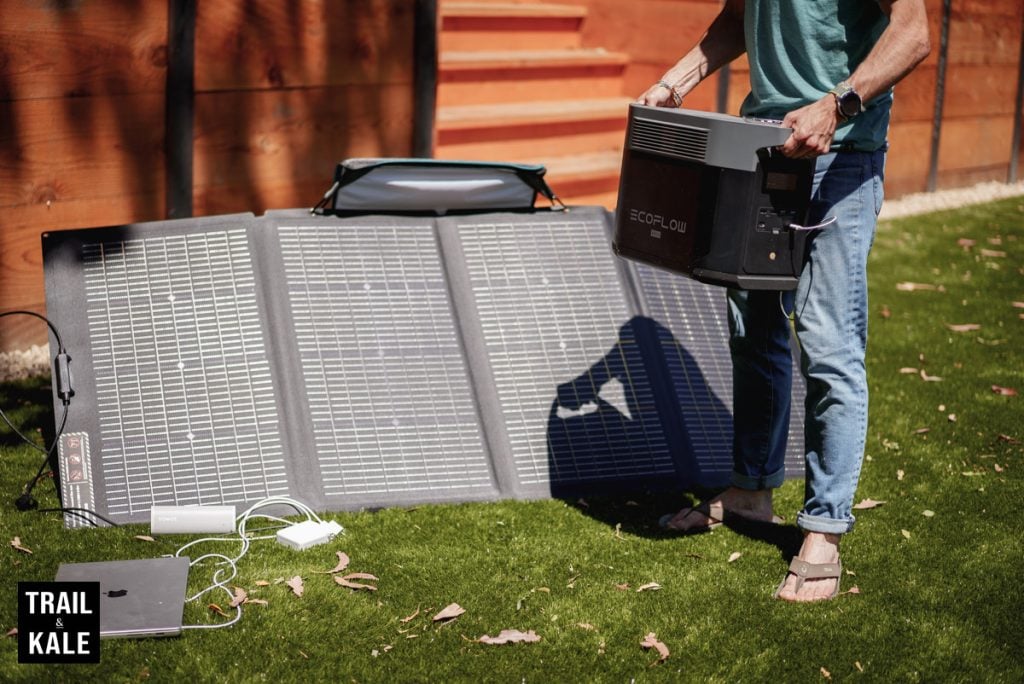 So that said, 50lb is portable enough that you can get it in and out of your vehicle or RV for taking camping, and you can move it between rooms in your house, if needed, and take it outside for solar charging.
This is a lighter weight than similar capacity portable power stations – in fact, Ecoflow's website states that it's the industry's lightest option for 2,400w units.
It's also significantly more portable than the larger Delta Pro, which I also have – that unit weighs 99lb and has wheels to help move it around!
The actual dimensions of the Ecoflow Delta 2 Max are 19.6 × 9.5 × 12 inches, which make it pleasantly compact and easy to move around with the two large fixed handles on either end.
---
Battery life – How long does the Ecoflow Delta 2 Max power station last between charges?
As with all portable power stations, how long you can use it between charges depends on what you're using it for and for how long.
There's guidance on Ecoflow's website to give you an idea of how many hours it can run certain devices if used continuously and exclusively.
In general, as mentioned earlier, this is a relatively large capacity unit, and so 2048Wh should last multiple days at a time between charges, assuming you're not using it too intensively with devices that draw a lot of power, such as those that put out a lot of heat or cooling (eg fans, ovens and AC units).
---
How long will this portable power station last for?
In terms of longer-term battery life, it's also worth noting that the Ecoflow Delta 2 Max features upgraded LFP battery chemistry, meaning it has a long stated lifespan of 3000 complete cycles until it reduces to 80% capacity (something that happens to all lithium batteries after a certain number of charges).
Doing the math on that, you would get pretty much 10 years of power, even if you use it every day, before the capacity is likely to reduce to 80% rather than 100%. According to Ecoflow, that's 6× longer than other power stations with a similar capacity and output.
This is an important aspect of buying a portable power station to bear in mind, especially when comparing a premium option such as this Ecoflow unit to cheaper alternatives on the market.
I am consistently impressed with Ecoflow's products, including this one, which is reliable, easy to use, can become part of a larger sustainable power ecosystem, and well-built such that I have a high level of confidence in using it for my home backup and camping power needs, as well as its potential to last me well over 10 years of use.
---
How many devices can the Delta 2 Max power at once?
You can use all the ports (15) at the same time, assuming the combined draw of the devices doesn't send it over the watt output (2,400w, boosting up to 3,600w).
You can also monitor this by looking at the screen as you plug in additional devices, to see how much draw the combined devices are demanding.
---
Cost and where to buy
The Ecoflow Delta 2 Max costs $1,899 at the time of writing this review. That price includes a 5 year warranty and the AC and DC charging cables.
If you opt to also get solar panels, Ecoflow often offers bundle discounts – check the latest pricing for those bundles on Ecoflow's website.
It's also worth noting that these portable power stations come with an impressive 5 year warranty.
Having reviewed a number of Ecoflow products, I'm consistently impressed with the quality of these units, and the long warranty stands behind them, too.
---
Alternatives to the Delta 2 Max
If you like the sound of the Delta 2 Max but would like lighter weight options, also consider the Delta 2 (not Max).
This is a smaller Ecoflow portable power station that weighs 27lb and costs in the region of $999. It has a lower maximum power output and half the capacity, so if it's mainly the capacity that's important to you, you can get 2x Delta 2 units for a similar price to 1x Delta 2 Max!
You can learn more about the Delta 2 portable power station on Ecoflow's website.
---
Review Summary
Ecoflow Delta 2 Max Review
PROS
Premium quality, robust construction and large capacity for a wide range of applications over multiple days
Clear screen and an app to monitor energy metrics
Solar panel bundles are available, increasing the charging capability of the unit while traveling or during extended blackouts
Charging options include household AC, car charging, and solar charging with impressively fast AC charging time (80% in 1.1 hours)
The device is relatively quiet when charging and in use
Long lifespan (approximately 10 years of daily use until capacity reduces to 80%).
CONS
The unit is heavy (50lbs), which might make it difficult for some people to move around (consider 2x smaller units as an alternative)
Lacks a wireless charging pad, a feature available on some other portable power stations
---
Image Gallery