Ecoflow specializes in creating eco-friendly, portable power solutions for people of all walks of life, whether your need is for home backup and emergencies, off-grid living, RV and van life, or simply powering tools and devices when you have limited access to mains power.
ADVERTISEMENT
Ecoflow's products range from solar panels and small portable power stations for travel and camping to entire solar-generated home energy power and backup kits that can power your home during a blackout or if you live off the grid.
Ecoflow also recently launched an innovative battery-powered portable AC unit, the Wave which we will also be reviewing in this article.
I've been using my Ecoflow Wave AC Unit since pre-launch and share my thoughts on it in this review, as well as covering their solar panels and two most popular portable power stations, the DELTA Pro and RIVER Pro.
---
Ecoflow Review – Table of Contents
All of the company's products that I've had the pleasure of testing are captured in this one in-depth Ecoflow review, which covers 3 of their most popular products plus their solar panels:
---
About Ecoflow's solar power solutions
Ecoflow is a company specializing in creating eco-friendly power solutions that are accessible to the everyday consumer, you and me.
Ecoflow's products are designed to be simple, efficient and easy-to-use portable power and solar charging systems that integrate with one another.
Taking this one step further, they have also created what they call the world's first 'smart home ecosystem'.
In plain English means that they offer a range of virtually 'plug-and-play' solar power and home energy systems with either the Delta Pro, or their latest system called Power Kits, which require little to no technical expertise to set up and use.
This has numerous applications, including running a tiny house or cabin off the grid, or setting up a version of this system in your RV, travel trailer or camper van to live and travel in off-grid without ever having to plug in to a campground outlet. Hello, boondocking!
Ecoflow's portable power stations
Ecoflow offers two families of portable power stations, the Delta and the River.
Within each product family, the units range from the 'pro' to the 'mini' – these terms relate to the total amount of power storage capacity the unit has, among other things.
So for the Delta range, you can choose from Delta Pro, Delta Max, Delta, and Delta Mini.
As a general rule, the larger the unit, the more storage capacity it has, and the larger units have a larger number of outlets, can output a higher wattage, and can charge with higher wattage inputs.
The larger units, and in particular, the Delta Pro, have a load of extra features and capabilities that I cover more later in this Ecoflow review.
Delta Pro vs River Pro
As I personally own and use the Delta Pro and the River Pro, in this review I also provide a comparison between the two, which I hope you'll find helpful.
If you're choosing between the different sizes of Delta and River power stations, there are quite a few options to choose from.
The best way to compare the features of all the different Ecoflow units is to visit this feature and price comparison page on their website.
On this portable power station comparison table, you can see if the units you're choosing between have all the specifications and features that you'd want, depending on how you may plan to use your portable power station.
Different use cases for a solar generator portable power station
You can use one of these wherever you may need or choose to want to use power without relying on the electricity grid.
Examples of when you may want to use a solar generator and / or a portable power station are for camping / glamping, RV / Vanlife, home backup in power cuts, blackouts or emergency situations, off-the-grid living, charging and using electrical devices when you have limited access to a wall outlet.
You can charge these units using a regular wall outlet when you're back home, plug them into your car or RV to charge the battery while driving, or charge them using solar panels that Ecoflow also sells as part of their portable power packages.
---
Ecoflow Delta Pro Review
Let's kick off our first product in this Ecoflow review, the Delta Pro.
About the Delta Pro and what it's best for
The Delta Pro by Ecoflow is a true beast of a portable power station. It can power your entire home!
The Delta Pro is, quite simply, the most powerful, versatile portable power station I know of with inputs and outputs galore, including 5 AC outlets, 2 USB-A ports, 5V, 2.4A, 12W Max per port, 2 USB-C ports, 5/9/12/15/20V, 5A, 100W Max per port, DC5521 Output, 2x USB-A Fast Charge, and a Car Power Output for ev car charging, so you can use it as a portable EV station of sorts.
You can also charge your Delta Pro at an EV station.
I love that Delta Pro supports such a wide array of outputs – this will suit so many requirements that people may have.
You name it, and the Delta Pro can do it, when it comes to powering your home or work energy needs that require AC outlets or even USB-C which is getting more and more popular for supplying enough power to high-powered gadgets like laptops and cameras.
A big differentiator for the Ecoflow Delta Pro is that it's not just a standalone device, (although it can be used that way to great effect).
What makes it even more versatile is that it can form the foundation for your home's entire energy system – which I explain in more depth later in this review.
Delta Pro's Key features
See the Delta Pro product page on Ecoflow's website for the full list of features and functions, as there are too many to list them all, however these are the key features that stand out to me:
The starting capacity of the Delta Pro is 3,600wh.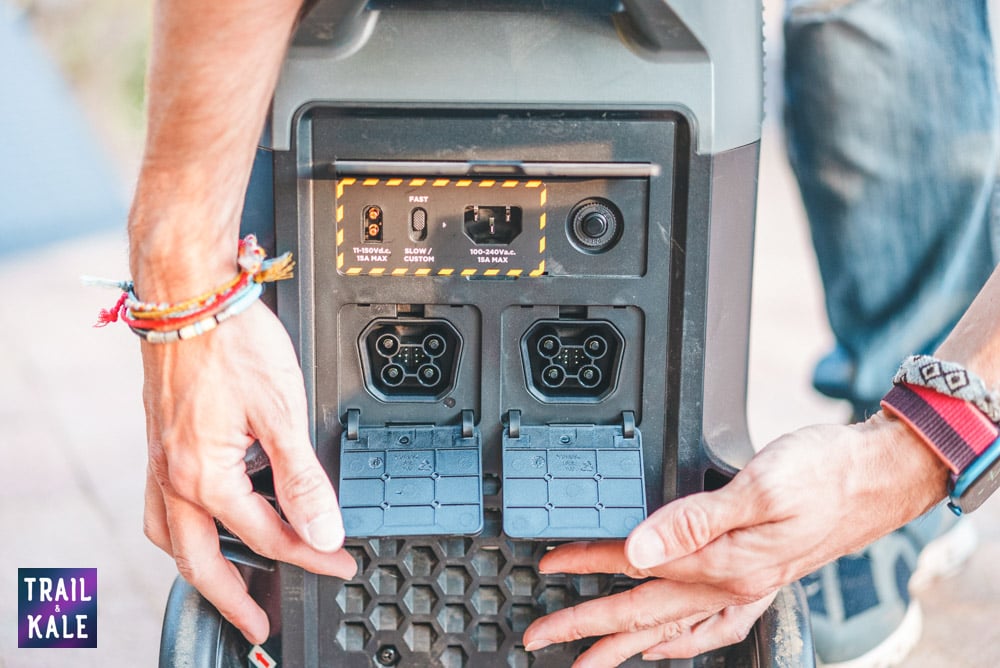 If you add an extra unit, batteries and generators you can get this all the way up to 25,000wh! This means that the Delta Pro will power your entire home for days.
With on Delt Pro unit, you can power up to 4500w of appliances. You can run your refrigerator plus connect a load of other things such as lights, chargers and other devices to it and not run out of power over a few days.
Delta Pro has SO MANY ports, meaning you can have up to 15 devices connected to it and running or charging at the same time (assuming they don't exceed 4500w at one time).
You can control it remotely using Bluetooth and the app, and you can also get a remote control to use with it.
There are multiple charging methods for Delta Pro:
It's compatible with a range of solar panel brands (or you can get Ecoflow solar panels like we use) and can take up to 1600w of solar-powered charging
You can charge it at any AC level 2 EV station locations throughout the US!
Simply charging off a regular wall outlet takes less than two hours.
You can plug it into your car's 12v outlet to charge it while the engine is running.
Delta Pro is pretty rugged, fire-resistant, and has a load of cooling fans which do come one when using most of the multiple charging methods listed above but also when delivering power via AC output.
The cooling fans are necessary to keep your Delta Pro running properly and safely.
This does, however, mean it makes a fair amount of noise when charging and running but it only runs when the Delta Pro system recognizes it needs cooling.
It's powerful enough to power items such as an AC unit (like the Ecoflow Wave – more on that, in my Ecoflow Wave review below) kitchen appliances, and a hairdryer, as well as everyday charging and power for smaller items such as your laptop, phones, headlamps, television, internet router, and lights.
There are some stats on Ecoflow's website that provides more examples with rough estimates of the number of hours and charge cycles you can get for various devices, which will provide you with an even better idea of what the Delta Pro portable power station can do on one charge.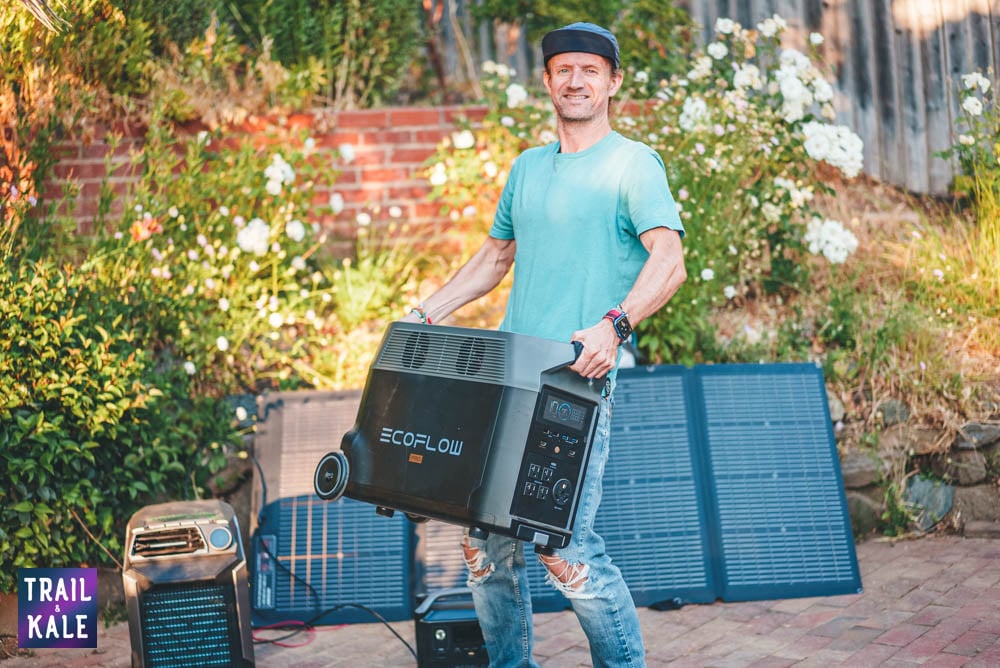 One (perhaps obvious) drawback that should be expected with such a large battery and portable power generator, is that it's very heavy! 99lb, to be exact.
It has wheels and a luggage-style pulling handle, but trust me, unless you're very strong then you're not going to want to lift it or carry it very far.
I also really like that the Delta Pro can be placed on its side which makes access to the most popular ports much easier.
If you're looking for a portable power station that has more ease of portability for road trips and camping, then check out my Ecoflow River Pro review below, as this smaller power station may do everything you need, at a smaller size and lower price point.
Cost and where to buy Delta Pro
We recommend buying the mighty Delta Pro from the ecoflow.com website to ensure fast delivery and a 24-month warranty period – they also seem to offer the cheapest prices right now.
Delta Pro is also available at the stores below:
Last Amazon price update was: 30th March 2023 10:00 pm
Delta Pro Review Gallery
---
Using the Delta Pro ecosystem for off-grid and home backup power
Essentially, depending on your needs, just having one of these Delta Pros will provide a load of portable power for many uses and situations.
However, if you're looking for even more – more power storage and more time to run electrical systems while off the grid, then you can expand the 'ecosystem' with add-on units.
For example, for each Delta Pro unit, you can also get two large add-on batteries to add to your storage capacity.
The batteries work together with the Delta Pro, so you have one unit to pull power from and control.
You can take this even further by using Delta Pro power stations and smart extra add-on batteries as the basis for creating an entire home (or off-grid cabin or tiny house) backup power system.
Benefits of the Ecoflow Home Backup Power System
With one of these installed, you can power your home for days.
You can do that just with the standalone portable power station like a Delta Pro, but the home backup system offers smarter, seamless functionality.
Having one of these set up allows you to run your home as you would normally, including all your wall outlets and light fixtures, which wouldn't work in a blackout otherwise.
I had been contemplating the merits of a Tesla Powerwall for some time, however, this Ecoflow system has more versatile applications and can also do similar things.
These things include powering charging of your EV at home and, of course, charging from the sun at home, so I'm leaning this way as I have half of the equipment for it already and it's more versatile for my needs.
To use my Delta Pro system for home backup I will need some extra parts, including the Smart Home Panel that provides the connection between the Delta Pros and a home's electrical system.
Once this is installed, then it should seamlessly (and automatically) switch over my home's power source from the grid (for example, if the grid goes down in a blackout), to 2x Delta Pro Power Stations.
Another efficiency benefit of having this installed is that I can also run my home's power from the Delta Pro system during peak hours, and save on paying higher prices for taking energy from the grid.
Then, the battery can charge up at low-usage hours (such as in the middle of the night) when electricity is cheaper.
Needless to say, I'm pretty excited about the possibilities this system has to offer!
So, if I get this up and running in the future then I will be updating this Ecoflow review to share my experience of the full home backup setup.
---
Ecoflow River Pro Review
The Ecoflow River Pro is a great size portable power station for running and charging smaller devices during blackouts, camping weekends and road trips.
It is easy to carry around both in terms of size and weight, and versatile in terms of the ways in which you can charge it (as well as offering a super-fast charging time), and you can connect multiple devices to it at the same time to run or charge them.
Key Features of the Ecoflow River Pro Power Station
The River Pro comes with a 720wh capacity and weighs 16.8lb.
Like the Delta, the River Pro also has expandable capacity when you also buy a River Pro add-on battery. This doubles the capacity to 1440wh.
It also has ten ports for charging. This includes three regular AC (wall) outlets, a USB-C port, three USB-A (regular USB) ports, of which one is for fast charging, plus DC/12v outlets.
Like the Delta Pro, you can monitor it using the Ecoflow app and a wi fi connection.
Regular AC output on the River Pro is 600W, which can be boosted for short periods up to 1800W – what the company calls 'X-boost'.
According to Ecoflow, the River Pro offers the world's fastest charging!
This power station can charge from a wall outlet from empty to 80% in around an hour, and just over an hour and a half gets it to full charge. Other ways to charge it include using your vehicle's 12v outlet, and solar charging.
It also has a handy light built into it.
In terms of what devices you can power with this and for how long, it really depends on the mix of what you are using.
However, in general, a power station of this size (nice and portable when compared to Delta Pro, and other portable power solutions for that matter), it's best at powering and charging smaller devices such as phones, laptops, CPAP machines, and batteries for cameras and rechargeable camping lanterns.
This is why it's ideal for camping and travel.
You can absolutely use the River Pro for powering things such as electric cooktops and other cooking/heating appliances, but this will quickly run down the battery, which is not what you want in an off-grid or blackout situation.
Therefore, if you're looking for a larger capacity portable power station to power appliances and cooking, heating or cooling equipment then something like the Delta Pro is going to be more suitable.
Using Ecoflow River with Solar Charging
A set of portable, fold-out solar panels is therefore a great companion to the River Pro for off-grid use, such as camping. It has a solar charging input of 200W.
To charge my Ecoflow devices using the solar input, I have Ecoflow's 220w bifacial portable solar panel set.
The bifacial solar panels have panels on the back side, as well as the front. They are designed to capture additional solar charge from ambient light.
The ambient light is stated to provide up to an additional 25% solar energy charge.
This is great, because if you've used solar panels before then you'll know it's typical that you won't get all that close to your panels' total wattage input unless you're in absolutely perfect solar charging conditions, so this boost helps get you that much closer.
This portable solar panel has an IP68 rating which means it's waterproof and dust-tight, and therefore suitable for environments where it's likely to get that type of exposure.
Cost and where to buy the RIVER Pro
We recommend buying the mighty Ecoflow River Pro from the ecoflow.com website to ensure fast delivery and a 24-month warranty period – they also seem to offer the cheapest prices.
Last Amazon price update was: 30th March 2023 10:00 pm
Ecoflow River Pro Review Gallery
---
Ecoflow Wave Air Conditioner review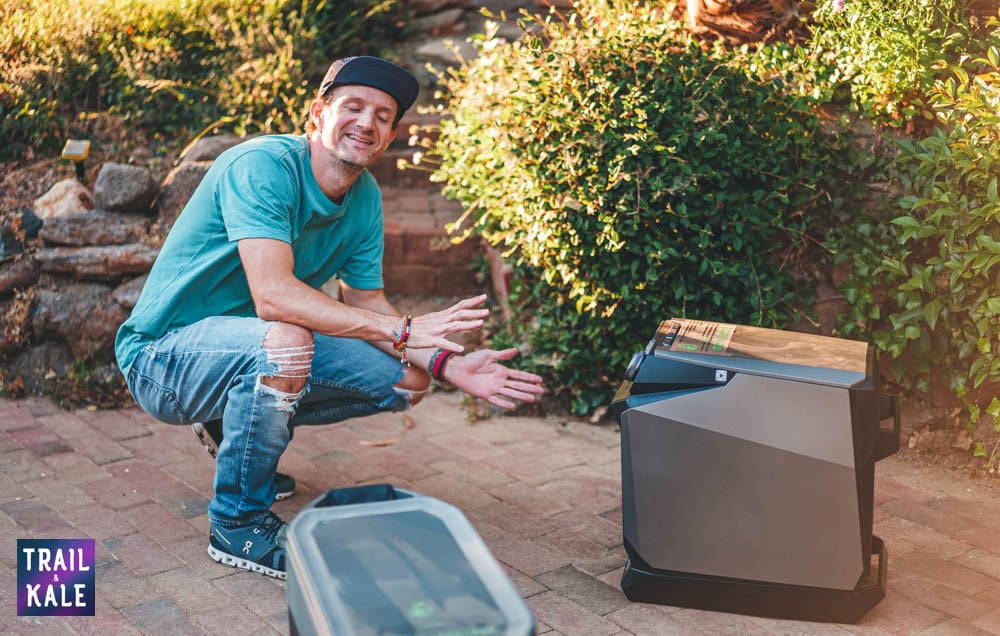 I'd been holding out for an Ecoflow Wave AC unit ever since I heard that it was launching in 2022.
The Ecoflow Wave is not just a portable AC unit, but it's the most powerful air conditioner of its size.
And, importantly to me, it's small and portable enough to take on road trips and camping in our camper van – great for keeping us cool in the California heat.
We also use the Ecoflow Wave while driving in our van to ensure our adventure dog Kepler doesn't get too warm while traveling in the back, where the van's own AC doesn't reach.
Key features
When used on its own, this portable AC unit runs by plugging it into a wall outlet, or, perhaps your Delta Pro portable power station.
You can also buy an add-on battery for the Ecoflow Wave, which I highly recommend as it transforms this AC unit into a truly portable AC Unit with around 3 hours of run time on a single charge.
This battery attaches neatly to the bottom of the AC unit simply by slotting the Wave onto and sliding it back until it clicks into place.
Then you just plug the battery into the Wave unit, and things just work with no hassle whatsoever.
It's definitely worth getting if you want to be able to use this portable AC unit without mains wall outlet power and take advantage of the ability to charge the battery (to power the unit) using solar charging panels.
The Ecoflow Wave kicks out 4000BTUs worth of cooling, and, unlike many other AC units, it doesn't accumulate water or require you to collect or empty a condenser container.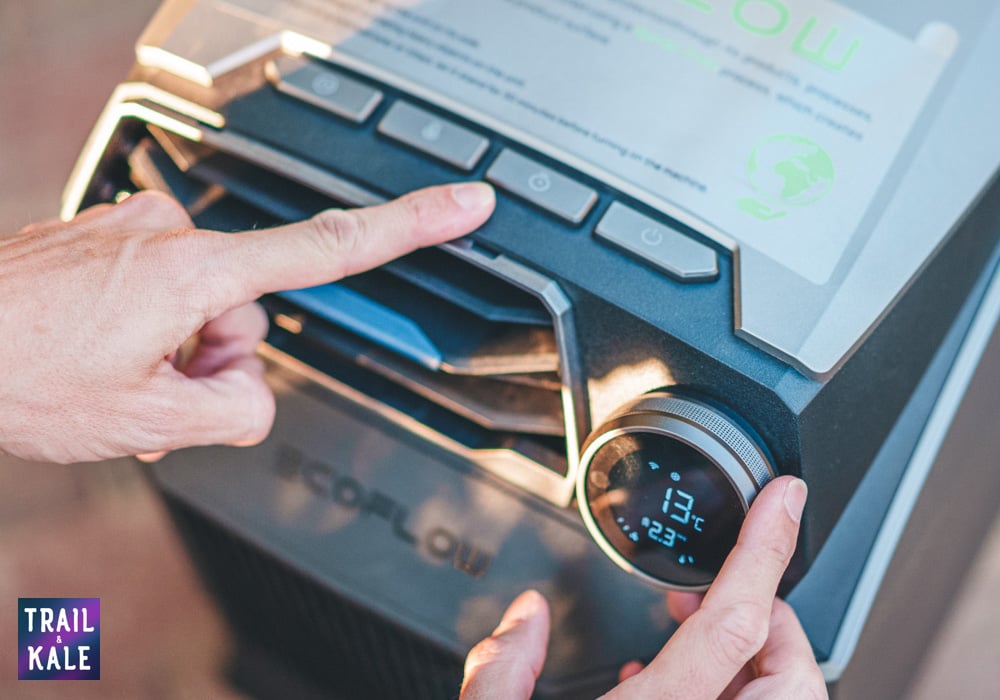 Like other compressor-driven cooling devices, it does generate hot air, which blows out of the back (while the cooled air blows out the front).
The Wave comes with two directional ducts, which can be attached for evacuating warm air out of the back, or focusing the cool air flow towards you.
One thing I wish the Wave had was bi-directional vents on the front – as it stands, you can only direct the air up or down, whereas it would be nice to also be able to point the air to the left or right.
See examples on the Wave AC Unit product page showing how it can be used.
I've found that if you're using it in a house then to get the most efficient cooling of your room you definitely want to use one of these ducts to divert the warm air from the back of the unit out a window or door.
The Ecoflow App can also be used to control the temperature fan speed, and timer of the Wave AC Unit remotely which is pretty cool. I also like how the app shows all your portable power stations in there too, with their power usage stats.
Using the Wave as an off-grid, solar-powered AC unit
Depending on the battery you use, the Ecoflow Wave Air Conditioning unit can run for between three and 12 hours, or for as long as you like if it's plugged into AC power.
Plus – it's smarter than a standard air conditioner unit. It can intelligently mix fan and cooling settings to extend runtimes beyond what would usually be possible too.
This is great if you want it to say, run overnight, but don't think the battery will last with just the AC blowing all night.
To charge the add-on battery using solar power, it can take as little as five hours using 200w of solar panels, although that of course assumes ideal sunlight conditions.
Even so, it's pretty awesome that I can charge and run something as powerful as an air conditioning unit in an off-grid context, especially if you need it for camping in the heat.
It's also super useful during blackouts, which tend to happen in periods of very hot weather (at least where I live in Northern California) – exactly when you may want to enjoy some AC!
Cost and where to buy the Wave AC Unit
We recommend buying the mighty Ecoflow Wave AC Unit from the ecoflow.com website to ensure fast delivery and a 14-month warranty period – they also offer the cheapest prices.
Ecoflow Wave review gallery
---
Ecoflow Review
Thanks for reading this Ecoflow review – if you still have questions about any one of the portable power stations (Delta Pro, River series), smart appliances (WAVE AC), or solar panels please feel free to ask me in the comments below – I'm always happy to help! -Alastair