The Cosmos Laser 4k projector from Nebula is a portable projector with built in speakers that you can take anywhere to project shows or movies, indoors or outside.
Nebula sells a range of portable projectors, including the highly portable Capsule, with the Cosmos Laser 4k being their largest and highest definition product in the range.
Compared to other, smaller portable projectors, this one is high-spec, with 4k quality, bright projection, and Dolby sound system built in – although you do pay for it, at an RRP of $1,999, and with a heftier weight than some of the smaller, handheld-sized projectors.
In this Nebula Cosmos Laser 4k review I explain the projector's key features, how easy (or otherwise) it is to use, and my thoughts on who it's best for, based on our experience using this projector in and around Trail & Kale HQ.
The key specs and features of the Nebula Cosmos Laser 4k projector
Here are some of the key things to know about this 4k home projector.
There are HDMI and USB-A input ports for connecting sources such as a laptop to the projector.
The projection size will go up to a maximum of 150 inches wide (these dimensions are measured diagonally across, like with TV screen sizes).
The Cosmos Laser 4k weighs 10.7lb and has a convenient carry handle on top.
As the name suggests, it uses a laser light source rather than a traditional projector lamp. This has image quality advantages as well as meaning you won't need to potentially replace bulbs like you do with other projectors.
There's built-in sensors for automatic focus and keystoning (making the image rectangular if the projector isn't exactly perpendicular or level to the wall/screen you're projecting on to), and auto screen fit.
You can also choose and adjust the picture modes depending on what type of movie, game, TV show or other projection you're viewing.
The laser automatically dims when you walk in front of it as part of Nebula's 'advanced eye guard'.
The Cosmos Laser 4k also has built-in speakers with several different sound settings.
My experience using the projector
Now yes, I test and review outdoor gear for a living, and have significant experience with a range of photographic and video equipment (including as a lighting specialist in the visual effects industry).
However, I haven't used a projector before, so I was interested to see how the experience went with the Cosmos Laser 4k, in terms of the ease of use for anyone to get one and plug-and-play with it.
One of the appeals of this projector is that it's designed to work well in lots of places around home and outdoors, from semi-light through dark light conditions.
So it's not just something that has to stay in your living room for a movie night with the lights off or down low, you can actually take it places.
Before I could use it I took the time to install all the software updates and program the remote.
This is important because I had read that the remote may not work as intended if the software isn't up to date – and it's also good practice to do with any tech gadget you buy.
There are various built-in app options on the projector, including good Netflix support. This may be important to you if you plan to use it for watching Netflix regularly, as I understand it's very poorly supported by most other similar projectors.
The set up process is very easy
Nebula recommends setting the projector up between 63 and 104 inches from the screen or wall you're projecting to, so roughly between 5 1/2 and 8 1/2 feet away.
I found it helpful to set it up off the ground, at around coffee table height. If you're using it in your living room for example, it should work to place it on your coffee table in front of the sofa facing the wall you intend to project on to.
Depending on how high you want the image projected, you may need to use a book or box to angle or raise it up a little higher.
While it is portable (more on that, below), it's worth noting that the Nebula Cosmos Laser 4k projector needs household-standard AC power (110v in the US) to run it – it won't run off a vehicle's 12v DC outlet and does not have battery power.
For use outside and when camping or not near a regular outlet, the best way to power this projector is using a portable power station.
Nebula's parent company, Anker, has a range of portable power stations to choose from, if you need one, and you can also check out some recommendations on our list of the best portable power stations.
The actual set up of the image and keystone settings is simple to do, you basically just follow the on-screen instructions. There are some more pictures in the image gallery at the end of this review that give you an idea of what this looks like.
Projecting – image quality is excellent at the correct viewing distance
I've been incredibly impressed with the image quality coming from this projector.
My regular TV is a large 4k OLED screen, which I love and has great image quality, but there's something so much more engaging and immersive about watching television when projected.
The laser projection means I don't have to be in a very dark room to see a clear, viewable picture. Not just that, but my initial testing (and some of the photographs you'll see throughout this Cosmos Laser 4k review) was done while projecting onto a taupe-colored wall, rather than a crisp, white projector screen.
As you can see from the photographs, the picture is still excellent and isn't overly affected by the color of the wall surface.
This was a pleasant surprise to say the least, because there are times (at least until you can use a dedicated white projector screen) where you may want to project movies and images onto surfaces of different colors and textures.
It's portability makes this projector a game changer
The Nebula Cosmos Laser 4k is definitely portable in that carrying 10.7lb of projector with its large handle is not a big deal. You can take it into your backyard, or to a friend's house or car camping with no problems.
That said, you're not going to sling this projector into a backpack and take lots of places that way.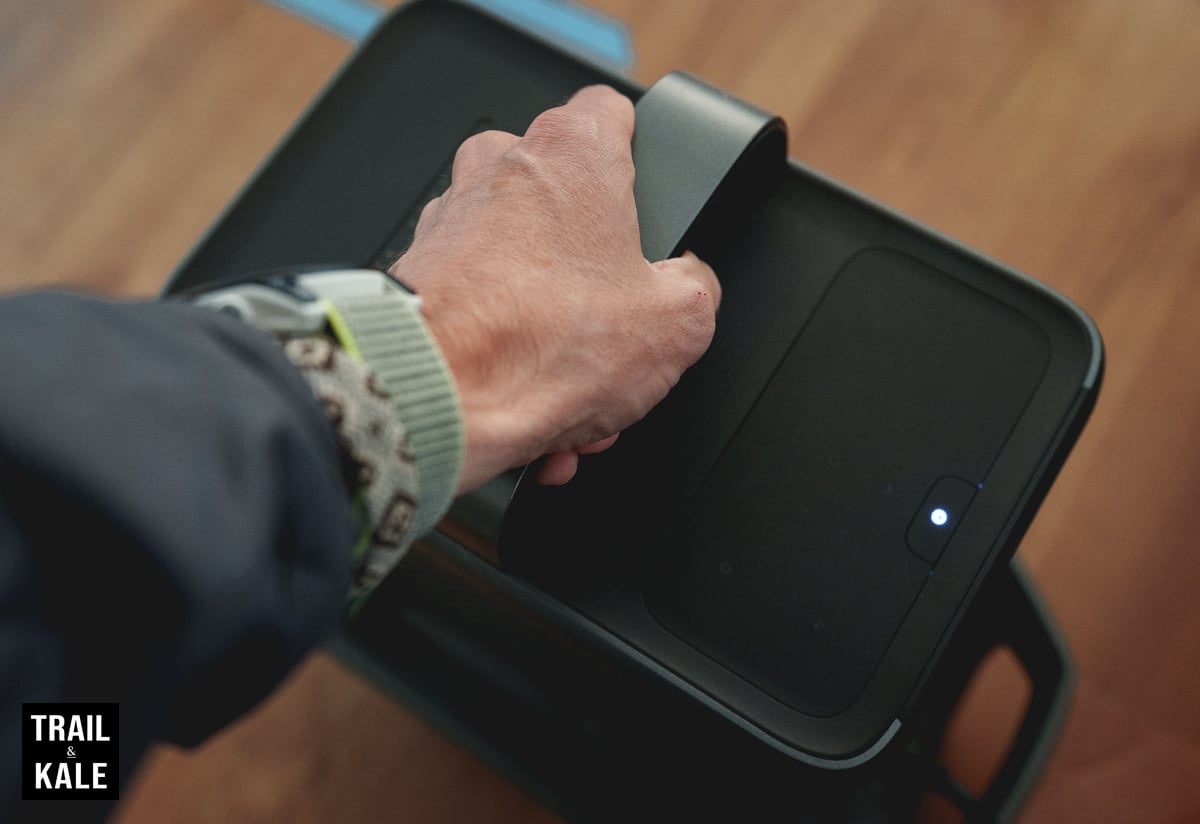 Where the Cosmos Laser 4k has room for improvement
There's very little to complain about with this projector.
If I had to pick two small things out for improvement, the first is that – understandably – there is a small amount of low level fan noise coming from the unit while in use.
Of course, it needs a fan to cool it down (it is a laser projector, after all) but as the noise is noticeable at quieter parts of a movie or show, it's worth mentioning.
Secondly, it could be helpful to have adjustable feet on the base to help with angling and raising it up and down. I think many people will use it sitting on a coffee table in their living room, as I did for this review, and this adjustability would save using a book or something similar to angle it up for a higher projection.
Who it's best suited for (and alternatives to consider)
I can see this projector living semi-permanently in the living room, together with a projector screen, as an alternative to having a huge TV mounted on the wall.
It's definitely a projector for someone who values image quality, and the premium experience of using a laser projector over a standard bulb projector. With many TVs now in 4k, it's time projectors kept up with that image quality, and the Nebula Cosmos 4k does just that.
That said, you do pay for the pleasure – $2k isn't cheap by any means (although at the time of publishing this review Nebula is offering $200 off that price!). So make sure you'll get good use out of it and take the opportunity to enjoy it away from home as well.
If you're wanting a more portable alternative that won't necessarily replace your TV, then also check out the Nebula Capsule 3 Laser.
While the Nebula Capsule laser projector doesn't project in 4k (the quality is 1080p) at only 2.1lb and the ability to run for 2.5 hours on battery alone, this handheld, go-anywere projector may be a more convenient choice if you plan to take it outside further than your backyard, such as camping.
Cost and where to buy
The current retail price of this projector is $1,999, although as mentioned above, at the time of writing this Cosmos Laser 4k review, the company is offering a $200 off discount which you can take advantage of by shopping on the Nebula Website.
Included in the price when you buy directly from Nebula is a 12 month warranty and a 30 day money-back guarantee.
Last Amazon price update was: 24th September 2023 10:30 am
The deal may also be available on the Amazon product page although check the terms to ensure your projector would still be eligible for the warranty and guarantee if you buy one on Amazon.
Nebula Cosmos Laser 4k Review Summary
Nebula Cosmos Laser 4k Review
PROS
Easy to set up
Built in speakers put out great sound
Impressive laser brightness and 4k picture clarity
Sturdy, high-quality feel and user experience
CONS
Low level fan noise is audible during quieter scenes
Adjustable feet may help with setting the projection height
---
Image Gallery