Since the very first release, the RadRunner series from Rad Power Bikes has remained true to it's original mission of being fun to ride and versatile in how it can be used.
I love that the new RadRunner 3 Plus still has that premium build quality and feel that I first experience when I reviewed the original RadRunner a few years ago, and of course it's just as customizable as it was then too but now with more refined accessories – a few of which I have on my RadRunner 3 Plus pictured in this review, I'll share more about those in just a bit.
I love modular products because they allow you to buy the base model, and then upgrade with additional extras, as and when they are required. This means you don't have to spend a small fortune up-front; instead, you can wait until you really need the extra features in your day-to-day life.
In this Rad Power Bikes RadRunner 3 Plus review I'm going to share my experiences riding this versatile utility eBike, give an overview of it's key features, a video demonstration/review including acceleration, top speed, and noise levels, where to buy it, and finally my review summary with pros and cons.
To read our other electric bike reviews go here: Trail & Kale eBike reviews. Grab a cup of coffee (or tea), relax, and enjoy this in-depth RadRunner 3 Plus review.
---
What it's like riding the Rad Power Bikes RadRunner 3 Plus
If you've never ridden an electric bike before, brace yourselves because the thrill you get from the RadRunner 3 Plus is akin to riding a bike for the first time when you were but a young whipper snapper.
That's the perpetual mood for me on this eBike, the same way it was for my first Rad bike, the original RadRunner. 😄
Being able to move without pedaling (using the throttle), is especially fun, and draws many similarities to riding a motorbike.
The RadRunner 3 Plus electric bike is truly thrilling to ride and has so far been 100% reliable – something that holds true for all the Rad Power Bikes I have reviewed and used over the years (Rad Power Bikes RadRunner and Rad Power Bikes RadMini 4 for example).
The 48V, 672 Wh Lithium-Ion battery lasts for a very long time (read on for more details on battery life, mileage, and charge time), and for daily usage around town, you're very unlikely to be left worrying that you need to charge the battery of your ebike at the end of each day.
Most of the time I find myself using only the Rad Bikes RadRunner throttle for riding, without pedaling at all. When I do pedal, however, it's usually when I pass a pedestrian and slow down whilst pretending to pedal the bike out of courtesy.
There are times when I find myself riding the RadRunner 3 Plus up very steep inclines that I need to assist the 750W Hub Motor by pedaling to provide the bike with that extra bit of oomph it needs to keep moving swiftly.
The bike does also include a 7-speed Shimano SL-TX50-7R thumb shifter which makes riding without the pedal assist, or riding up steep hills (with or without the assisted motor) much easier to achieve.
What's the RadRunner 3 Plus' riding position like?
The riding position on the RadRunner 3 Plus is much improved over the original RadRunner I reviewed a few years ago.
There's now more space in the frame and I no longer feel like I'm cramped in with my butt positioned too close to the handlebar stem.
The saddle was just too far forward on the original version, and couldn't be adjusted forward and back and I felt more comfortable sitting further back, on the passenger seat (Harley Davidson style).
The saddle still can't be adjusted back and forward (just up and down) but the different frame geometry makes the act of pedaling this Rad Power Bike feel more natural and effortless as a result and much more comfortable to sit on main seat as intended.
I have a few Rad Power Bike accessories including the very useful passenger seat package installed on my RadRunner 3 Plus, and use the throttle a lot, so I like to slide back so that I'm close to the passenger grab bars.
Sitting in a slightly more relaxed Harley Davidson-esq riding position is really comfortable but can make pedaling the bike a little awkward due to the saddle getting in the way, so I no longer do this, especially as I now have grab bars getting in the way.
Those bars are way more useful being there than not, as passengers will feel much safer riding with you.
Are the RadRunner's handlebars comfortable?
Yes, the handlebars on the RadRunner eBike are comfortable and this is due in part to the flattened shape on the ends of each handgrip (seen in the image above) and also the imitation leather material being used.
The ergonomic flattened shape allows you to rest your palms comfortably on the handlebars when cruising.
How stable is the RadRunner bike when riding on different surfaces
Due to the 4″ wide Kenda K905 with K-Shield puncture protection (liners) and reflective stripe fat tires, the RadRunner 3 Plus is very stable on gravel and dirt trails; a surface that bikes can tend to slide out on, while cornering at speed.
The wheels provide a predictable response, ground feel, and offer up tons of confidence when you're riding the RadRunner 3 at higher speeds.
The RadRunner 3 Plus also has suspension forks which helps create the smooth ride
The ride is on the RadRunner electric bike is super smooth thanks in part to the fat tires but mostly due to the RST Spring Fork that offers 60mm travel, to make riding over uneven terrain, much more comfortable on your butt.
The front suspension (there is no rear suspension) also comes with preload adjustment and a suspension lock-out switch in case you'd prefer not to have the fork travel when riding uphill for example.
The cushioned saddle also contributes to how smooth the ride feels.
How noisy is the RadRunner eBike?
The RadRunner 3 Plus runs fairly quietly but not silently, which is to be expected from a bike that runs off a 750W motor – all eBikes I have reviewed over the years will put out some level of noise but Rad Power Bikes are certainly among the quietest.
To get an understanding of the level of noise, check out my video at the bottom of this review.
---
RadRunner 3 Plus key features and specifications that matter to me
1. Battery Power and Life: A Powerful 48V, 672Wh Lithium-Ion battery
You can get a lot of usage out of the RadRunner's Lithium-Ion battery; it can take you up to 45 miles on one charge with a top speed of 20mph and while distance and top speed is very similar tp previous models, acceleration is faster.
The removeable onboard battery takes 5-6 hours to charge fully and because it's a Lithium-Ion battery, it holds its charge for a long time while you're not using the bike.
You remove it by turning the key, which pops it out.
At only 7.6 lbs, the battery is also one of the lightest and most energy-dense packs on any electric bike, although if you're new to eBikes you probably still be surprised at how heavy it is.
They also sell battery packs separately on the Rad Power Bikes website, which means you can buy a spare one if you live a lifestyle which means you need to ride further, or for longer.
2. The RadRunner's compact 750W hub motor
With 750W at your disposal, the RadRunner 3's geared hub motor really helps power you up steep inclines/hills and gets you up to the RadRunner top speed of 20MPH very quickly from a dead stop.
This is demonstrated in my video at the bottom of this RadRunner review. All this while remaining relatively quiet and inconspicuous compared to some eBikes.
There's definitely a converging point whereby a steep incline and overall weight of the bike + rider meet which is why that 7-speed drive train is so important to make your ride easier, and to help make the battery last longer while riding.
3. The RadRunner 3 Plus' dual display and operation panels are so easy use and to see while riding
I love the simplified dual control panels on the RadRunner 3 Plus; the system is so much better than the single display used on the RadRunner 2 and original RadRunner.
The controller unit on the left handle bar intuitive and easy to use thanks to its large buttons, and the speedometer display in the center of the handlebars is very easy to read in daylight and at night thanks to the large backlit display.
The display has a charge indicator, speedometer, odometer, trip odometer, pedal assist level, motor watts, headlight/taillight indicator, trip time, and even a clock.
4. Rad Power Bikes' Passenger Package
One of the really great things about the RadRunner, and other Rad ebikes, is all the Rad Power Bike accessories you can purchase, that effectively give your electric bike an upgrade.
Other eBikes with bench-style passenger seats all have one thing in common: they offer no means for the primary rider to adjust the height of their seat, which can lead to a poor riding position.
The original RadRunner was the very first e-bike or scooter to have an adjustable driver's seat that can either be completely flush with the passenger's seat or adjusted higher like a standard bike.
The passenger package come with the extra long seat at the rear, grab bars at the rear and front, and also little flip out rods for your passenger to put their feet up on (Pictured below).
5. Rad Power eBike Lights: Be seen at night with included lights and reflective detailing
The RadRunner 3 Plus comes with lighting as standard, with an auto-on feature incase you ever forget to put them on yourself while riding into the sunset. The front light is a standard Rad Power Bikes LED headlight and the rear uses an integrated taillight with brake light.
The tires also have reflective detailing in their sidewalls which keeps you visible from the side.
6. 4″ Wide/fat tires make for a stable ride on the Rad Power eBike
The fat tires on the RadRunner ebike are really nice and wide, and while maybe not the most efficient for riding on the roads, do offer excellent stability and grip on bike paths and off-road areas.
Even when I'm riding fast on gravel paths the bike feels stable while making turns.
After riding a road bike for years, I have come to hate gravel because a slim front wheel can very easily slide out from under you while taking corners at speed on these types of loose surfaces.
This is far less likely to happen on Rad bikes with fat tires.
7. Kickstand
Weighing in at 75.5 lbs with the battery onboard, the RadRunner 3 Plus is a heavy bike (like most eBikes), so having a dual-leg kickstand is very useful when you need to step away from the bike.
It's adjustable, very sturdy, and and has no problem holding the bike's weight.
8. A Bell
A bell comes preinstalled on the left handlebar, it's pretty cute and does what you'd expect, alert other riders and pedestrians of your arrival.
---
Where to buy the RadRunner 3 Plus ebike
You can buy the RadRunner 3 Plus and all additional extras at the Rad Power Bikes online store. They have great stock and offer next business day shipping, so you'll be riding before you know it!
The RadRunner 3 Plus price is $2,299 which in my opinion is excellent value for money for what you get.
---
RadRunner video review
Coming soon!
---
RadRunner 3 Plus Review Summary
Rad Power Bikes RadRunner 3 Plus Review
PROS
A powerful 48V, 672Wh Lithium-Ion battery offers up to 45 miles on one charge.
The 750W hub motor provides plenty of torque, making steep inclines a breeze and gives a top speed of 20MPH.
Modular design allows for easy customization and add-ons.
The dual control panels are easy to navigate and read, even while riding.
Improved frame geometry and ergonomic hand grips make for a comfortable ride.
Integrated lighting and reflective detailing increase visibility.
Front suspension, 4" fat tires and cushioned saddle help absorb bumps and provides a stable ride.
At $2,299, it offers a lot of high quality features that make it great value for money.
CONS
While the frame geometry has improved, the saddle still only adjusts up and down, not forward and back so taller riders may not like this.
The bike is quite heavy but to be fair all electric utility bikes are and this is definitely on the lighter side of whats out there.
---
More photos of the Rad Power Bikes RadRunner 3 Plus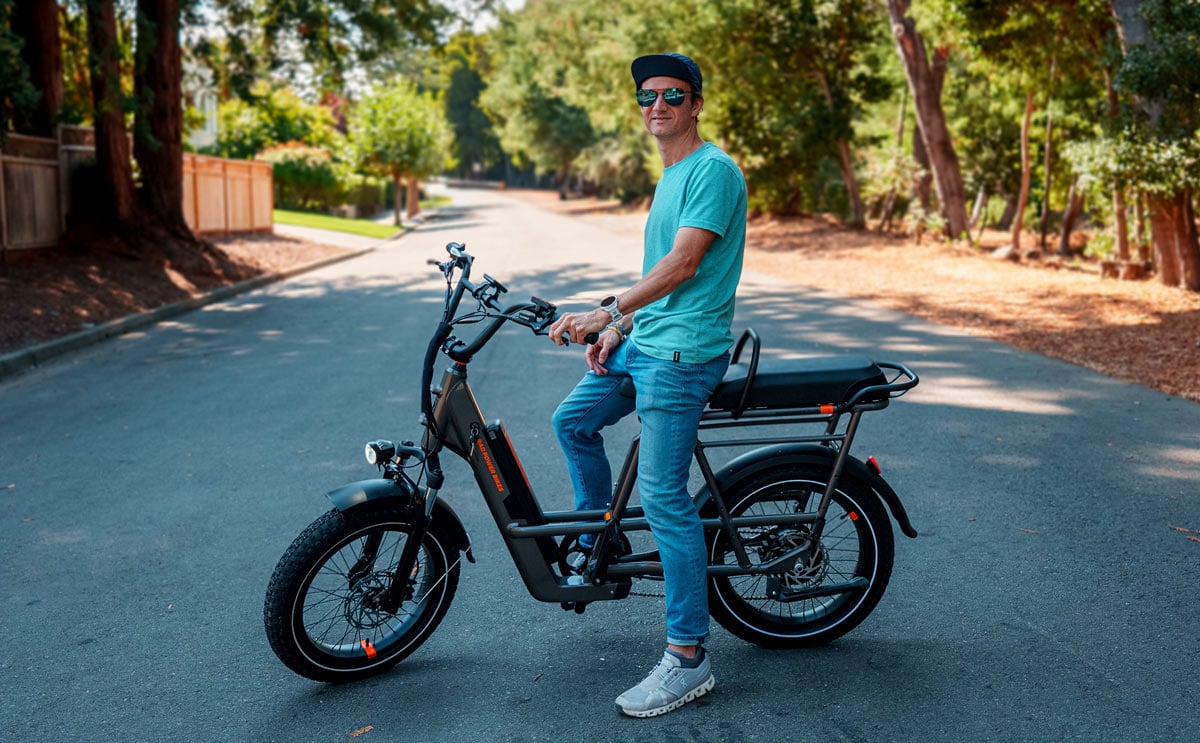 ---
I hope you enjoyed this RadRunner 3 Plus review, if you have any questions for me about the bike, please leave them in the comments below. Happy riding!!