If you're looking to start running with your dog then it's worth getting hold of a suitable dog leash for running with your dog so you can get the most out of your runs together. Running with your dog is definitely a great way to exercise both you and your pet and have a load of fun at the same time, and it helps to have extra comfortable dog running gear for both you and them.
While you can run your dog with their regular leash, you may want to buy a specific dog running leash that makes it easy to go running hands free with your dog, using a bungee leash that you can attach around your waist and to a dog running harness on your running buddy, which should be comfortable and well-fitting for them to run in safely and comfortably.
I've sniffed out the best dog running leash and dog running harness combos and have written informative dog harness reviews and dog leash reviews to help you make the right choice when it comes to investing in some new dog running gear.
We've also included a dog running leash and harnesses buyer's guide, which explains why you may want to have a specific dog running waist belt to attach to your dog's running leash, and how to choose which style is most likely to be best for you and your dog.
Click here to jump down to the buyer's guide, or scroll down to see our recommended leashes and harnesses.
If you're new to running with your dog then you'll definitely want to read our post on how to run with your dog next, if will help prepare you for running with your dog on his new leash and harness.
AND… for when you get back home and your dog needs quality sleep, read our luxury dog bed buyer's guide too.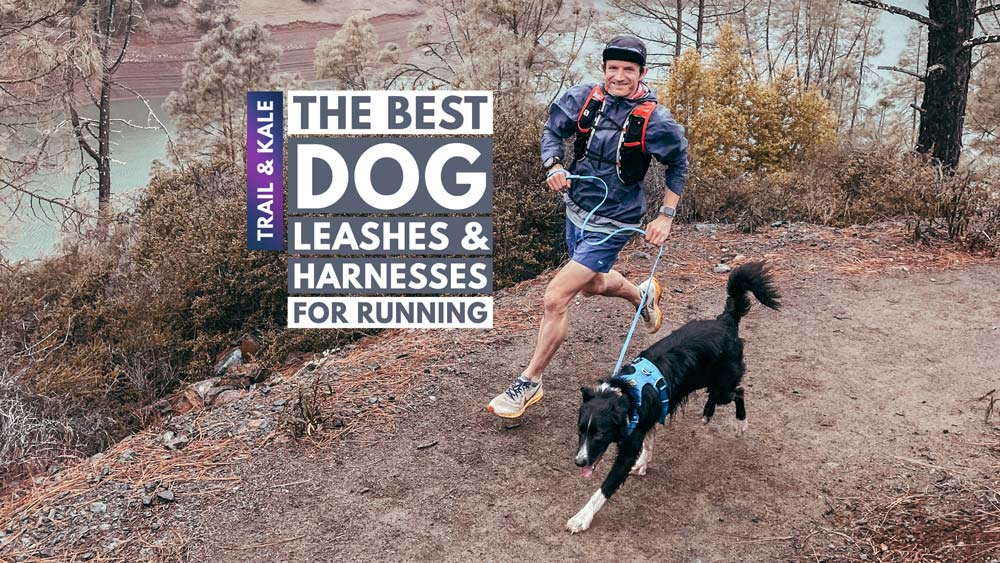 ---
Table of Contents – Best dog leash & harness reviews
---
Best all-round dog running leash and harness
1. Ruffwear Roamer Leash ($40) and Front Range Harness ($50)
This Ruffwear bungee leash is designed specifically for running with your dog.
This hands-free dog leash is popular among both road and trail runners, as it easily converts from a handheld dog leash to be able to clip it around your waist to go running with your dog hands-free.
Another great thing about this leash is the clip style.
We find it to be very secure and less prone to getting caught and accidentally opened, which is something that can happen with the more traditional leash clips, especially when your dog is running and the clasp is moving around a lot.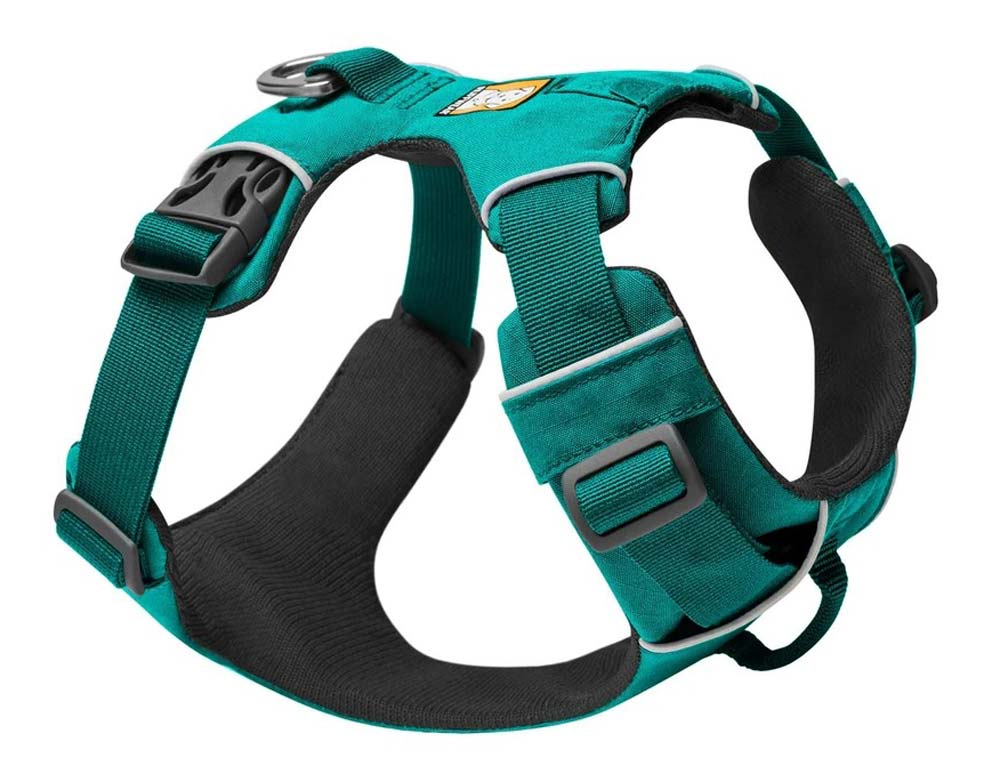 We also have this popular Ruffwear harness which is a great choice for a dog running harness, if your dog is unlikely to pull when you run together, and it's also perfect for hiking in.
Our trail dog, Kepler, wears this harness on runs although his leash is often clipped to his collar.
It gives us the option to clip a leash to the back attachment, or the no-pull attachment on his chest.
This harness is well-padded, has reflective details, and is very adjustable and comfortable – our dog regularly wears it for hours at a time during long trail runs and hikes.
---
Most versatile hands-free dog leash for running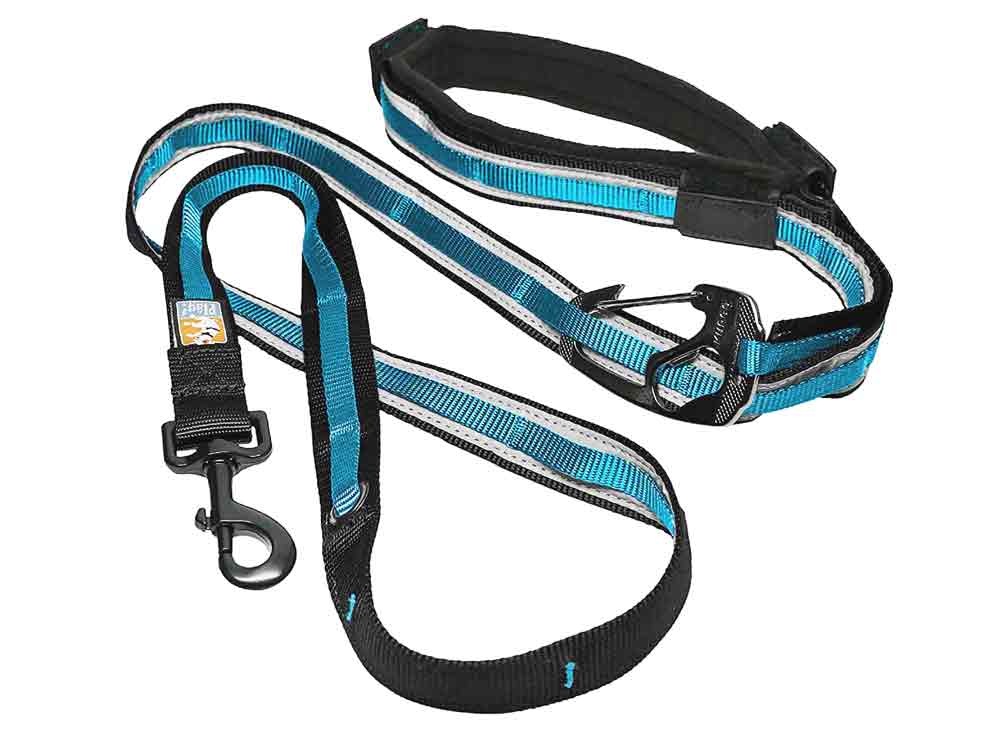 2. Kurgo Quantum 6 in 1 Leash ($30)
If you are looking for a versatile dog leash you can use to walk and run your dog hands-free, then this award-winning leash from Kurgo is a great option.
Like many Kurgo products, it has an 'over-built', rugged design, with strong webbing and padding on the handle, so it's built to be super durable.
It's adjustable to pretty much any length between 3ft and 6ft and you can use it hands-free around your waist or over your shoulder, courier-style.
It also has an option for walking or running two dogs at the same time.
To see more photos of what this looks like click here to see the product on Amazon.
This is a great value leash for doing more than just running with your dog, and pairs well with this Kurgo dog running harness.
---
Lightweight dog running leash and waist belt
3. NATHAN Sports K9 Series Dog Running Gear
Running brand NATHAN has moved into the dog running gear market with a lightweight and very breathable dog harness ($29) designed to be worn when running.
This harness pairs with a human waistbelt and bungee leash to wear around your hips and run your dog hands-free.
As it's a lightweight setup it's a good option for smaller dogs and those that don't pull too much.
This should may mean they'd benefit from extra padding or a harness that's designed for dogs to pull in, such as the Nonstop Dogwear and Ruffwear canicross options below.
It's also a great choice for summer runs where you want to keep the bulk and padding down to help keep your dog cool on warmer days.
The waist belt ($36) is padded around the back, which makes it stand out compared to the waist-worn leashes which lack that padding – this also helps keep it on your hips so it isn't as prone to riding up when you run.
We also like that the waist belt includes plenty of secure storage for essentials such as your phone, keys, and a packable water bowl, as well as the most important thing of all… poo bags!
---
Best hands-free dog bungee leash for running
4. Hands Free Bungee Dog Running Leash ($48)
Another great hands free option is Stunt Puppy's hands free leash for running, especially if you want a bungee leash with a lot of elasticity to help absorb shocks when running with your dog.
This Stunt Puppy leash is an easily-adjustable bungee leash that has a quick-release clip on the human end of the leash in case you need to release your dog in a hurry.
There's also a grab-handle on the non-bungee section of this running leash, close to the collar attachment, which is useful in case you need to bring your dog in close to you at short notice.
---
Dog harness x backpack hybrid with pocket storage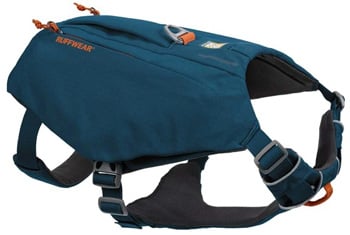 5. Ruffwear Switchbak Harness ($70)
If you want to run your dog with a harness and also have them carry some of their own stuff, then this Ruffwear harness is a great choice (as worn by our adventure dog, Kepler, who has the red version).
The Switchbak harness is similar in design to the popular Front Range Harness, with padded construction and two leash attachment points (one on the back, one on the chest).
This harness however has the addition of an extra belly strap and two zip-up pockets that run down either side of the dog's back.
The pockets have enough storage for essentials such as poo bags (both the empty and full varieties), snacks, and a compact water bowl.
Pair it with your leash of choice (like the Roamer leash mentioned above), for a comfortable dog running or hiking setup.
---
Best leashes and harnesses for running with dogs that pull
6. Nonstop Dogwear or Ruffwear Canicross Gear
A Canicross setup is made up of three parts: a specific style of human waist belt (which sits low, around the hips and has leg straps), a dog harness and a bungee dog running leash, which is great for off-road runs on wide, non-technical trails such as parks, forest paths and fire roads.
European brand Nonstop Dogwear produces a whole range of professional dog running gear, and a similar setup is also available from Ruffwear.
This type of running with your dog is a lot of fun, I can tell you from first hand experience!
If you're running with your dog using one of these running harness setups then it can also be handy to have a non-bungee, easy-to-access leash attached to their collar, in case you need greater control than the harness offers.
In those situations, a shorter, lightweight leash that handily stows around your dog's collar, like this one, is also a great addition to your dog running gear bag.
---
Dog running leashes and harnesses buyer's guide
Should you use a dog harness for running?
To some extent, whether to get a specific dog harness for running and hiking or whether you can run with your dog using a leash attached to their collar comes down to your personal preference and your particular dog.
Some dogs have a tendency to want to pull when they are attached to their handler via a harness rather than a collar.
If they do this unexpectedly to move towards someone or something you are running close to then as a dog handler you have less control over them if they are in a harness, especially if they are a large or strong dog.
In these situations it may be better for you to use a dog leash for running that is attached to their collar, and discourage them from pulling too intensively, with the aim of having a loose leash, in the same way as you would if you were walking instead of running together.
It can also be helpful to run your dog with a bungee leash especially if it is attached to their collar, as it's more forgiving if one of you stops suddenly (for example, you trip over) and reduces the risk of hurting their neck compared to an inflexible regular dog leash.
How to choose the best dog harness for running with your dog
When it comes to choosing the best dog harness for running with your dog, you have a few options to choose from.
The best harnesses for running with your dog have a few things in common. Key features to look for in a dog running harness are:
Fit and shape – does the harness allow your dog a good range of motion for running without rubbing on their legs or shoulders? Is it comfortable with good padding? Can your dog breathe comfortably when wearing the harness?
Sizing and adjustability – is the running harness adjustable to fit your dog's shape comfortably? A good dog running harness needs to fit securely so the dog can't slip out
A variety of leash attachment points on the harness – some dog running harnesses offer chest attachments and back attachment points
Reflective details for visibility – it's important for your dog to be seen in low light and dark conditions, and reflective details are important, especially if you have a dark-colored dog
Durability – it almost goes without saying that a good dog running harness should be sufficiently durable to stand up to intensive use, especially if you'll be hiking and trail running with your dog over trail obstacles and through terrain where the harness may brush up against obstacles such as trees and scrub.
Speaking of trail running, if you're not already a trail runner but like the sound of it and want to learn more, read our beginner's guide to trail running for advice on how to get started!
You may also want to look into dog cooling vests to help your dog stay cool during runs in warmer weather.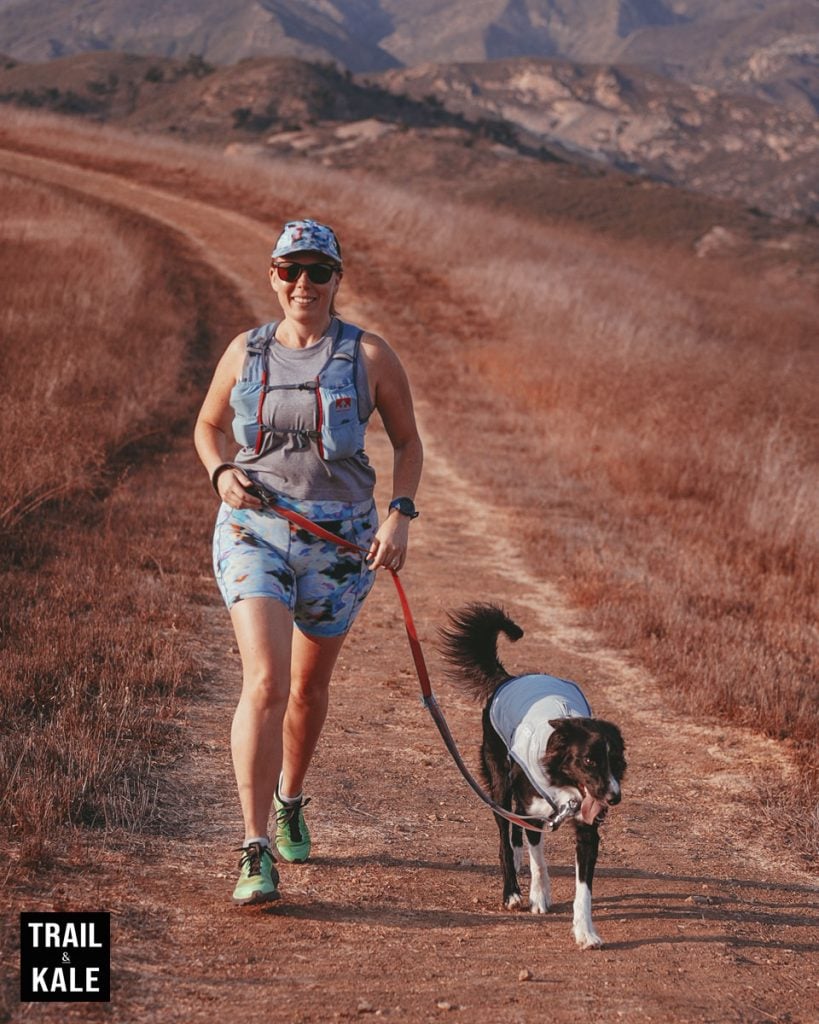 Good cooling vests from reputable brands should feature leash-portals between your dog's shoulders so they can still wear their harness underneath the vest and you can use a back-clip leash attachment.
Read our Kurgo cooling vest and Ruffwear cooling vest reviews to learn more about those two popular brands of cooling vest.
Selecting the best dog leash for running with your dog
Dog leashes come in a range of styles and lengths so it's important to think about how and where you will run with your dog, as well as both of your running styles and preferences, as that can influence the type of leash you choose.
There are several main considerations for choosing a dog running leash:
Bungee or fixed leash
Hands-free or handheld leash (or an adjustable leash that does both)
What leash length should you choose?
Should you choose a 'dog-joring' leash, harness and waist-belt combination designed for running with dogs that pull?
Choosing a bungee dog leash for running
If your dog is going to be wearing a dog harness for running then it is generally best to use the dog harness with a bungee leash, as this type of running leash absorbs shocks, which is especially important if you are trail running over uneven terrain and obstacles.
For busier trails and road running, however, you may prefer a leash without elasticity as you'll have more control over your dog around traffic and other road and trail users.
Choosing a hands-free dog leash for running
A hands-free dog leash is a good option when running your dog with a harness on them and you are confident you have control over your dog and they won't pull you over if they're attached to you.
This is an especially great option if you are doing most of your runs together on paved paths and flat, predictable terrain.
If you are trail running your dog with a leash attached to their collar then for safety's sake I suggest you do not choose to attach a waist / hands-free dog leash to your dog's collar as it creates too much of a fixed connection between the dog's neck and your body.
When we take our dog Kepler trail running on particularly gnarly and challenging trails, we usually attach a leash to his collar and hold it in our hand at the other end.
We find this way is generally safer as we can quickly let go of the leash if necessary, and it's harder to do that if the leash is attached to your waist.
What is the best dog running leash length?
Generally a 6ft leash is a good length dog leash for running and I like to run with this leash length compared to shorter leashes.
A 6ft leash gives him enough space to run near us without being too constrained, and will usually end up longer than 6ft if it's a bungee leash, when stretched out. It's also the maximum leash length stated in many park's leash laws.
If you have a longer leash then it is more likely to get under your feet or drag on the ground when your dog runs closer to you.
Shorter leashes may be a better choice for running in urban areas, though, where your dog may need to run closer to you to stay safe and out of the way of other people, street obstacles and traffic.
Consider a specific dog running harness and leash for running a dog that likes to pull
If you have a large or particularly athletic dog like a husky or herding dog (like Kepler) then you may find a great running solution in the form of a specific dog running setup called 'Canicross' – also known as 'dog joring'.
The differences with Canicross dog running gear are that:
the dog wears a specific running harness designed for pulling like a sled dog would
the handler runs behind their dog and gives them verbal commands such as to go, stop, slow down, left and right
the handler wears a waist harness specifically designed to sit low around their hips and center of gravity, which allows them to keep balance and control when the dog pulls.
This type of dog running harness and leash setup could be a great option if your dog loves to pull and do a job, as it helps them to focus on the act of running and less so much on the environment around them.
Kepler seems to find it helpful to focus on pulling and listening to commands, plus it's a hardcore workout because he is not only running but pulling us at the same time.
The waist belt the person in this setup wears is also a game-changer if you struggle with being pulled off-balance by your dog when using normal waist-worn hands-free dog leashes.
The trade-off is that if your dog does choose to head for a distraction, they're quite far away from you at the other end of a long leash!
To give you an idea of what this looks like, here's Alastair and Kepler at the trailhead ready to hit the trails in a Canicross get-up:
---
Now you've read our dog running leash and harness buyer's guide, click here to jump up and see the list of gear!
You may also be interested in reading our buyer's guide to the best hydration packs for running.
Wearing one of these while running your dog is the best way to carry essentials, including water (for them and you), poo bags (empty and full) and other items such as your phone.
I hope you found this guide to finding a dog leash and harness for running has helped you find a suitable leash and harness setup for your dog.
We have used most of the gear included in this list so if you have any questions then let us know in the comments below and we'll do our best to help!
You can also follow Kepler's trail adventures on our @trailandkale Instagram account.