BioLite is back with its latest lineup of headlamps the HeadLamp 325, 425, and 800 Pro, all of which are for outdoor enthusiasts, including runners, hikers, camping lovers, and everything in between.
The HeadLamp 425 seems to be the love child of the HeadLamp 330 and HeadLamp 750, and in becoming so, this new BioLite headlamp has the best of both, all in one sleek, and very affordable package.
This headlamp only weighs 0.3oz more than the HeadLamp 330, yet offers so much more, which I'll get into in just a bit – it's actually quite incredible what BioLite has done here.
To get 15% OFF your BioLite order, be sure to use our exclusive code TRAILANDKALE15 at checkout.
Even with this lightweight package, the BioLite HeadLamp 425 has an output of, you guessed it… 425 lumens at its highest beam, for around 4 hours which is enough for a lot of runners out there but not for ultrarunners intending to run through the night.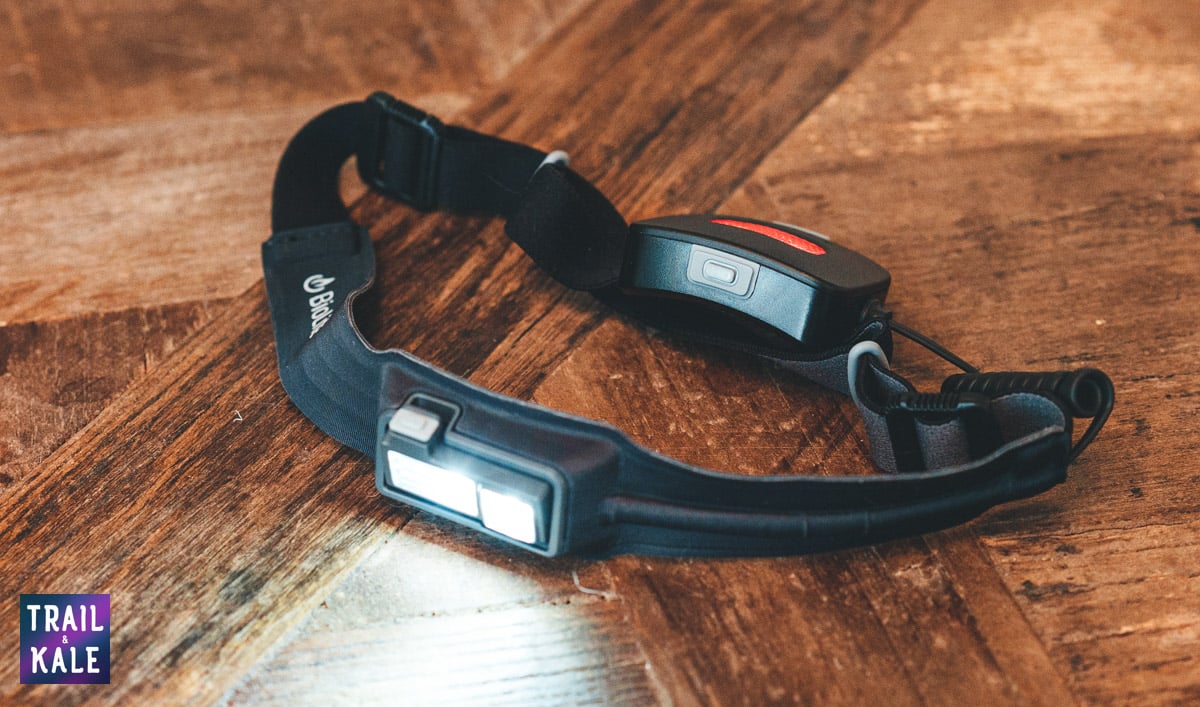 BUT WAIT, this headlamp can actually be used for ultrarunning (and then some) with BioLite's new passthrough charging system which allows the headlamp to run off a Biolite portable power bank – I'll go into this later.
This Biolite HeadLamp 425 review covers all the key features, what I love/dislike about it, and how it performs while running, hiking, and camping.
MORE BIOLITE HEADLAMP REVIEWS: BioLite HeadLamp 750 Review / BioLite HeadLamp 200 Review / BioLite HeadLamp 330 Review
---
BioLite HeadLamp 425 review Contents:
---
What is the BioLite HeadLamp 425 like for running?
The HeadLamp 425 is a high-performance headlamp that can be worn for hours, comfortably because of its low weight of 2.75 oz (78 g) and soft moisture-wicking smart fabric headband.
What that means is one less thing to think about when you're trail running at night, or hiking through the wilderness after the sun goes down.
The 2.75 ounces is spread consistently across the front and the rear of the headband where the rear light and battery pack can be found.
This light package when combined with a snug adjustable fit means there's no bouncing up and down while you are running.
Although you don't require it, I always recommend wearing headlamps over a soft running headband, to give it more padding against your forehead. This is mostly for those who wish to run for over a few hours in the dark and cold weather.
One of the things I love about all BioLite headlamps is how easy they are to operate while running, and that includes when you're wearing running gloves and don't quite have the dexterity you're used to.
Not only are BioLite HeadLamps easy to control, but they're also packed with different light mode options, many of which also have a dimmable function on top of that mode.
The BioLite HeadLamp 425 comes with a few new super useful features (over its predecessor, the HeadLamp 330) for ultrarunners, trail runners, and road runners too – these new features include:
1. An increased beam distance, better run time, and an improved temp use rating.
The 'Flood' light mode now has a throw distance of 15m; while the 'Spotlight' mode can send the light a whopping 85m ahead of you, this is very important for trail runners needing to spot their trail route ahead and to be on the lookout for wildlife.
HeadLamp 425 can run for 60 hours in LO mode, and 4 hours in HI mode, which is at full power of 425 lumens.
2. A larger power button.
This makes operating the headlamp even easier when you're wearing running gloves.
3. USB-C Charging
This may sound like a small thing to some – but so many running and lifestyle gadgets nowadays have adopted USB-C as the charging standard because it charges devices faster.
So, you don't have to hunt around for that annoying mini-USB cable anymore!
4. New Light Modes
There's now a rear red strobe and red flood light. This is actually mandatory on some trail races – so hurrah for this awesome feature!
Using a red light while camping at night is also a much better way to keep your camping buddy's as you won't compromise their night vision around camp.
To use it this way, you don't need to wear the headlamp back to front as there's actually a red beam on the front too!
5. Run Forever charging
Thanks to this pass-thru charging feature you can extend runtimes indefinitely. It also allows you to run and charge your headlamp simultaneously.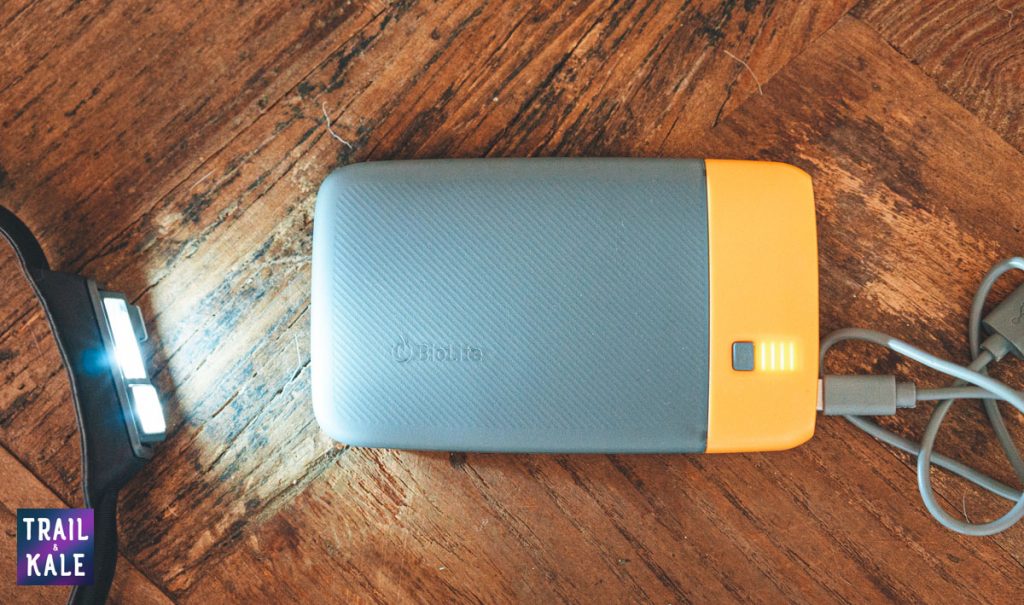 You will need a BioLite power bank to do this – I recommend the smallest one called the Charge 20 PD, as it's the lightest and easily fits into your running hydration vest.
You can see me with this setup in the image below:
How bright is the Biolite headlamp's beam and is it easy to control?
The BioLite HeadLamp 425 has a very bright beam that fires out 425 lumens of light to a 85m distance in a nice smooth circular fashion in 'Spot' mode.
This brightest light setting is actually the one that has both Spot + Flood beams fired simultaneously.
The combined beam in this mode has widespread light for close objects as well as a focused beam that shines further into the distance, up to 85m.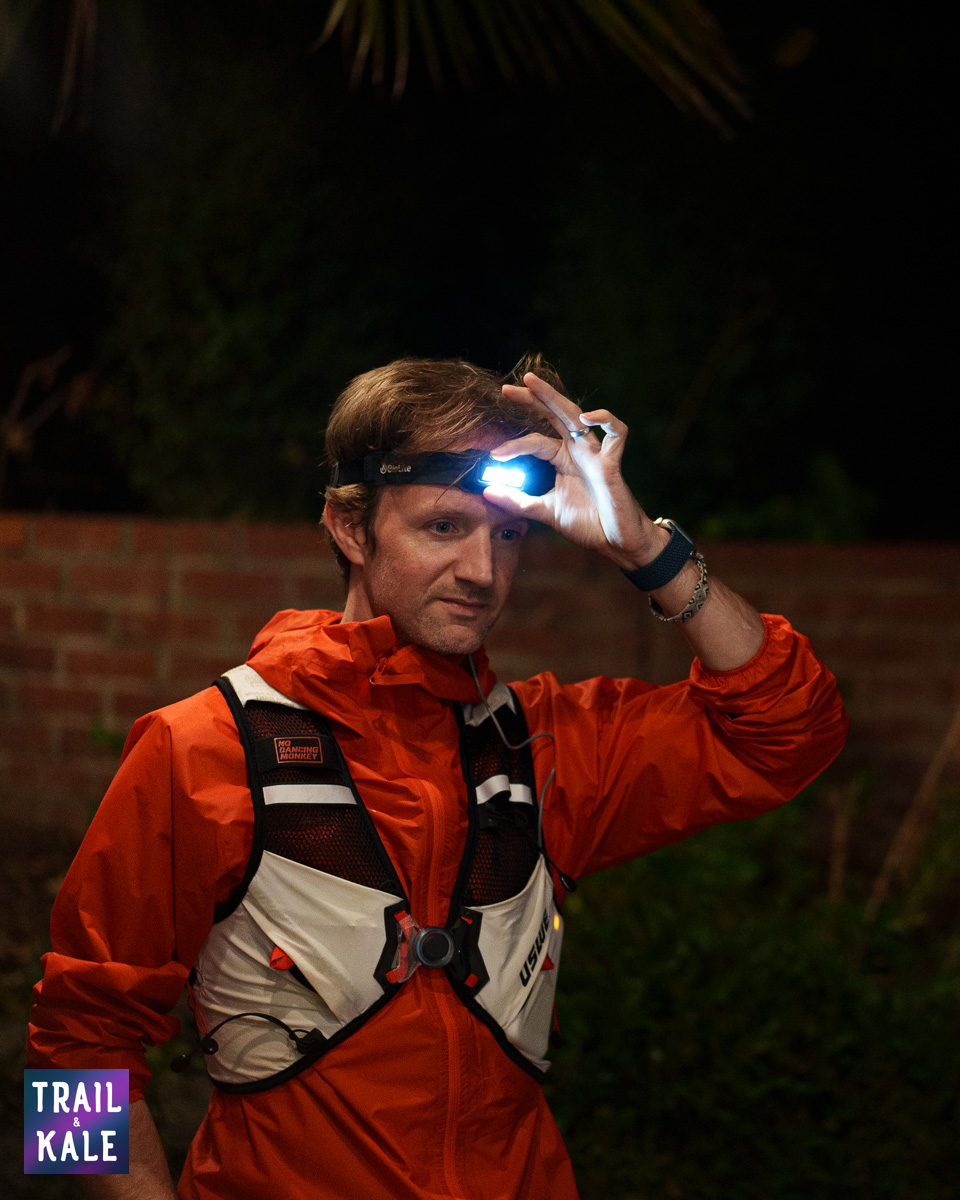 This is the mode I find myself using most of the time.
This mixture of beams means that you don't have to be laser-focused on a small dot for your immediate path ahead while running, which can make some people feel nauseous when running at night and in the dark.
To increase the Biolite 425's battery life further, once you have cycled through to the beam you want, just press and hold the button on top of the main light (not the rear pack) again and the light will start dimming.
Keep holding the button for the lowest setting or let go sooner to get a midway brightness level.
There's also a strobe light setting and a red beam light on the front of this Biolite headlamp. The red light is great for your night vision while doing tasks in the dark, other than running.
I really like how easy it is to use too, I mean there's literally one button on the front of the Biolite Headlamp 425 (and another on the rear battery pack for red light modes) which is used to turn it on, cycle through the 5 beam modes and also to lock it.
You may want to lock it so that you don't accidentally turn it on while it's in your running hydration pack, hiking backpack, or while you're traveling.
Having such a simple user interface makes it easy to use even during the winter months when cold weather running gloves are necessary to keep you warm.
The HeadLamp 425 even has a tilt option to point the beam toward the ground more or less, depending on your speed and how far ahead of you would like to see – this is very useful!
How comfortable is the BioLite HeadLamp 425 headlamp?
The Biolite 425 headlamp only weighs 2.75oz, which is insanely lightweight for a running headlamp, with all these features, and long runtime. This is why we rate it so highly on our Best Running Headlamps buyer's guide.
This makes the whole experience of running with a headlamp so much more enjoyable.
In the past, it wasn't uncommon to get a headache from wearing a headlamp when running because you would be required to tighten the band so much in order to reduce the bounce, due to the weight of the front module which housed the bulb and batteries.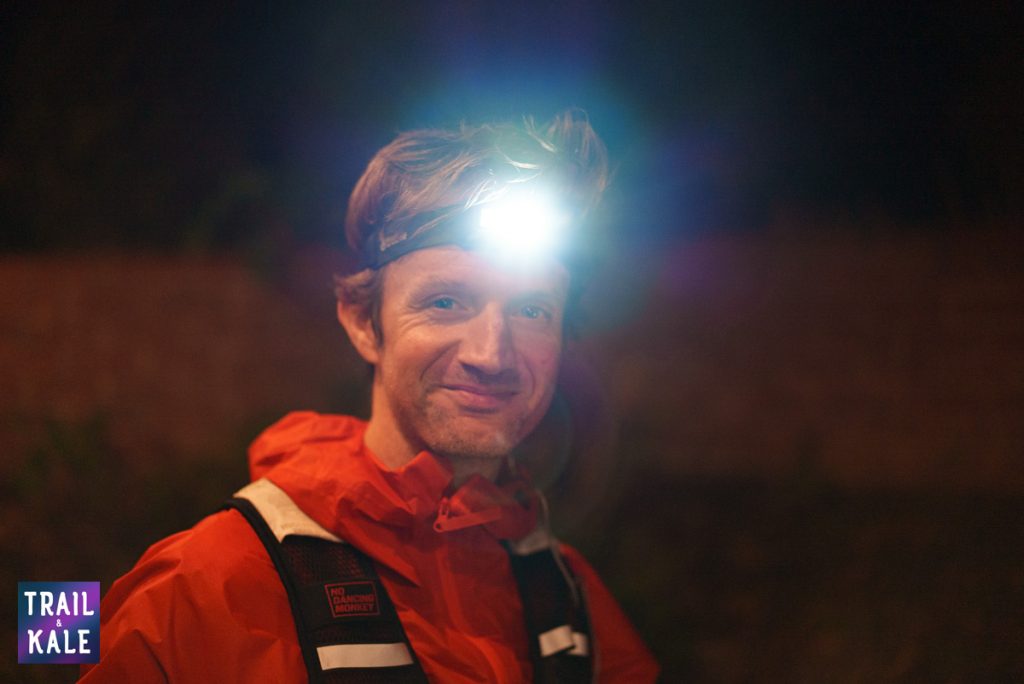 The BioLite HeadLamp 425 is not only lightweight but it also spreads its weight across the front and rear very well.
BioLite has put the headlamp's rechargeable battery module at the rear of the adjustable headband and the very slim tilting light panel at the front.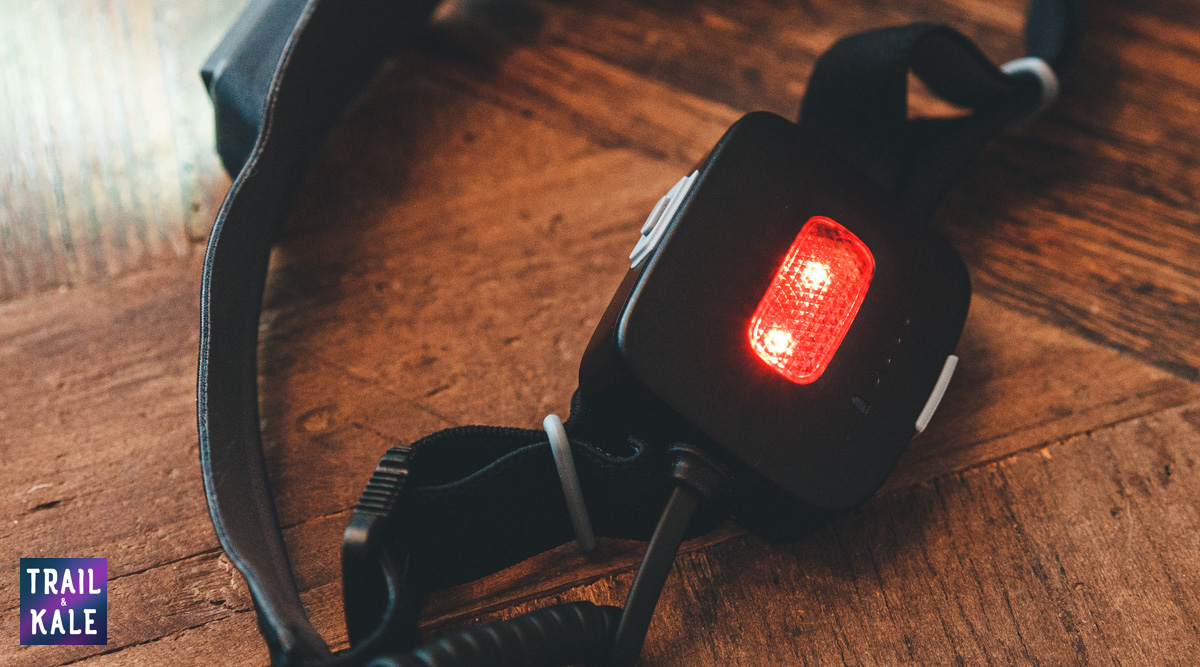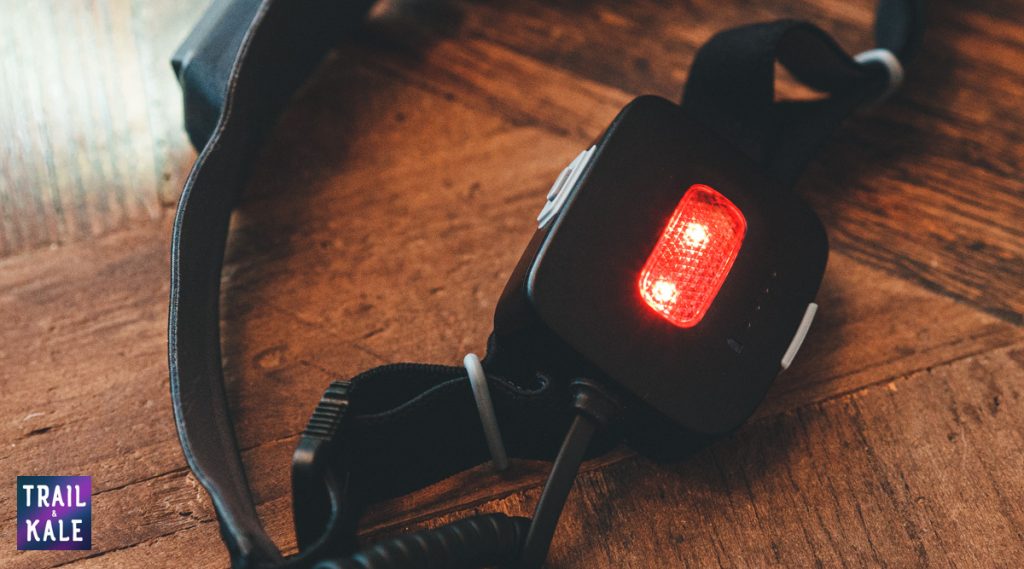 The BioLite HeadLamp 425 uses a moisture-wicking sweatband (pictured above), which keeps any sweat off your face while adding to the overall comfort of wearing the headlamp.
How long does the BioLite HeadLamp 425 Battery last?
The Biolite 425's battery will last 4 hours in its brightest dual-beam mode (425 lumens), and 60hours in LO mode.
You can activate the lowest 'LO' mode by tapping the button consistently until you reach either Spot or Flood beam.
Then tap once again but hold the button until it dims to its lowest brightness level – you'll know when it reaches its lowest as it will flash at you – at that point just let go of the bottom.
I love how BioLite headlamps remember the last mode you have on too, so you don't have to flick through the modes to get to your most used one.
This means that the headlamp is perfect for most running or hiking situations, provided you're not going to be out running through the entire night.
If you do plan to run through the entire night, I recommend buying BioLite's flagship headlamp, the Headlamp 800 PRO as you'll get 7 hours of runtime on full beam.
You could hike with the headlamp set to a reduced beam intensity as you'll be moving at a slower speed but I wouldn't recommend running with anything other than the high beam for safety reasons unless of course you're in survival mode and have no choice.
There's a handy 4-dot indicator on the battery module at the rear.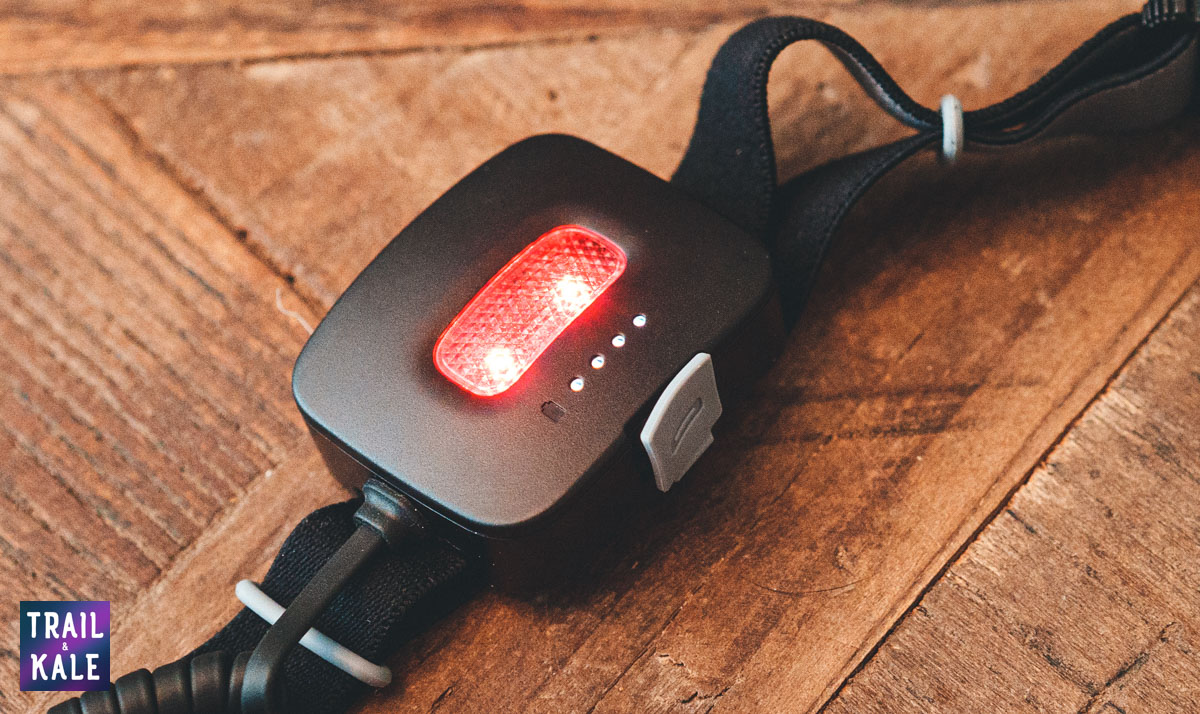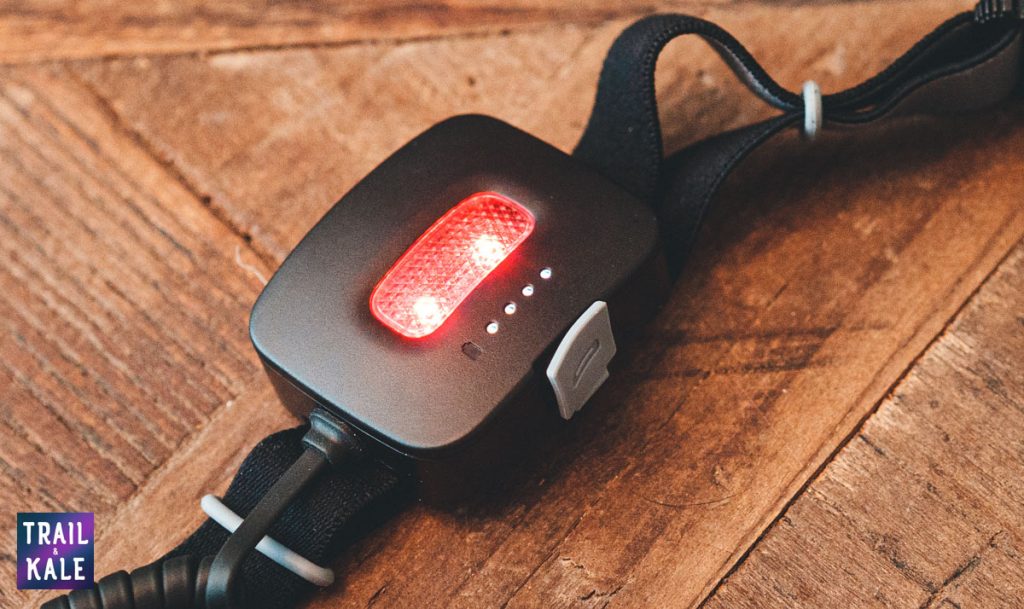 This indicator will tell you how much battery life you have left, so you could theoretically keep an eye on this during longer runs and multi-day hikes and switch to a lower intensity beam when the battery gets low.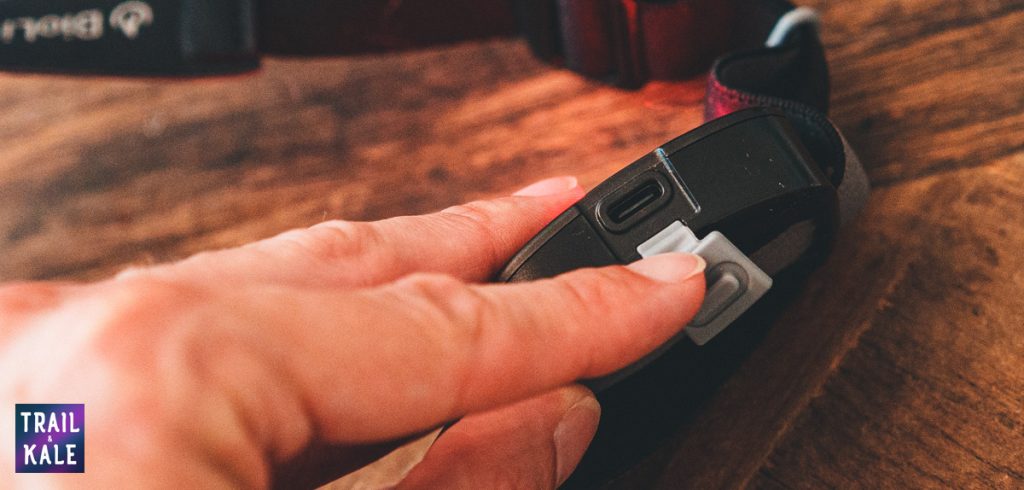 The BioLite HeadLamp 425 has a rechargeable battery system that uses a USB-C cable. It takes 2 hours to fully charge which is very quick thanks to USB-C technology.
BioLite has also added a reflective 'BioLite' logo on the side of the headband, so that you'll be seen by anyone who shines a light towards you from one side.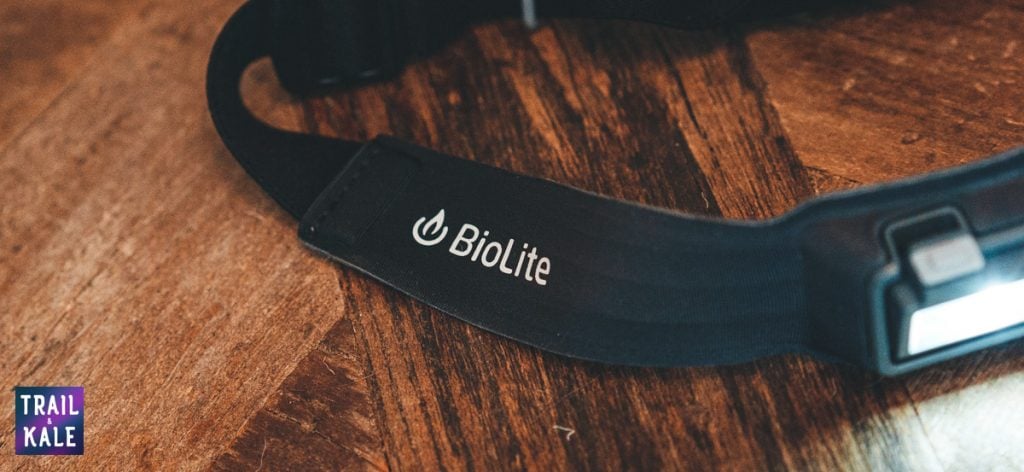 The passthrough charging feature is what ultrarunners like ourselves, and adventure racers have been dreaming of.
It allows extreme extended battery life by allowing for a connection, via the included 'run-forever' USB-C cable, to BioLite's portable power bank.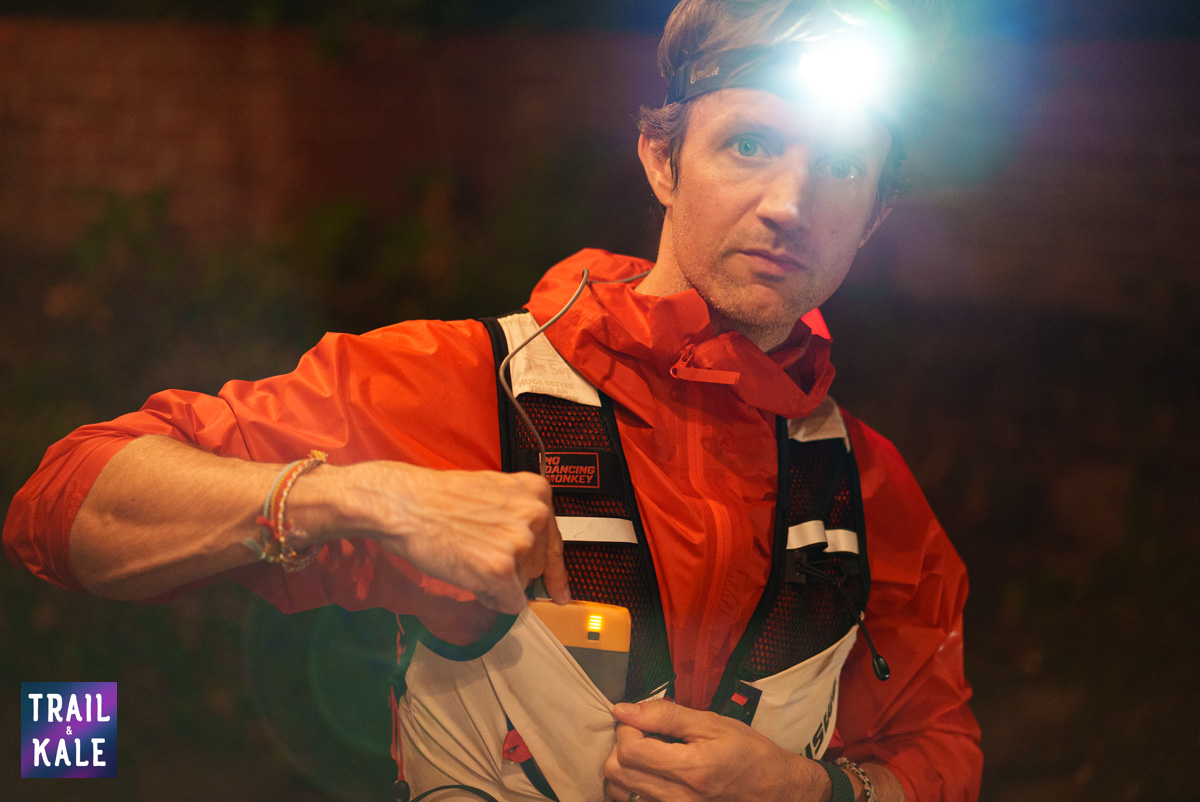 This power bank can also be used to charge your smart phone so it's worth having one with you on ultramarathons anyway.
Is the BioLite HeadLamp 425 waterproof?
The Biolite HeadLamp 425 is IPX4 rated which means it's water-resistant and can be worn in a rain storm but BioLite does not recommend submerging it.
Where to buy the HeadLamp 425
Right now the HeadLamp 425 is available at the BioLite website and at REI.com (if you're a member).
---
BioLite HeadLamp 425 review summary
BioLite HeadLamp 425 Review: The Best Value Headlamp Gets Upgrades!
PROS
Pass-through charging gives almost unlimited extra runtime - potentially days based on your power bank.
Secure and very comfortable fit while running.
Many customizable beam modes and brightness settings.
4 hour battery life in high-beam 425 lumens mode is great for most runners.
IPX4 Water resistant - storm proof.
Easy to use with one (larger than previous model) button on the front and rear, even while wearing gloves in the winter.
Sweat-wicking headband.
Amazing value for money at $59.95
CONS
Honestly couldn't find anything to complain about with this headlamp - even the pricing is incredible.
---
Frequently asked questions
Is it adjustable? Does it fit kids?
Yes, the headlamp is easily adjustable by pulling away or towards your ears with the clips on the back. And yes, it fit kids!
What is the color temperature of the light?
Does the HeadLamp 425 tilt?
Yes, the front panel can articulate up and down easily with one hand.
Is HeadLamp 425 Weatherproof?
HeadLamp 425 is rated IPX4 which means it is "Storm Safe" and can handle a shower. But do not submerge in water.
How do I clean the HeadLamp 425?
The headband of HeadLamp can be hand-washed with a mild detergent or dish soap and water. We recommend dampening a sponge and wiping down the inside of the band.
Does the HeadLamp 425 accept pass-thru charging?
Yes (translation: you can use the HeadLamp while it is being charged – comes in handy for more mobile charging, like with a power bank on a hike)
How long does it take to recharge HeadLamp 425?
HeadLamp charges to full in approximately 2 hours. Note that it DOES accept pass-thru charging, so you can use it while it is being charged.
What's the difference between HeadLamp 425 and its predecessor, HeadLamp 330?
HeadLamp 425 is brighter, has a larger power button, rear red visibility light, a larger battery, and is recharged via USB-C.
Can I use the BioLite Light Diffusing Stuffsack with HeadLamp 425?
No, the HeadLamp 425 should not be in close contact with fabrics when at full brightness as it does put out a bit of heat when on full.
---
HeadLamp 425 review gallery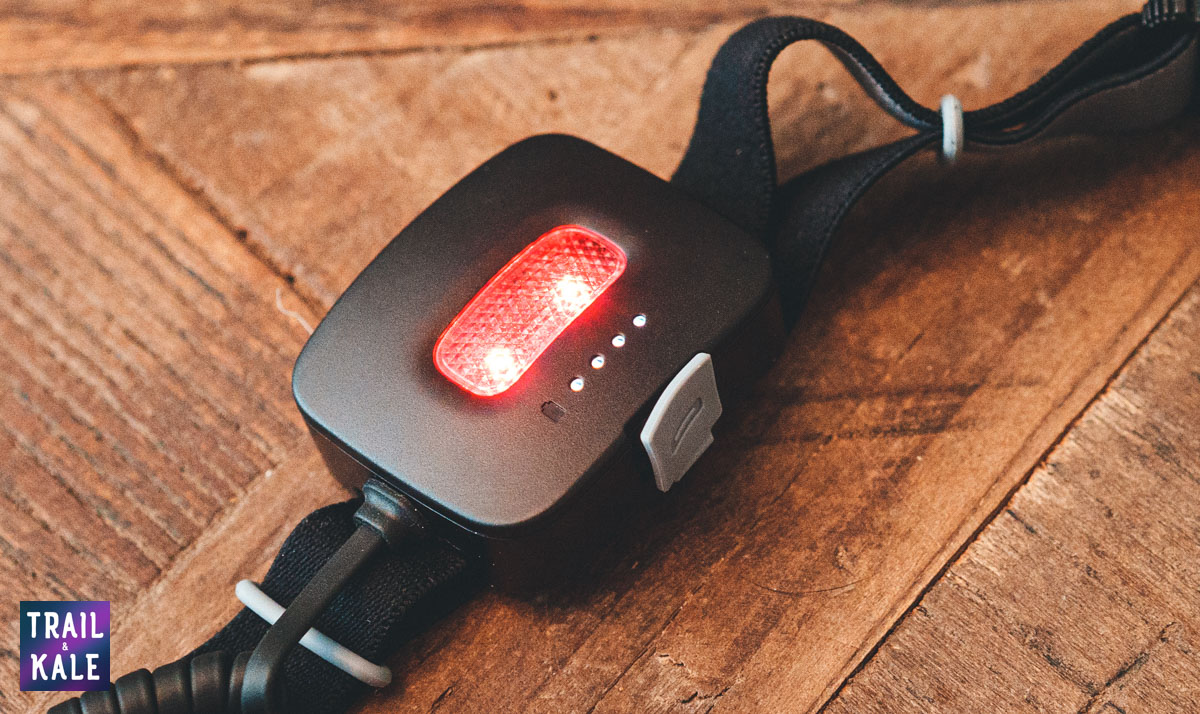 ---
Do Headlamps make you feel nauseous when running or hiking in the dark? Here's an alternative solution for running at night.
Some people really struggle with wearing headlamps because they make them feel nauseous, no matter what headlamp they use.
This has to do with the placement of the light source, which on a headlamp is just above your eyes. When light illuminates from the perspective you're viewing from, shadows will be cast directly behind and raised objects.
This can make the terrain tricky to read, especially when you're running, but there's a solution!
The Kogalla RA! This light strip shines brighter than most headlamps, runs longer than a rechargeable headlamp, and covers a wide area like a camping lantern.
If you're going to be mixing up your adventures like camping, hiking, or running at night, the Kogalla RA is a great option! I love that each of Ra's five lighting modules is as bright as a high-quality headlamp.
But instead of lighting up a spot, Ra lights up an entire area, making it easier to navigate even the roughest of terrain.
With its magnetic fastening system, you can also get creative with how you attach the strip lights to your clothing or just strap it around your waist.