Running in the dark can be a very different experience compared to running during the day. There are many benefits to running at night – some obvious, and some you may not expect.
This post explains the benefits and advantages of running at night vs. morning or daytime runs, what reflective night running gear you should wear and take with you, as well as safety considerations to be aware of.
The Ultimate Guide to Running at Night – Table of Contents
Why run at night? 4 benefits of running in the dark
1. Fewer distractions
It is easier to gain focus and enter a state of moving meditation as you decompress at the end of the day, if you're running with fewer people around and less going on in general.
This is especially true if you are able to run on trails at night, when it may just be you and the nocturnal wildlife sharing the trail.
2. More hours in the day to get your run in
Particularly in winter, it may be difficult to find time to run during daylight hours, especially if you're following a marathon training plan or other workout schedule that means you will inevitably find it necessary to run in the dark.
Being comfortable and geared up to run in the dark means you can get your training in at any time of day, even if it's nighttime.
3. More adventure!
There's something about running in the dark that makes it seem more adventurous.
Partially because places look different in the dark, and fewer people choose to run at night as it is perceived as scarier and more hardcore than running in daylight.
One of my most adventurous runs was an overnight race through the mountains in Italy.
There's something about focusing on nothing but your breath and the light of your headlamp (especially when running on the edge of a cliff) that makes dark night-runs seem wilder.
Oh, and the reflective animal eyes looking out at you from the side of the trail helps, too 🙂
4. Cooler temperatures
If you live somewhere that gets uncomfortably hot to run during the day, then night running (or early morning pre-sunrise runs) makes it possible to run without getting too hot or sunburned.
I suggest making your night-time runs 'easy' and low intensity so that you are not too amped up and don't need as long a time to wind down following your run.
Many people, including myself, find that if you do too much intense exercise too close to when you want to go to sleep that it can affect your ability to fall asleep quickly.
Whereas if it's a calm, meditative run, then the opposite happens, you can get back from a run, eat, have a warm shower and be ready to sleep!
Is running in the dark better than running during the day?
In some ways running in the dark is better than running during the day.
If you work a normal work day, then by the time you get to the evening your body is already warmed up from a day of activity, which makes it easier for your body to perform and should make it less prone to injuries resulting from not doing a proper warm-up.
I notice my body is stiffer first thing in the morning but by the afternoon I'm more mobile and my system is running well after having a few meals and staying hydrated throughout the day.
It should be easier to see cars when running at night – assuming they have their lights on.
If you have to run along a road, then running facing traffic (so you can see them coming) and looking out for headlights help you stay safe and hopefully able to jump out of the way if needed.
Try to avoid running around dawn and dusk, because at these times:
it is harder to see cars coming as their lights may be on but they don't light up the sky in the same way as when it's fully dark.
the light is low (especially dusk when it's fading), everything takes on a brown-gray hue, and it's hard to gauge how uneven the ground is, and spot obstacles.
wildlife, including predators such as coyote and mountain lions, are most active at this time.
So even if there is still some light, take a good headlamp to help you see.
If you expect to be out when the light is fading, and try to avoid roads and quiet trails to reduce the chance of a vehicle/animal encounter.
How to go running at night: 4 things to remember
1. Eat a small amount 1-2 hours before your run – not a full dinner – a banana is a good choice.
Make sure you have a decent lunch, too.
2. Don't go home and sit down – get straight out. Consider running straight from work, or driving straight to the trailhead so you avoid the temptation to sit down / eat / drink and get too comfortable to go back out (especially when it's cold and the weather is less than perfect!).
3. Run slower, with smaller footsteps than you would during a daylight run. The reason for this is to reduce your risk of tripping on uneven ground, due to reduced light and depth-perception that comes with running at night.
Night runs are a great opportunity to work on form rather than speed, as you are more likely to actually be running with good form if you focus on your posture (strong abs and glutes!) and smaller, faster footsteps to ensure a good running cadence.
4. Know your route and the area – if you're running in a town or city, it's best to stick to popular paths areas that have street lighting and activity even at night, and make sure you know where you're going before you head out.
Is running at night dangerous?
Many of the risks of running at night are the same as the potential dangers you may face when running during the day.
That said, the risk of tripping, getting lost and encountering potentially dangerous wildlife is greater in the dark, especially if you run on trails and if you're new to trail running.
Whether your planned route is 'safe' at night or not goes back to the need to exercise good judgement, common sense, and knowing the area you intend to run in.
At the very least consider going with a group of runners, for increased safety and reduced chance of getting lost, run facing the traffic flow and don't wear headphones – be as aware of your surroundings as you can be.
---
How to run safely at night: 5 essential items of gear
It's important to make sure you're able to see and BE SEEN by others when running at night. This is especially true if you'll be running around cars and general traffic.
It can be VERY hard for drivers to see people in the dark or low urban street-lighting when they don't have light clothing and/or reflective features on their gear.
1. A quality headlamp to light the way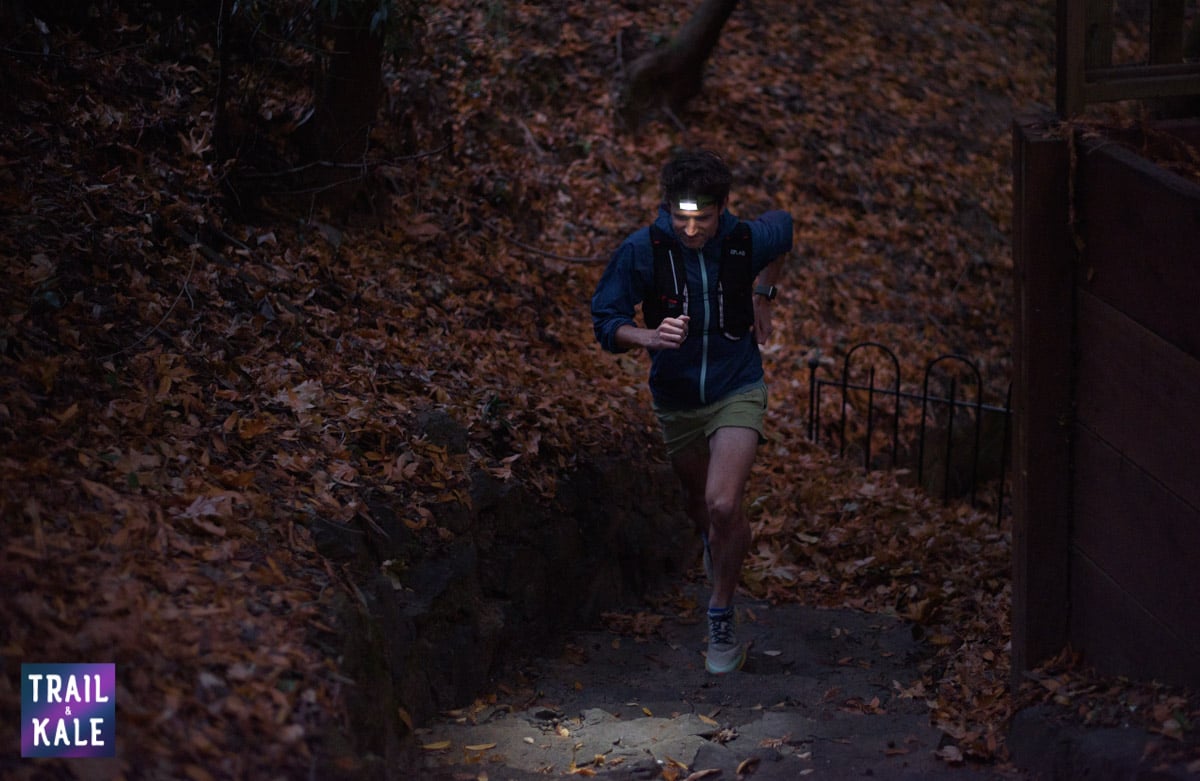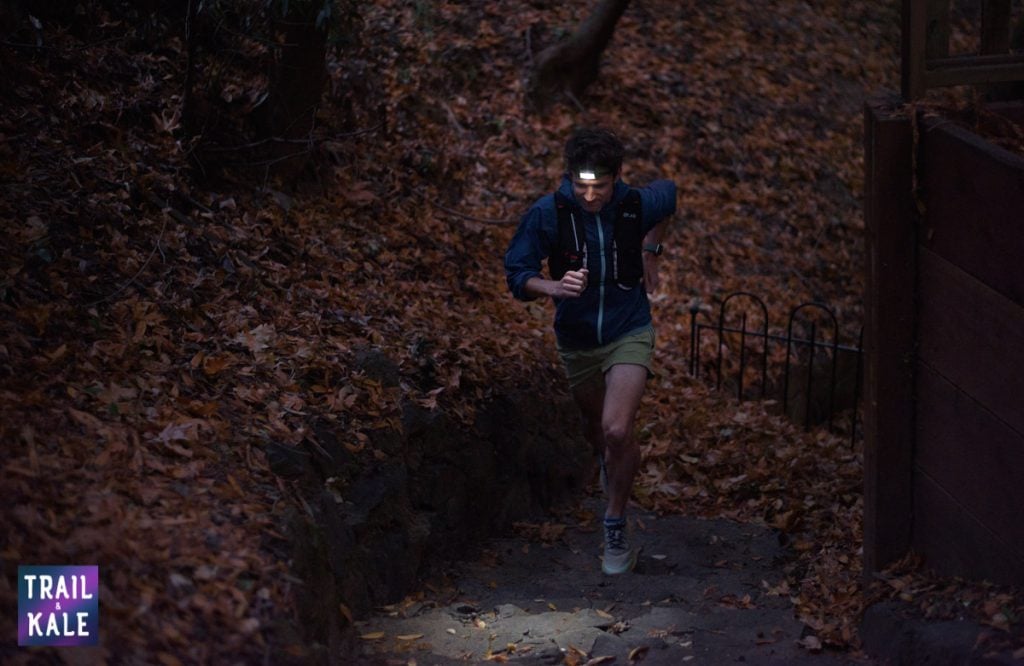 For running in the dark, you need a headlamp that is up to the task.
That is, it has to be lightweight, comfortable, have a good battery life, and be durable for running with.
Therefore while any headlamp is better than nothing, it is worth investing in a headlamp designed for runners, rather than just the cheap one you have for occasional camping or power outages.
If you need one, The very affordable and lightweight Biolite Headlamp 425 is a great choice that you can't go wrong with.
You can also head over to our guide to the best running headlamps for information on how to choose, and some other recommendations.
On that buyer's guide you will also find a couple of other excellent alternatives to standard headlamps, including the Kogalla RA which is a multi-functional waist-torch for those who feel nauseous when using a standard headlamp.
We love that the Kogalla Ra can be attached to anywhere on your person, such as around your waist or on the straps of your race vest / backpack, and maybe a good choice if you are planning long night runs.
2. Reflective clothing and reflective running vests
Keep an eye out for reflective features when you buy your night running clothing, especially if the items are dark-colored.
You can also buy reflective running vests that are worn over whatever else you are wearing.
These are mandatory during some night races such as the Hood to Coast events.
Here's a video of the event where you can see Alastair and other participants wearing a reflective vest while running:
3. Reflective running shoes
Given your feet are probably the part of your body that will be moving the most, it's helpful to have a pair of shoes with reflective material.
It's especially important on the heels, as the reflective + motion combination helps ensure you're seen.
To find your next favorite pair of running shoes, visit our Best Trail Running Shoes buyer's guide.
4. A whistle or alarm
Take a small, but very loud whistle like the Fox 40 Sonic Blast on night runs – I have used mine to scare off coyotes while trail running at dusk – which tend to be the most active at dusk.
A whistle is also useful if you fall or get lost, to call for help (especially when there's no phone signal where you are).
A more aggressive option is an attack alarm, and even more extreme (but maybe sensible depending on where you are running) is a small can of bear / pepper spray that can be carried in a pocket or hydration vest.
If you're looking at getting one of these sprays be sure to check they're legal to carry and use where you are.
If you love being prepared when running you'll love reading our Essential Running Gear for Unexpected Emergencies next.
5. GPS running watch with incident detection and assistance features
Not an essential but very useful, for a multitude of reasons.
Some GPS running watches like the Garmin Fenix 7 Series can share your location via automated text and email when either you need help or your watch detects that an incident has occurred.
For more on running GPS watches visit our guide to choosing the best running watches.
Now go run in the dark – AND HAVE FUN! 🙂
As the days get shorter and the nights longer, don't let the increased chance of having to run at night put you off.
I hope these tips help you embrace the opportunity to still get out running, even in the dark.
You never know, it may become your favorite time of day to have a peaceful yet adventurous time out on the trails.