Whether you're a nocturnal runner, an early morning hiker, or a late-night camper, a reliable headlamp can become your best friend because it enables you to keep doing what you love, even when it's dark.
We're always on the lookout for the best running gear, from running shoes through to accessories including headlamps that can stand up to the demands of even the most energetic of endurance runners, and I'm excited to introduce you to LEDLenser's excellent range of running-specific headlamps in this LEDLenser headlamp review.
With a long history, LEDLenser is a German technology company that specializes in portable lighting solutions, and are well-known across Europe and other countries around the world for their LED headlamps, flashlights and outdoor adventure-focused lighting solutions.
---
About LEDLenser Headlamps
As one of the world's market leaders in LED flashlights and headlamps, LEDLenser's obsession with light is evident in their product range, which features quality German engineering design, differentiating them from other brands on the market.
To stand behind this, their headlamps come with a huge 7-year warranty, which is a testament to the quality of the products they're putting out there – and important for a running gadget that you need to be able to trust and rely on, whatever you're doing in the dark!
Of particular interest to us being a running blog, and the focus of this review, LEDLenser's NEO series headlamps are designed specifically for running.
They offer a balanced weight distribution that makes them comfortable even when worn for hours at a time, and 360-degree visibility, making them suitable for running in a variety of conditions.
Being headlamps suitable for running also makes them great for pretty much any other activity, because if a headlamp can stand up to the bounce, speed and obstacle spotting-needs of a runner, it's going to do an admirable job of lighting up your other, less intensive nocturnal activities.
So while LEDLenser offers a wide range of headlamps for many different uses, in this LEDLenser headlamp review I'm focusing on the functionality, quality and key features of their three rechargeable NEO Series running headlamps.
➡ For a masterclass on running headlamps, including what features to look out for when buying one, as well all the best running headlamps brands, read our Best Running Headlamps Buyer's Guide next (yes, LEDLenser has made it onto that Greatest Hits list!).
---
LEDLenser NEO running headlamps quick comparison
LEDLenser's NEO Series includes three models of running headlamps with rechargeable batteries, the 1R, 5R and 9R, all of which I have been testing and am sharing my thoughts on in this review, including a comparison of the three and what type of runner (or running) each is best for.
Here's a quick comparison before we get into the details of each headlamp model:
Light output
The NEO1R is the lightest, smallest and least powerful, while the NEO9R is the heaviest, largest, and fires the most powerful light beam.
The NEO5R sits comfortably in the middle and is probably the best choice for most runners wanting an all-round running headlamp that does it all so to speak.
Battery life
Both the NEO 5R and NEO 9R will run for hours (4 and 5 hours respectively on their brightest settings) and can be used for long night runs and races, you just need to use the right beam settings to get a full nights run out of them.
With a battery life of 3 hours on the brighter setting, the NEO 1R is best suited to shorter runs or for carrying as a backup headlamp. For example, Alastair recently used the NEO 1R to start off his 50km ultramarathon at Kodiak by UTMB in Big Bear, California. He was running in the dark for a couple of hours so this lightweight option was perfect, and once the sun had risen, he just wore the headlamp around his wrist like a wristband, smart!
Waterproofing
Interestingly, the NEO 1R has an IP67 rating, which means it can be submerged up to 1 meter (around 3ft) of water for up to 30 minutes.
The other two headlamps have an IP54 rating, which is a splash-resistant rating, similar to most other running headlamps we've tested and reviewed over the years here at Trail and Kale.
Weight
The tiny NEO1R is the lightest at 1.4 oz, followed by the NEO5R at 3.7 oz, and the NEO9R at 7 oz.
Most of the weight on each headlamp is due to the rechargeable battery, which sits at the back of the 5R and 9R, and is built into the lamp compartment on the 1R.
Visibility
All three models offer 360-degree visibility thanks to their reflective headbands.
There are also rear red lights on the 5R and 9R, located on the battery pack, which can be part of mandatory equipment at some of the longer trail running events.
Rechargeability
All three models are rechargeable and feature a magnetic charging system that connects to power sources with USB-C.
What type of runner is each Neo LEDLenser headlamp for?
NEO1R: If you want a very small, lightweight running headlamp for emergencies or starting runs and trail running races in the early morning darkness, the super minimal NEO1R is perfect for this.
NEO5R: If you're looking for a great all-round headlamp for all types of running up to four hours at a time, go for the NEO5R, it's an excellent high-quality all-rounder that's comfortable and reliable.
NEO9R: If you're an ultrarunner who needs a headlamp to work through the night, or want a particularly bright running headlamp with long battery life, and don't mind the extra weight, opt for the NEO9R.
---
LEDLenser headlamp in-depth reviews
Neo 1R Review – Ultra Lightweight Compact Running Headlamp ($50)
The LEDLenser NEO1R is the smallest and lightest running headlamp in the NEO range, designed to offer a combination of minimalism and power.
Its ultra-compact design makes it an ideal running companion for those who prefer to travel light and don't need or want a large battery capacity.
The NEO1R will run for up to:
3 hours at 150 lumens (brightest)
15 hours at 20 lumens (low power).
The NEO1R will run for 3 hours if used just on its brightest 150 lumens setting, or up to 15 hours on the lowest brightness setting of 20 lumens (this low setting probably won't be bright enough for most).
It also has the option to temporarily boost the brightness up to 250 lumens for 10 seconds which is very useful for challenging terrain.
Despite its size, it doesn't skimp on features, including a tiltable lamp head, front red LED light (useful for reading maps, books at night), rechargeable battery, and a very lightweight design at only 1.4 oz (that's crazy lightweight by the way).
Plus, the NEO1R has an impressive IP67 rating, which means it's rated to withstand dust as well as water ingress even if submerged in up to a meter of water for up to 30 minutes.
Due to its small weight, compact size and lower brightness than the other, larger NEO series headlamps, the NEO 1R is best suited to runners wanting a lightweight headlamp for:
shorter runs
using for shorter periods such as at the start of an early morning run or race, or
as a backup to larger headlamps for longer nocturnal adventures.
---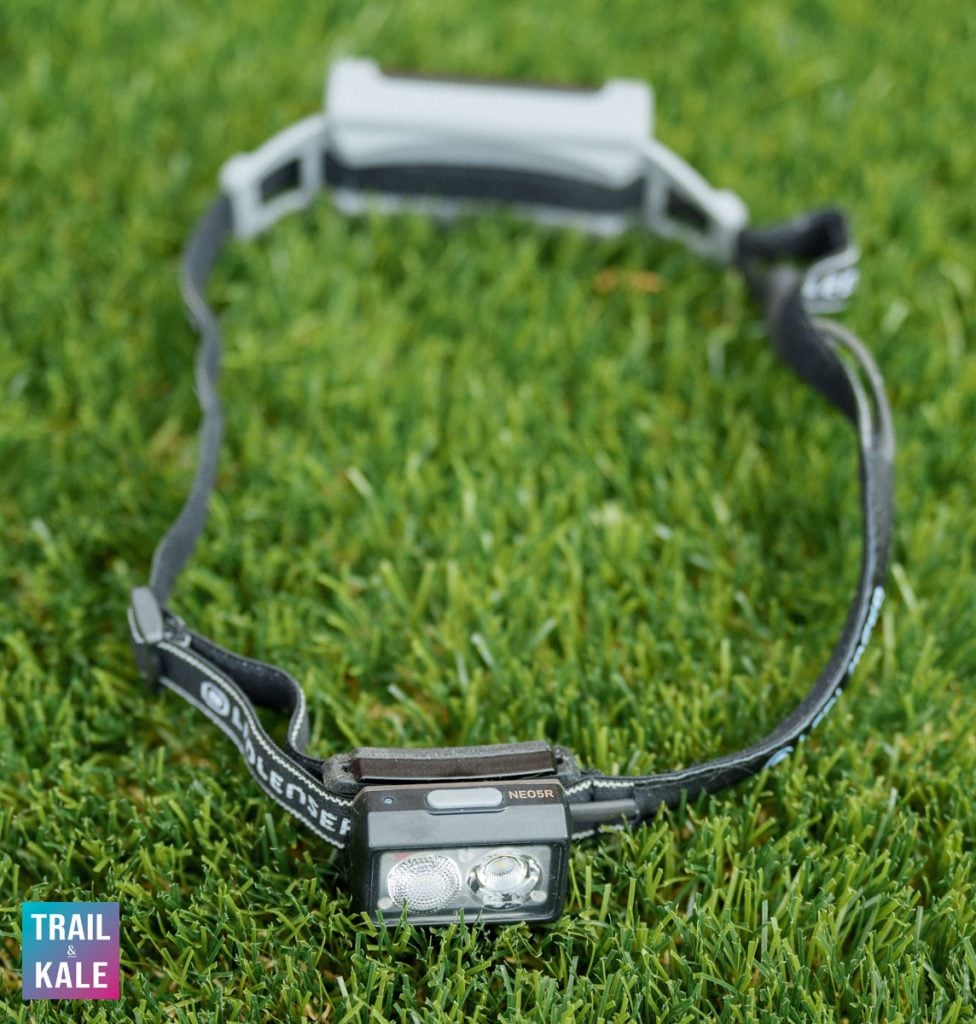 Neo 5R Review – All-round running headlamp ($70)
For those who need more power, the LEDLenser NEO5R running headlamp delivers up to double the brightness of the NEO1R, plus some other added features.
The NEO5R will run for up to:
4 hours at 600 lumens (brightest)
8 hours at 100 lumens – great for most runs through the night.
35 hours at 20 lumens (low power).
It also has a 'boost' function, which will output up to 600 lumens for 10 seconds – more than double the NEO1R's boost brightness.
The NEO5R weighs 3.7oz, which is still pretty lightweight for a headlamp that's suitable for running. A lot of this has to do with the larger battery vs. the NEO1R, which sits on the back of your head.
Importantly, it has a very well-balanced weight distribution and a comfortable headband, and I've found the NEO5R to be very comfortable over extended use such as runs lasting a couple of hours, with no bounce.
It also features a tiltable lamp head, rear red flashing light, and reflective headband for 360-degree visibility.
The rear red flashing light is important to help you be seen from behind, and as mentioned earlier, is even a mandatory requirement for certain mountain trail running races in Europe.
All of these features make the NEO 5R the best all-round LEDLenser headlamp for running, for most runners, earning it a coveted place on our best running headlamps roundup.
---
Neo 9R Review – Heavy duty running headlamp for running at night, including ultramarathons ($120)
Offering up to a whopping 1200 lumens (using the boost function), the LEDLenser NEO9R headlamp is designed to make sure nothing gets past you on the trails.
This headlamp has a larger battery than the NEO 5R, and an additional removable strap over the top of your head to add security and support and prevent bounce as you run.
If you have long hair you tie back then consider wearing it in a lower ponytail or pigtail/braids to keep your hair out of the way of the battery and head strap.
The NEO9R will run for up to:
5 hours at 600 lumens (brightest)
12 hours at 200 lumens
120 hours at 20 lumens (low power).
This longer battery life and brighter lumen capability make the NEO 9R a great choice if you want a headlamp to illuminate highly technical terrain when running and navigating over it for many hours at a time.
This is therefore a popular headlamp among ultramarathoners and other adventurers spending time in technical and mountainous terrain.
It is, however, worth noting that if you plan to run through nights with more than 5 hours of darkness, consider whether the 200 lumen setting would be enough for some or all of that time, rather than the very bright 600 lumen setting.
In some ways it would be better if the headlamp could run with a brightness level somewhere in between 200 and 600 (because you can comfortably run with 300+ lumens, in my experience), but had longer battery life, enabling it to be used comfortably all night without changing the brightness.
A compromise with this heavier duty headlamp is the added weight due to the larger battery required to generate this level of lumens and battery life.
The NEO9R weighs 7oz, and to help ensure comfort when running it includes the optional (and I consider to be necessary) head strap that goes over the top of your head to help hold it in place.
---
Where to Buy LEDLenser headlamps
LEDLenser headlamps can be purchased directly from the LEDLenser website where they offer free shipping on all orders over $80 US-wide:
---
LEDLenser Headlamp review summary
LEDLenser headlamp review
PROS
German-engineered quality and innovative design
Seven-year warranty
Powerful light output on NEO 5R and 9R
Balanced weight distribution for comfort - NEO 5R is particularly comfortable
NEO 1R is the ideal ultra lightweight headlamp for backup or shorter runs
CONS
The higher light output model can be relatively heavy
A higher IP rating on the 5R and 9R would give more confidence for wearing these headlamps in very wet weather conditions (although their rating is similar to other comparable headlamp brands)
The NEO9R does not quite last long enough at its brighter setting for running ultramarathons lasting all through the night
---
LEDLenser Headlamp review photo gallery