This lululemon running leggings review covers the key features, pros and cons of lululemon's updated Fast and Free High-Rise Tight (with pockets).
These tights are an updated version of their hugely popular Fast and Free run tights, which I consider to be the best all-round lululemon leggings for running, as explained in this review.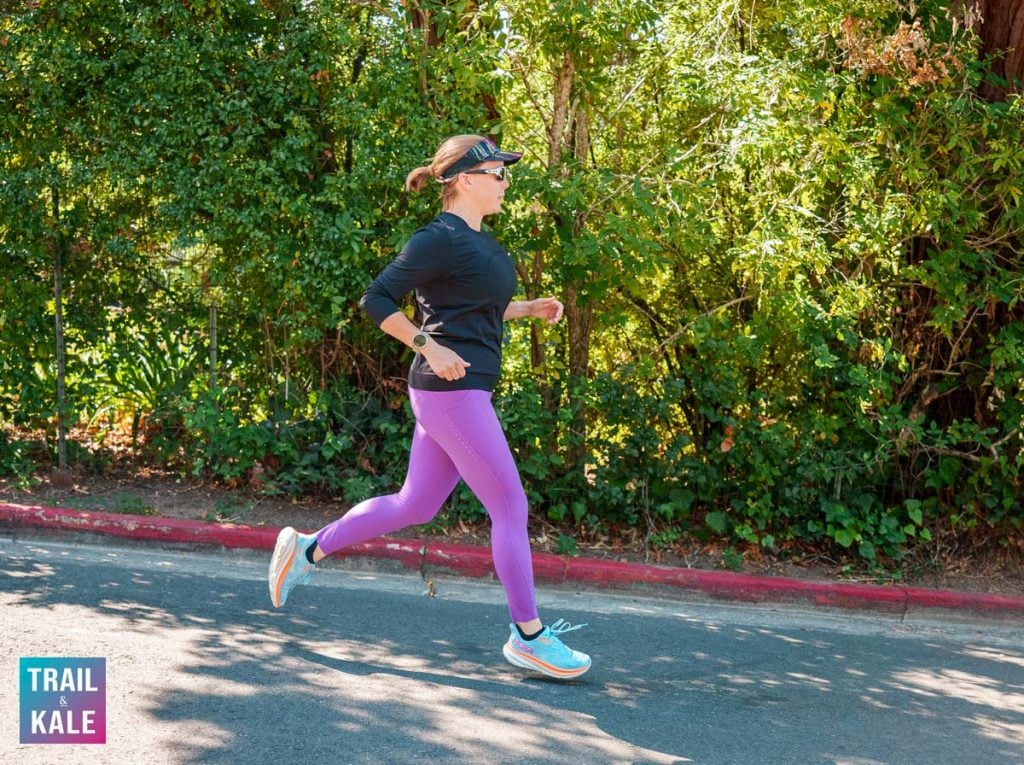 Key specifications of the High-Rise Fast and Free running tights
There are several variations of the updated high-rise Fast and Free running tights, but they all have the following in common:
Technical material ('Nulux') is breathable, sweat-wicking, has four-way stretch, doesn't pick up lint or pill, and passes the 'squat test'
As the name suggests – they're high-rise and will sit above most people's belly button
Seam-free inner thighs
Two side pockets on the thighs, that will fit your phone or other small essentials, plus three small pockets on the waistband (older versions have five small pockets)
Reflective details on the lower leg and back of the thigh
Continuous drawcord on the waist
Fast and Free tights length options
These women's running tights are available in three lengths:
23 inch – the shortest, 'crop' style that will, for most women, sit part-way up your shin/calf
25 inch – what I'd describe as the regular length, as pictured in the photos throughout this review
28 inch – long, sits around the ankle bone
As availability and color options change regularly, check the current options you can choose from on the product page of lululemon's website.
What you need to know about these lululemon running tights
Lululemon running tights have been my go-to running leggings of choice for many years, for the simple reasons being they're designed and manufactured with quality throughout, specifically for the needs of demanding runners.
This means that the same pair of leggings will last for many years and running miles and perform for me during that time… and still look new years after I bought them.
That is, of course, unless I fall over on rough ground and make a hole in the knee, which is what happened to a beloved pair of green Fast and Free tights.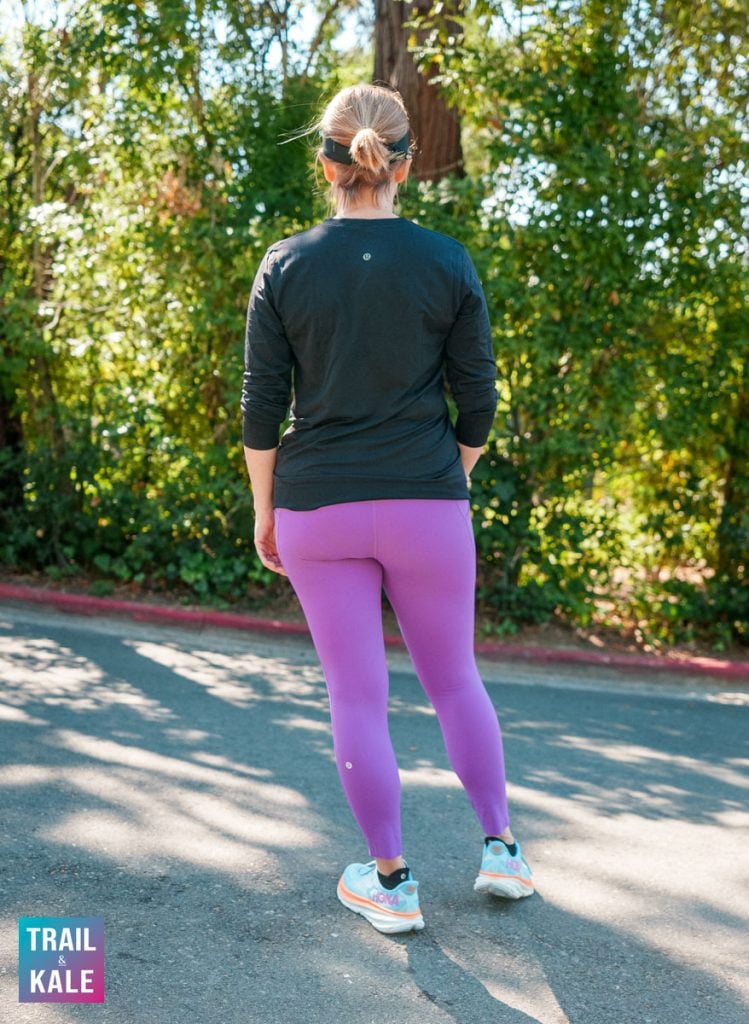 I've worn these tights on all kinds of runs, on both pavement and trails. They were the first pair of running leggings I chose for running postpartum after Seb was born, as I knew I'd get the support and flattering fit I needed to feel good (not to mention comfortable) when getting back into running.
Reading through the key features I've listed above, you can see that a lot of thought has gone into the design.
With running leggings, in my experience, you get what you pay for and that's why the Fast and Free tights cost what they cost (most versions cost US $128 at the time of writing this review).
These aren't basic leggings you may buy for running that then turn out to be see-through, pill (get 'bobbly'), pick up pet hair and fall down when you run. You know the ones, they'll be cheap. I am yet to find a quality pair of technical running tights that will cost you less than $100 when new.
A couple of standout features you should know about – why they matter:
Pockets on the Fast and Free tights
Many running tights stick to only having small pockets on the waistband – which these have as well.
However, the two side drop-in pockets are an excellent design feature I find myself using all the time.
Whether you're sliding your phone or credit card into them, or simply a tissue for those cold-weather runs, they are snug enough to hold your stuff in place as you run, but flattering so it doesn't look like you're running in cargo pants.
High waist and drawcord
The high waist, which is an option or standard on many lululemon bottoms, is also an excellent, not to mention, flattering, feature.
It helps the leggings stay put, because we all know that one of the most annoying things that can happen with your running wardrobe is your leggings sliding down and needing hoisting up every few steps.
While I don't need to pull the drawcord to get a snug fit, you have that option, too.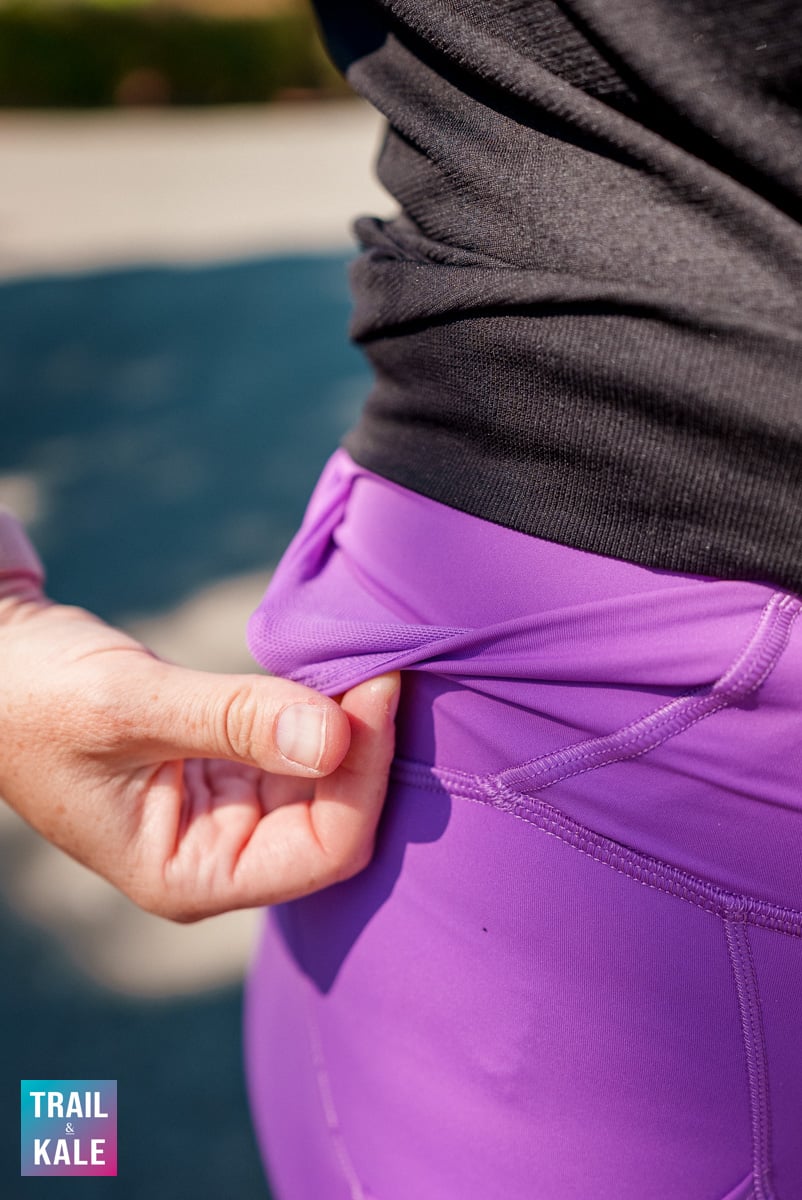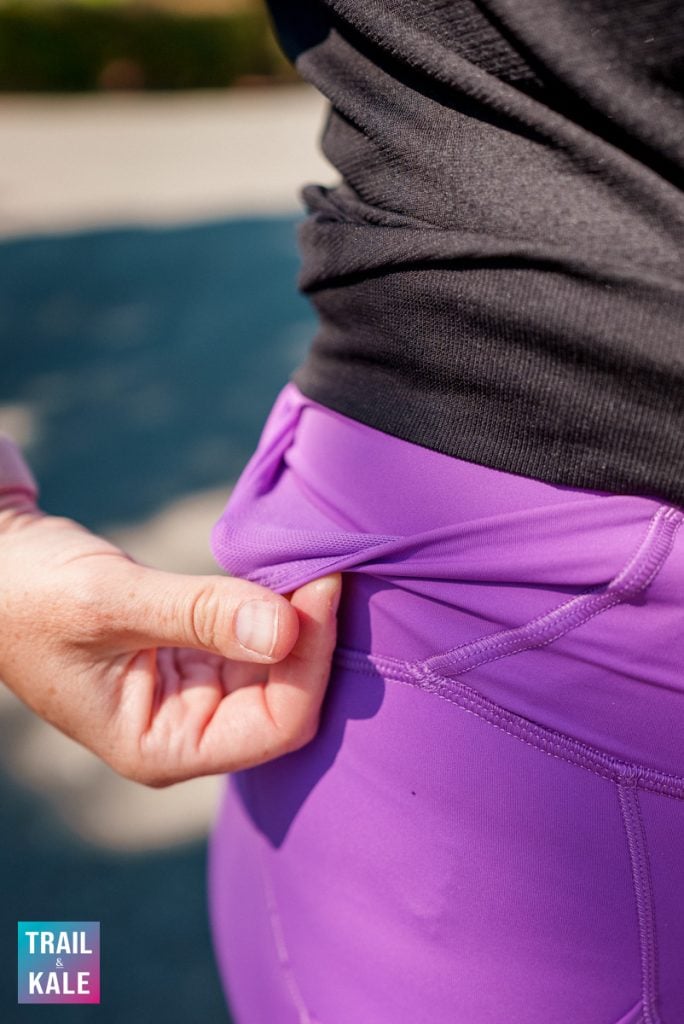 The Nulux fabric
Nulux is one of lululemon's proprietary fabric blends of nylon and elastane.
It has all the features one should expect (no, demand!) from technical running apparel.
That is, it wicks sweat from your body, is breathable, stretches in all directions, and feels light on your body – there's some light compression but it doesn't feel tight, just supportive.
Crucially, it doesn't go see-through when you bend over or squat (hence, passes the squat test).
You don't really know you have these tights on, and that's exactly how it should be, so you can focus on your run or workout.
The high waisted fit
For years I was of the view that wearing low, hip-length leggings was the way to go. Boy was I wrong!
Even if you have a short middle, having a high waisted pair of running tights means you get a load of coverage and support you wouldn't have otherwise.
Crucially, the high waist also helps the Fast and Free tights stay up where you put them, rather than moving around or sliding down as you run.
For those of us who have larger waists, it also offers a more flattering fit (think – no muffin top!).
If you get the right size, then you'll feel supported, not constrained in these running leggings, which can actually help you run with better posture and form, which in turn helps reduce your risk of running injuries associated with having poor running form.
Sizing tips
In my experience, these running leggings fit true to size, so I recommend ordering your usual lululemon size.
The fit is supposed to be snug, but not overly tight or restrictive, so if you're at the larger end of your usual size, you could consider sizing up.
Otherwise I personally wouldn't suggest you do, as with the larger size you may find they may not stay put on your waist as well as they should, or you may have to cinch the drawcord overly tight, which could be uncomfortable, especially when you bend or sit down.
For length, I usually opt for the 25 inch length. At 5ft 4, this means I get most of my legs covered, whereas the 28 inch would cover all my legs down to my socks, and the 23 inch usually sits around mid-calf on me.
What's not to like about these running tights
if you're looking for lululemon running tights for cold weather then you may prefer the Swift Speed tight, as they're made from a thicker fabric and offer more compression.
If you don't like pockets on your legs, then also check out the Base Pace running tight, which is essentially a pocket-free version of the Fast and Frees.
For more details on these alternative lululemon running tights read the best lululemon leggings for running.
Otherwise, there's very little to dislike about the Fast and Free tights.
If I was to change one thing, that would simply be the range of color options on the updated version is (at the time of writing this review), limited to four, with the only bright color being the gorgeous Moonlit Magenta version I'm wearing in the photos – other colors – Terracotta, Navy and Black are less striking.
It is, however, worth noting that if you already own an older version of the Fast and Free tights, this updated style is a little different, in a number of fairly subtle ways such as sizing, waist rise and overall fit.
So just know that before you order in case they're different to your expectations when they arrive.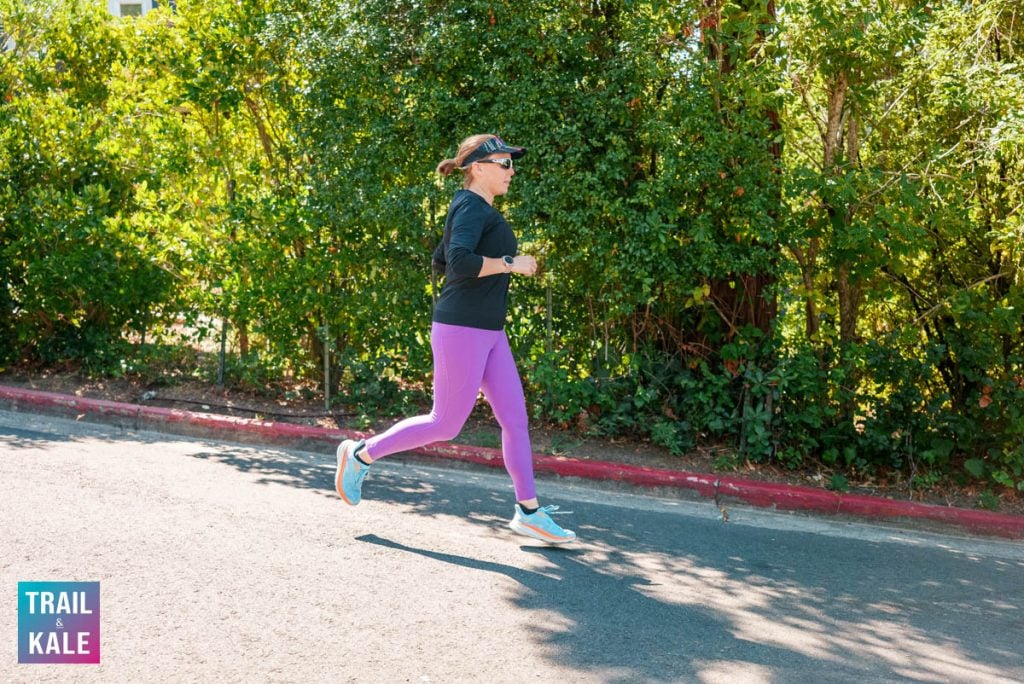 Cost and where to buy
As mentioned above, these tights cost $128 (for the 25 and 28 inch lengths) and $118 for the 23 inch crop length.
You can buy the updated Fast and Free tights in-store or online on lululemon's website.
If you weren't already aware, it's also worth knowing that you may be able to find great deals on lululemon apparel in their 'like new' store, which you can shop online.
While the updated Fast and Free running leggings are a new product (as of the date of this review), you may bag an older version for a great price by shopping there!
Review summary
Lululemon Fast and Free Running Leggings
PROS
Technical material is breathable, wicks away sweat, and stretches. Plus, no lint or pilling, and they pass the squat test.
Super useful thigh pockets
Flattering, comfortable high-rise cut and adjustable drawcord (if you even need it)
Seam-free inner thighs
Durability - these tights should last you many miles and years
Three length options
CONS
Limited color range
Not for cold weather: If you're looking for tights for colder runs, you might prefer their Swift Speed tights instead.
This is the 'updated' version: If you're an old Fast and Free fan, be aware that features such as the fit and waist rise have been tweaked a bit.
Image gallery