The best hiking boots are those that work for you, your feet and the climate and terrain you are going to be hiking in. With so much choice out there, and sometimes-confusing terminology used to describe the different features of various hiking boots available, it can be difficult to narrow down what brand, style and qualities a hiking boot needs to have to be suitable for you.
Hiking boots can also be a significant investment and if well-looked after, may last many years, so it's definitely worth taking the time to research the best hiking boots available when it comes to buying a pair, so you can find the right pair for your needs.
---
Table of Contents – The Best Hiking Boots for Spring, Summer and Fall
---
What to consider when choosing the best hiking boots for you
There are a whole range of considerations when choosing the best hiking boots for you. Ultimately, choosing a pair of hiking boots can be overwhelming but if you take the time to refine your choices by knowing what type of hiking you'll be doing, how the hiking boots should fit you to be comfortable and what type of hiking socks you'll be wearing, then this helps narrow down the options for you to choose from. These four considerations are the top things to bear in mind when choosing hiking boots:
The terrain and climate you will be hiking in – this is so important as it will influence everything from the type of sole (grip) you need for your chosen terrain (rocky, muddy, slippery?) to the amount of insulation you may need to keep your feet warm.
Hiking boots fit – When worn with your chosen thickness hiking socks, hiking boots should be snug everywhere, but not tight anywhere, and NOT have loads of room for your feet to shift and slide about. But, make sure you can wiggle your toes. The boots should also have a good fit over the top of your foot when done up and you haven't had to over-tighten the boots to get them to fit snugly – which is particularly important if, like me, you have 'shallow' feet.
Type of hiking socks – speaking of hiking socks, these come in many different thicknesses and styles, and in my experience it's best to select a pair of breathable, sweat-wicking hiking socks of a medium thickness and minimal seams, rather than finding the thickest pair of socks possible – even if, like me, you have a tendency to get cold feet. I find medium thickness hiking socks are less likely to compress my feet over long periods of time, and many good hiking socks these days offer additional padding in the heel and toe areas, as well as some compression and support around the middle of the foot and arch.
The weight of your pack – if you're carrying a heavy backpack, then it's likely that the best hiking boots for you will be a pair that will protect your feet and ankles from the additional weight and impact of carrying a heavy load. This does, however, mean that your hiking boots themselves are likely to be heavier as they incorporate this additional support and protection. If you can, go for the lightest hiking boots possible that offer the comfort, protection and features needed for your type of hiking, terrain and pack weight. Lighter boots will generally be more comfortable and less tiring to hike in than heavier alternatives.
RELATED READING: Our hiking for beginners guide includes loads of hiking tips if you're new to hiking, as well as a full day hiking gear checklist to help you gather all the necessary gear you may need for hiking.
Can you wear trail running shoes for hiking?
Yes! As trail runners and fastpacking aficionados, we are big advocates of trail running shoes for many adventurous activities, including certain types of hiking. There are some significant advantages to wearing trail running shoes for light and fast hiking – including that they are:
Comparatively very lightweight and smaller in size than hiking boots
Comfortable straight out the box with no breaking-in should be needed needed, and
Generally supremely breathable.
However, trail running shoes may not be suitable for hiking if you are moving more slowly, carrying significant weight or need the additional underfoot and general foot and ankle support that a hiking boot offers. They also tend to wear down quicker than a good pair of hiking boots, so will not last as long in terms of mileage that can be covered before they are worn out.
If you are interested in exploring what trail running shoes would be best for hiking and fastpacking, as well as finding out more about trail running in general, you've come to the right place. Read more on the best trail running shoes for hiking in these posts:
Our criteria for this list of the best hiking boots
For a pair of boots to make this list, they have to have the following features:
Comfortable and cushioned midsole – it almost goes without saying that comfort is king, and nothing ruins a hike like a pair of tired, uncomfortable feet, so it's worth investing in an excellent pair of hiking boots to help them carry you. Look after your feet, and they will look after you 😉
Breathable – a good pair of hiking boots should include the technology in their design to allow for the inside of the boots to 'breathe' – that is, to wick moisture out of the boots to help keep your feet comfortable and dry – whether that's moisture that has entered the boot from the elements, or simply sweat from your feet (also – make sure you have a good pair of hiking socks to help with sweat-wicking, blister prevention, and padding). Most of the hiking boots on this list are also waterproof, although if you are going to be hiking in dry (e.g. desert) conditions then a hiking boot that is not fully waterproof may be a better choice as they are generally designed to be more breathable and cooler for your feet. If you're looking for the best waterproof hiking boots, we have a 'best waterproof hiking boots buyer's guide' just for you.
Excellent traction and grip on the sole – all the hiking boots on this best hiking boots buyer's guide have rubber soles with chunky lugs to help grip in a range of underfoot conditions.
Ankle protection – while 'low' trail-shoe style hiking boots are available, and some as versions of the 'mid'-height hiking boots that are featured on this list, we believe for a sturdy pair of hiking boots they should offer mid-height and ankle protection, on the assumption that if you're hiking you'll be carrying a pack with a fair amount of weight. If we start to look at moving quicker over technical trails, then we tend to look to trail running shoes for our footwear – so if this is you you may also be interested to read our popular 'Best Trail Running Shoes' and 'Guide to Fastpacking' posts.
Toe protection – because we don't always see those sneaky rocks/tree roots.
It's also interesting to point out that all of the hiking boots on this list have lace-up closures, rather than other methods such as BOA dials or hook-and-loop. It seems lacing is still the best way to get the most adjustable closure on a pair of hiking boots.
It's worth noting that while the images and links will take you to the men's version of these hiking boots, all are also available from the retailers listed below in women's sizes.
With these important features in mind and so much choice out there, it can be overwhelming to try and find the right pair of hiking boots, so I've created this short list of the best hiking boots to help you make an informed buying decision.
As these boots are all highly-rated, they are some of the most popular hiking boots available and therefore it's highly likely that one of these is the right pair for you, too. Our best hiking boots buyer's guide is frequently updated, so be sure to bookmark this page for when you're ready to buy your next pair.
---
Our Top Choices – The Best Hiking Boots for Spring, Summer and Fall
1. KEEN Targhee III Mid Waterproof Hiking Boots: BEST ALL-ROUND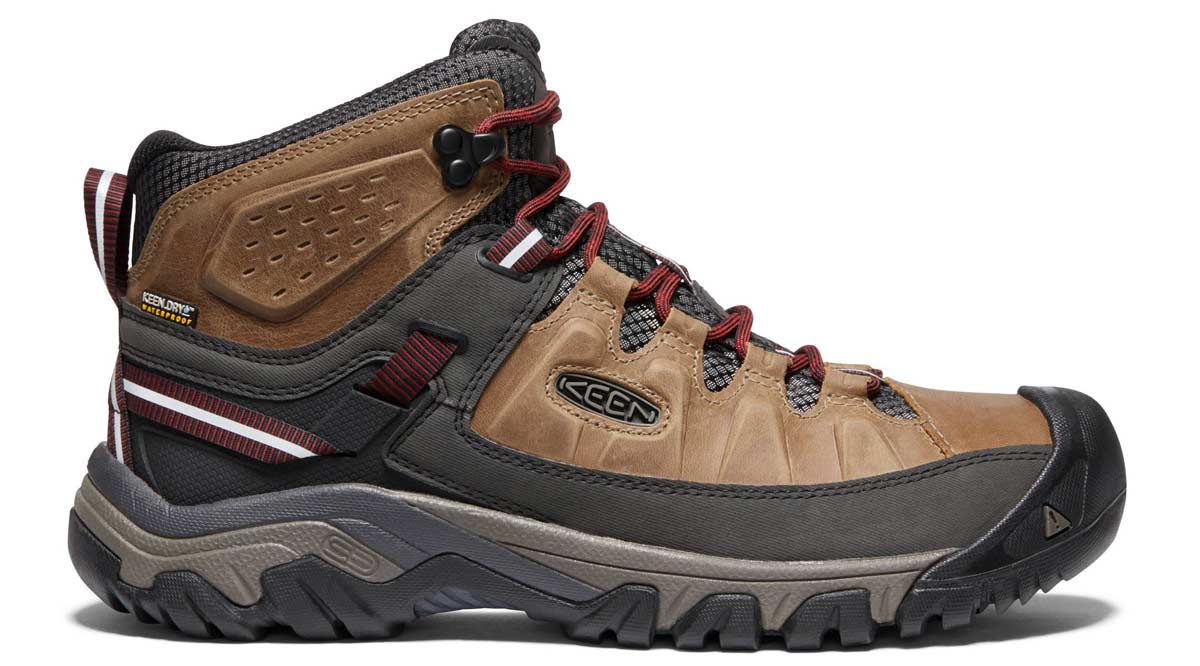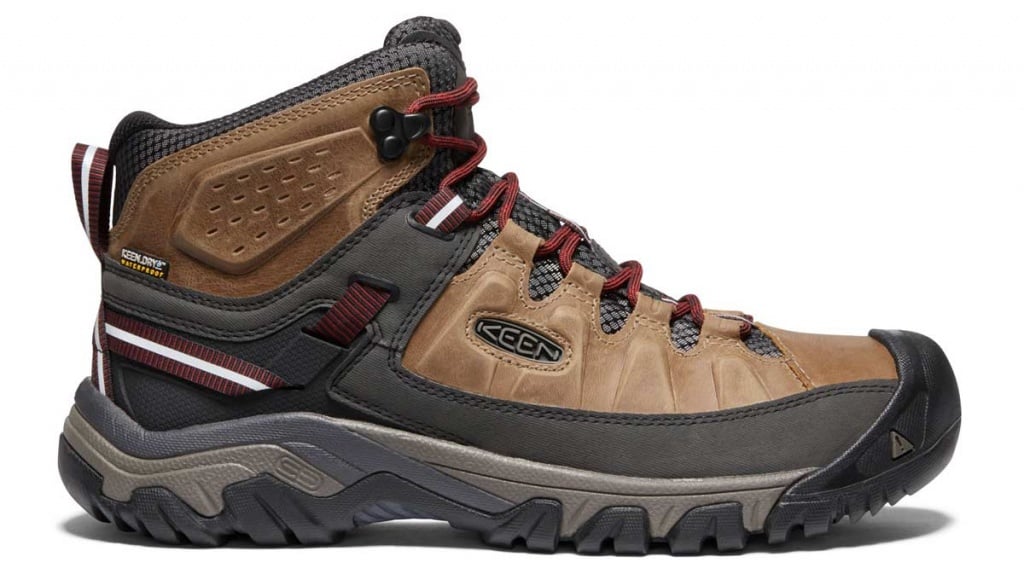 The Targhee III WP hiking boots have a fully waterproof yet breathable membrane in the upper to keep your feet dry while allowing perspiration to dissipate away from your skin and socks.
The KEEN Targhee III Waterproof has funky leather mud shields too that add protection and durability to the upper construction which, in my opinion, creates a unique and stylish look to the boots. KEEN all-terrain rubber outsoles with 4mm multidirectional lugs promise high-traction grip on all terrains and in any conditions. This is a great all-round shoe for the price.
Weight (pair): 2 lbs. 2 oz.
Upper construction: Nubuck leather/nylon mesh/webbing
Midsole: EVA foam
Sole: Rubber, 4mm lugs
Fit: True to size
Find the Keen Targhee III Waterproof Mid at your favorite store below:
---
2. Salomon X Ultra 3 Mid GTX Hiking Boots: WIDE-FOOT OPTION
Salomon's X Ultra 3 Mid GTX hiking boots are the lightest pair of hiking boots on our lost, a great choice for fast hiking. They're designed to handle wet conditions, tough descents and long hikes while providing cushioning and flexibility to help your feet stay comfortable and dry. They're supportive and lightweight, with breathable uppers to keep you moving on the trail, even with a heavy pack.
The X Ultra hiking boots have a Gore-Tex membrane for reliable waterproofing and amplified breathability, which is definitely needed if you're going to be hiking in wet conditions.
If you're a fan of Salomon's trail running shoes then the Salomon X Ultra 3 Mid GTX could be a great choice for hiking boots as they have utilized similar technologies in the upper, lacing, fit, midsole and rubber grip as those used on their popular trail shoes. It's also worth noting that these hiking boots are available in a wide fit from the retailers listed below, so if you have wider than average feet then the wide version could be a good option.
Weight (pair): 1lb 15.6oz
Upper construction: Leather and textile mesh
Midsole: Injected EVA, Ortholite footbed
Sole: Rubber 'Contagrip'
Fit: True to size
Find the Salomon X Ultra 3 Mid GTX at your favorite store below:
Find the Salomon X Ultra 3 Mid GTX (WIDE VERSION) at your favorite store below:
---
3. Merrell Moab 2 Ventilator Mid Hiking Boots: BEST FOR A HOT, DRY CLIMATE
The Moab 2 boots feature suede leather and mesh uppers with breathable mesh lining, protective rubber toe caps and a foam tongue designed to keep moisture and debris out. Moab stands for Mother-Of-All-Boots and the 'Ventilator' boots in their Moab range of hiking boots are designed to handle hiking in warm conditions, including the desert. (Editor's note: If you're looking for a waterproof version check out the Moab 2 WP Mid, which are not on this list but are highly rated).
The Moab 2 Ventilator's heels include an air cushion that works with the EVA midsoles to help with absorbing shock and adds stability especially when hiking with a heavy pack.
On the sole, the Vibram rubber lugs are 5mm deep, which is the deepest of the boots on this best hiking boots list.
Weight (pair): 2lb 2oz
Upper construction: Suede leather and mesh
Midsole: EVA
Sole: Rubber Vibram TC5+
Fit: True to size
Find the Merrell Moab 2 Ventilator Mid at your favorite store below:
---
4. Oboz Bridger Mid BDry Hiking Boots: EXTRA HEEL + TOE PROTECTION
In my humble opinion, the Oboz Bridger Mid BDry boots are the most stylish on this list, combining classic hiking boot style with modern tech in their construction. They feature waterproof all-leather nubuck uppers which are waterproof yet breathable and 4mm lugs on the side and bottom of the sole which provide great grip. The Bridger Mid BDry boots also feature rubber randing on toes and heels help protect the uppers from abrasion, as shown in the photos.
Oboz's BDry waterproof yet breathable membranes keep water out but let water vapor escape, which combined with a moisture-wicking nylon mesh lining is designed to keep your feet cool and comfortable.
We also love that Oboz plants a tree for every pair of shoes (or boots) sold, in partnership with Trees for the Future.
Weight (pair): 2lb 6oz
Upper construction: Waterproof nubuck leather
Midsole: Dual density EVA foam, BFit deluxe footbed
Sole: Rubber, 4mm lugs
Fit: True to size
Find the Oboz Bridger Mid BDry Hiking Boots at your favorite store below:
---
5. Salomon QUEST 4D 3 GTX Hiking Boots: POPULAR FOR BACKPACKING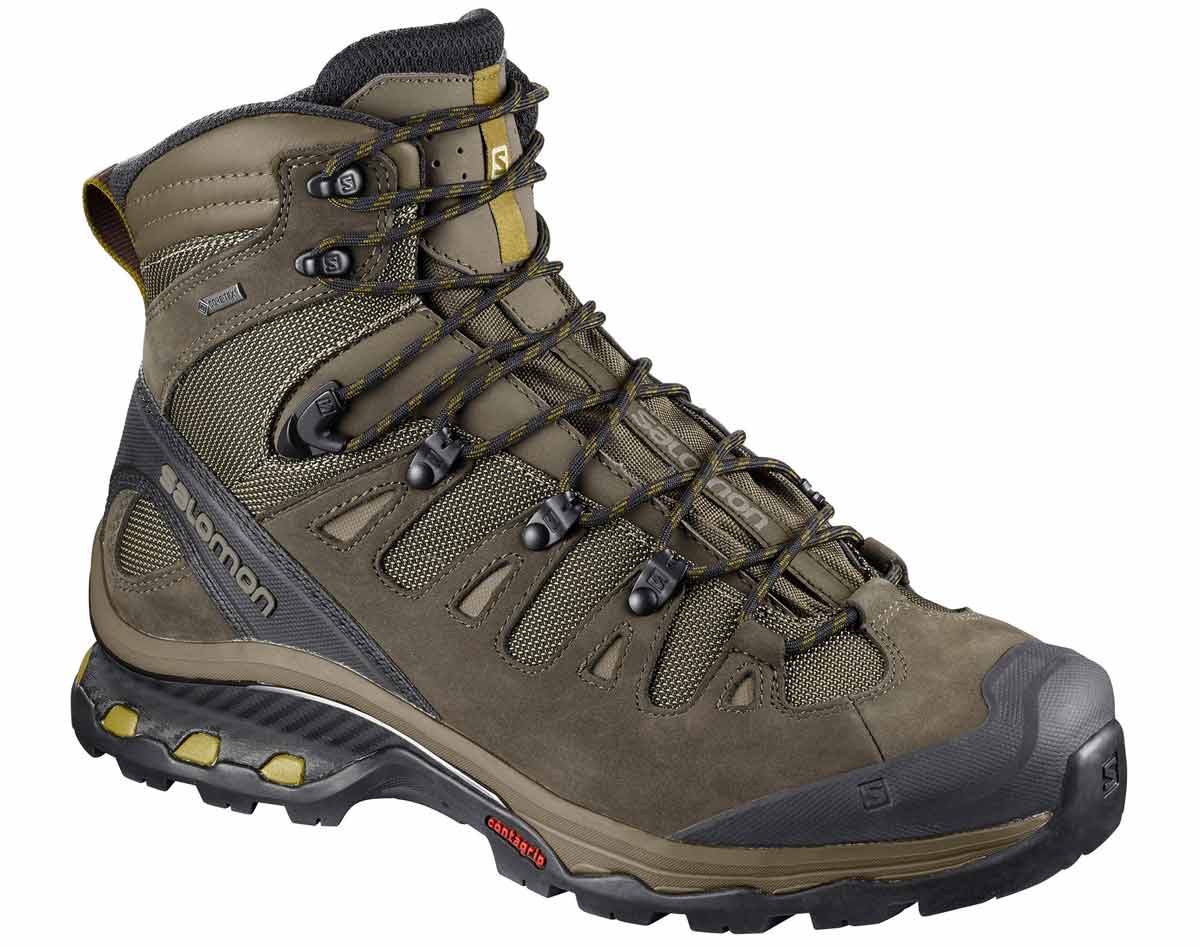 The Quest 4D 3 GTX hiking boots have breathable seam-sealed Gore-Tex membranes provide excellent protection from water while at the same time allowing vapor to escape, helping to keep feet dry and cool.
The durable split suede leather and nylon mesh uppers offer great flexibility, breathability, and comfort. While the Salomon Quest 4D 3 GTX is the heaviest boots on our list, depending on what type of hiking you intend to do then they may be the ones for you if you're heading out somewhere extra rough and wild for long periods of time, as they are designed to stand up to pretty much anything on tough, multi-day backpacking trips.
Weight (pair): 2lb 13.2oz
Upper construction: Nubuck leather/textile
Midsole: Dual Density EVA and Ortholite footbed
Sole: Rubber
Fit: True to size
Find the Salomon QUEST 4D 3 GTX at your favorite store below:
---