When you're trying to work out which are the best hiking boots for your needs, it can be overwhelming with so much choice out there when it comes to the different footwear brands, boot styles and features to choose from.
Our hiking boots buying guide reviews the best hiking boots, making it easy to narrow down the choice, and explains what you need to know about choosing the most appropriate hiking footwear for you.
In this buyer's guide we've picked out the best and most popular men's and women's boots, based on the type of hiking or backpacking they're most suited to, together with the key features, pros and cons and our overall review.
This includes a selection of the best lightweight, breathable boots for summer hiking, and heavier-duty, 'midweight' boots for multi-day backpacking and boots with specific features such as those that are waterproof, those that are best for wider feet and that have added ankle support.
If you're short on time, our top-ranking best hiking boot this year is the Salomon X Ultra 4 Mid, which has Gore-Tex waterproofing and is an all-round excellent boot: sturdy, comfortable and grippy for most types of hiking.
Click here to jump down for guidance on how to choose, including whether you should also consider wearing hiking shoes or trail running shoes for your hiking or backpacking adventures, or scroll down to see our top picks for men's and women's hiking boots this season.
---
This Year's Top Hiking Boots With Reviews
1. Salomon X Ultra 4 Mid GTX | Overall Best Hiking Boot
Best For: Most hiking, backpacking with lighter packs
Cost: $165
Category: Lightweight
Weight: 1lb 14oz
Waterproof: Yes – Gore-Tex
For a versatile hiking boot, you can't really go wrong with the Salomon X Ultra 4 Mid.
The X Ultra 4 Mid features a hybrid leather/textile upper and is available in a range of men's and women's colors including an all-black option as pictured.
This waterproof boot is protective and supportive for hiking in a wide range of terrains, while still being lightweight, comfortable, and flexible – taking inspiration from Salomon's more rugged trail running shoes.
It offers excellent grip on all terrains and is lightweight and flexible.
The only limitation here is that they're not as stable and protective as heavier-duty backpacking boots if you need the extra support, especially higher up on the ankles.
The Verdict: As far as all-round hiking boots go, the Salomon X Ultra 4 Mid offers great features, comfort and flexibility, at a reasonable price.
Last Amazon price update was: 25th September 2023 3:31 am
---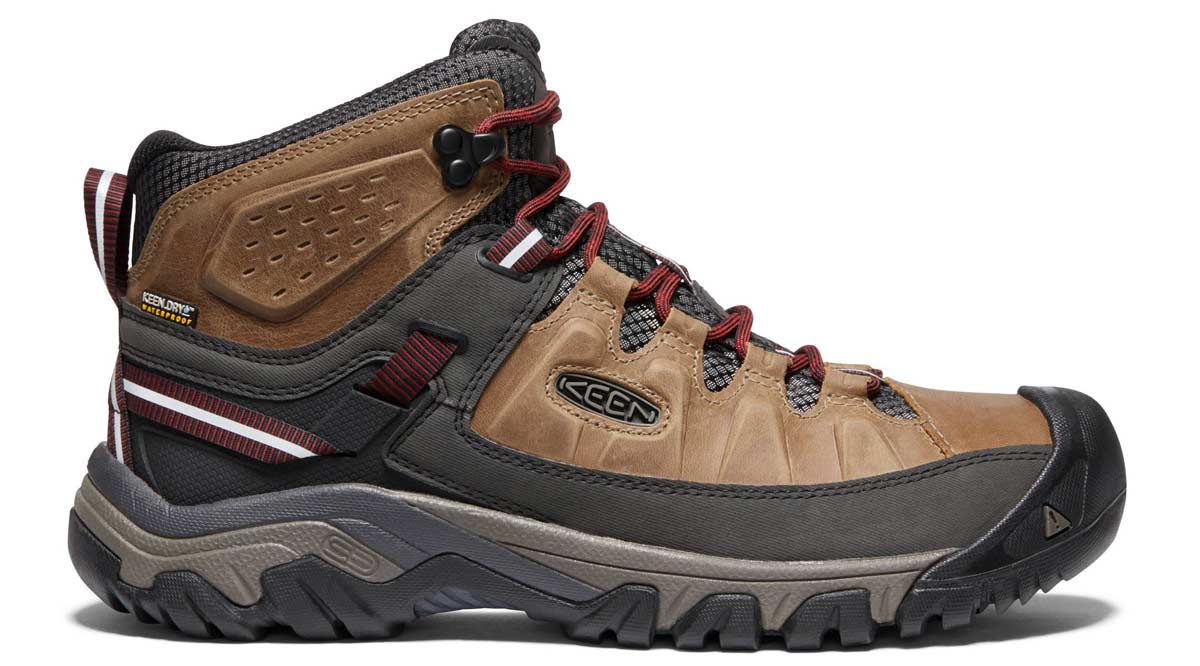 2. KEEN Targhee III Mid | Best Hiking Boots Runner Up
Best For: Easy to moderate hiking, and weekend backpacking
Cost: $150
Category: Lightweight
Weight: 2lb 3oz
Waterproof: Yes
These waterproof KEEN hiking boots are a great value option when it comes to a comfortable, reliable pair of all-round hiking boots, which is probably why they're one of their bestsellers and get great review ratings.
We particularly like the chunky lugs on the rubber outsoles which provide high-traction grip on all terrain and in any conditions, and they don't require a long period to break in.
These boots offer great traction, are comfortable out of the box and have a soft EVA foam midsole.
The only noted downside is that they're not the most durable, especially for hiking on rougher terrain and heavier-duty backpacking trips.
The Verdict: This is another very popular lightweight all-round leather hiking boot at a great price.
---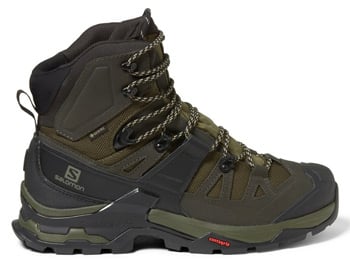 3. Salomon Quest 4 GTX | Great For Backpacking
Best For: Backpacking, tough backcountry hikes
Cost: $230
Category: Midweight
Weight: 2lb 14oz
Waterproof: Yes – Gore-Tex
For heavier-duty backpacking there's a reason why Salomon's Quest 4 GTX boots are so popular.
If you want great cushioning, protection, and support in a pair of hiking boots that are known for having a great fit and will support you even when carrying a heavy pack over gnarly terrain, then these are a great choice.
If you're doing shorter, on-trail hikes then these are more boot than you probably need, and we would suggest the other Salomon or KEEN boots above for less rugged hiking endeavors.
The Verdict: If you know you're going to need some hiking boots that will need to stand up to many miles backpacking with a heavy pack, or hikes in tough terrain, then these will be a great trail companion. For less hardcore hiking, consider some of the other boots on this list that come in with less weight and more flexibility.
Last Amazon price update was: 25th September 2023 3:31 am
---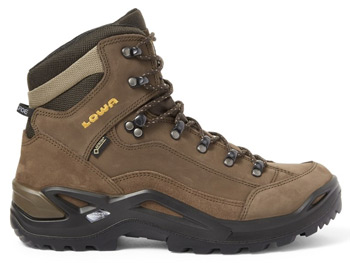 4. Lowa Renegade GTX Mid | Lighter-Duty Backpacking Choice
Best For: Hiking and weekend backpacking
Cost: $240
Category: Midweight
Weight: 2lb 7oz
Waterproof: Yes – Gore-Tex
If you're looking for a backpacking boot that isn't quite as heavy-duty as the Salomon Quest but is still a very sturdy option, then consider these leather Lowa hiking boots.
The Lowa Renegade boots come at a similar cost to the Quest, but are several ounces lighter (and less rugged), and have the look of a more traditional hiking boot but still with key features such as Gore-Tex waterproofing.
These boots offer plenty of comfort and support, come in a wide range of color options (including red and blue women's options), and are available in a wide fit.
The Verdict: A great choice for a lightweight yet stable and protective backpacking boot.
Zappos.com
$240.00
See Deal
Backcountry.com
$254.95
See Deal
Amazon.com
$259.95

1 new from $259.95

See Deal
Last Amazon price update was: 25th September 2023 3:31 am
---
5. Merrell Moab 2 Mid WP | Budget Boot Choice
Best For: Travel and weekend hikes in moderate climates
Cost: $135
Category: Lightweight
Weight: 2lb 4oz
Waterproof: Yes
These leather Merrell hiking boots represent great value if you're on a budget.
The Moab 2 Mid boots are versatile all-rounders for most regular hiking, especially if you're not planning on going anywhere too technical.
Overall, they're great value, come in a wide range of color options, and are markedly comfortable right out of the box.
On the flip-side, and perhaps to be expected, don't expect them to be as supportive or durable as other more expensive boots.
The Verdict: Great value boots for traveling, road trips and weekend hikes
Also – if you want Gore-Tex (more premium waterproofing) you can upgrade for an additional $20, and if you want a more breathable version for hot dry climates look at the Moab Mid Vent.
Last Amazon price update was: 25th September 2023 3:31 am
---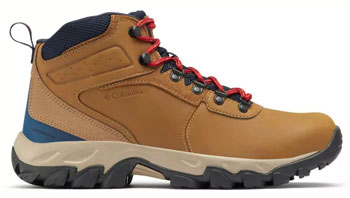 6. Columbia Newton Ridge Plus II WP | Great For Short Hikes
Best For: Travel and weekend hikes, trail dog walks
Cost: $100
Category: Lightweight
Weight: 2lb 8oz
Waterproof: Yes
These Columbia men's and women's hiking boots are the cheapest pair on this list.
These are ideal boots for everyday wear if you want something more supportive and durable than shoes, as well as if you need lightweight hiking boots to protect your feet on weekend walks and occasional state or national park hikes on easy trails.
They're available in a really nice range of color options for men and women, as well as in a wide fit.
However, as to be expected at this point, they're not as supportive or durable as other more expensive boots on this list.
The Verdict: These hiking boots are ideal if you want an affordable pair to wear for easy weekend and occasional hikes as well as local trail walks.
Last Amazon price update was: 25th September 2023 3:31 am
Honorable Mentions: For an alternative budget hiking boot option, check out the new REI hiking boots, the Co-Op Flash boots, and for a budget backpacking boot the Vasque Breeze AT Mid GTX is a cheaper (but heavier) alternative to the popular Salomon Quest.
---
7. On Running Cloudridge | Best Lightweight Hiking Boots
Best For: Summer hiking, travel, casual trail hikes
Cost: $210
Category: Lightweight
Weight: 14.5oz
Waterproof: No
These ultra-lightweight On hiking boots for men and women are designed for fast and light trail adventures where you want more support than hiking or trail running shoes will provide.
They're ideal for warm weather hiking and travel, on account of their supreme breathability and light weight, comfortable out of the box.
They're also, in our opinion, very good-looking boots in both the men's and women's colors.
However, being less rugged than other boot options, they don't provide as much ankle support or durability as burlier hiking boots.
The On Cloudridge also feature vegan suede detail and come in black as well as other brighter colors (check their website for the latest colors).
The Verdict: For travel and summer hikes when you want a lightweight, breathable boot that will keep your feet happy and dry, these On Running boots are ideal.
---
8. HOKA ONE ONE Speedgoat Mid Gore-Tex 2 | Trail Runners For Hiking
Best For: A blend of waterproof trail running shoe and hiking boot for lightweight multi-day hikes
Cost: $170
Category: Lightweight
Weight: 13.2oz
Waterproof: Yes (Gore-Tex)
HOKA ONE ONE is known for making cushioned running shoes, however in recent years they're another running shoe brand that has moved into the lightweight hiking boot market.
While all of the HOKA hiking boots weigh less than 1lb, the Speedgoat Mid Gore-Tex 2 is the lightest, with balanced cushioning, while also providing some ankle support and great grip underfoot.
As they're Gore-Tex, this means they're less breathable than the On hiking boots above, and as another point to note, HOKA footwear durability is not the best compared to that of other brands on this list – so they may not last as long, especially if you're planning high-mileage or hiking in rough terrain.
The Verdict: For fast-and-light adventures on easy to moderate trails, this is an exceptionally light hiking boot with Gore-Tex waterproofing.
Zappos.com
$169.95
See Deal
Backcountry.com
$127.46

out of stock

See Deal
Amazon.com
See Deal
Last Amazon price update was: 25th September 2023 3:31 am
Also consider the HOKA Stinson for more cushion, Sky Toa for greater responsiveness and the Challenger Mid for an alternative balanced boot with a 5mm rather than 4mm heel-to-toe drop.
---
Honorable Mentions: For two more alternative lightweight hiking boot brands, check out the Altra Lone Peak Hiking Boot (Altra makes great, zero-drop boots and trail shoes for wide feet), and the great value, good-looking Topo Athletic Trailventure, which is another lightweight trail shoe / boot hybrid with excellent breathability and weighs less than 1lb.
---
Hiking Boots Buyer's Guide
Choosing the best hiking boots for you
The best hiking boots are those that work for you, your feet and the climate and terrain you are going to be hiking in.
With so much choice out there, and sometimes-confusing terminology used to describe the different features of various hiking boots available, it can be difficult to read through all the reviews and narrow down what brand, style and qualities a hiking boot needs to have to be suitable for you.
Hiking boots can also be a significant investment and if well-looked after, may last many years, so it's definitely worth taking the time to research the best hiking boots available so you can find the right pair for your needs that will stand up to many miles and years of use.
All the hiking boots reviewed in this guide are excellent boots in their own right, however depending on your needs and how you will wear the boots, some will be better choices than others.
These four considerations are the top things to bear in mind when choosing hiking boots.
If you know the answer to these questions then you can quickly narrow down which hiking boots are likely to be the best options for you:
1. The terrain and climate you will be hiking in
This is so important as it will influence everything from the type of sole (grip) you need for your chosen terrain (rocky, muddy, slippery?) to the amount of insulation you may need to keep your feet warm.
2. Hiking boots fit
When worn with your chosen thickness hiking socks, hiking boots should fit snug everywhere, but not tight anywhere, and NOT have loads of room for your feet to shift and slide about. But, make sure you can wiggle your toes.
The boots should also have a good fit over the top of your foot when done up and you haven't had to over-tighten the boots to get them to fit snugly – which is particularly important if you have 'shallow' feet.
3. Type of hiking socks
Speaking of hiking socks, these come in many different thicknesses and styles.
In our experience, it's best to select a pair of breathable, sweat-wicking hiking socks of a medium thickness and minimal seams, rather than finding the thickest pair of socks possible – even if you have a tendency to get cold feet.
Many good hiking socks these days also offer additional padding in the heel and toe areas, as well as some compression and support around the middle of the foot and arch.
4. The weight of your pack
If you're backpacking long distances with a heavy backpack, or even just carrying a very full daypack, then it's likely that the best hiking boots for you will be a pair that will protect your feet and ankles from the impact of the additional weight.
This does, however, mean that your hiking boots themselves are likely to be heavier as they incorporate this additional support and protection.
If you aren't planning to carry a heavy backpack, it's generally best to go for the lightest hiking boots possible that offer the comfort, protection and features needed for your type of hiking, terrain and pack weight.
Lighter boots will generally be more comfortable and less tiring to hike in than heavier alternatives.
The anatomy of a hiking boot
Uppers – The top of your hiking boots will either be made of synthetic fabric or leather – sometimes a hybrid of the two.
Synthetic materials tend to breathe well, weigh less and are the vegan option, however, they don't last as long as leather uppers.
Leather provides more durability and support and will shape to your feet in time once you've broken them in.
MIDSOLE – Your boot's midsole is the foam layer that sits between your foot and the outsole that touches the trail.
Midsoles are generally made from either EVA or PU foam. Without getting too technical, EVA foam tends to be softer and more comfortable out of the box.
However, PU foam is more durable and offers comparatively better support – particularly useful if you're backpacking and carrying heavy weight while you hike.
INSOLES AND ORTHOTICS – It's worth also considering that to get a good fit from your hiking boots you may want to try switching out the boots' factory insole liner with a more customized insole or orthotic footbed.
Replacement insoles can provide more support, and help to fill volume in your boots if you have particularly shallow feet.
Examples of insole companies known for making these footbeds can be found in our insoles buyer's guide.
OUTSOLE – rubber sole of your hiking boot that has lugs to provide traction when hiking over uneven, loose and wet or slippery terrain.
Like trail running shoes, hiking boot outsoles that offer the best grip in wet and slippery terrain tend to be made of softer rubber, which can wear down more quickly if worn on harder, rockier terrain.
Many hiking boots use branded rubber outsoles such as Vibram, although some have their own versions.
HEEL BRAKE – Most hiking boot models also have what is referred to as a 'heel brake', which is an area on the boots' soles where the lugs are chunkier and are designed to help give you more grip when hiking downhill.
LACING – Most hiking boots have lace-up closures, although some use different methods such as BOA dials or hook-and-loop.
In general, using boot laces is still the best way to get the most adjustable closure on a pair of hiking boots.
ROCK PLATES, SHANKS, AND TOE CAPS – All these features are intended to provide stability and protection for your feet.
Rock plates provide strength and protection on the bottom of the boot, whereas toe caps help protect you from injuries resulting from kicking trail obstacles such as rocks and roots.
Shanks are semi-rigid inserts in some hiking boots' midsoles that provide additional protection and stiffness while still allowing the area round the ball of your foot to flex.
INSULATION – winter hiking boots offer added levels of insulation to help keep your feet warm in cold and freezing conditions.
Should you get waterproof hiking boots?
Waterproof hiking boots feature a waterproof liner inside the boot that sits between the upper and your foot.
This may use a membrane such as GORE-TEX or another branded technology – not all waterproof hiking boots are made using GORE-TEX.
We've highlighted whether the hiking boots in this list are waterproof or not (most are), and the clue is usually in the name, too (they often have 'GTX', 'Waterproof' or 'WP' in the name).
Waterproof boots are designed to keep water out of your boots.
As the waterproof membrane restricts the breathability of your boots, they also help keep your feet warmer in winter and cold weather, and reduce the risk of issues such as frostbite when it's very cold.
The disadvantages of wearing waterproof boots for hiking are that they significantly reduce the boot's breathability, and they tend to be much more expensive than less waterproof hiking footwear options.
It's also worth noting that if you get the inside of waterproof boots wet, they can stay wet for a relatively long time for the same reason.
Breathable vs. waterproof boots
While having waterproof hiking boots is often a good idea both from the perspective of keeping water out of your boots, as well as helping to keeping your feet warmer when hiking in cold weather.
However, waterproofing does come at a cost, and that is the cost of reduced breathability in your boots.
Why care about breathability?
Well, if you feet tend to sweat a lot or you are hiking in warmer climates, then the inside of your boot can get uncomfortably warm and moist if the boot isn't breathable enough – and this can lead to issues such as blisters and your feet swelling.
Hiking boots, shoes or trail runners?
As well as hiking boots, there is the option of lower-profile hiking shoes, which don't have the ankle support of hiking boots – which makes them lighter and more comfortable.
Hiking shoes sit in-between boots and trail running shoes on the spectrum of support and additional weight and bulk vs. lightweight but less supportive footwear for hiking in.
Hiking shoes are a good option if you don't feel you need the ankle protection of a hiking boot, but want a shoe that's more protective, sturdier and more durable than most trail running shoes.
As trail runners and fastpacking aficionados, we are also big advocates of trail running shoes for many adventurous activities, including certain types of hiking.
There are some significant advantages to wearing trail running shoes for light and fast hiking – including that they are:
Comparatively very lightweight and smaller in size than hiking boots
Comfortable straight out the box with no breaking-in should be needed, and
Generally supremely breathable.
However, trail running shoes may not be suitable for hiking if you are moving more slowly, carrying significant weight or need the additional underfoot and general foot and ankle support that a hiking boot offers.
They also tend to wear down quicker than a good pair of hiking boots, so will not last as long in terms of mileage that can be covered before they are worn out.
If you are interested in exploring what trail running shoes would be best for hiking and fastpacking, as well as finding out more about trail running in general, you've come to the right place.
Our trail running shoes and fastpacking gear guides contain more advice on choosing the best trail running shoes for your style of hiking and/or running.
Hiking boots for wide or flat feet
Being able to adjust and customize the fit of your hiking boots to your personal needs is important, especially if you need additional support and protection, for example, good ankle support.
It's also important if you know you have wide feet or flat feet to ensure your boots have enough width or insole support to be comfortable when worn for hiking many hours and potentially for consecutive days if you're backpacking or thru-hiking.
Many of the hiking boots on this list come with wide fit options, including the Columbia Newton Ridge and Merrell Moab 2.
When it comes to choosing hiking boots for flat feet or if you have plantar fasciitis, consider getting some more supportive, comfortable insoles in addition to your hiking boots so you can get a more customized fit that works for the sole of your feet to reduce strain.
The difference between men's and women's hiking boots
The main difference between men's and women's hiking boots are that men's hiking boots are wider, particularly in the heel area, which is important when you're trying to get a pair of boots to fit and hold your heel in place, and not allow your feet to move around.
Women with flatter, wider feet who struggle to find comfortable women's shoes and boots may want to consider men's boots.
However, with the range of women's hiking boot options out there, especially where boots are specifically made with a 'wide' fit option, needing to choose men's boots to find the best fit is not going to be necessary for most women.
What are the best hiking boot brands?
If you're new to the world of hiking and backpacking you may be wondering what are the best hiking boot brands to go for.
There are lots of brands offering hiking boots, including those from mountain sports backgrounds such as Salomon, Columbia and Salewa, as well as brands that are more widely known for running shoes, such as On Running, Altra and HOKA.
Especially if you haven't worn any of these brands' shoes or boots before, it can be difficult to know where to start.
Our advice – All the brands on this list are excellent footwear brands and the boots here are all designed to stand up to many trail miles.
Don't get hung up on going for a particular brand name, even if you've worn other shoes by that brand before, because you may just find a better match with a different brand.
Can you wear Timberlands hiking? Many people have heard of, or may even own lifestyle-focused boots such as classic Timberlands and be wondering whether Timberlands are good for hiking.
The answer is yes… and not really. While you can hike short distances in the classic Timberlands, they aren't designed to be as supportive, fitted or durable on trails as the more modern hiking-specific boots listed here.
This applies to any existing shoes or boots you may be thinking about wearing hiking – if they're super comfortable and you already own a pair don't let this stop you from wearing them on the trails.
Know, however, that there are better-suited boots out there that will last longer and be more supportive and comfortable, especially if you're hiking more technical terrain or for more than a few hours at a time.
How to break in hiking boots
Not all hiking boots need to be 'broken in' – many of the boots on this list are comfortable right out of the box.
However, the heavier, most rugged and durable boots, especially those made with leather uppers, generally do need to be broken in to ensure you are comfortable wearing them hiking.
Breaking a pair of boots in basically means wearing them in gradually to build up flexibility within the boot, and to help it shape to your feet for a more comfortable fit as you hike in them.
Breaking hiking boots in reduces the possibility of hot spots and blisters from rubbing or movement in the boot, and gives you the opportunity to address these potential issues if you experience them when wearing them OFF the trail, so you can make changes such as different lacing, insoles or socks – or – return the boots for a different pair.
The best way to break a new pair of boots is to wear them often – around the house, running errands, on short walks, etc, until they've softened up.
Find the best hiking boots for you
Now you've read our boots buying guide, click here to jump up and see the full list of the best hiking boots for this season.
RELATED READING: Our hiking for beginners guide includes loads of hiking tips if you're new to hiking, as well as a full day hiking gear checklist to help you gather all the necessary gear you may need for hiking.