Welcome to our shortlist of the best backpacking backpacks for men and women to take on multi-day and overnight trips, as well as traveling.
ADVERTISEMENT
All the backpacks included here all offer a great range of features and good value when it comes to a quality pack that will last you many years and many miles as well as women's and men's specific fits.
We've organized them into types based primarily on volume capacity – the capacity you need is, for most people, directly related to how long you anticipate your backpacking trips to take. We've also included some value options for those on a budget, and ultralight packs for fast-and-light backpacking.
Click here to jump down to learn more about the key features to consider when buying a backpack for multi-day trips and thru-hiking, or keep reading to see our list of the best backpacking packs for men and women.
---
Overall Best for Multi-Day Trips
1.) Osprey Atmos AG and Aura AG 65 [Editor's Choice]
The 60-65 liter capacity backpack category is one of the most popular for its versatility. These men's and women's Osprey backpacking packs are best sellers for good reason – they're in that volume sweet-spot that most people look for when planning to buy a pack you can use for weekends as well as week-long multi-day trips, or longer with resupply available every 5-7 days or so.
These packs are known for being highly adjustable and comfortable to wear for long backpacking trips, and are packed with other desirable features such, as plenty of pockets (11 plus the main compartment), external loops for hiking poles, zipped sleeping bag compartment, ventilated mesh back panel, and compression straps to secure and stabilize the load.
Total capacity (liters) 60-68 / Weight: 4lb 4oz to 4lb 10oz / Price: $270
Last Amazon price update was: 8th December 2022 12:01 am
2.) Gregory Baltoro 65 and Deva 60 Packs [RUNNER UP]
These Gregory backpacks are also very popular choices when it comes to versatile and comfortable packs – they're durable, stable, come with their own raincover, and feature rotating load transfer panels on the hip belt, as well as other features such as well-padded straps and hip belt and a zippered bottom sleeping bag compartment.
We particularly like the inclusion of a side zip-up access panel, meaning you don't need to open the top of the pack and pull everything out, or dive in to the bottom sleeping bag compartment to access an item that is packed in the middle of your pack.
Total capacity (liters) 56-68 / Weight: 4lb 8oz to 5lb 2oz / Price: $300
Last Amazon price update was: 8th December 2022 12:01 am
---
Best for Weekend Backpacking
3.) Gregory Paragon 48 and Maven 45 [Editor's Choice]
These smaller volume Gregory packs are a sleek choice for shorter backpacking trips and overnighters where you need to carry more than a daypack but don't need all the volume of a 60+ liter pack – or the temptation to fill a larger pack with more weight than you really need.
The Paragon and Maven backpacks (men's and women's respectively) are feature packed, including full-length side-loading access, thoughtful additional features such as a bungee to hold sunglasses, and easy-to-access side pockets for stashing a water bottle or other essentials.
Total capacity (liters) 45-48 / Weight: 3lb 5oz to 3lb 8oz / Price: $200
Last Amazon price update was: 8th December 2022 12:01 am
4. Osprey Atmos and Aura AG 50 [RUNNER UP]
Seeing as the larger-capacity Osprey packs made the top of our best backpacking packs list when it comes to all-rounders for multi-day trips, it is no surprise that their smaller versions, the 50 liter Atmos (men's) and Aura (women's), are also excellent small backpacking packs for weekends and more minimal backpacking trips.
If you want a comfortable backpacking pack that offers plenty of pockets, compression features and highly adjustable shoulder straps and hip belt, then this pack should be your go-to.
Total capacity (liters) 44-53 / Weight: 4lb 0oz to 4lb 4oz / Price: $240
Rei.com
$178.93
See Deal
Ospreypacks.com
$178.95

out of stock

See Deal
Amazon.com
See Deal
Last Amazon price update was: 8th December 2022 12:01 am
---
Best Large Capacity Backpacking Pack
5.) Deuter Aircontact Pro 70 + 15 / 65 + 15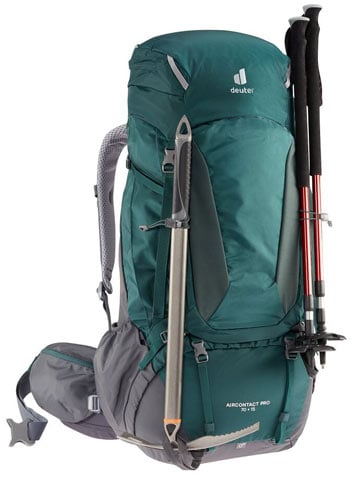 This is a serious large capacity backpacking pack for long haul travels and backpacking trips. The men's version features up to 70 liters capacity (65 for the women's version) in the main compartment, plus 10-15 in the side pockets, and the top compartment can be detached and used a separate daypack.
It also comes with a detachable raincover and offers many of the features you'd expect of a technical backpack, with plenty of pockets, durable construction, and a tall, slimline design (it expands upwards with volume) to keep weight as close to your center of gravity as possible – super important, especially with these heavier loads.
Total capacity (liters) 70+ / 65+ / Weight: 6lb 11oz to 6lb 14oz / Price: $380
Last Amazon price update was: 8th December 2022 12:01 am
If you like the sound of the Gregory and Osprey packs mentioned below, it's also good to know that those brands also offer larger versions of those packs, which are also worth considering when you're shopping in that larger 65+ liter capacity pack range.
---
Best Value Backpacking Pack
6.) REI Co-Op Trailbreak 60 Pack (men's and women's)
If you're on a budget but still want a great pack to take on multi-day and overnight camping trips then REI's own-brand Trailbreak pack, which has a 60 liter capacity in both the men's and women's fit, offers a versatile and great value option at $150 compared to the competition's $200+ price points.
It's heavier than the premium brand competition from Osprey and Gregory, for example, on account of the steel frame, but has plenty of capacity, a good selection of pockets and an adjustable fit so you can dial in the comfort and ensure a stable load while you're hiking between camping spots during your trip.
Total capacity (liters) 60 liters / Weight: 3lb 11oz to 3lb 13 oz / Price: $150
---
Best Ultralight Backpacking Pack
7.) Hyperlite Mountain Gear 3400 Southwest
If ultralight backpacking is your goal (or already your thang) then this lightweight backpack from Hyperlite is your new best friend, if you have the budget for their gear and don't mind the more minimal padding on the straps (compared to the more luxe options above). This ultralight backpacking pack can accommodate 55 liters, which should be plenty considering the gear you'll be carrying is likely to be minimal and ultralight, too. It's unisex but available in small, medium and large sizes.
It offers a minimal aluminum frame, a simple hip belt (with two zippered pockets), three front pockets for essentials and one large main compartment – plus rear stash pockets. The lightweight Dyneema fabric is already waterproof so you don't need a separate raincover, and this HMG pack also has compression straps to pack everything down close to your body to help with stability while you hike.
Total capacity (liters) 55 / Weight: 2lb 2oz to 2lb 4oz / Price: $355
---
How to choose the best backpack for your needs
To work out what size and style of pack is going to be the best choice for you, it helps to think about how you would answer the following questions when it comes to your personal preferences, needs, intended backpacking destination(s) and durations:
How long will you be going backpacking for?
Weekends?
A week?
Multi-day trips?
Thru-hiking?
Generally, weekend trips of between 1-3 nights can be done with a 50 liter pack or smaller.
It can be helpful not taking a larger pack than you need, to avoid the temptation to pack more than you will require, and avoid making it unnecessarily heavy.
The most popular backpacking packs, and some of the best options out there, fall within the versatile 50-65 liter size range.
Most people, for most backpacking trips, including thru-hikers (assuming a reasonable resupply interval and that you don't carry lots of luxury items) will be very happy with a pack in this size range.
This is also, therefore, the size category where you will find the most choice of men's and women's backpacking packs to choose from.
Within the 50-65 liter size category, pack volumes can vary depending on whether you are looking at men's or women's packs, and whether it's a small, medium or large pack.
Larger men's packs tend to have a couple more liters of volume capacity than the smaller men's, or women's packs, for example.
You can also get backpacking packs over 65 liters. However, bear in mind that bigger isn't necessarily better.
A full 65+ liter pack will likely be very heavy and could be difficult to carry without some great core strength and training in advance.
Some winter backpackers and thru-hikers will want packs of this size, but think carefully before taking the plunge and buying a large-volume pack like this.
How much stuff do you want to carry?
Specifically, what will your sleeping set-up be, how much food do you plan to take with you, how will you carry water (in a hydration bladder or in water bottles, or both), and what is your trail cooking setup going to look like (for example, what size or type backpacking stove do you intend to carry in your pack)?
For shorter, lighter people, think seriously about how much the contents of your pack (including food and water) will weigh compared to your own weight.
Carrying too much weight has the potential to make your backpacking trip less enjoyable, especially for shorter trips where you may be able to do without some luxuries that you'd consider worth carrying for those longer trips.
For longer trips, how long do you need to be self-sufficient and carry your own food and water?
The volume and weight of food and water you need to carry are going to vary depending on how much you need to carry with you (plus some for emergencies), and how quickly you consume it.
If you need to be self-sufficient for a week or more then you'll need a bigger pack to carry all the food you'll need, even if the rest of your gear is fairly minimal.
Also plan how you're going to refill with water, and consider taking a backpacking water filter so you can confidently fill up at water sources along your backpacking route.
Are you going backpacking in bear country?
Bear barrels can be an essential to carry with you if so, but also they are a large item to carry in your pack so you may need to consider this when choosing your backpack's size.
What time of year will you be backpacking
Winter backpacking, for example, normally necessitates carrying extra gear, which may include crampons and an ice axe, a larger (warmer) backpacking sleeping bag, an insulating sleeping pad to keep you off the cold ground, and extra layers of bulkier clothing than you'd need for summer backpacking trips.
Your tent and stove may also need to be bulkier to battle the colder conditions for sleeping and cooking, respectively.
All this extra winter gear will mean your pack needs to be big enough to fit it all in.
Will you be backpacking with kids
Ideally your kids will carry their own pack.
However, even so, you may benefit from having the additional volume capacity in your own pack in case they can't carry everything they need and you may need to carry some additional load.
Key features of a good backpack for multi-day hiking and trekking
Comfort
Just like with choosing your hiking boots, when it comes to choosing the best backpacking pack, comfort should be your top priority.
When you're wearing a potentially heavy pack to move in over uneven terrain, for hours at a time, and on consecutive days, you definitely want to make sure that pack is staying in place, fitting close and comfortably to your body, and not digging in, rubbing, chafing or otherwise causing pain on any part of your body.
Therefore, premium backpacking packs with load distribution, responsive mesh back panels (that offer support and breathability) and comfortable, padded shoulder straps and hip belts, are going to be what to look for.
Pockets and access
The location, size and features of pockets on these backpacking packs varies, from very few exterior-access pockets, to 11+ pockets, plus the main compartment. Whether you like lots of pockets comes down to personal preference.
They can help with organization and quick access to essentials, but on the downside you need to remember what gets stored where, so you don't misplace items, and the pockets do add some weight to the pack overall.
If pockets are important to you, look at where they are on the pack, whether they are bungee, magnetic or zipper-closure and whether they will fit your gear (for example – does the phone or water bottle pocket actually fit the phone or water bottle you'd want to carry with you?).
Empty pack weight – is a lightweight backpack worth the money?
Backpack weight is influenced by the size, design and price point of the pack. Generally, the lighter the pack, the more expensive it is, when comparing packs of a similar size.
Most backpacking backpacks weight between 3lb and 7lb when empty, although larger (and cheaper) packs can weigh more, and you can find more minimal and smaller packs that weigh under 3lb.
However, before you ultralight aficionados go out and look for the lightest pack around (like the Hyperlite backpack mentioned above), bear in mind that a pack with more padding, structure and support, as well as a larger selection of pockets and storage options, may make your backpacking trip much more enjoyable as you'll be able to hike in greater comfort, despite the added base weight of your pack compared to lighter options.
Other backpack features
A waterproof cover may be important for certain climates, and some backpacks such as many of the Gregory packs come with a cover included. Otherwise, you can buy these separately
Bungees or small zip pockets for essentials such as sunscreen, sunglasses and your phone – many packs have these on the shoulder straps and hip belts where you can safely store these items and easily access them while hiking
Daisy chain and cord for storing items such as a sleeping mat and adventure gear such as helmets, pack towels (when you hang them out to dry), and even solar panels to charge your phone/headlamp with are useful extras that many quality backpacks offer, to some degree
Hydration bladder / reservoir and/or bottle storage and access – many people like having a hydration bladder in their pack, as you can carry that weight close to your core and don't have a bulky bottle taking up space in the side pockets. Most backpacking packs are compatible with hydration reservoirs and offer ports by the shoulder straps for the drinking hose. Bottles, on the other hand, are much easier to clean and refill, so it comes down to personal preference and what features you value the most.
What are the best backpacks for women?
If you're a woman, do you really need (or would you be better off with) a women's-specific backpack?
For people with smaller statures, narrower shoulders and shorter torsos than the average man, then yes, probably. This applies to both men and women.
For most women, a women's-specific backpack is likely to be a better choice, for this reason, as other features, such as the shoulder straps, are designed to take into account womens' chest shape in a way that most men's / unisex backpacks do not.
The good news on this front is that most of the best backpack brands design women's-specific packs in their whole range of sizes, so if you feel you may benefit from the added thought that has gone into designing a pack for womens' body shapes, then you'll have plenty of options to choose from.
How to pack a backpack
Pack heavier, bulky items in the middle of the pack, closest to your back.
Bulky sleeping gear such as sleeping bags go at the bottom, and items you'll need while backpacking or for emergencies, such as first aid kit, sunglasses, maps and layers, should be packed near the top and/or in easy-to-access exterior pockets.
Having a place for everything is key to packing a backpack effectively so it's not a mess every time you remove one item and have to re-pack it!
To help with backpack organization, you can also use packing cubes to keep items together, so you have one for your clothes, one for your cooking kit, and so on.
PackStacks from Hillsound Equipment are a great example, and are actually shaped to stack in a 40 or 60 liter backpack.
What backpack is best for day hiking or fastpacking
If you've read this post on the best backpacking backpacks and are thinking you'd be better off with a smaller pack because you either pack really minimal, want it primarily for day hikes, or want a pack that you can wear to run in, for example for fastpacking trips, then read these next: