Lululemon is well-known for yoga apparel and accessories, with its classic reversible yoga mat being one of the best-selling products.
In this lululemon yoga mat review, I cover the key features, pros, and cons of the Reversible 5mm mat, that you should consider if you're interested in getting yourself one for use in yoga classes or at home.
I also explain what differentiates it from the seemingly overwhelming amount of choice out there when it comes to selecting an exercise mat for all kinds of yoga (including hot yoga), and other activities such as pilates and floor core workouts.
READ NEXT: Lululemon running, workout and training shoes, compared
---
Lululemon reversible mat key features
Reversible yoga mat thickness and weight
The first thing you notice about these yoga mats is their thickness.
Mat thickness is an important consideration because thicker mats such as the 5mm version of this lululemon mat are designed to provide enough padding to be comfortable on your knees, wrists, hips, and any other joints or parts of your body where you may need that extra support and protection from a hard floor. 5mm is just under 1/4 of an inch.
If the extra padding is less important to you, lulu also offers a 3mm version of their reversible yoga mat, which is not as padded but is lighter than the 5mm version, which may be preferable if you need to carry your mat for longer periods of time.
By comparison, while the 5mm mat weighs 5.24lb, the 3mm mat weighs 3.87lb.
If you feel you still need more padding than the 5mm mat offers, rather than seeking out a thicker (and therefore heavier) mat, consider using accessories such as yoga cushions to help with discomfort in areas such as your knees and palms.
Dimensions and the extra long and wide version
The classic reversible mat measures 26 inches wide x 71 inches long. This is plenty wide enough for most people.
That said, the brand also recognized that some people may prefer a long and/or wide yoga mat, especially if you're taller than most, and find yourself wanting that extra length to stretch out on.
The lululemon 'reversible (big) mat' measures 28 wide x 84 inches long, so you get an extra 2 inches of width and 13 inches of extra length.
lululemon yoga mat material
These yoga mats are predominantly made from rubber, which provides the flex and grip, as well as cushioning and support.
Because of the material used to make the mat, it does give off a rubber smell. I find it pretty mild and inoffensive, but worth noting if you're particularly sensitive to smells.
The rubber smell reduces as the mat ages, and be sure to air it out after using so that it dries out fully before you roll it up – this also helps minimize any smell.
The reason these mats are called 'the reversible mat' is – you guessed it – because you can use it both sides up. One side is smooth and has a soft polyurethane coating, and the other side is lightly textured rubber.
Which side of the reversible mat to use?
If you're wondering which side of the reversible mat is best to use, that really depends on how and where you plan to use the mat, as well as your personal preference.
What's important to know is that both sides grip onto the floor, and this mat does not wrinkle up or move once you've laid it out.
If you're new to yoga mats you may not appreciate that this level of stickiness is something that cheaper (and thinner) yoga mats fail to achieve – if you've used one, you know what I mean.
They can wrinkle up and can even slide along the floor, which is at best, annoying, and at worst, can cause you to trip or fall over.
The smooth side of the reversible mat is softer and my personal choice of side by default. The textured side is grippier and therefore a better choice if you sweat a lot, or are looking for a reliable non-slip yoga mat for hot yoga.
---
Durability and caring for the yoga mat
If you care for it then you can expect the reversible mat to last a long time. As mentioned above, these mats are made from rubber, so they're not designed to be super rugged and can be damaged if you catch them on a sharp object.
However, as they're quite thick, the rigidity means the mat is less likely to flap around and get caught on things in the first place.
My pets have a habit of joining me for yoga, and so far the two reversible mats I own are still in good condition, despite Kepler dog's authentic version of downward dog, complete with nail imprints.
That being said, I would suggest keeping it away from your pets as much as possible, as their nails (or teeth) could easily cause damage.
Washing the yoga mat
As with any exercise equipment, it pays to keep the yoga mat clean, which means:
Wiping it clean with a clean, damp cloth after use, especially if you've been sweating on it
Letting it air dry and make sure it's dry before you roll it up to store it.
It's worth noting that the mat is made with an antimicrobial additive, which helps prevent mold and mildew that can cause damage to your mat and may make it smell if allowed to develop.
You can also buy a cleaning spray to use on the mat to help keep it fresh.
I don't feel the need for a cleaning spray however if you take your mat to different places such as hot yoga or other classes then you may want that extra level of cleanliness to clean off dirt from the floor in those locations.
The nature of the material (on the smooth side in particular) means it tends to attract hair, dust, and dirt from the floor so you're going to want to be able to clean it off!
---
Lululemon reversible mat color options
As with other lululemon products, many of the brighter color options such as pinks, blues, and greens are available for limited time periods.
I'm a fan of the brighter color options and like the aurora-style blended colorways, they periodically offer, such as the purple-pink version in the photos throughout this review.
If you aren't too bothered about having an interesting color or pattern, then you should easily be able to find the classic black version of the reversible mat in stock at any given time.
Plus, if budget is a concern then it's good to know that the black version of this mat is $10 cheaper than the colored mat options, costing $78 at the time of writing.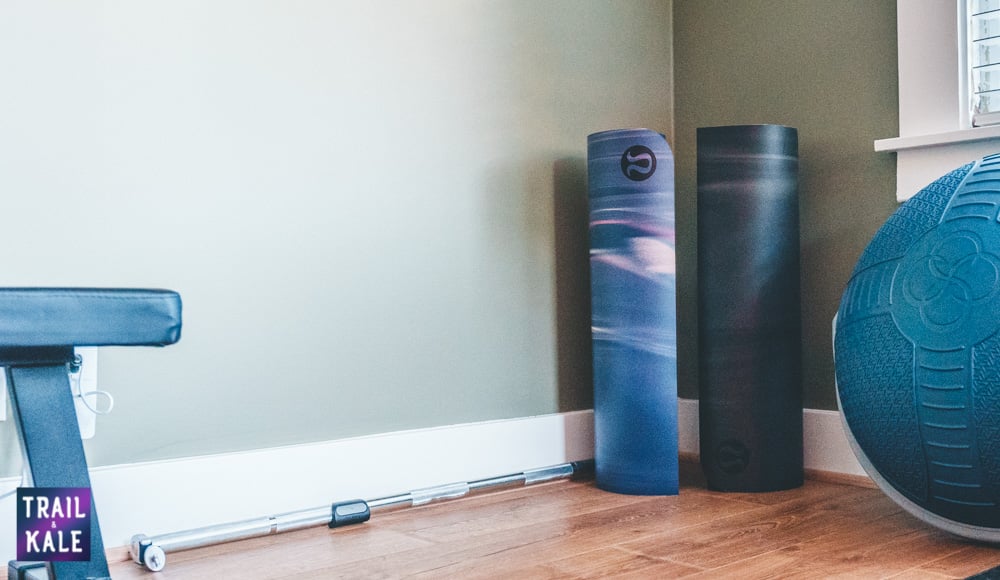 It's worth noting that when the mat gets wet (with water or sweat, for example) then the color goes darker until it dries again, so if you think that may bother you then this is another reason to go for a darker color that won't show the wet marks as much.
---
Mat accessories worth considering
Not everyone needs to buy any accessories to go with this nonslip yoga mat, although it may be worth considering getting a strap or bag to transport and store it (their adjustable yoga mat bag even fits the 'big' version of the mat).
If you do tend to sweat and would use this as your hot yoga mat, also consider getting a yoga towel, which is shaped to fit along the length of the mat and provides extra help with grip, and the aforementioned cleaning spray.
---
Cost and where to buy
At $78 (black yoga mat) and $88 (colored and patterned designs), the 5mm Reversible Mat is at the more premium end of the yoga mat market, but for good reason.
It's pretty indisputably the best thick yoga mat on the market and should make your practice more comfortable and enjoyable, and you can expect the mat to last for a long time if properly cared for.
As with all lululemon gear, unless you can find it pre-owned (check their Like New resale store) then head over to one of their stores or shop the latest selection of yoga mats and accessories directly on their website:
---
Lululemon yoga mat review summary
Lululemon yoga mat review
PROS
Supreme grippiness for all styles of yoga, including hot yoga
Thick yoga mat provides good cushioning for joints
Relatively durable and easy to clean
A longer, wide version is also available
CONS
Smooth side tends to attract dust and dirt
Rubber density and thickness means this isn't a particularly light yoga mat for carrying around
---
Image gallery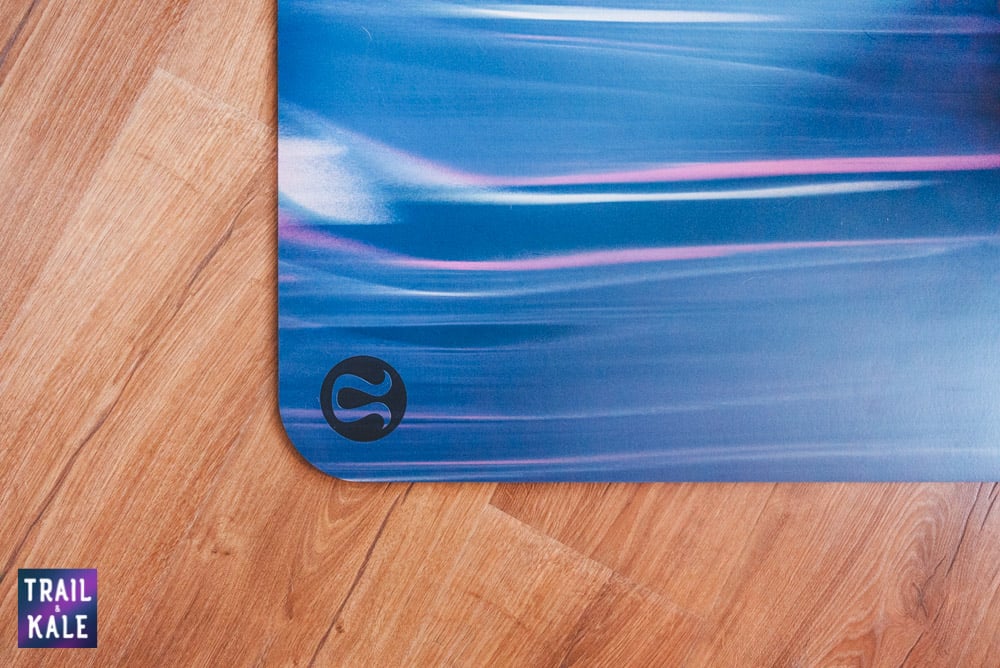 ---
Shop at Lululemon's Like New Resale Store!
If you're also looking for great deals on lululemon tops, hoodies, leggings and other gear, lululemon now has a fantastic trade in program and 'Like New' resale store you can shop at online.
The Like New resale store sells genuine lululemon men's and women's gear that has been pre-owned but either in 'like new' or 'gently used' condition.
This is not only an environmentally-friendly way to shop but you can also get some great deals on gear that would normally cost significantly more if you were to buy it new.