Let me just start off by saying how incredible the Brooks Launch 10 running shoes are considering they only cost $110; if I didn't know this before running in them, I'd easily put them at a price point of around $150.
The Brooks Launch 10 is one of the best value for money running shoes I have reviewed in the last few years and this review should hopefully explain why most runners will benefit from these affordable shoes.
---
📩 RUN YOUR BEST…
with our weekly running tips and gear recommendations PLUS get full access to our popular FREE training plans, when you subscribe to our Newsletter!
---
Brooks Launch 10 at a glance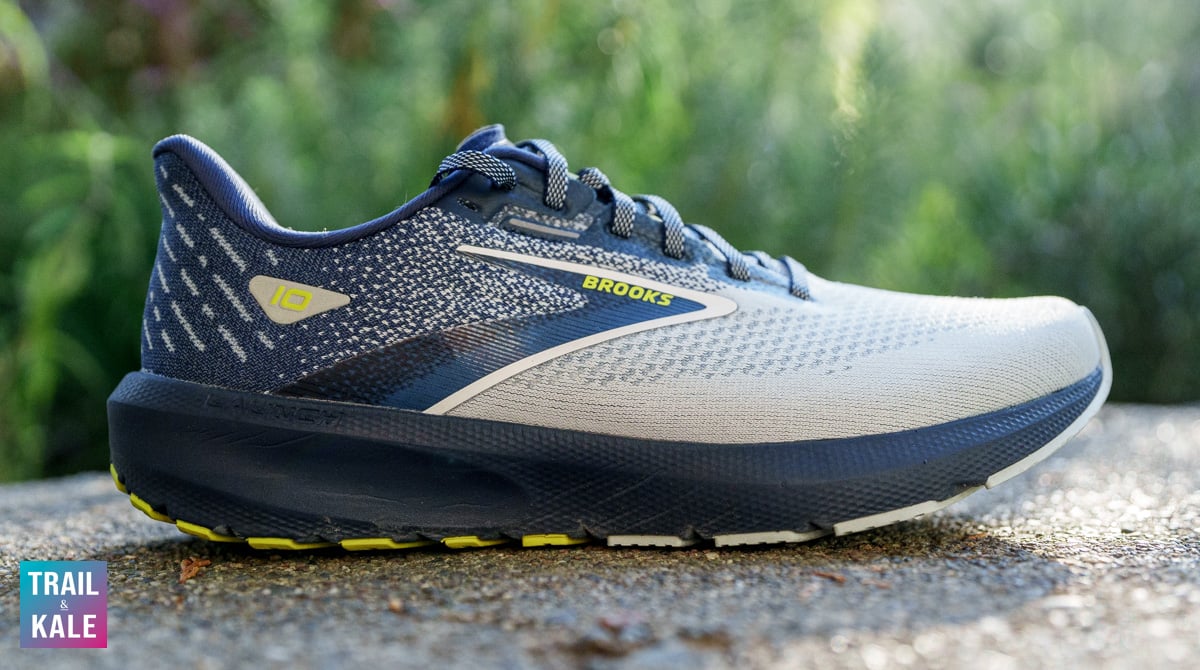 Sizing & Fit
True to size.
Weight
8.2oz (232g) for a size US(M)9.
Drop
10mm
Width
Medium.
Support
Neutral, meaning there's no additional support included.
Cushioning
Responsive, but it feels like there's a medium amount of cushioning.
Price
Key Features, PROS & CONS
🟢 Affordable, high-value shoe.
🟢 Feather-light at 8.2 oz.
🟢 Cushioned DNA LOFT foam.
🟢 Breathable stretch knit upper.
🟢 Eco-friendly materials.
🟢 Solid, durable build.
🟠 Tongue could be longer.
🔴 Limited support.
Usage
These versatile, lightweight, medium cushioned running shoes offer responsive performance for everyday running, from easy jogs to tempo runs. It's Brooks' entry level running shoe in their 'speed' category.
Also available in
Launch GTS 10 which has GuideRails support for a more supportive fit.
Closest competitors
---
In this Brooks Launch 10 review I'm going to be sharing why these running shoes have been awarded the coveted T&K Editor's Choice Award, and why I believe they are Brooks Running's best running shoes for the price.
I hope this review answers all your pre-purchase questions about the Brooks Launch but if I missed something, please drop any questions in the comments section down below and i'll get back to you soon.
---
Brooks Launch 10 sizing and fit
The Brooks Launch 10 fits true to size and is consistent with other brands including On, HOKA, Saucony, and Nike to name a few.
It's a medium-width shoe and the toe box feels airy with enough room for your toes to splay and expand as you run. With that said, if your midfoot, and toes are average width then the Launch 10 should feel great.
The Launch 10 has a neutral (or medium) arch that, again, most people with average shaped feet will enjoy the feel of, and if you're familiar with Brooks Running shoes in general, then you'll already appreciate how extremely comfortable they feel right out the box – the Launch 10 follows this tradition.
It has a very similar ride and feel to the On Cloudgo, incase you're familiar with those no-fuss reliable running shoes.
The features that I love and how they benefit performance
Below is a video version of this review, should you prefer to learn about these running shoes that way. If you enjoy the video please do give it a 'like' and consider subscribing to our YouTube channel for more running shoe reviews just like this one, doing this really does make a difference to us, and we appreciate your support!
Read on for a more detailed look at the features I love, and how they benefit running performance.
They're very lightweight
I'm going to start by talking about their weight, which is 8.2oz (232g) for a size US(M)9. OK so this isn't a feature so to speak but man does it really affect performance of running shoes.
I always love running in lightweight running shoes because they allow your feet to turn over much more quickly and also give you more efficiency over time whilst running because your leg muscles aren't carrying as much weight.
So overall, I really love the feel of these running shoes because of the weight, but also how well that weight works with the responsive cushioning in the midsole; more on the midsole and how it affects performance in just a bit.
The knit upper material is sustainably made, breathable, soft and provides a secure fit
It might sound like a bit of a cliché, but when you put on the Launch 10 they really do feel like they are hugging your feet, and I put this down to the really soft padded cushioning in the upper that's around the collar and the heel counter.
The footbed / insole, is also nicely cushioned which helps carry that cloud like feeling over to the bottom of your feet as well as the top.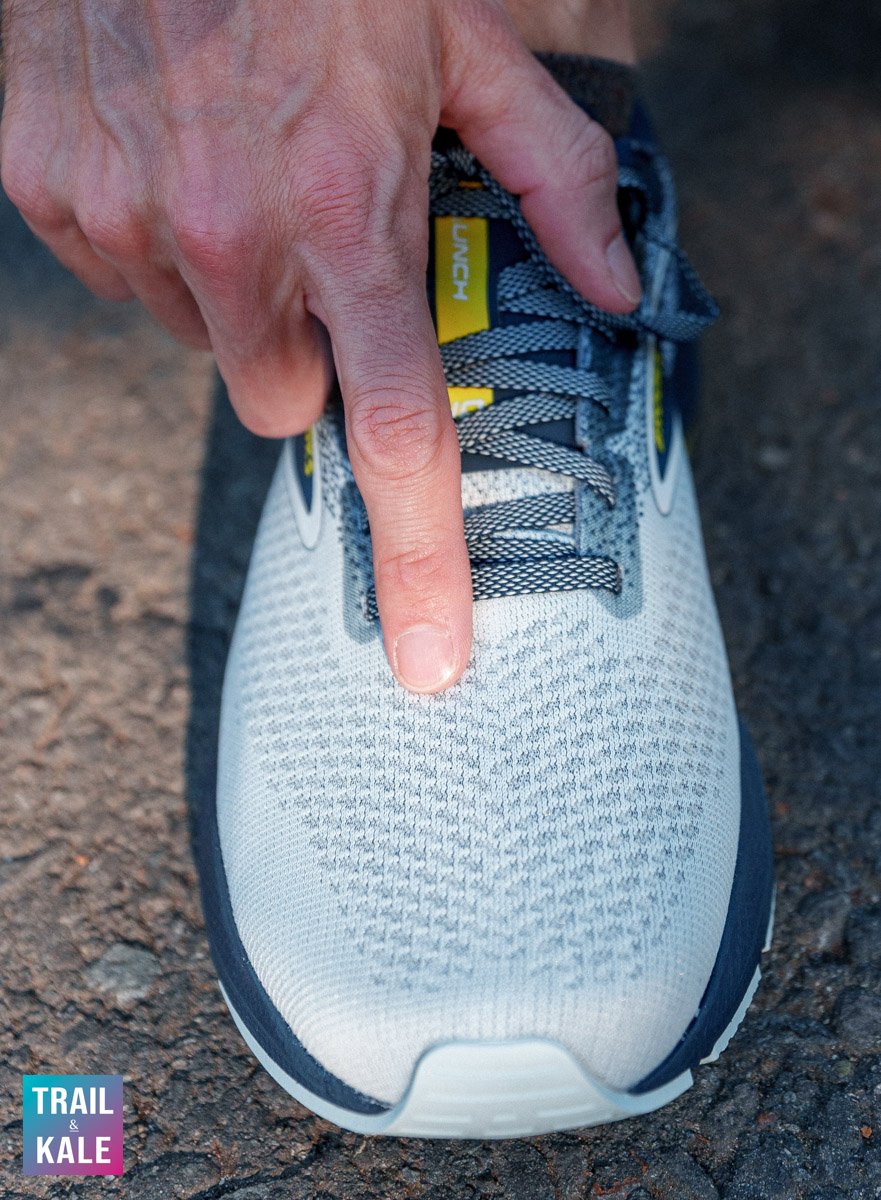 The Warp knit upper also gives your feet a nice secure fit, and whilst I'm talking about the fit I just want to say how effective the lacing system is.
The lacing system is very traditional, but it just works and the shoes feel really comfortable on top of your feet, and it's very easy to get a secure fit with these laces.
There is a little bit of stretch in the knit upper and I definitely feel the breathability doing its magic, meaning my feet are able to regulate temperature properly within the shoe whilst I'm running at speed
It's important to realize that these are not supportive running shoes, yes, they are entry-level shoes in the Brooks Running speed lineup but they are not targeted at entry level runners who need support; they are for runners who simply want to run fast without the need for additional support.
If you feel you need extra support in terms of lateral roll or pronation, but still want to benefit from these entry level speed running shoes then I would recommend looking at the Launch GTS 10, which is the support version of these shoes.
The other feature that I really like in the upper is the articulated heel counter, heel support that slopes backwards.
This is a feature I'm always a fan of in running shoes as it makes them easy to slip on but also stops there being any pressure on your achilles when running.
The upper also features 59.1% recycled materials which is a huge positive for eco-conscious runners like ourselves.
Brooks DNA midsole foam is responsive and cushioned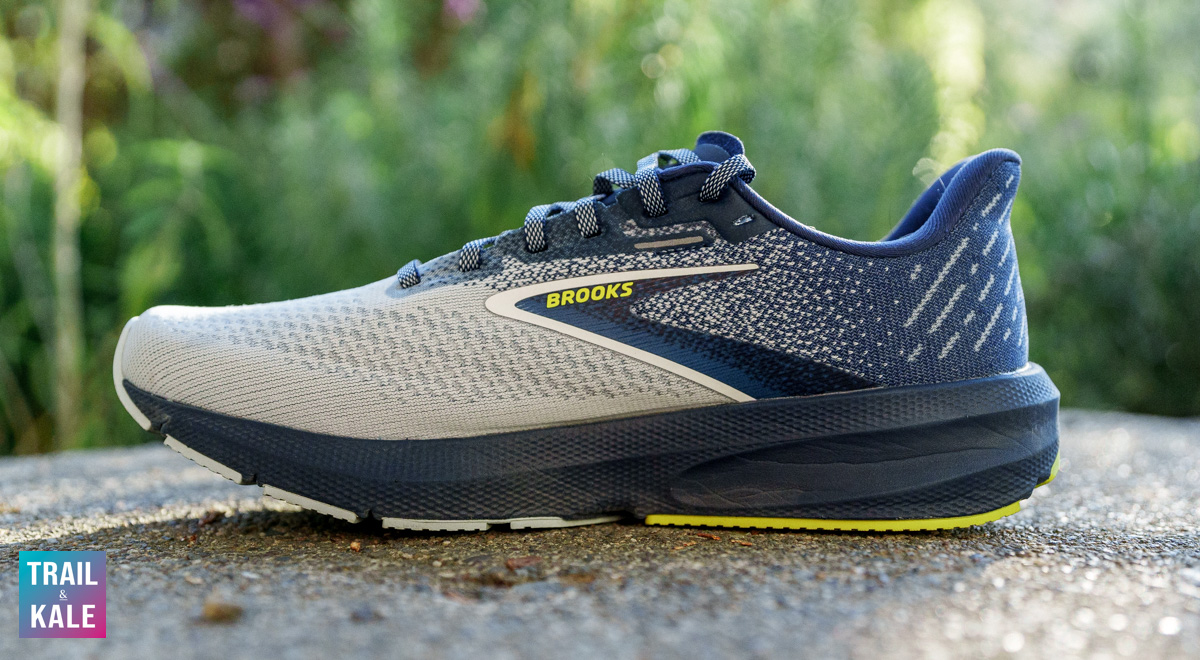 DNA LOFT foam is all about achieving that plush, cloud-like feel without piling on extra weight or compromising on durability, sounds like a dream, right?
At its core, DNA LOFT is a cocktail of EVA foam, rubber, and air – yes, air! These elements work together to give you that ultra-soft cushioning that doesn't feel like you're dragging bricks along with you for your run.
With each update, Brooks keeps stepping up their game. Their latest version, DNA LOFT v3 (used in the Glycerin), even incorporates nitrogen into the mix. Imagine that – nitrogen-infused cushioning that's lighter, softer, and more responsive than ever before.
They have managed to do this through some fancy science involving supercritical foaming and large-cell foaming processes. Basically, they heat liquid nitrogen until it turns to gas and infuse it into the DNA LOFT cushion.
This results in a midsole that's soft, but also incredibly lightweight and efficient in terms of energy return.
Compared to other Brooks midsoles, DNA LOFT is the go-to for those who crave that soft, cushioned feel.
This lightweight foam makes running feel cushioned and effortless thanks to how little extra weight the midsole adds to the overall weight of these super affordable running shoes.
The outsole provides grip and stability
The outsole rubber compound and tread pattern provides very good traction when running fast and appears to be holding up very well so far; this high level of durability is what I've come to expect from Brooks over the years.
Here's a closer look at the outsole towards the forefoot:
Some features that I feel could be improved
I have been on a number of runs in the Launch 10 now, and quite honestly have been finding it difficult to find many downsides to this super affordable running shoes.
The only area that I believe could benefit from a refresh would be the tongue, and that's not to say the tongue is bad, it's just very short.
The tongue has enough padding to protect the top of your feet from the pressure of the laces when they're secured but I do think a longer tongue would make them even more comfortable and would make it less susceptible to slipping down.
Who is the Brooks Launch 10 for then?
If you're a runner looking for a high-quality shoe that doesn't break the bank, then these might just be your new go-to tempo running shoes.
They offer a budget-friendly price tag without skimping on performance, making them an excellent choice for beginner runners to seasoned pros who want an affordable shoe in their rotation.
For those who prioritize a lightweight, responsive shoe, listen up; the Launch 10 shines in this department. These are the kind of trainers that can handle anything from your easy Sunday jogs to those equally important tempo runs.
The lightweight design allows for quicker foot turnover and less muscle fatigue over time, so you're getting efficiency paired with comfort.
The Launch 10 is pretty accommodating when it comes to foot shape, especially if you have a neutral or medium arch and a medium-width foot. They're versatile in fit, making them accessible to a wide range of runners.
For the eco-conscious among us, these shoes have another perk: the upper is made from 59.1% recycled materials. This is a solid win if you're trying to minimize your environmental impact while still snagging a pair of reliable running shoes.
The Launch 10s also cater to those who have a need for speed but don't necessarily require added support features. These shoes are part of Brooks' 'speed' category, and they're designed to let you focus on your pace without feeling weighed down by unnecessary add-ons.
If, however, you do find yourself in need of a bit more support, you might want to check out the Launch GTS 10, which is the supportive sibling in this shoe family.
---
Are they worth your hard earned money?
100% yes, at just $110 from brooksrunning.com the Launch 10 is an absolute bargain!
If you fit into the category of runner described above and you're looking for extremely affordable running shoes to clock your daily miles in, then you really can't go wrong with the Brooks Launch 10.
You get incredible value for money with these entry level performance speedy running shoes.
---
Brooks Launch 10 review summary
Brooks Launch 10 review
PROS
At $110, you're getting a huge bang for your buck that feels more like a $150 shoe.
At just 8.2 oz for a size US(M)9, it's like you're running on air.
The DNA LOFT foam offers a cloud-like feel without sacrificing performance.
Great for everything from easy jogs to tempo runs, making it a fantastic all-rounder.
No sizing gymnastics required, just order your usual size.
A breathable stretch knit upper means your feet will thank you on those long runs.
With 59.1% recycled materials, it's a win for you and the planet.
The outsole offers excellent traction, meaning no accidental slipping when you're pushing the pace.
The durable construction feels solid, something that Brooks consistently delivers on.
CONS
While not a dealbreaker, a longer tongue could make the fit even more snug.
If you need more support for pronation or lateral roll, consider the Launch GTS 10 version instead.
➡ I hope you enjoyed reading this Brooks Launch 10 review; As always, your thoughts and experiences with these shoes would be awesome to hear, so drop a comment down below and let's keep this running community thriving! 🏃‍♂️💚
Join our Strava club too, and be part of the joy that running brings to our lives. Happy running, friends!
Follow us on Instagram for some behind the scenes reels of the Trail & Kale team testing new running gear, and other running lifestyle shenanigans.
---
Brooks Launch 10 photo gallery