This Olukai sandals review takes a look at the key features, pros and cons of their Hawaiian-inspired men's and women's Ohana flip flops.
ADVERTISEMENT
Olukai is a values-led footwear company focused on creating quality men's and women's beach sandals, shoes, and slippers with sustainability in mind. Their footwear is well-made, uses sustainable materials, and doesn't need to be frequently replaced, making it a more sustainable buying choice.
I was curious to try out these Ohana sandals, as I kept seeing them online and on other people's feet at the beach and campgrounds, and was wondering what makes them so popular.
At a price point of $75, they're not the most expensive beach sandals out there, but worth researching before you buy, to ensure they're suitable for your needs. Hopefully, this review is helpful to you in deciding whether they're the right sandals for you.
Keep reading to the end of this review as I've also included a YouTube video review that shares more insights about these Ohana sandals from Olukai.
---
Olukai Ohana Sandals – key features
The Ohana flip flops (or, as some may say, 'thongs' – oohh naughty!) are designed to be sandals you can wear every day in warm weather. This includes everything from that dream Hawaiian beach vacation to just around your home and town during summer.
The key features of these sandals are:
Compression-molded EVA foam midsoles – the footbed is contoured, rather than just a flat piece of rubber or foam, and it's intended to provide underfoot support for wearing over long periods. EVA foam is used in a lot of footwear, including running shoes.
Non-marking rubber soles with traction ridges – designed to provide good grip on both wet and dry surfaces
Water-resistant synthetic leather straps, with a soft lining – these look and feel like leather sandals, but they're vegan
Toe post – A soft nylon webbing between the first two toes (the toe post).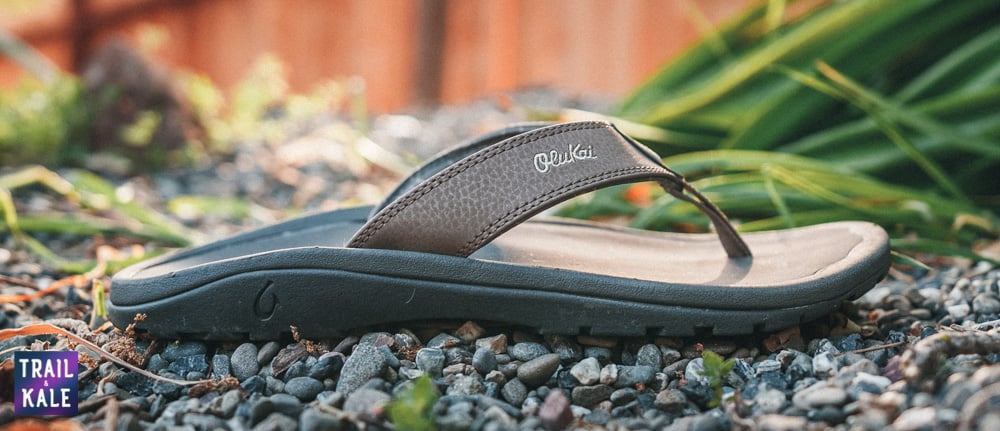 All these features make them a versatile choice of summer footwear, especially if you're looking for some slip-on open-toe sandals you can take camping, to the beach, boating or for vacations and travels, that won't wear out within the first couple of weeks of wear.
It is worth noting, however, that the Ohana sandals are not 'waterproof', but they are water-resistant. This means you can get them wet without worrying about it, and they dry out pretty quickly, as the only material that really holds water is the jersey knit material on the underside of the strap.
The sole and toe-post dry out very quickly, and traction isn't particularly compromised if you're wearing them to walk somewhere wet.
That being said, there are more suitable options if you're looking for sandals that you plan to get very wet, very often – for example, if you are looking for footwear to take stand-up paddleboarding.
The tread on the outsole of the Olukai Ohana sandals is super grippy and I put that down to the rubber used but also the pattern of the tread is so detailed – It just works! See image below for the tread pattern.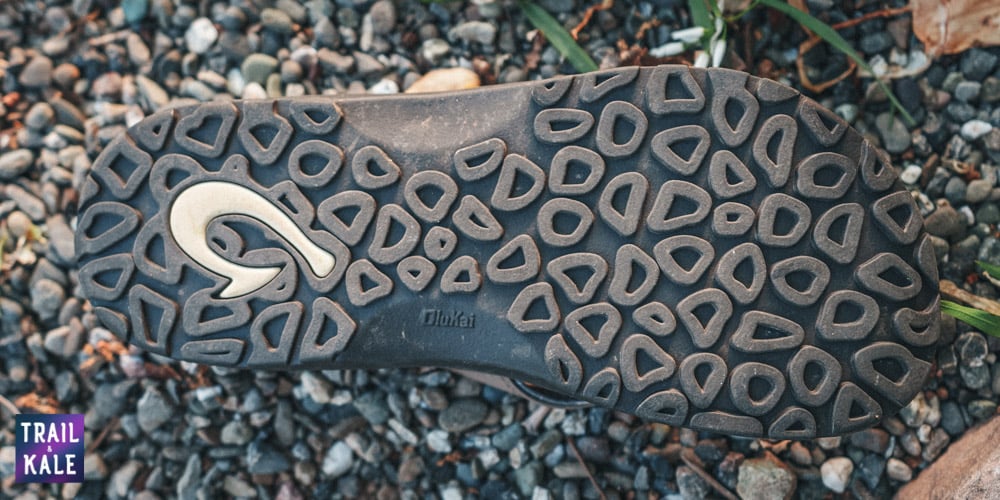 ---
Olukai sandals arch support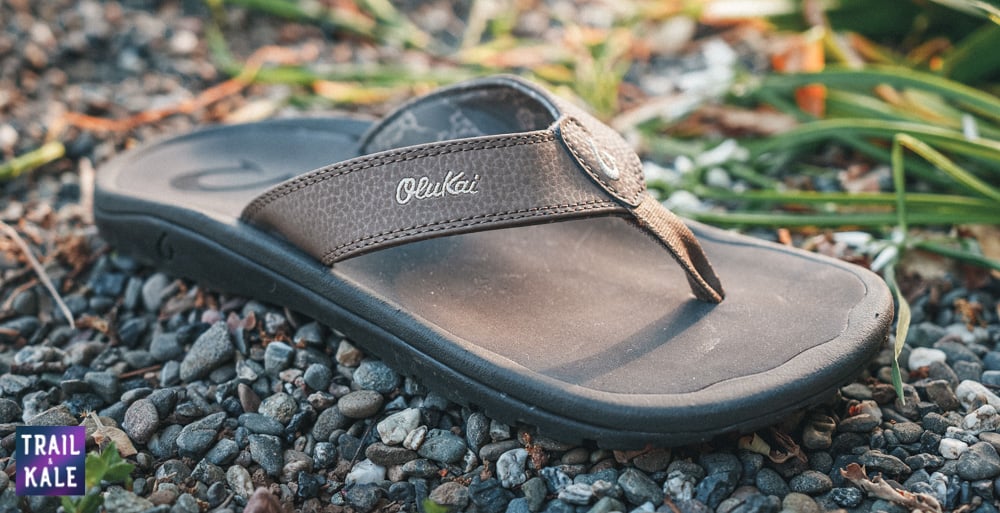 One of the big appeals with these Olukai flip flops, and why they're so popular with people of all ages, is the comfort they offer for wearing all day.
Many people can get away with wearing basic flip flops all day, but for many of us, standing all day or walking around for long periods running errands with no support in your footwear can lead to aches everywhere from your plantar fascia (bottom of your foot) to your Achille's Heel, ankles or even your back!
These sandals have a more molded and shaped footbed than most slip-on beach-style summer footwear – this is part of the reason you pay a premium to buy them.
This midsole provides a good amount of arch support, as well as general responsive support and protection from hard surfaces, whether that's hard floors in or around your home or workplace, or for walking long distances throughout your day at the beach or on vacation.
I've personally found that wearing my Olukai sandals (and sometimes also my Olukai Maloa Hulu slippers) around the house during the day has helped to alleviate Achille's Heel aches that I recently picked up while ramping up training for an ultramarathon trail race in Switzerland this summer.
The Ohana flip flops are described on the brand's website as being a wide fit, which is why they're considered by many to be the best Olukai sandals for wider feet.
I have normal-width feet and haven't noticed that they're overly wide (see images in the photo gallery below), but did learn that they're the widest of Olukai's sandals available at the time of writing this review, so that's worth knowing if you feel you have wider than normal feet and are trying to choose between the Ohana and other styles they offer.
---
Foot and toe post comfort and fit
When you choose a new pair of flip flops it's important to ensure that the strap and toe post (that goes between your big and second toe) are comfortable. If they're too tight, or otherwise have even the smallest rough edge, this can cause rubbing and blisters when you wear them over long periods.
These men's Olukai sandals slip on and were, in my experience, comfortable right out of the box.
Helen also finds the women's Olukai Ohanas very comfortable (and she's very picky when it comes to footwear, on account of past experiences with running blisters).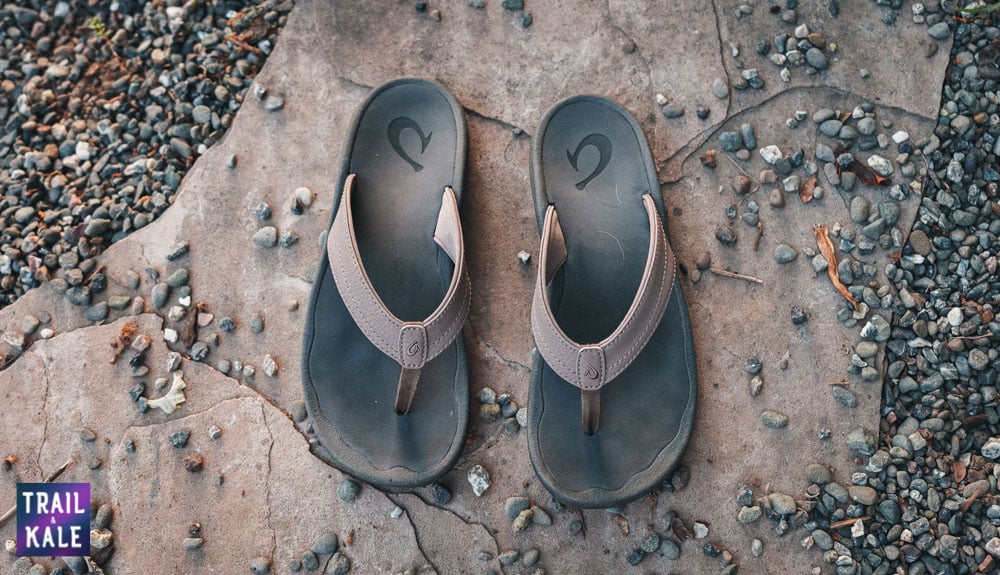 ---
Choosing the right size Olukai sandals
The Ohana flip flops are available in whole sizes, not half sizes.
I'm a size US 9 in men's sandals and Helen normally wears women's US 7.5 shoes, so she opted to size down and order the size 7 sandals.
They fit her really well and it hasn't been an issue at all for her, so if you're between sizes my suggestion would be to try for the size down, rather than going up a size.
---
Ohana sandals color options
Both the men's and women's versions of these sandals are available in a range of color options. Most have a dark brown or black footbed, and there's a range of brown, black, blue, tan, and brighter-colored strap options to choose from.
We both went for the darker brown/tan color option, which is a versatile choice if you plan to wear your Olukais with a range of casual and smarter outfits, including jeans as well as shorts and beachwear.
---
Olukai Ohana Sandals Video Review
---
Cost and where to buy Olukai flip flops
A variety of retailers sell Olukai footwear online and in-store across the US and Canada.
REI and Zappos are two of the most reliable online stores that offer a wide selection of colors and sizes for both the men's and women's Ohana sandals, including free shipping and generous return policies (not that I think you'll want to return these sandals – they're just too good not to keep).
This style of Olukais (the 'Ohana sandal') retails for USD $75 at REI, and is sometimes included in REI member sales and discount events offered by Zappos. The buttons below will take you to their sites to check the latest prices:
Last Amazon price update was: 5th February 2023 8:00 pm
---
Olukai Review summary
Olukai Sandals Review
PROS
Very comfortable and supportive footbed
Versatile slip-ons for everything from the beach to casual dinners
Wide choice of color options
CONS
Expensive compared to other beach flip-flops
Only available in full sizes
Made in China (not Hawaii, as the marketing would lead you to believe)
---
Olukai Ohana Sandals Review Gallery