The third generation Cloudventure has been given a big design overhaul which brings many welcomed improvements that I can't wait to share with you in this On Cloudventure review. I have now run enough miles in the new Cloudventure to be able to share some deep insights about how they perform on the trails. Interested in getting up to 40% OFF On running shoes? Visit On's Classic range page to see their latest deals.
To know how a trail running shoe stacks up against the competition I like to take them for a spin on one of my favorite mountain trail routes which has a ton of variability along the way.
I've included a video of the run at the end of this review – it also shares some really insightful first impressions so definitely watch that after reading this.
The route covers around 10km, 300m of elevation gain, rocks, forest trails, and a long downhill section, making it the perfect course for testing trail running shoes.
Choosing a route that takes me just over an hour is also enough time for me to get to know the shoe, uncover the obvious pros/cons and of course whether or not it's comfortable enough to wear straight out the box for the average trail run.
---
RELATED:
---
On Cloudventure Fit & Design
The On Cloudventure shoes are certainly comfortable to wear. I did notice, however, that they are slightly narrower around the mid-section and toe box area, when compared with other On running shoes.
So if you have wider than average feet then I would recommend you stop reading this review and head over to my On Cloudultra shoe review instead.
The Cloudultra will be a much better trail running shoe for you.
The Cloudventure fits true to size and is consistent with the rest of the On running shoe range.
I really like the two-tone design on the new On Cloudventure, it's sleek but also shows some flair that will probably get people asking what shoes they are if they're unfamiliar with the On running brand.
It's a similar design to the previous generation, and I'm glad they kept it.
Upper construction
I love that 80% of the polyester used in the upper is recycled. This shows On's continued effort to become one of the most sustainable running brands out there – kudos to On for this.
The mesh material on the upper is very durable and made from a material that resembles and feels like ripstop. It's not waterproof but it will keep your feet warm on dry cold days.
That said, On does market the upper as being very breathable, however, I found it wasn't that breathable when I ran on some very hot days here in California.
That said, the Cloudventure will keep your feet protected from cold wind and low temperatures when running in the Autumn/Fall months.
If you're looking for the waterproof version of this shoe, it's called the On Cloudventure Waterproof and definitely worth looking into for those extra wet trail runs.
There's also a plastic coated toe box that's strong enough to protect your toes from most accidental rock kicks from frontal attacks, which is very important to have while out on the trails.
The toe bumper extends all around the shoe into a support strip that runs all the way around the bottom section of the upper – this helps the shoes keep their shape and offers additional support while running.
Looking toward the reinforced lace hole section that the laces thread through, it's clear that the upper has been built to last.
More padding has also been added to the new On Running Cloudventure to support and secure your heel.
This really helps when you're going to be out on the trails for hours at a time.
Comfort is king in any long distance trail shoe and the Cloudventure has a medium plush midsole which makes them good for long runs but if you're into ultrarunning then go check out the Cloudultra that I mentioned earlier – they have even more cushioning and a fantastic long distance trail running shoe.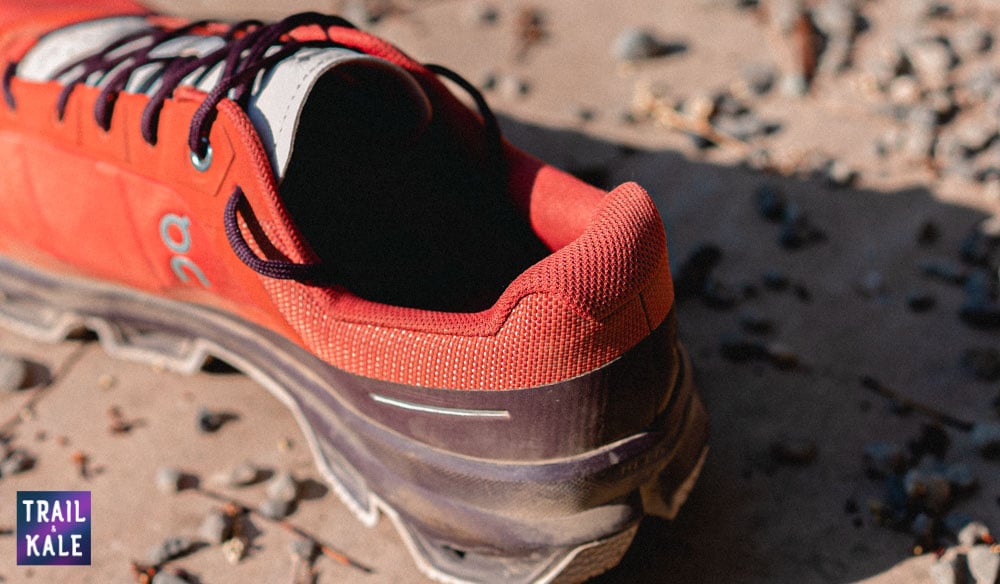 Looking to the heel cage at the rear, you'll notice that 360 degree support strip again that helps holds the heel in place. I like that this support leaves space at the top as to reduce any potential pressure points on the Achilles heel.
I've had issues with my Achilles in the past so I can confirm that the On Cloudventure feels good in that area.
Cloudventure Inner construction
There's an inner sock of sorts that attaches the tongue to the forefoot area, similar to the On Cloudsurfer, Cloudflow, Cloud X, and Cloudace – all of which are road running shoes.
This keeps the tongue in place and prevents most debris coming between your foot and the shoe walls. It also reduces the risk of chafe as there are fewer seams inside.
Tongue & Laces
The tongue is very slim but padded enough to provide protection when the laces are done up tight.
The laces, also provide a small amount of stretch, allowing your feet to expand and contract as they heat up and cool down during a trail run.
Having a slim tongue like this also reduces unnecessary weight above the foot.
Midsole, Outsole and the new slingshot Speedboard
The slingshot Speedboard is another big update for the Cloudventure, and what it does is essentially give you a better response when taking off from the ground.
The speedboard which runs along the top of the midsole is a firm yet a springy piece of material that literally slingshots you forward as it springs back into place after being bent.
The midsole is using On's Helion superfoam which you can find in most of On's new shoes. It's their flagship foam that gives improved cushioning and responsiveness for many many miles.
The outsole has a shallower gully down the middle which gives much better control than the previous version.
The outsole also combines multiple grip patterns so you can stay in control as conditions around you change and the improved traction pattern of triangular channels combine with flatter details to prevent slipping on smoother surfaces.
The triangular tread does wear down fairly quickly when running on a lot of buffed, hard rocky terrain, so I'll be keeping a close eye on that over my next few runs.
The most fun part of all On running shoes is the cloud pods that give you that feeling of a cushioned landing, as they compress under your weight and then provide a barefoot take-off as your foot leaves the ground and the pods spring back.
It's a really innovative and effective system!
The On Cloudventure takes that system one step further by combining On's Zero Gravity cloud elements with a grip overlay that adds trail-level toughness to the unmistakable sensation of running on clouds. This means you can own the downhill.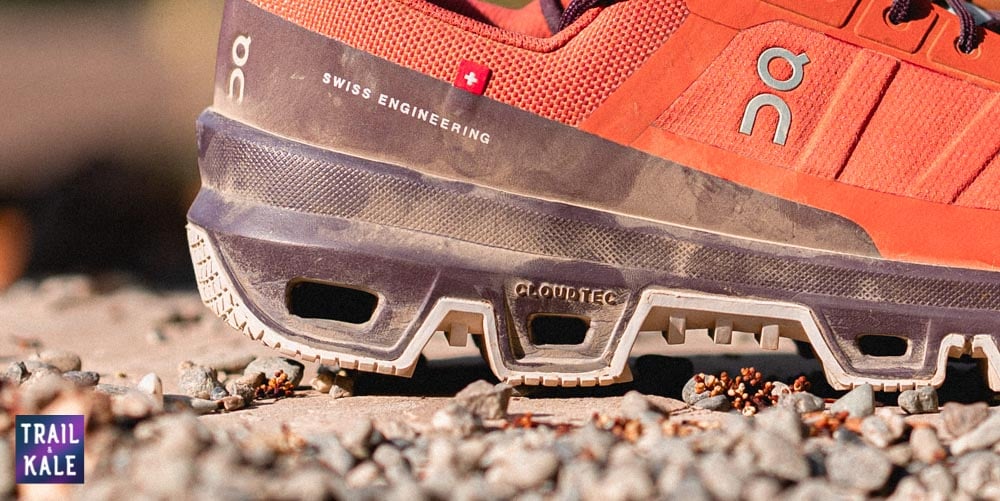 If you haven't tried "Running On Clouds" before, I recommend you give it a try! CloudTec is one of On's innovations that truly helps me run faster.
Drop & Weight
There's a drop of 6mm from heel to toe which seems a popular number with On shoes. It feels like a happy medium for runners who like a minimal drop and others who prefer a much larger one.
I'm a fan of keeping the drop as low as possible as it helps to improve my running form due to the more natural footfall.
Weighing in at 310g (10.93oz) the Cloudventure is 15g heavier than its predecessor, but when running it feels the same.
This is not that heavy considering all the protection you get that's essential for most runners on the trails. If you're after an even lighter shoe from On, check out my review of the Cloudventure Peak.
The On Cloudventure has a neutral running footbed which will suit most runners with an average arch height.
If you do feel you need extra arch support then I would recommend getting yourself a pair of good running insoles to help improve comfort and running form for those who need the extra support underfoot.
Toe Box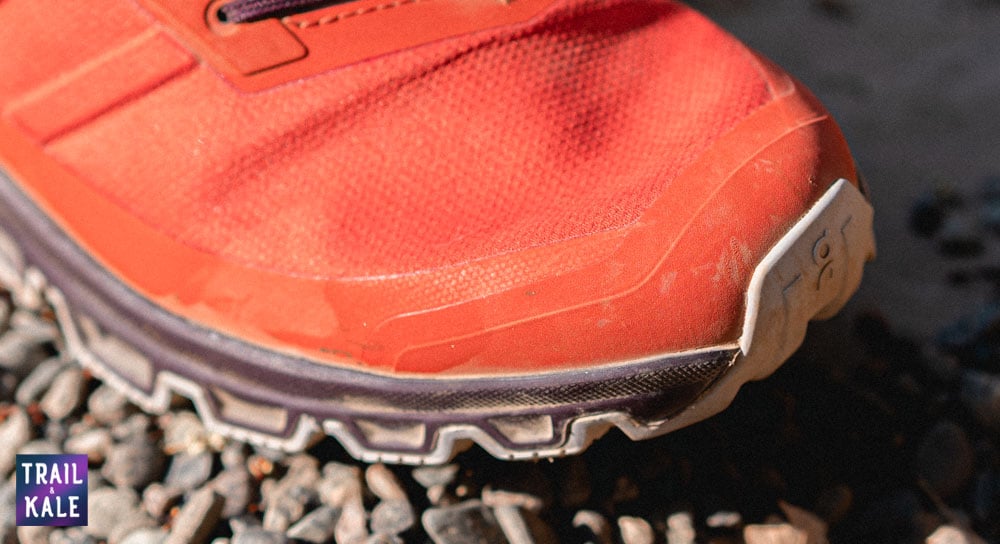 The toe box is a medium/narrow width so if you have wide feet, these probably won't be for you – see the Cloudultra instead.
---
On Cloudventure Video Review
---
Where to buy
The On Cloudventure (3rd Generation) can be purchased for $149.99 (£135) at the On Running store.
I'd recommend the On Running website as they tend to have more stock available with more color options available to choose from.
The 'On happiness' customer service team is also very accommodating should you ever need to contact them to order a different size, or get a replacement for example.
---
On Cloudventure Review Summary
On Cloudventure review
Pros
Aggressive new outsole and tread is great for hitting trails hard
fairly lightweight
They climb very well
Great cushioning for running down hill.
durable upper construction and good all round protection
a good choice for colder Autumn/Winter runs as the shoes have good wind protection and keep your feet warm.
Cons
toe box could be a little wider
material used for upper isn't very breathable
the fine tread on the outsole could be more durable
could be lighter
Being able to go for a challenging one hour trail run in the On Cloudventure for their first ever use, is a real testament to their 'out-the-box' comfort.
The new outsole and speedboard is a great success and much improved from their previous designs. The shoes are cushioned enough for long days out on the trails yet light enough to not be a burden when 'time-on-feet' starts racking up.
So, if you're looking for a trail running shoe that has a great all-round capability, including good performance on ascents and descents, is lightweight, breathable and offers good protect and support, then the On Cloudventure is the trail running shoe for you.
Interested in finding out how they compare with On's other trail running shoes? Read this post next: Best ON Running Shoes: On Shoes Reviewed.
---
On Cloudventure review gallery