The On Cloudflow is back with yet another new design that gives these popular running shoes a similar feel to the previous generation but with definite improvements. Interested in getting up to 40% OFF On running shoes? Visit On's Classic range page to see their latest deals.
This in-depth On Cloudflow 3 review focuses on the key features of these running shoes, how well they perform while running, and as always how well they rank against other On running shoes in our Best On Running Shoe Reviews Buyer's Guide.
While the new On Cloudflow looks quite similar to the 2nd gen, it's a very different beast. It feels just as responsive and cushioned as the previous model, thanks to the same Helion outsole and springy speedboard which sits above it.
But this new Cloudflow has a much better upper, made from 70% recycled polyester, which makes it better for the planet too.
The On Cloudflow is very much a 5k, 10k and half-marathon running shoe for fast training sessions and races, but those who enjoy running marathons in a more minimal running shoe will also enjoy these.
If you're after a highly-cushioned On running shoe for marathons or road ultramarathons, have a read of my Cloudstratus, Cloudace, and Cloud X reviews after this one, or if you're a serious marathon racer, the On Cloudboom Echo is the shoe that will get you hitting personal speed records.
And if you're simply looking for the top-performing running shoes available right now, read our best running shoes buyer's guide next.
---
Hopefully, this On Cloudflow 3 review answers all the questions that you may have but if not, please feel free to ask me anything in the comments section down below, I usually respond within a few hours – or for a faster response, ask me on Instagram.
---
On Cloudflow Sizing and Fit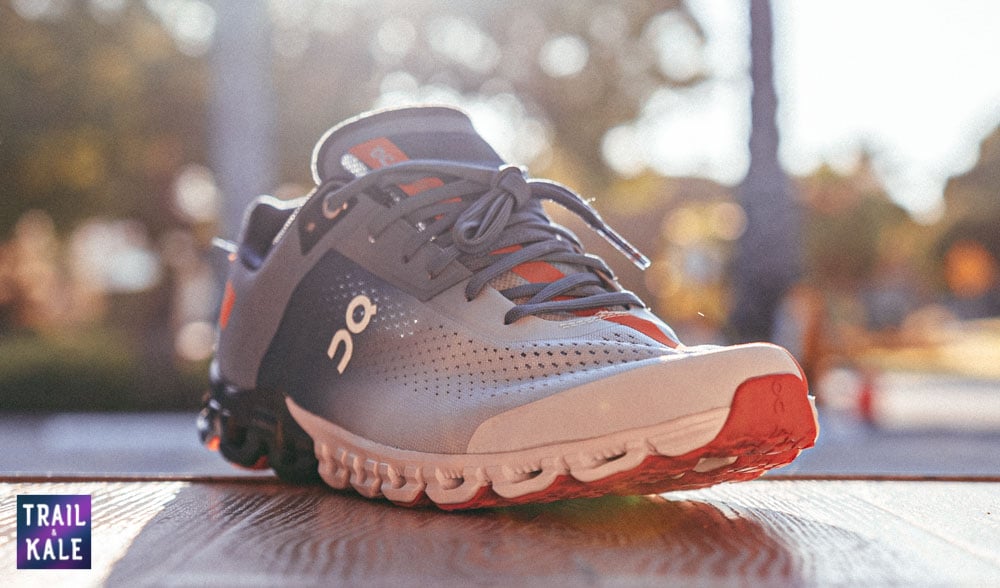 If you're familiar with On running shoes then you probably know they generally feel comfortable right out the box, the On Cloudflow is no exception. Much of the comfort comes from the cozy inner layer of the upper.
The internal sock (just about visible in the photo below) that is attached to the sides of the tongue also adds to the overall comfort as it helps the upper wrap around and conforms to your feet.
This also reduces the chances of any chaffing and blisters.
These running shoes fit true to size relative to other On Running shoes and other popular brands like HOKA, Nike, Adidas, and Brooks Running for example, so there's no need to size up or down, go with the size that you're used to.
The On Cloudflow Upper Construction
The upper is very breathable with ventilation in the right places to keep your feet cool while running fast in hot weather.
There's also some stretch in the upper too, which helps keep your feet comfortable as they expand in the heat of your run.
I really like the elastic strap on the tongue (which was also present on the 2nd Generation Cloudflow) which is for securing your laces one tied up (see image below).
This loop is very useful because in the past, anyone with average to slim feet would have had to deal with excess laces flapping around during a run unless you tied a double knot.
The materials get thicker and more cushioned towards the rear for additional heel and ankle support (see image below).
Looking at the image above you'll notice a solid plastic strip that acts as a heel cage, designed to lock your heel in place and reduce lateral foot roll when running in the On Cloudflow.
This gives a really stable yet responsive feel while running fast, particularly when you need to dodge people in crowded places.
The Helion midsole
The podium-topping Cloudflow shoe loved by many elite athletes still has the latest cushioning tech from On, Helion superfoam.
Refined with input from world-class triathlon and running athletes the Helion superfoam midsole provides a really smooth ride, soft landings and very explosive take-offs.
With the new Cloudflow (3rd generation), you can expect more kick, more speed, and more comfort over shorter runs.
On does say that they recommend this shoe for Marathon running too, but in my opinion, it's quite a minimal feel and your feet may prefer these for fast half marathons.
If you are used to running long distances in lightweight minimal shoes though, these are definitely for you.
On's Speedboard combined with this Helion midsole make the On Cloudflow a very cushioned shoe that will inevitably allow you to run faster than you may be used to, solely due to the fact that your feet will feet comfortable and as such you'll want to push harder.
The Cloudflow outsole rubber compound and tread formation have been updated too. The tread is now in an advanced traction pattern that offers much better grip on wet roads. Something that is required on some city sidewalks.
Cloudflow weight and drop
The On Cloudflow weighs 238g / 8.4oz, 3 grams heavier than the previous version, which is such a small number that you won't even notice a difference – it's still a very lightweight running shoe.
There's a drop of 9mm from heel to toe which actually feels closer to 4mm, I don't know why but it just does. Helen and I both thought the same.
The On Cloudflow has neutral running stability which means that they'll feel good on most people but there is definitely a subtle amount of arch support/cushioning in there, which feels more pronounced than other On's but I like how it hugs your feet nonetheless.
If you do feel you need extra arch support then I would recommend getting yourself a pair of good running insoles to help improve comfort and running form for those who need the extra support underfoot.
Toe Box
The toe box is medium/normal width and feels airy due to the very breathable upper material.
Roger Federer wears the On Cloudflow for running
If you didn't know already, Roger Federer has joined the team at On Running in an effort to collaborate and help shape the future of research and development of the Swiss running brand.
Roger will use his unique experience to help take product development, marketing, and fan experiences to new levels. This is very exciting news for the direction of the brand.
How and why did they become partners? Roger was spotted wearing On shoes around the world, by the On team, and so they reached out, not in the traditional sponsored athlete sense, but more of an entrepreneurial collaboration between them both.
I suppose Switzerland is a relatively small place and it makes sense for two such powerhouses in design and sport to collaborate at some point!
Roger's first On Running shoe, aptly named the On Roger, are the tennis shoes you'll see him wearing at Wimbledon, the US Open, French Open, and other world-class tennis tournaments.
Final thoughts and where to buy
In summary, the On Cloudflow is one of the best lightweight running shoes for running races of distances between 5km and the half-marathon – Find out how they rank on our On Running Shoes Buyer's Guide.
Marathon runners who enjoy minimal running shoes will have a lot of fun in these responsive shoes too. The toe box is airy and of a medium width and the midsole has the enjoyable Helion foam that responds well to fast running, on hard surfaces.
The upper is really breathable and I love how the material stretches and conforms to your feet while you run.
The upper is a big improvement over the original Cloudflow too, with it being made with 70% recycled polyester. These are currently my go-to running shoes for tempo runs.
At $139.99 the On Cloudflow is very well priced for such a durable and high-performance training and racing shoe.
---
On Cloudflow 3 Review Summary
On Cloudflow Review
PROS
Very comfortable on runs up to half-marathon. Marathon runners who enjoy minimal shoes will love these for Marathons too.
Comfortable out of the box
Very lightweight (8.4oz / 238g)
Elastic strap on the tongue for stowing laces
Very breathable
CONS
A little minimal in the midsole for long distance running
---
Cloudflow 3 Image Gallery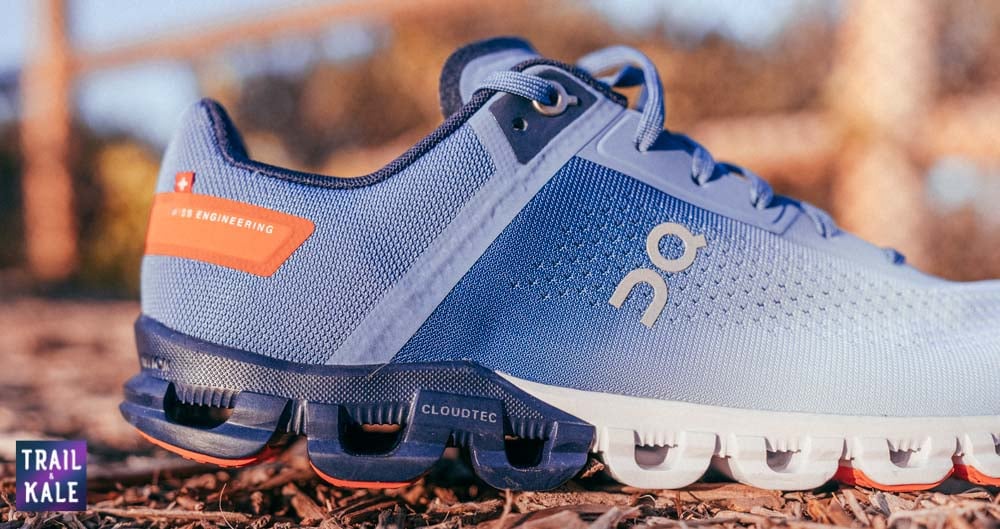 ---
Jump over to our Best On Running Shoes Ranked and Reviewed buyer's guide to find out how well the Cloudflow 3 ranks against other On running shoes, HINT – They're rocking it!