Introduction
Welcome to our selection of the best 50k trail running races to have on your race bucket list! We've hand-picked 50k ultramarathon races held in a mixture of terrains and countries: wherever you live in the world, these are worth traveling for.
It's so exciting to see more and more great 50k ultrarunning races being introduced, and new distances being announced at existing trail running festivals. 50k is one of our favourite distances to run when we're looking for a big full-day challenge. We have run most of these races ourselves and can recommend them first-hand.
Broken Arrow Skyrace, Lake Tahoe, California
The Broken Arrow Skyrace is the closest you can get to a European Mountain Running festival without actually being in Europe. With bags of vertical gain and loss, some tricky terrain, snow, altitude and cow-bells, the organizers put on an excellent trail running weekend in Squaw Valley Resort, Lake Tahoe. The weekend is topped off with the best race swag I've seen (only matched by Matterhorn Ultraks), which in 2018 included a fitted technical Salomon Tee, Kleen Kanteen Mug, Technical Trucker Cap and a beautiful wooden medal.
The 52k ultramarathon is two loops of a challenging 26k course around the Squaw Valley, complete with ladders and steps built into the snow to keep you entertained. I ran the 26k last year and found the steep gradients and altitude made for a challenging skyrace – huge kudos to those tough runners who completed the 52k course!
Matterhorn Ultraks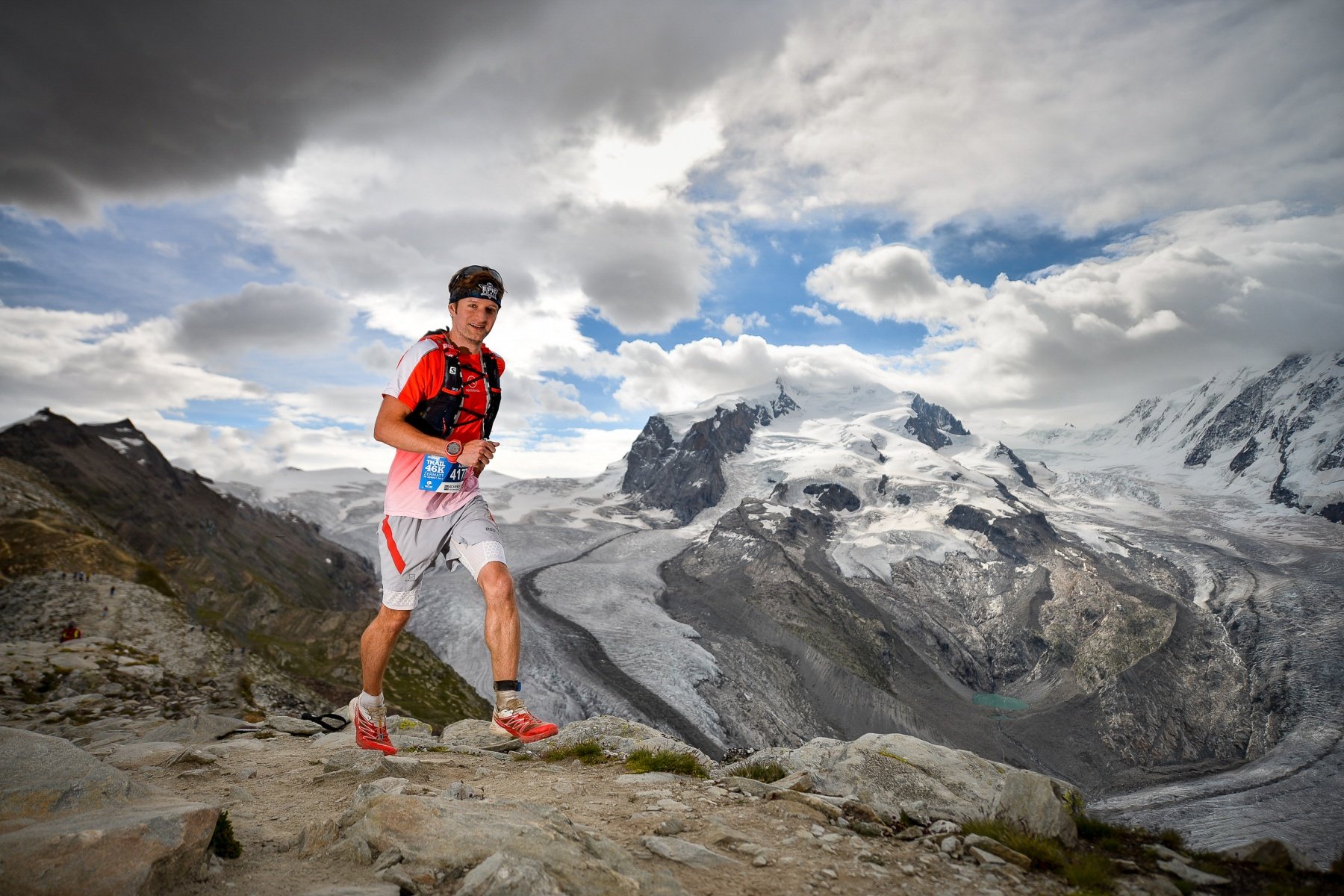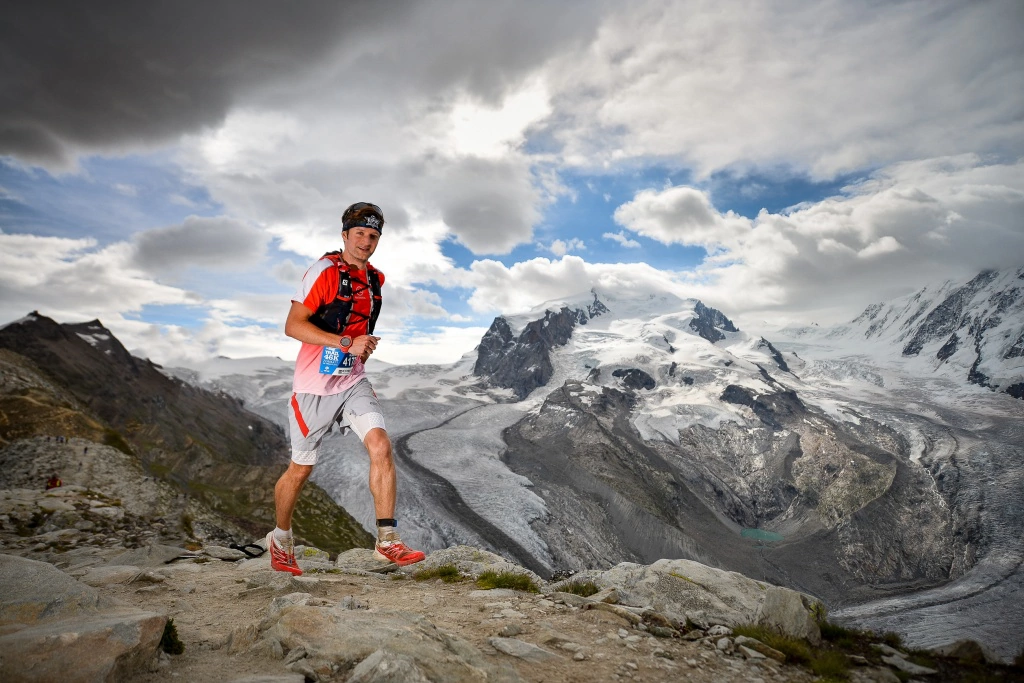 Another perfect looped mountain trail race, with bags of ascent, a touch of altitude, and epic Swiss mountain views. Ultraks 48k (and its shorter sibling races held on the same day) starts and finishes from the stunning mountain town of Zermatt, one of my favourite places in the world. It's also refreshing that this distance is the 'headline' event, and not the smallest in a range of ultras – it's more of a skyrunning festival weekend in Zermatt, compared to many of the other ultrarunning festivals which have 50k distance options.
The terrain is primarily buff trails, which are very runnable (when it's not too steep), which allows you to focus on admiring the scenery, including the most photographed mountain in the world, the Matterhorn itself. While the race is called the 48k (and maybe 49k long, not 50k), note the significant elevation gain – you'll want hiking poles for this one, trust me, unless you're great at climbing and have quads of steel for the 3,600m (11,800ft) of descent you'll do. Oh, and don't forget the spot-on Swiss organization and great race swag!
RELATED: Best GPS Watches for Ultrarunning & Trail Running
Rodeo Valley Trail Run – Marin, California
The Rodeo Valley Trail Run showcases the beautiful trails around northern California's Marin Headlands. Expect buff singletrack, Pacific Ocean, City (San Francisco) and Golden Gate Bridge views, and a friendly, well-organized event. Organizers Inside Trail put on many excellent and scenic trail races around the San Francisco Bay Area. We also loved the Table Rock 30k (beautiful Marin Mt Tamalpais trails), Woodside Ramble 50k (dreamy forest singletrack amongst the redwoods) and Knickerbocker Canyon 35k, which takes place on the Western States trail near Auburn, CA.
Tarawera 50k – Rotorua, New Zealand
Run amongst pristine lakes, waterfalls and forests of beautiful Rotorua on this classic forest trail race. Tarawera Trail Run weekend now offers a 50k (and 20k) option, as well as the more well-known ultra-distance races, with generous cut-off times and well-stocked aid stations. This is a must-do race for anyone who loves running in forest singletrack!
Distance: 50k
Ascent: 1,850m
RELATED: The Best Trail Running Shoes: The Ultimate Buyers Guide!
Volcanic 50 – Mt St Helens, Washington State
If you're after a type-2 fun day out then look no further than Go Beyond Racing's Volcanic 50. This race circumnavigates infamous active volcano Mt St Helens, located in Washington State, a couple of hours' drive from Portland, Oregon. As it traverses lava flows and the blast zone from its huge eruption in 1980, the trail disappears and you need to navigate boulder fields and loose-rocked gorges. To add to the challenge, you may get chased by bees en-route. It's a one-of-a-kind race, not for the faint-hearted but a big achievement if you complete it, like our founder Alastair did in 2018!
Wondering what to wear for a 50k trail race?
RELATED: Best Running Races – Trail Marathons
Read more
Are you looking for more race inspiration – perhaps a slightly shorter distance? Check out these posts: