Stand up paddle boarding has become an extremely popular water sport, and for good reason, not only is it a super fun thing to do during the summer with friends, family, or solo but it's also a very accessible outdoor activity that literally anyone can learn to do, or at least have fun trying. With popularity comes choice and there are so many different brands, and types of paddle boards for sale. This stand up paddle board buyer's guide consists of two key parts:
ADVERTISEMENT
PART 1 | Best Stand Up Paddle Boards – this is a list of the best paddle boards and brands with paddle board reviews for each given scenario. For example, you may plan to use your SUP on the ocean, lakes, rivers, or all three – yes some perform better on different types of water. You may also plan to stand up paddle board with friends or solo, and if paddleboarding solo then you'll probably be better suited to getting an inflatable paddle board for its portability benefits. Yes, there are many different types of SUPs to choose from but don't worry, this section will make it quick and easy to find the right SUP for you.
PART 2 | Buyer's Guide – this is a complete guide to stand up paddle boarding, including topics like what is paddle boarding, how to paddle board, how to choose the best SUP including what size, and whether you should get an inflatable or solid paddle board (fiberglass/foam), what to wear paddle boarding, how to find the best places to paddle board near you, and also some advice on paddle board rental, and reputable places with paddle boards for sale that are used but have been refurbished like new.
---
PART 1: THE BEST STAND UP PADDLEBOARDS
---
The Best Stand Up Paddle Boards
BEST OVERALL: ISLE Pioneer Inflatable Paddle Board
Length: 10'6″ | Width: 35″ | Thickness: 6″
Board Weight: 24lbs | Capacity: 285lbs
Type: Inflatable SUP
Cost: $645 on Amazon
Includes: 8′ safety leash / touring center fin / travel bag / hand pump / adjustable paddle
ISLE is one of the best stand up paddle board brands with affordable paddleboards, and the Pioneer is their best-selling paddle board. The 'ISLE Pioneer SUP' is also our pick for the best inflatable paddle board due to its impressive feature-set and capabilities on different water conditions. This paddleboard is also a great choice for beginners because of its 35″ extra-wide deck which gives it excellent stability on the water, important for anyone who thinks they may need a little help with their balance.
Some additional key features include a very large brushed traction pad in the center of the board which allows you to do more activities including yoga, bungee cords on the front and rear for securing your belongings, carry handles in the center, nose and tail, and two velcro straps to hold your paddle while not in motion. The board also has enough volume to also support a dog, child, or an additional rider. No matter your experience level, or intended use (lake, river, ocean), you really can't go wrong with this stand up paddle board.
---
BEST FOR BEGINNERS: Roc Inflatable Stand Up Paddle Boards
Length: 10′ | Width: 32″ | Thickness: 6″
Board Weight: 18lbs | Capacity: 350lbs
Type: Inflatable SUP
Cost: $399 on Amazon
Includes: Collapsable Aluminium paddle / dual action pump / detachable fin / safety coil leash / waterproof accessory bag / travel backpack
One of the best paddle boards for beginners, and not surprisingly, the best selling SUP on Amazon, is the ROC Alliance HD inflatable SUP. The Alliance HD is a truly remarkable paddle board for the price that offers something for everyone – it also happens to be the lightest paddle board on our list.
We particularly like how the board can take a large weight capacity for the size of the board itself; this means that the ROC Inflatable SUP is a great board choice for larger riders who may consider themselves heavier than average. Additional weight capacity also means you can bring extra gear, a friend, or a dog on the ocean, river or lake with you. The dual-action pump nearly cuts inflation time in half so you can spend more time enjoying the water – plus you'll be surprised how much easier you'll get your paddle board inflated compared to your friends with a single pump – they may have bigger muscles by the end of it though! 😉
---
BEST BUDGET UNDER $400: SereneLife Inflatable SUP
Length: 10'6″ | Width: 32″ | Thickness: 6″
Board Weight: 19.6lbs | Capacity: 275lbs
Type: Inflatable SUP
Cost: $369 on Amazon
Includes: 3 bottom fins / foldable paddle / manual pump / safety leash / storage bag (not a backpack)
The SereneLife Inflatable SUP is the best cheap paddle board that you can buy right now. It's a great choice if you want to try paddle boarding but not sure whether or not you'll do it often enough to justify paying extra for a more sturdy one with better balance and higher quality accessories. This Serene Life paddle board comes with all the accessories required to get out on the water and start enjoying your first paddle boarding experience.
Due to the paddle board's 6 inch thickness, you can ride this tandem with a friend, provided you both have good balance and don't have a combined weight of over 275lbs. This board package has over 8500 reviews on Amazon and a nearly 5-star average rating, so this is definitely the 'people's choice' best cheap paddle board too.
---
BEST SOLID SUP: Pau Hana Malibu Classic Epoxy Paddle Board
Length: 10'6″ | Width: 34″ | Thickness: 4″
Board Weight: 31lbs | Capacity: 249lbs
Type: Solid Paddle Board
Cost: $949 at REI
Includes: Adjustable Aluminium paddle
The best solid paddle board for those looking for a feature-packed, and high-quality epoxy paddle board is the Pau Hana Malibu Classic. As you'll have learned from our SUP Buyer's Guide (How To Choose) section below, hard paddle boards have certain advantages over inflatable paddle boards (they also have some disadvantages of course). One such advantage is how easily they glide through the water compared to an inflatable SUP as they much less 'drag'.
The Pau Hana Malibu Classic is a planing board (rounded nose that lifts up out of the water), meaning it has great maneuverability in the water and when coupled with the fact that this is a short solid paddle board, it's super playful/agile too – you can even surf with this beauty. Its short 10'6″ length also makes it one of the more easily stored and transported solid paddle boards on our list. Pau Hana is a California-based designer and manufacturer of some of the World's best stand up paddle boards.
---
BEST WITH KAYAK SEAT: Bluefin SUP Cruise Package
Length: 10'8″ | Width: 33″ | Thickness: 6″
Board Weight: 24.9lbs | Capacity: 309lbs
Type: Inflatable SUP
Includes: Kayak seat, stability fin, dual action pump, storage backpack, floating 2-in-1 paddle, safety leash
The Bluefin Cruise SUP package comes with everything you could possibly want for your paddle board adventures, including a kayak conversion kit – yes, a paddle board seat, and an additional paddle head (for kayak paddle mod) comes included in the package. The kayak seat works surprisingly well and gives you the option of kayaking if the water is super choppy, or you'd simply prefer to enjoy a water sport where balance isn't quite as important. The 10'8″ Bluefin SUP is their most popular size, with a hull that's shaped in a way that gives it excellent all-round use & provides a nice blending of balance with speed.
This board can also take two mid-weight people with a dog, as you can see in our detailed Bluefin SUP review. If you are over 6 foot tall, and heavier than 190lbs then you should consider going for one of Bluefin SUP's longer boards like the 12′ for example. And if you want to paddle in pairs, or get the kids and a dog on board, then the 15′ Tandem is definitely the board for you. Other great features include a fixed action cam mount at the nose, bungee cord cargo storage, a kick pad at the read for quick turns, a padded deck for comfort, a dual-action pump, and three carry handles.
---
BEST FOR DOGS: ISLE Explorer Inflatable SUP
Length: 11'6″ | Width: 32″ | Thickness: 6″
Board Weight: 24lbs | Capacity: 300lbs
Type: Inflatable SUP
Cost: $795 on Amazon
Includes: 8′ safety leash, touring center fin, manual pump, travel bag, adjustable paddle
The best paddle boards for dogs are those with good stability, deck space, and durability / protection from your dog's claws. While it's technically possible to SUP with a dog on many different SUPs with a reasonable weight capacity (paddle boarder and dog balance dependent), you'll both get more enjoyment doing it on one like the ISLE Explorer Inflatable SUP.
You may think that paddle boarding with a dog on an inflatable SUP would be a bad idea for fear of your dog accidentally popping the board with his claws, and you both ending up swimming back to land. In reality, however, high-quality inflatable paddle boards like the ISLE Explorer have an extremely durable outer construction that can take a serious beating including things like rocks and dog claws.
More reasons we have chosen the Explorer as the best paddle board for dogs – It's a very stable board with a good width of 32″, length of 11'6″, and a total capacity of 300lbs. With those stats you could quite comfortably paddle with a human friend as well as your furry one. The deck is grooved and comfortable enough for paddling on your knees in case you need better balance because your dog moves around a lot (we recommend training him to sit and stay in place if you can).
The padded deck also gives your dog better grip, and helps him stay balanced, and on the board. When paddleboarding with your dog we recommend buying him a dog life jacket / floatation device to ensure he's safe if he does ever fall in, or decide to jump off like Kepler, our dog enjoys doing. Discover more ways in which you can enjoy outdoor adventures with your dog.
---
BEST FOR OCEAN: ISLE Versa Hard SUP
Length: 10'5″ | Width: 32″ | Thickness: 4.5″
Board Weight: 26lbs | Capacity: 215lbs
Type: Solid SUP
Cost: $995 on Amazon
Includes: Carbon hybrid 2-piece adjustable paddle, 8′ coil safety leash, nylon touring center fin
The ISLE Versa is one of the best paddle boards for ocean paddling due to its solid epoxy construction that gives it a responsive and well-balanced feel while navigating rough waters, or surfing ocean waves. Because it's fairly narrow, has a planing hull, shortish length, and shallow thickness, it's the ideal stand up paddle board for surfing. Inflatable SUP's just don't give you the same rigidity required to surf properly as solid SUPs do.
If you do want to surf with this board, it has a tail pad that will give you maximum grip while catching a wave, but this paddle board has a shape that gives it true versatility meaning it works great on lakes and rivers as well. I love that this paddle board has an extra-large brushed EVA traction pad on the deck to allow for multiple paddling and surfing positions, and that stomp tail pad is just awesome for additional maneuverability when you want to surf on it. Other features include a bungee cord at the nose for stowing your valuables and a lift-up handle in the center for carrying the board comfortably.
---
BEST FOR LAKES: DRIFT Inflatable SUP
Length: 10'8″ | Width: 33″ | Thickness: 6″
Board Weight: 19lbs | Capacity: 250lbs
Type: Inflatable SUP
Cost: $459 on Amazon
Includes: Coiled safety leash, center fin, manual pump, travel bag, adjustable paddle
The DRIFT is one of the best paddle boards for lakes and beginners who want an affordable paddle board to get started with the activity. At only 19lbs, it's very lightweight for carrying to your destination which is important for lake paddling because more often than not you'll have to hike to the lake if it's a hidden alpine lake.
The 33″ width and extra wide tail will give you great balance while paddling on lakes, and although 250lbs of weight capacity isn't the biggest on our list, it's plenty to keep one person and a pet stable while leisurely paddling. Worth noting too is that DRIFT sells a 8'x8′ floating island which is a fun way to enjoy time on the lake with family or friends. It's not a paddle board per se, but a very stable platform for doing yoga on, sunbathing or jumping off.
---
BEST FOR YOGA: ISLE Scout Inflatable SUP
Length: 11′ | Width: 33″ | Thickness: 6″
Board Weight: 21lbs | Capacity: 315lbs
Type: Inflatable SUP
Cost: $795 on Amazon
Includes: 8′ Coil Leash, nylon touring fin, manual pump, travel/storage bag, carbon hybrid adjustable paddle
The ISLE Scout inflatable SUP is the real deal for paddle board yoga and comes with all the accessories required for a day of yoga on the ocean, lake, or river and like all ISLE SUP packages, this one comes with a lightweight carbon hybrid paddle worth $165. The Scout is one of the best paddle boards for yoga because it's soft, wide, and has a full-length traction pad for comfortably holding poses. This extra deck space and 315lbs weight capacity allow you to take a friend paddling with you without sacrificing too much on stability.
The ISLE Scout also has a convenient paddle holder on the side which is essential for paddle board yoga – there's nothing worse than losing your paddle overboard during your asana or vinyasa sequence. Seeing your paddle drift away from your board is also very bad for your prana, haha. There's also ample storage with two 4-point bungee systems to hold your gear in place. Although not a SUP per se, you may also want to consider the BOTE Dock FX Inflatable Floating Exercise Mat and swim platform which will give you ample room and stability for doing Yoga on the water but limited maneuverability.
---
BEST FOR FISHING: BOTE Rackham Aero fishing paddle board
Length: 12'4″ | Width: 38″ | Thickness: 7″
Board Weight: 45lbs | Capacity: 400lbs
Type: Inflatable SUP
Cost: $1,299 on Amazon
Includes: adjustable paddle, power-pole micro mounting point, hand pump, center fin, rolling travel bag, an attachable paddle sheath, sand spear sheath, and tackle rac receivers (one set).
The BOTE Rackham Aero is one of the best fishing paddle boards due to all the excellent accessories that you can buy for it, and it's a reasonable price for the base package. BOTE SUPs are known for their high-quality design and construction and the Rackham Aero is no exception – this is the true waterman's SUP for those with fishing skill levels of intermediate to advanced.
The Rackham Aero is compatible with the most accessories of any BOTE board, including two rac systems and all the gear you could ever need. The full-length padded deck adds traction along the entire board, giving cushion and grip for an extra passenger like a kid, or fisherman's pet. This SUP is compatible with the Power Rac, a battery-operated command center with built-in lights that powers electronics such as fish finders and GPS units. Also worth considering is iRocker's Blackfin Model X which is another excellent fishing paddle board.
---
BEST FOR GROUPS: Bluefin SUP 18′ Mammoth
Length: 18′ | Width: 60″ | Thickness: 8″
Board Weight: 59lbs | Capacity: 1433lbs
Type: Inflatable SUP
Includes: 5 detachable fins, travel backpack, dual action pump, coiled leash, waterproof phone case, fibreglass paddle
The Bluefin Mammoth Inflatable SUP is the ultimate way to enjoy stand up paddle boarding with all your friends and family on one board. With a massive 650kg weight limit, the Mammoth can carry up to 10 people at once – yes you read that correctly haha.
Weighing in at 27kg, this SUP is quite heavy but can be carried with its included backpack. This really is a SUP experience that is unparalleled for those who enjoy group activities on the water – and it's super stable due to the incredible volume it provides. This board is an absolute beast so be prepared to get your friends to help with pumping it up! It'll be worth it when you get on the water though, I promise.
---
BEST FOR COUPLES: Body Glove 15′ Tandem
Length: 15′ | Width: 34″ | Thickness: 5.4″
Board Weight: 34lbs
Type: Inflatable SUP
Cost: $1,499 at bodyglove.com
Includes: Two three-piece adjustable paddles, Additional kayak paddle pieces, High-pressure pump, coil leash, Cell phone dry bag, Repair kit, carry bag
The 15′ Tandem Body Glove inflatable paddle board package is lightweight for its size and versatile. It has multiple paddling configurations, including double kayak seat conversion capability, making this Body Glove paddle board great for all kinds of water adventures with a friend or partner.
The multifunctional design of the Tandem 15′ allows for more than four paddling configurations; from standing to sitting so you'll both get a lot of enjoyment in the different ways in which you can use this stand up paddle board.
Other notable tandem SUP's include the Bluefin Cruise 15′ and the Red Paddle Co 15' Voyager Tandem.
---
BEST TOURING: Pau Hana Endurance XL
Length: 12′ | Width: 30″ | Thickness: 6.5″
Board Weight: 31.5lbs | Capacity: 415lbs
Type: Solid Paddle Board
Cost: $1649 at REI
Includes: board only
The Endurance XL epoxy stand up paddle board is a thing of beauty and cuts through the water effortlessly due to its narrow width and displacement hull. It has a thickness of 6.5″ which increases its total volume giving it extra stability while touring on the ocean. The board has 35 strategically placed SeaMount™ anchor points which allow you to tie down plenty of gear while touring.
The deck provides a soft sleeping platform and can accommodate a bivy sack when pulled on to the land during the night. The hull is well protected with fiberglass armor to help protect the hull when bumping into rocks or logs. This is an excellent touring board for anyone looking to elevate their off-grid paddle board touring adventures. Remember to buy a lightweight paddle as this high-end long distance paddle board doesn't come with any additional accessories.
---
Stand Up Paddle Board Buyer's Guide
For more detailed outdoor gear buying guides like this one, visit our buyer's guides section. Topics covered in this section include:
---
What is paddle boarding?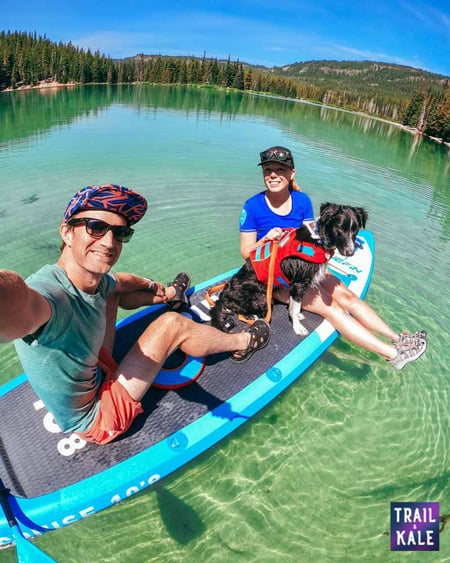 Stand up paddle boarding is one of those outdoor activities that is accessible to anyone because of how little gear you need, and how simple it is to learn and enjoy. What's also great is that there's plenty of room for development within the sport, as you can take it easy paddling on the water, or get super serious and become a paddle board touring aficionado. You can also paddle board with your dog, do yoga on the board, or even kit out your paddle board to make it a full-blown fishing vessel.
With that being said, there are many ways to use a stand up paddle board, and this is all dependent on you and your desires, plus what types of water you live near or intend to paddle board on. This buying guide will help you choose the best paddle board for your intentions.
---
How to stand up paddle board
I'm going to keep this section super short because I'm in the process of writing a complete guide on how to paddle board which will answer so many more questions than I can in this paddle board buying guide.
Essentially though, paddle boarding is not hard at all, and anyone with a bit of balance can learn to do it and enjoy the watersport. Your standing form, stance and posture, location on deck, and paddling technique are the key things to think about when getting started.
Oh and no sudden movements of you may find yourself having an unexpected refreshing swim. Having the right board, and paddle, and a good PFD (personal floatation device) will also be important if you plan to paddle in deep water or in areas with fast-flowing tides.
---
How to choose a paddle board
I wanted to write this guide to choosing a paddle board, because to be fair, it can be really confusing knowing which paddle board you actually need. It can be very tempting to go for the board that looks the most attractive but there are 5 key features that are important to consider when choosing which SUP to buy.
The 5 key features to consider, which I'll explain in a moment will totally change how the board reacts in certain scenarios on the water, and they'll also impact how easily you will be able to store and transport your board to and from the lake, river or ocean.
1. Solid SUPs VS. Inflatable SUPs – Which is better?
INFLATABLE PADDLE BOARDS – are built with a PVC exterior which is held together from top to bottom with a drop stitch construction, which for those that don't know is a process that joins two pieces of polyester woven support fabric with thousands of fine polyester threads. This stops the SUP from ballooning out when inflated to very high pressures.
Most inflatable stand up paddle board packages come with a pump (all the ones our list certainly do anyway) for inflating the board, a paddle, and a storage bag for when it's not in use. The great packages come with a storage bag that doubles as a backpack which allows you to carry your deflated SUP board more conveniently. A high-quality inflatable SUP will generally inflate to 12–15 pounds per square inch and will feel very rigid when fully inflated.
Reasons to choose an inflatable SUP:
You don't have much storage space at home – If you live in a small house or apartment, you probably don't have room for a solid board. When I got my first SUP, I knew it was going to be over 10 feet tall, but wow it still gave me a shock seeing it in our house – a SUP is one huge imposing thing to have to store. Inflatable SUPs are pretty compact when deflated and packed into their carry bag (which is essentially a large backpack), and can easily be stowed in small spaces, like a cupboard or the trunk of your car.
You plan to travel with it: If you're taking a road trip or flying somewhere, you can take your inflatable SUP and do some paddling when you reach your destination. Packed away in its storage bag, an inflatable can be checked on an airplane or stowed in the luggage area on a train, bus or car. Inflatable paddle boards are really good for traveling because they pack down so well, and can be carried in the backpack that comes with the package. Remember to check that the bag that comes with the package does in fact have backpack straps, the cheaper SUP packages don't always have them.
You plan to hike a remote to a lake or river: If you want to paddleboard in a pristine alpine lake, carrying a solid board is just not practical. An inflatable stand up paddle board in its backpack is still heavy, and a little unwieldy but it's the only practical way to do it.
You plan to do Yoga, or paddle with a dog: Inflatable SUPs are good for yoga because they tend to be a bit softer on the deck than solid boards, making them more comfortable for yoga poses. The thicker nature of inflatable SUPs keeps the deck from getting wet and slippy also.
You plan to take your SUP on white water rivers: Like an inflatable kayak, an inflatable stand up paddle board handles bumping up against rocks and logs better than a solid one. You can get one with a kayak seat attachment too, which is perfect for white water kayaking with your iSUP.
SOLID PADDLE BOARDS – or 'hard paddle boards' tend to have a foam core that's wrapped with fiberglass and epoxy. Epoxy / fiberglass paddle boards are a surprisingly lightweight, durable and affordable way to build a SUP. You can also get carbon fiber stand up paddle boards, which are lighter and more rigid, but they are more expensive. Plastic SUPs are more affordable, but can really heavy. Some of the best paddle board brands like Pau Hana incorporate lightweight wood for a beautiful traditional appearance in some of their higher-end solid paddle boards.
Reasons to choose a solid SUP:
You want a performance SUP: Solid boards move faster, more smoothly and with less drag in the water than inflatable SUPs. If you plan to paddle fast and long distances then a solid SUP with a displacement hull is for you.
You want more stability: A hard board is marginally more rigid than inflatables, which can feel more stable on choppy water or while surfing on your SUP. Solid boards also generally sit lower in the water as they are less thick, this can also make them feel more stable.
You have space to store it and you have the means to transport it on your vehicle: Solid SUP's can't be deflated and stored in a bag like inflatable ones. If you have room in your garage (or wall space to hang it), plan to SUP very often, and own a vehicle that can transport it, then a solid SUP is a great choice.
For a more custom fit: Because there are more options of board lengths, widths, and shapes, when choosing a solid SUP you're more likely to find one that fits you perfectly and maneuvers the way you want.
2. What size board do I need? (length / width / thickness)
LENGTH OF BOARD – As a general rule for how a board handles due to its length, longer stand up paddle boards are faster than shorter boards, but shorter boards are more playful and maneuverable. The below guide will give you an idea of which board length to go for:
Short boards (under 10') are good for surfing and/or kids, and they will generally have a planing hull to help with maneuverability and surfing waves. Kids SUPs are usually around 8 feet in length.
Medium boards (10' to 12') are by far the most popular because due to their balance of good weight capacity and not being too large to store or transport. Most medium-length boards have a planing hull to keep them playful and maneuverable.
Long boards (12'6" and above) are great for speed and long-distance touring and will tend to have displacement hulls to help them cut through the water in a straight line, while making paddling more efficient. These boards are for those wanting to do endurance / touring, or paddling fast. A longer board will increase the volume and total weight capacity, which will make the board feel more stable and allow you to carry more on the board with you, that includes people, pets, and fishing gear. Read more about volume and weight capacity below. Note: longer boards can be trickier to carry and may need a second person to help. If you're going for a long solid board remember to plan how you're going to transport and store it.
WIDTH OF BOARD – The wider the board, the more stable it will be but there are caveats. Wide boards can be slower and if it's too wide for you, can be awkward to paddle. You'll see SUPs in our list ranging in widths from 30 inches up to 60 inches for the group paddle boards but a typical width is around 32 inches.
The type of paddling you do, your build, and your ability level are things to bear in mind when choosing what width to go for. If you're going on a long stand up paddle board tour and need things like a cooler with food and drink, and maybe even a tent, go for a wider board with extra storage space. The same holds for those wanting to do yoga on their SUP. Narrower boards will allow you to paddle faster, be more maneuverable, and surf on them.
All this information can be a little overwhelming, I know! So, bear with me but if at any point you'd just like to see our top recommendations for the best stand up paddle boards for any given scenario, jump back up to the top of this buyer's guide.
Ok, let's continue! You'll also want to consider your body type when choosing width. If you're a small person, go with a narrower board and if you're a big person, go with a wider board. Good balance will be easier to accomplish for those with larger builds when riding on a wider board. Conversely, if a smaller person rides a board that is too wide for them, they'll have a very awkward paddling style.
And finally, if you're a beginner, a wider board will offer more stability while you learn to master stand up paddle boarding.
BOARD THICKNESS – The third factor in determining what size paddle board you need is the board thickness. The thicker the board, the higher the volume, weight capacity, and buoyancy. An example of why you may want to consider board thickness on a displacement hull is that if you want a skinny board with a displacement hull for ripping through the water fast, and in a straight line but you're a small, lightweight rider, then go for a thinner board to ensure the hull is contacting enough of the water to efficiently displace it.
3. Board Volume & Weight Capacity
Volume and weight capacity are two factors that affect how stable you will feel and how well the board will travel through the water. Both are determined by the length, width and thickness of the paddle board.
The total volume of a board gives an indication of the board's ability to float with weight on it. The higher the volume, the more weight the board can support. To keep things simple, in our best paddle board list above, we give you the direct value of the weight capacity, to make it easy to determine the total weight (including yourself) that the board can carry on the water. If you're too heavy for your board it will ride low in the water, making it inefficient to ride, and not a very enjoyable paddling experience for you.
Most planing-hull boards are very forgiving, so as long as you're below the weight capacity, the board should perform well for you, however, with displacement hull SUPs, volume and weight capacity are more significant, and it's important to get the right board for your weight, to ensure it paddles the way it was designed to.
4. What hull type should I go for?
The hull, or body shape, of a paddle board determines how it performs in the water, and hence the type of paddle boarding it works best for. You'll find that most paddle boards will have either a planing hull or a displacement hull.
PLANING HULLS – are rounded and wide, similar to that of a surfboard, and is designed to ride on top of the water and be very maneuverable. The nose of the board generally sits above the water which allows for quick turns and a playful ride. Planing hulls are good for leisure paddling, surfing, SUP yoga, and whitewater situations. Planing hulls are the most popular choice for their all-round ability.
DISPLACEMENT HULLS – have a pointed nose like a kayak or canoe. The hull cuts through the water, displacing it around the nose to the sides of the SUP to improve efficiency and create a direct, fast, and smooth ride. Displacement hulls allow you to paddle longer distances at faster speeds, more easily than a planing hull would. The caveat of displacement hulls, however, is that they are less maneuverable than planing hulls.
5. SUP fins
Fins on the bottom of a sup SUP will add tracking (directionality) and stability, and in general, larger fins will track straighter and provide more stability than smaller fins but smaller fins provide better maneuverability. Most fins are removable, so you can swap them out and take them off for easier storage.
---
What to wear paddle boarding
Paddle Board Clothing
One of the great things about paddle boarding if that you really don't need to wear much at all! Paddle boarding tends to be more of a warm weather, or summer activity and so you can do it in just your regular swimwear. Be sure to wear a good sunscreen if you plan to be out on the water for a long time as the sun can be more intense out there due to the UV rays reflecting off the surface of the water back onto you.
If you are hardcore, and plan to stand up paddle board in cold weather, consider buying a good wetsuit to protect you from the cold if you end up in the water. If you are paddle boarding in cooler weather and you don't plan on going in the water at all then there are some great paddle board clothing options at REI.
PFD (personal floatation device) / Life vest
A little known fact is that the U.S. Coast Guard classifies stand up paddle boards as vessels (when used outside the narrow limits of swimming or surfing areas), so it is actually required that you wear a personal floatation device in these situations. REI sells all the best life vests for paddle boarding on their site, so I recommend checking them out using the button below if you need to buy one.
Note that the regulations also require you to always carry a safety whistle and have a light available when paddling after sunset, as well as a paddle board life jacket.
I'd recommend that you pack a good headlamp if you plan to paddle after dark, as they can be operated hands-free and some will also have a red light on the back as well as a bright white light on the front. Take a water-tight dry bag with you to store your headlamp, spare clothing, and other non-waterproof valuables on deck, just in case.
Best shoes for paddle boarding
Depending on where you plan to paddle board, whether on the ocean, lakes, or rivers you should consider buying some good waterproof shoes for paddle boarding. Paddle boarding sandals will give you extra grip while standing on the board, and more importantly, protect your feet from sharp rocks as you walk your paddle board into the water, or if you fall off your board in shallow water.
KEEN is our favorite water shoes and sandals brand for paddle boarding and kayaking. For men, we highly rate the Newport H2 and SOLR water sandals, and for women's water shoes, our Editor's Choice award went to the Astoria West, which Helen has reviewed in detail here.
Quick-Dry Pack Towel
Quick-dry pack towels are awesome for activities like stand-up paddle boarding because they pack down small, dry you quickly, and then dry off themselves very quickly too, which means they don't get stinky of heavy. Read our guide to choosing the best quick dry towels to learn more about those little wonders.
---
Additional paddle boarding gear
It's worth noting that although many stand up paddle board kits come with all the gear required to start paddling on the water, you may want to consider upgrading some of those accessories.
Find the best paddle board pump
Most inflatable paddle boards for sale come with a manual pump, but be aware that not all pumps are made equal, and there are different types of pumps to consider too. Pumping up a medium-sized paddle board doesn't take all that long for the average person, say around 10 to 15 minutes but my goodness it takes some pretty serious muscle power.
A dual pump with two chambers will inflate your stand up paddle twice as fast as a single-chamber manual pump – it will also be easier to do when the pressure starts getting close to the maximum that the board needs to be at. Our recommendation for the best paddle board pump would be the Red Paddle Co Titan.
You can also use powered pumps which will inflate your paddle board most of the way and sometimes even to maximum pressure if you get a good one. These electric pumps usually need to be powered by your car so you will ideally have to park close to the water you plan to use the board on unless you're happy carrying the inflated board to the water.
The best paddle board paddles
Similarly to your paddle board pump, the paddle board paddle that comes with your stand up paddle board package may not be the best if you decide to buy a budget SUP. It's worth knowing that if you ever wanted to upgrade your paddle, that you can get a new SUP paddleboard paddle made from a lighter material like a carbon composite, for example, which will make paddling much easier on your arms. When paddling becomes more efficient you'll have more fun on the water and will be able to paddle for longer and much further distances while touring or endurance paddling.
---
How to find places to paddle board near you
Where to go paddle boarding
Paddle boarding is awesome because you can do it on lakes, rivers, and even the ocean. This makes it a super accessible activity because you don't have to live near the ocean to do it. That being said, how do you find the best places to paddle board near you? Well, start by looking at Google maps, type in your location, and search for bodies of water near you.
Then you can type a search term like "where to paddle board near me" into Google (or just click my link), and because Google uses your current location, it actually does a great job of finding local businesses or posts which share the best places to paddle board in your area – give it a try!
Organized Classes and Events
If on the other hand, you are looking for expert classes and organized events, REI host some excellent ones. Have a look at this page for a listing of all their paddle boarding classes and events across the USA, there may just be one in your area happening soon!
---
Paddle Board Rentals & Buying Used
Find a paddle board rental company near you
One of the best ways to find local paddle board rental companies near you is to do a quick Google search like this.
Buying a used paddle board
There's a great selection of Stand Up Paddle Boards at REI, and because REI partners with good shipping partners, they also have a large selection of solid paddle boards for sale that can be shipped to you, or picked up in-store.
If you're looking for used paddle boards, REI usually has some available on their Used Gear site. To learn more about how to buy discounted outdoor gear like paddle boards via REI's Used Gear initiative read our post all about how to make the most of REI's Used Gear sustainability initiative. If on the other hand you're looking to trade in your used SUP, or other used outdoor gear, consider becoming an REI member for $20 (one-off payment) so that you can trade-in your used gear for REI Gift Cards, and get 20% off new gear in REI Co-op sales.