The Inov-8 ParkClaw 280 is Inov 8's Latest door-to-trail shoe and this is pretty exciting for me as I haven't tried an Inov-8 shoe for a couple of years now, so I wanted to see how they've actually developed the shoes over those two years.
ADVERTISEMENT
On first, second, and third impressions, it looks like they've been going in the right direction!
In this Inov-8 ParkClaw G 280 review, I'm going to reveal why this door-to-trail shoe is a hit with me, and why I believe it will appeal to most runners looking to venture onto the trails.
I hope this review answers all your pre-purchase questions about the Inov-8 ParkClaw G 280, but feel free to ask me any questions you may have in the comments section below.
Inov-8 ParkClaw G 280 fit and feel
The ParkClaw G 280 fits true to size with other popular brands, including On Running, Nike, and Adidas. I'm usually a size US(M)9 and these shoes fit just right – so that's a good start! 🙂
The arch is pretty low in the shoes, meaning there's not much support but for anyone with average arches, or if you've never experienced arch issues then these feel great to you, as they do with me.
If you do suffer from arch strain, like I do every so often, I'd definitely recommend buying replacement insoles for your running shoes.
The insoles that come with these shoes, and most other running shoes are super easy to remove and can be swapped for insoles with more arch support to match your feet better.
ParkClaw G 280 outsole
Looking at the outsole you can see there are loads of grippy lugs on here. They are at a 4mm depth and because it's made out of graphene, it is super grippy.
I haven't experienced a shoe quite this grippy in a long time and right now this is the grippiest shoe I am running in – and I love it for it.
If you're wondering how many lugs there are on this outsole (which you probably aren't), there are actually 98, according to Inov-8. I haven't counted them, because I've got better things to do in my time, haha.
What does the 'G 280' stand for?
OK, so let's first address the G-280 in the room. So firstly, G stands for Graphene and that is what Inov-8 is using in their midsole foam, but also in their outsole.
So graphene is a material that's much, much more durable than other foams or other rubbers that many of our brands will be using in their running shoes.
So that's great because it means your outsole on your tread and your grip in the shoes is going to be tougher and it's going to last for much longer as well.
And the 280 stands for the weight of a shoe. So that's 280 grams and 9.8 ounces for the American audience. So it's a mid-weight shoe I would say.
All Inov8 running shoes will have a number after the name and it always relates to the weight of the shoes – not the version.
The Inov 8 ParkClaw G 280 feels very lightweight when you look at it and when you feel how much cushioning is in the shoe it feels lighter than it looks they also run like a light shoe.
So if you're going on a long run, you don't feel the weight of a shoe over time. And that's probably down to the comfort and a secure locking system of lacing system here in the upper.
ParkClaw G 280 tongue, heel lock, and lacing system
The tongue on the ParkClaw is really padded and there's tons of cushioning in there.
I have actually noticed that you do need to do these laces up pretty tightly in order to lock your foot in place when running down steep hills.
I noticed a bit of foot slip towards the front of a shoe a little bit like the On Cloudvista that I recently reviewed.
What I found with the On Cloudvista however, is that there wasn't really enough adjustability for me to fix the issue, but with the ParkClaw G280, I was able to tighten these laces up further.
It does take a little bit of work to do that, but once you set, you're all locked in, and then I started really enjoying the downhills a lot more in these shoes.
So yes, I had to do them up tighter than usual but actually, there's so much padding in the tongue that it doesn't matter.
I don't feel pressure points coming from the laces on top of my feet and adjustability is very good in the shoe and comfortable as well when laces are at their tightest.
G-Fly Midsole
There's a good amount of energy return in the G-Fly midsole – the midsole with some graphene built into it.
Graphene is intended to give these trail running shoes more energy return for longer. Because it's more durable, the shoe's midsole will take much longer to compress and lose its bounciness and responsiveness.
So that's nice to know you got Graphene in the midsole as well as the outsole.
Inov8 ParkClaw G 280 Drop
The ParkClaw G 280 has a drop of 8 millimeters from the heel to the toe. So, that's pretty standard for trail shoes. I see a lot going a bit lower than that but, to be honest, this feels good for this shoe design.
ParkClaw G 280 flexibility
There's tons of flex in the shoe – you can see in my video below that I can literally just pull it in every direction with total flex, and that's actually quite incredible.
I hadn't noticed that until I did the test on video, but that probably explains why it rides and runs over trails so well.
The ParkClaw G 280 handles big rocks and roots well because it does flex so much. So that's really awesome.
ParkClaw finger loop for slipping them on
There's a finger loop at the rear if you need help pulling the shoes on, that's really nice.
It's not a huge loop, however, so if you were running in these shoes in the winter or cold conditions at altitude for example, and happen to be wearing gloves, you would definitely struggle to get your finger in the loop to slip them on your feet.
ParkClaw G 280 upper
The ParkClaw G 280 is a surprisingly breathable shoe when I'm running in it – I usually run in very hot conditions here in Northern California so I need that in a running shoe.
It does have quite a thick upper and there are kind of two layers of upper.
You'll find a much softer layer inside the ParkClaw, so it kind of feels nice on top of your toes and top of your foot inside. But you've got a much more durable upper on the outside of the shoe which is what you want, and shoes will last longer.
There's a nice kind of plastic rubber toe cap or bumper at the front of the ParkClaw G 280. My video below gives a good idea of the material and you might think that it is rigid and solid, but actually, there is flex to it.
So it will protect your toes if you stub them on a root or a big rock on the trails. It's not rigid, however, so be careful with that.
Maybe Inov 8 has kind of put this in here to increase the durability of the front of the shoes and no tears happen.
I can see it protecting your feet a little bit, but not hugely if you were to seriously stub your toe but it's better than most trail running shoes, to be honest.
Why many will enjoy the ParkClaw
The history of a ParkClaw is that it is a door to trail shoe so you can safely run from your front door or back door to get to the trail, meaning it runs really well on concrete or asphalt pavement, any kind of really hard surface.
It runs just as well on those surfaces as it does on most trails. This is great for me because I have about 5-10 minutes of running on the pavement before I hit my local trails.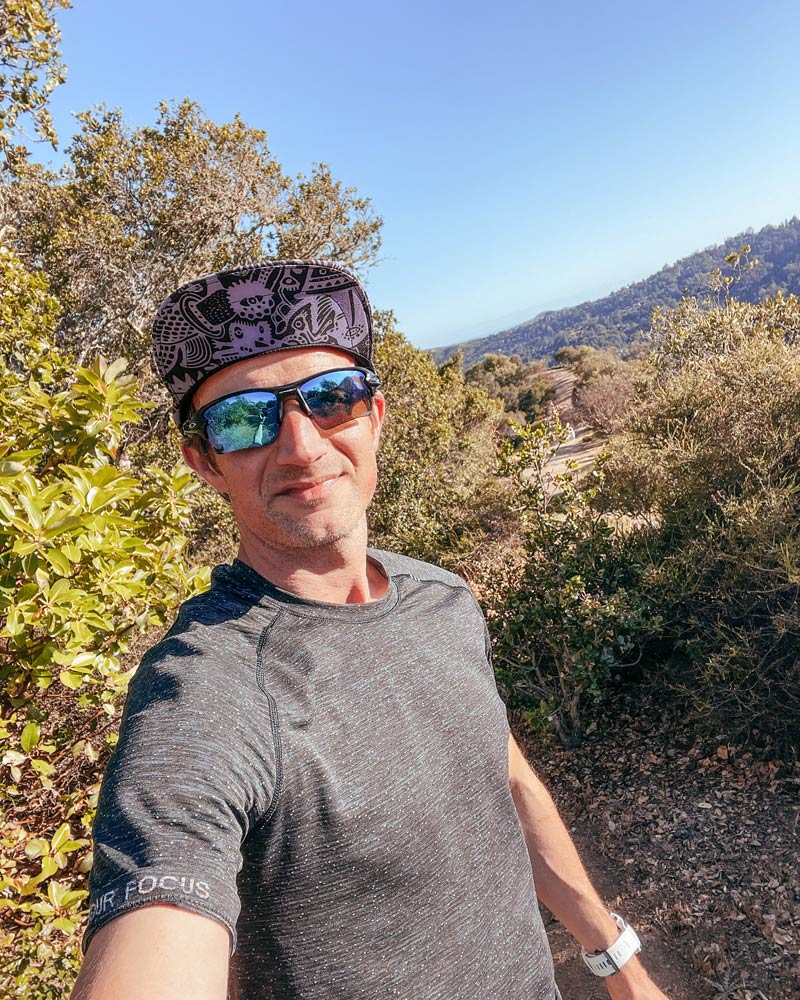 Whether it's forest trails, or hard-packed, buffed, solid, rocky kind of trails, these running shoes are great because the grip is insanely good.
I haven't tried them in the wet yet because I'm up here in California and I probably missed the last of the rain until the end of the year.
If it does rain, I'll get out in the ParkClaw G280 shoes and I'll let you know how to get on with the wet conditions.
To be honest, though, these lugs have 4mm of traction underneath them and they're made with Graphene, so I'm pretty sure these will do really well in the wet as well.
Inov-8 is a British company, so they know what to do when it comes to wet weather and muddy conditions.
So, I trust Inov-8 here to have done a great job on traction when it comes to wet conditions on the trails.
---
Where to buy the ParkClaw G 280
Amazon seems to have great stock in plenty of colors so I would recommend purchasing from there if you are based in the US or Canada. If you live in the UK, use our favorite online running store, Sportsshoes.com.
Last Amazon price update was: 5th February 2023 8:00 pm
---
ParkClaw G 280 Video Review
---
Inov-8 ParkClaw G 280 Review Summary
Inov-8 ParkClaw G 280 Review
PROS
The outsole grip is insanely good and I have total confidence when running steep downhills
The shoe feel very comfortable on both the road and trail
great protection underfoot
Tons of flex across the shoe in every direction.
A great all-rounder!
responsive and cushioned midsole
Very durable graphene outsole and midsole which means it should last longer than other trail shoes.
CONS
Could be a touch light but the shoes do somehow feel lighter than 280g while running
A few more colors would be nice
Quite expensive at $180
---
Inov-8 ParkClaw Image Gallery
---
Read our trail running shoes buyer's guide next
Read my The Best Trail Running Shoes post next – I've listed all my favorite trail running shoes on there.
It is my job to test trail running shoes and review them – so I know what I'm talking about when it comes to a good trail shoe and what a bad one is. I won't review awful gear on Trail and Kale as it's just not worth my time, or yours for that matter.
We review only the best gear on trailandkale.com and we have a normalized scale from there in terms of ratings of running or hiking shoes. So, it's all good gear on trailandkale.com, but there are varying levels of how great that gear is.
So definitely go check out our other gear reviews here, and that will give you an idea of what I'm liking at the moment of what is worth your money.
---
Well, I really hope you enjoyed this Inov-8 ParkClaw G 280 review. I hope it helped you decide whether or not you might actually want to buy it for the trails.
If you enjoyed this review, please drop a comment down below, and share it with a friend If you think they may enjoy learning about this shoe too.