The Nike Pegasus Trail 3 is finally here, and it looks a whole lot like the classic Pegasus! Why did this give me so much joy when I first saw it? Well, because the first Pegasus Trail running shoe, the Pegasus 36 Trail was a damn good trail running shoe which sadly got shelved for a totally revamped Pegasus Trail 2. Anyway, there's no need to worry about the decline of the Pegasus trail range anymore because we have the Pegasus Trail 3!
ADVERTISEMENT
UPDATED PEGASUS: Nike Pegasus Trail 4 Review
In this Nike Pegasus Trail 3 review I cover the key features of these hybrid trail running shoes, how well they perform while running on the trails (and the roads), how they compare to the Peg Trail 2 and Peg 36 Trail (as I know many of you want to know this), whether they're worth buying, and finally my review summary with pros and cons. After reading this review visit our Best Trail Running Shoes Buyer's Guide to see if they made it onto the list.
---
Nike Pegasus Trail 3 Review: Table of Contents
---
Nike Pegasus Trail 3 Fit, Features, and Key Specs.
General fit and comfort
The Pegasus Trail 3 trail running shoes fit true to size and are consistent with other Nike running shoes I have tested and reviewed. They are also consistent with brands like On Running, Adidas, Hoka One One, Brooks Running, and most Salomon trail running shoes. Drop a comment down below with the brand you normally run in and I'll let you know how they fit relative to them too.
The Pegasus Trail 3 is a really comfortable trail running shoe right out the box. This is very common amongst all Nike Trail running shoes that I have tested to date. With the Pegasus Trail 3, this comfort mostly comes from the super cushioned React foam midsole and soft insole. The interior materials of the upper are also nice and soft and conform to your feet very well. To get a better idea of how they perform while running, watch my performance review after reading this.
If you're a fan of the Nike Pegasus range of running shoes, these do feel pretty similar but not the same. This is due to the React foam that the midsole is now being made with – the Pegasus range previously used Air Zoom midsole which is less plush, and in my opinion more responsive.
The Nike Trail 3 has an excellent ground feel on solid surfaces like road, tarmac, concrete, and generally hard packed, non-technical trails because of this React foam but there is a caveat to having so much cushioning underfoot, and that's reduced control and responsiveness over technical terrain. This reduced feeling of control can seem compounded when your trail running shoes have a higher stack height like the Pegasus Trail 3 does. But this doesn't mean the Pegasus Trail 3 is a bad trail running shoe – it just means it's much better suited for hard-packed, less technical trail running, and it does this really well.
If you're a trail runner who also runs a fair amount on the roads for speed training, these shoes are a great hybrid trail running shoe where door-to-trail road running may be something you need to do in order to get to trails – they'll feel like a comfortable road running shoe while doing so.
These shoes also feel very neutral in their support type, with no feeling of too much arch support, or not enough for that matter – they feel great underfoot for the runner with average shaped foot arches.
The toe box and shoe width both feel around medium in size as they did in the previous version of this shoe.
Pegasus Trail 3 Key Design Features
1. Upper Mesh construction
The upper mesh in the Nike Trail 3 is very soft and dual layered so that the inside of the shoes are comfortable against your feet. Because of the layers, and material used, however, the upper isn't the most breathable or drainable – not a huge problem if you don't intent to be running in a very hot climate, or wet one for that matter.
---
2. Tongue and Internal Sock
The tongue is nicely shaped with an asymmetrical design, allowing for more cushioning in the areas that need it – the outside edge of your feet. There's a nice amount of padding which feels very comfortable throughout your run but I believe Nike could afford to strip some padding away from the tongue to reduce the overall weight of the shoe and increase breathability.
The tongue also joins to the internal sidewalls of the shoes to form an internal sock – this 'sock' hugs your feet really nicely and it reduces the chances of any hot spots due to less internal seems. Many trail running shoes now use this internal sock design for securing the foot in place and to help stop blisters from chaffing.
One thing that I noticed with the previous Pegasus version was that the tongue was too thin, which meant that more time had to be spent micro-adjusting the laces in order to feel comfortable on the top of your feet. Nike has addressed this issue by providing the Pegasus Trail 3 with a much thicker tongue.
---
3. Finger Loop at the rear
Finger loops can be very useful for slipping on running shoes, especially when you're wearing running gloves during those colder months, and Nike has much improved upon the Pegasus Trail 2's small finger loop.
---
4. Rubber Bumper/Toe Cap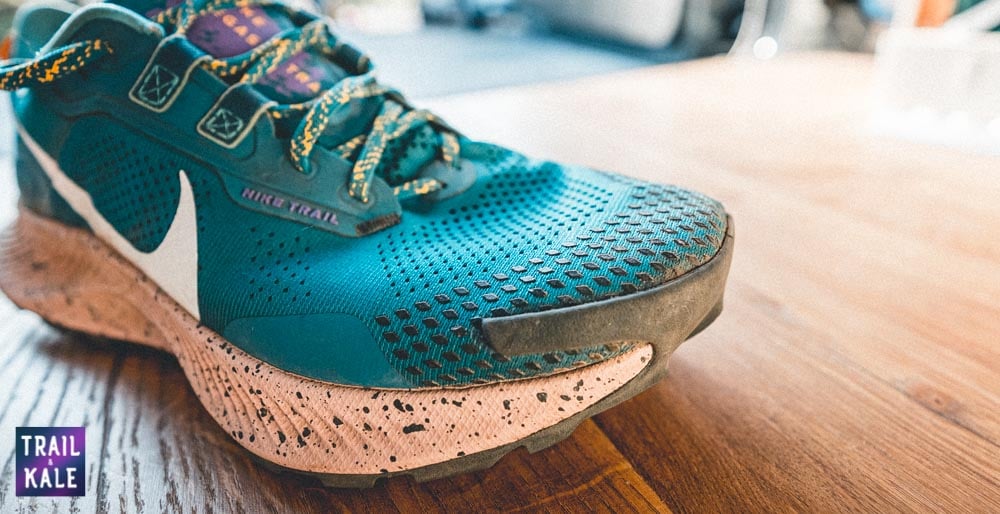 I really like the style of the front bumper on the Pegasus Trail 3 – it's the same one used in the Pegasus Trail 2, and it's very effective at protecting your toes should you accidentally kick things like rocks,or tree roots.
---
5. Nike React Cushioned Midsole
React foam is more cushioned and softer than Zoom which was used on the Pegasus 36 Trail. I like the soft ride of this React midsole when running hard buffed trails, road sections, or downhills in general because you really do get ultimate comfort which allows you to push fast on such sections of your run. There's about a 10mm drop from heel to toe which puts you in a strong forward leaning stance which is ideal for those who like to run fast on the flat and downhill sections.
---
6. Nike Pegasus Trail 3 Rugged Outsole Grip
I love the outsole on the Pegasus Trail 3, the lugs are fairly deep and much more aggressive for tackling fast downhills and digging into the trails while climbing hills. They aren't aggressive lugs, but that's what gives these shoes a good ride on roads and solid buffed trails too – it's a hybrid trail running shoe, don't forget. The bike tire-inspired multi-directional tread pattern works well on both the trails and roads.
---
Pegasus Trail 3 Key Specifications
1. Nike Trail 3 Weight
The Nike Pegasus Trail 3 weighs 11.33oz/321.4g for a size US (M) 10 per shoe which puts it at around the same weight as its predecessor, give or take a gram. So, for those wondering if Nike has reduced the weight of the Pegasus Trail range to be more in line with the Pegasus 36 Trail, the answer is no, it's still a heavier trail running shoe.
2. Drop
The Pegasus Trail 3 has a 9.5mm drop from heel to toe which feels good but I think a reduced overall stack height on the Peg Trail 3 would improve stability over more technical terrain.
3. Nike Trail 3 Support Type
These trail running shoes have maximum cushioning with a neutral footbed, so if you have average arches and feet then these should be a perfect fit for you.
4. Shoe Width
The Pegasus Trail 3 is a medium width trail running shoe that fits true to size. The toe box is also medium width.
---
Nike Pegasus Trail 3 performance
The Nike Pegasus Trail 3 is a high-performing trail running shoe for anyone who runs on light, or buffed non-technical trails. The 9.5mm drop forces a more forward-leaning stance akin to classic road running shoes in the Nike running range, because it helps runners get more speed out of their training session.
Although a super fun shoe to run most trails with, the Pegasus Trail 3 does lose some stability and control over technical sections due in part to the high stack, super cushioned React midsole. To some degree, this plush midsole takes stability away from your ankles (where you should be getting it from), and absorbs the trail beneath you within its high stack of plushness.
This would ordinarily be great for mild trails over long distances, but for more aggressive, fast, technical trail runs, you may notice your ankles struggling to control the shoes because of the compression of the midsole doing too much of the work for you. For this type of running, you may also benefit from a lighter trail running shoe like the Nike Terra Kiger, for example.
These trail running shoes are very well suited to running fast downhill and they also climb quite well due to the well shaped forefoot lugs and 10mm drop which props your heel up on the uphills. There's no danger of feeling spiky rocks underfoot either because of this same protective midsole.
Watch my video below to learn more about how they perform while trail running (Don't forget to subscribe to our YouTube channel so you don't miss my future trail running shoe reviews).
---
Pegasus Trail 3 VS. Trail 2 VS. Pegasus 36 Trail
I'll keep this short because my Nike Trail Running Shoes Compared post is a much more detailed comparison between all the current Nike Trail running shoes available – and it's definitely worth a read after this post.
If you asked me which trail running shoes I would prefer to run with, I'd tell you the Nike Pegasus 36 Trail – but it's more complicated than that and no longer matters anyway because they've been discontinued for real this time! BUT I know there are some Nike Trail fans who loved that shoe as much as I did, and have been secretly hoping for its return. The Pegasus Trail 3 has definitely been given the design nod to the classic Pegasus 36 Trail, and I think that has piqued lots of people's interest (mine included).
The upper construction is very similar to the Peg 36 Trail, and better than the Peg Trail 2, while the midsole and outsole on the Peg Trail 3 are both pretty much the same as the Pegasus Trail 2. The weight of the Peg Trail 3 is the same as the Peg Trail 2 which is a shame, but it feels lighter than the Trail 2 while actually running, probably due to the better upper design.
The Pegasus Trail 3 is a huge leap in the right direction for the Pegasus Trail range which leaves me super excited for the next iteration to drop – until then, I'm still going to be donning the Pegasus Trail 3 on long trail runs because they're too fun to leave at home.
---
Are they worth buying?
Yes, these the Nike Pegasus Trail 3 is definitely worth buying if you run on light, non-technical trails, and especially so if you're a road runner who wants to transition over to the trails. Having a road/trail hybrid running shoe like this will save you some money as you can use them on the trails and the roads.
If you're a new trail runner, definitely have a read of this article which will help get you up to speed on the trails: The Ultimate Beginner's Guide to Trail Running.
---
Nike Pegasus Trail 3 Review Summary
Nike Pegasus Trail 3 Review
PROS
Great for Running on the roads and also light, non-technical trails
They perform well while running fast downhill, and they dig in well while climbing hills too
Nike React foam offers great protection and cushioning under foot
Very comfortable fit
Reasonably priced
CONS
Would prefer them to be lighter
Midsole stack height is too high, and the cushioning is too plush for technical trail running
The upper could be more breathable
---
Nike Pegasus Trail 3 Video – Performance Testing
---
Image Gallery