Kaabo USA's mission is to bring innovative and exciting electric transportation to the United States, and just by browsing their website, it's clear they definitely have some rather special electric scooter offerings that I for one have not seen anywhere else – I mean they sell a 50MPH scooter with a nearly 100-mile range – say whaaat?! But today I'm shining the light on Kaabo's most popular electric scooter, the Mantis 8.
In this Kaabo Mantis 8 review, I share my experiences riding this powerful electric scooter, give an overview of the Mantis 8's key features, share my video review (showing acceleration, top speed, stopping speed, and a demo of how the features work), where to buy it, my review summary with pros and cons and an overall score out of 10. Then finally, at the end of this review, I answer some FAQs and leave you with some more photos of the Kaabo Mantis to enjoy.
---
Table of Contents
---
What's it like riding the Kaabo Mantis 8?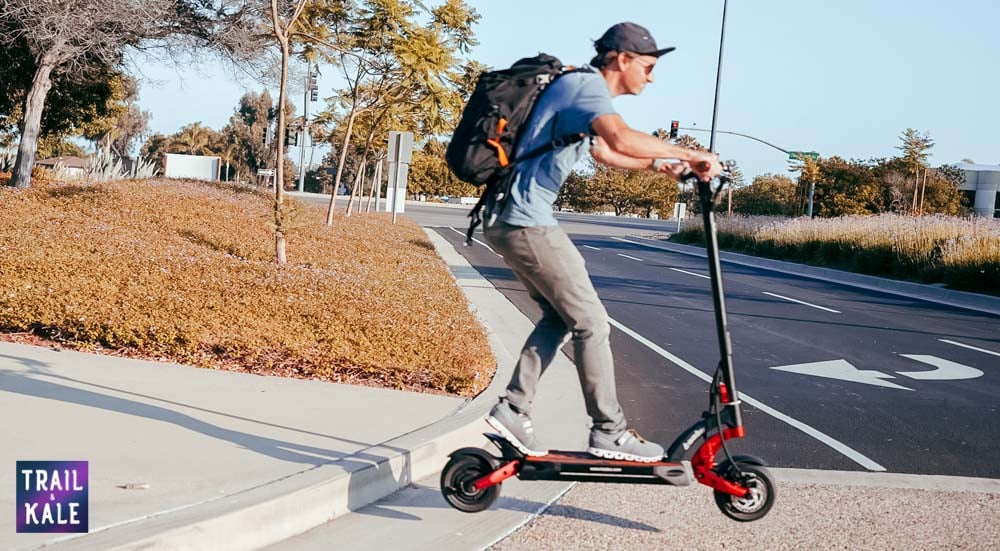 Two words… FAST and FUN! The first thing that really surprised me when riding the Mantis 8 for the first time was simply how fast it felt when accelerating but also at the top speed of 25MPH or 40KPH. I mean that feels fast when you're standing on a scooter, trust me. Once I got over the initial thrill of riding the Mantis at 25MPH I was able to objectively test out some of this electric scooter's other features like the disc brakes with ABS, front and rear suspension, and how easy the handlebar controls are to use while riding at such speeds.
Braking speed is very quick on the Mantis Scooter but when you're stopping from high speeds, I did notice the brakes make some noise, whereas the actual scooter and dual motors themselves are fairly quiet. This isn't really a big deal and actually, it's a good way to make your presence known when maybe slowing down behind a pedestrian out of courtesy, in order to pass them.
When I first saw the accelerator lever (found on the right handlebar) I thought it may be a little awkward to use initially but it ended up feeling quite natural. Other controls on the handlebars like switching from 'eco' mode to 'turbo' mode, or single to dual motor mode, and using the turn signal buttons are really easy to use while moving due to their smart location.
I tested the Mantis scooter on various off-road scenarios from light trails to gravel roads, and although the scooter works very well on light trails it does start to suffer on gravel/fire roads and becomes difficult to ride due to all the shaking in the handlebars. The dual suspension on this electric scooter works much better for scenarios like dropping off curbs or going over speed bumps.
Other than that, the Kaabo Mantis 8 electric scooter is an absolute joy to ride, and I'm finding myself wanting to take it out all the time because of how fast I can get around town.
---
Kaabo Mantis 8 Key Features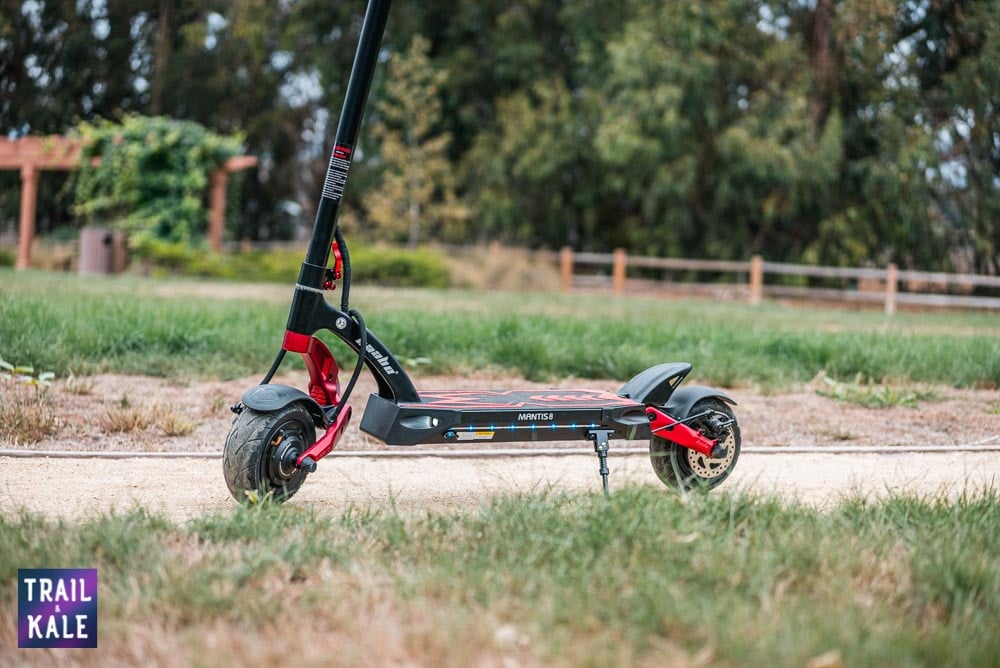 Speed, acceleration and braking
The Mantis 8 electric scooter is powered by 2x 500W motors, giving it an impressive maximum speed of 25mph (40kph), which can be achieved on flat surfaces as well as downhill.
When riding uphill, the scooter can tackle gradients of around 20 degrees, when you put it into the dual-motor mode and switch economy to turbo mode – Both of which I just leave on by default because it's more fun that way!
It's super easy to get moving/accelerate on the Mantis 8 – with one foot on the scooter, and your other foot on the ground keeping you balanced, gently pull the index finger accelerator with your finger and you'll start moving.
The scooter keeps accelerating until the maximum speed is reached – that speed is dependent on a gradient, and the weight of the rider. See my video below for a demonstration of its acceleration, top speed, and braking distance.
The Mantis 8 electric scooter has front and rear brakes which are controlled in the same way that a bicycle is, with left and right handlebar levers. Pull the left lever to activate the rear brake, and the right lever to activate the front wheel brake.
I'd advise gently initiating your stop with the rear brake first and then shortly after, the front brake too. This is because the disc brakes are very sensitive/effective, and so you definitely wouldn't want to grab the front brake when moving at full speed as you may end up going over the handlebars in a worst-case scenario.
To see what the speed, acceleration, and braking time look like in real life, check out my video review below, where I also demonstrate the other key features of this scooter that are described in this post.
Range – how far can you go on one charge?
The Kaabo Mantis 8 has a maximum range of 25 miles on one charge (a full charge takes a little over 3 hours) which should be achievable if you ride it on flat, smooth surfaces – which would be the case for many commuters.
The range will be reduced depending on how it is used, the rider's weight, and how frequent and steep any hills are that it is being used on. The maximum payload capacity of the scooter is 264lbs.
The Kaabo Mantis 8 can power you up hills with gradients of up to 20 degrees incline when 'dual motor' + 'turbo' modes are both on. The speed is of course reduced while going uphill but I'm impressed at the power from the dual 500W motors.
Folding and portability
At 53lbs the Kaabo Mantis 8 is not very lightweight, however, the weight and solid Aluminium alloy construction give the scooter a solid and robust feel while riding which I feel is important if you plan to take it on the roads.
That said, it is not something you can carry for long distances. In order to store the electric scooter, you can very quickly and easily fold down the handlebars (shown in my video) but there's no way to then lock those handlebars in place, that I can see anyway. So folding the scooter is more for being able to store it in a smaller space when on the train, in your apartment, or by your desk at work.
Front and rear suspension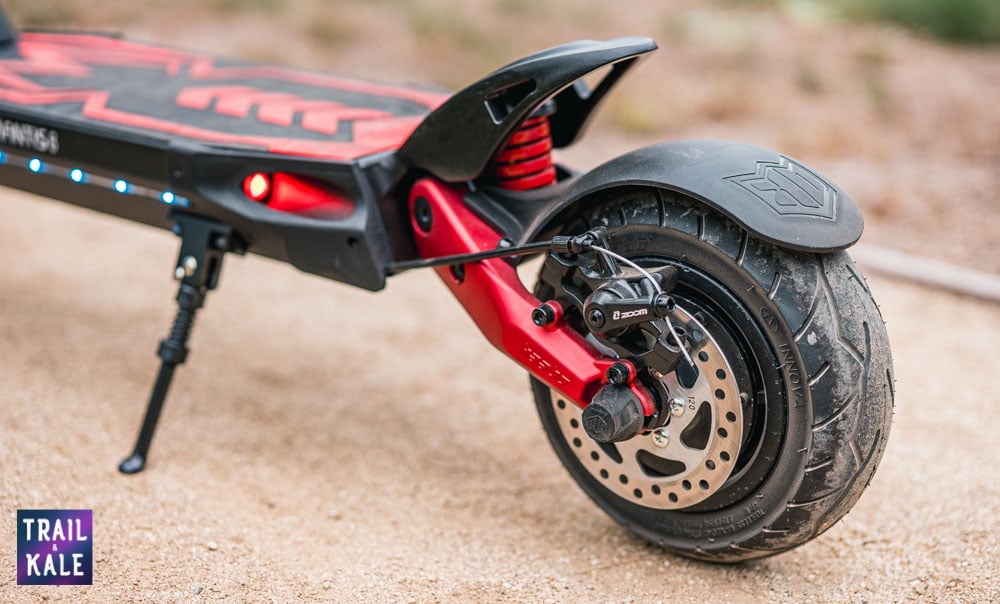 Having front and rear suspension on an electric scooter is a first for me. The dual shock absorbers work really well and provide extra comfort when riding over speed bumps and dropping off curbs, for example. For a demonstration, watch my video below.
8 inch diameter wide tires
If you were wondering what the '8' in Mantis 8 signifies, well it's the diameter of the wheels. The wheels are nice and wide too which gives the scooter good traction while turning at speed, in wet conditions.
Kickstand
The scooter weighs around 53lbs in total which is pretty heavy, so it's great that it has a solid kickstand that's very easy to use.
Lights, so many lights
The lights on the Mantis 8 are bright and very practical. When you activate turn signals with the buttons on the left handlebar, white lights will flash on the front side of the scooter in which you are turning – on the same side at the rear, red lights will flash. When you activate either of the brakes, red lights will flash at the rear to alert anyone behind you that you will be slowing down quickly. This is a great safety feature when riding on the roads at night.
Lights that you can activate while riding include a forward-pointing light (one on each side of the deck), blue lights which light up the ground beneath the scooter, and make you visible from the side, and also red rear lights.
---
Kaabo Mantis 8 Video Review
---
Where to buy the Kaabo Mantis 8
You can purchase the Mantis 8 for $1099 directly from the Kaabo website below.
---
Kaabo Mantis 8 Review Summary
Kaabo Mantis 8 Review
Performance & Reliability
9.5
PROS
IT'S FAST! 25MPH top speed is super impressive, and a lot of fun to experience on a scooter
25 mile range
Disc brakes reduces stopping distance and speed
Very durable Aluminium build
Front and rear suspension
Very good ground clearance for going off curbs or over speed bumps
Lights are bright, and I like the flashing front and rear turn signals
Wide deck for those with larger feet
CONS
Quite heavy (53lbs)
Braking isn't silent
---
Answers to some Frequently Asked Questions (FAQs)
How much does the Kaabo Mantis 8 weigh?
How long does the Mantis 8 take to charge?
What is the maximum payload of the Mantis 8?
Do I need to inflate the tires?
Yes, both tires are air-filled so you may need to inflate them from time to time.
How far can it go on one charge?
Around 25 miles depending on rider weight, the mode it is used in, and gradient or the road
---
Kaabo Mantis 8 Gallery