We went on the hunt to find the best dog beds that promise a relaxing, soothing nap or full-on sleep.
Whether you have a young, active dog that needs help relaxing in a snooze-worthy, yet durable cot, or an older pet that needs the extra support and comfort of an orthopedic memory foam dog bed, there's a great bed on this list for them, including our favorite, the Orvis Dog Sofa.
To work out which bed may be the best option for your dog, scroll past our recommended dog beds, to our dog beds informational buyer's guide, or keep reading to get straight into the list.
---
1. YETI Trailhead Dog Bed – Most Durable Bed
To learn more, read our in-depth YETI dog bed review.
Bed style: Bolster, foam
Dog size suitability: Small and Medium (bed measures 29 x 39 inches)
This YETI dog bed is definitely designed with adventure dogs in mind.
It features a sturdy base that will support heavier dogs, and the base is also firm and waterproof, meaning you can use it outside without worrying about moisture entering the bed from below.
The center cushion pad is removable, so you can use it as a separate bed for traveling, and the entire cover, which is made from scratch and dig-resistant material, is removable and easy to wash.
Our dog Kepler also uses his YETI Boomer dog bowl every day – which is another extremely durable dog product from YETI.
---
2. Orvis Dog Sofa Bed – Runner Up
Bed style: Memory Foam Couch
Dog size suitability: Small, Medium, Large
If your dog likes to be elevated and would enjoy his (or her) own sofa to nap on, then Orvis's memory foam dog couch bed is hard to beat.
It features two stacked bolsters that are designed to provide support for larger dogs, and the base is made from orthopedic memory foam for joint support to relieve pressure.
The liner is water-resistant, and the velvet-soft microfiber cover is easy to unzip and wash in the washing machine.
---
3. West Paw Hey Day – Best Flat Dog Bed
Bed style: Flat, Cushioned
Dog size suitability: Small through XL (outside dimensions range from 26 x 19 to 46 x 32).
These luxe West Paw dog beds are made-to-order, handcrafted in the US, in Montana, and available in three colors – grey, blue, and a neutral 'oatmeal'.
They're super soft, featuring a soft, textured fabric top and microsuede bottom – which is all machine-washable.
The filling is an eco-friendly, OEKO-TEX certified safe polyester filling made from recycled plastic bottles.
The low sides make the Hey Day great for any dog who likes to lounge and sprawl out, and also for puppies and older dogs.
This design and the quality, washable construction makes this bed one of the best flat dog beds out there, all at a very reasonable price point.
---
4. Helinox Elevated Dog Cot – Best Raised Dog Bed
Bed style: Elevated, Lightweight
Dog size suitability: Small, Medium, Large
If your dog needs help staying cool and calm, raised off the ground and out of the dirt (if you have them outside with you in the backyard or camping), then you'll find an elevated dog cot the best way to go.
These Helinox raised dog beds are super lightweight (less than 3lb) and pack down small for transporting to and from your campsite. This makes them great for road trips and vanlife, too.
Although they're super light, they have a weight capacity of 320lb so you may just find yourself snuggled up on the cot with your furry BFF if you get one of these.
---
5. K9 Ballistics Nesting Bed – Best Waterproof Dog Bed
Bed style: Nesting, bolstered
Dog size suitability: Medium, Large
K9 Ballistics specializes in chew-resistant dog beds, and their popular nesting bed is a good choice if you're looking for a rugged bolstered dog bed as the cover is made from a tough, waterproof ripstop material that is designed to stand up to scratching and digging.
The filling is made from shredded foam, so it's softer than other memory foam dog beds that are made from one-piece foam bases. This bed is made in the USA.
---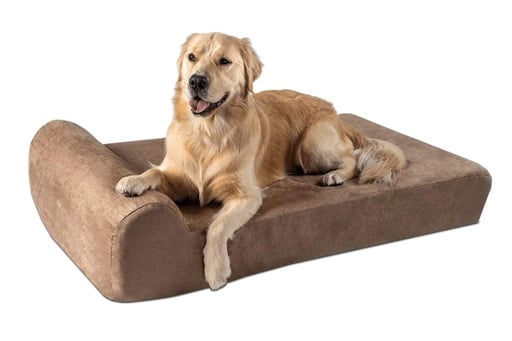 6. Big Barker – Best For Large and Giant Dogs
Bed style: Orthopedic
Dog size suitability: Large, Giant
It can be difficult to find a large and supportive enough bed for heavier and 'giant' dogs.
Big Barker specializes in US-made beds for larger dogs, and their pillow top orthopedic dog bed is specifically designed for large dogs, with a bolster at one end for head resting and a removable, machine-washable cover.
Their foam comes with a 10-year warranty and the company promises that it won't flatten out over time, so this can be a bed for life.
---
7. K9 Ballistics – Best Chew Proof Raised Bed
Bed style: Elevated
Dog size suitability: Small, Medium, Large, Giant
If your dog tends to get hot easily, which can be the case, especially for fluffier dogs such as huskies, for example, then an elevated dog bed (also referred to as a 'dog cot') could be a great choice, especially if they're going to be lounging on it outdoors or in a crate.
This K9 Ballistics raised bed is made from an aluminum frame and ripstop 'ballistic' fabric, which is designed to be 'chew proof'.
This bed also comes with a 120 warranty which includes replacing any part of the bed they are able to damage in that time.
---
8. Best Friends by Sheri Donut Bed
Bed style: Calming, Donut, Nesting
Dog size suitability: Small, Medium, Large up to 150lb
These round, donut-style beds are widely considered to be the best plus dog beds which can help provide your dog with the extra comfort and feeling of security that comes from burrowing into a soft, cozy bed.
They are also often popularly used to help calm dogs who tend to suffer from anxiety or for dogs who need help calming down.
While not as durable as other beds on this list, a round dog bed could be a good choice if you need a bed that could help a dog suffering from stress or anxiety.
---
9. Casper Dog Bed
Bed style: Memory foam
Dog size suitability: Small, Medium, Large up to 90lb
If you're a fan of human memory foam mattresses, you may want to get your dog a similar bed.
The Casper Dog Bed is one of the most popular options out there when it comes to washable dog beds made by human mattress companies, winning out over other brands like Serta, Purple, and BeautyRest when it comes to design, features, and looks.
The bed features a machine washable cover and is designed to retain its shape, with the addition of foam bolsters around all four sides to stop your dog from falling off and give them a place to rest their head.
---
10. K&H Budget Raised Pet Bed
Bed style: Raised pet cot
Dog size suitability: Small, Medium, Large up to 200lb
If you like the idea of an elevated platform bed for your dog but don't need a super durable, chew-proof bed like the K9 Ballistics option above, then this K&H option is a great budget choice for dogs.
It's especially great for those dogs that need help cooling down after exercise, sleep hot, or just like to lounge in an elevated position rather than closer to the ground.
---
Best Dog Beds – Buyer's Guide
How to choose the most suitable bed for your pet
Like people, all dogs are different and have different needs, sleep styles, and preferences when it comes to determining what makes a great bed that they will enjoy sleeping in (or on).
So, the first thing to do to work out what style and brand of dog bed is likely to be the best choice for your dog, is to 'profile' your dog by considering the following:
What is your dog's sleep style? Do they usually stretch out, or sleep curled up in a small space?
What is their age and weight? A younger dog may have more difficulty relaxing; an older dog may benefit from a more supportive orthopedic memory foam bed.
How long are they from head to butt when they're sleeping? This will help gauge what size bed to go for (it's best to get a bed that's larger than this so they have room to move around)
Does your dog sleep hot? If so, a less plush, and more breathable bed such as a raised cot may be a good choice
Do they have any medical or joint issues you need to consider? For example, some beds may be more difficult to get in and out of for less-abled pets
Is having a waterproof, washable or chew-resistant bed important for you? Even if the answer is no, the bed should have some durability to prevent the material getting damaged or snagged by claws and teeth
Do they shed a lot of hair? If so, having a bed that uses fabric that allows hair to be easily brushed off is going to be much better than one that hair clings to
Where they will use the bed? For example, will you be using it outdoors where it's going to get more dirty and possibly wet?
Once you have the answers to these questions, this will help narrow down the style of bed you think will be best for them, leaving you with fewer options to choose from and making your eventual decision that much easier.
As an example, we profiled Trail & Kale's resident dog, Kepler:
Kepler is a medium-sized dog (a Border Collie) weighing 40lb.
He is young and full of energy and likes to run trails and play frisbee, which means he is an active dog that gets dirty frequently.
When he can be persuaded to take a nap (even if it is with one eye open), he lies on his side with all four legs stretch out, and changes positions frequently, so will roll right off a flat bed and wake up.
Sometimes he likes to rest his chin on an elevated surface, so a sofa or bolster-style bed would suit him.
He doesn't really do snuggling, so his bed needs to be big and supportive enough to fit all of him on, to sleep comfortably.
He's not a chewer, but does like to scratch his beds to make them 'just so', and magically sheds a lot of hair every day, which will gather on dog beds if the material they're made from attracts pet hair…
All this means that Kepler really needs a large, comfortable bolster bed that will keep him in place, not cling on to his hair, and can be brushed off and washed easily.
Key features that make a great dog bed
For a dog bed to make it onto this list it needs to be:
Comfortable! A great bed needs to be supportive enough for medium and large dogs so they don't sink down too far, and especially older dogs who can benefit from the additional support around their joints.
Washable, with a removable cover
Made from materials that can be easily brushed off, and do not cling to loose hair
Durable to stand up to dirt, scratching and light 'abuse'.
Some of the best beds on this list are also waterproof (or at least water-resistant), which may be useful if your dog likes to get wet (or dirty), or if they are prone to having 'accidents' when they're in bed.
Types of dog beds on this list
When it comes to pet beds there's a huge choice, especially when you look on sites like Amazon for your dog bed.
However, it pays to spend more on your dog's bed to ensure it is a good quality bed that suits them and will last a long time – cheap beds tend not to last long and end up costing you more in the long term.
In researching this post we've dug out the details of the best pet beds available that are designed to be suitable for active and adventure-loving dogs.
These are the dogs who like to play hard, whether that's agility, on trails, camping or just getting dirty in the backyard, and perhaps need a little extra support and comfort to encourage them to relax, sleep and recover comfortably after all that excitement – eve if their workout was actually only an indoor run on a dog treadmill!
These beds are therefore predominantly:
Orthopedic, memory foam beds
Couch and bolster beds
Elevated platform beds
Nesting, 'snuggler' beds
There are several memory foam and orthopedic beds on this list, and we've leaned towards the sofa and bolster-style dog beds.
These styles of bed are known for being more supportive for larger dogs needing to rest their heads and bodies after being active outdoors, or as they age and need to spend more time resting and snoozing in comfort.
Elevated dog beds also feature, as these are great for summers and dogs that need help cooling down in the heat and after exercise.
Elevated beds are also great for 'place' training where an elevated platform (or cot) bed is easier for the dog to stick to the place command rather than slithering off a softer bed and thinking you didn't notice.
Finally, we have the calming, anti-anxiety style dog beds (like this one), which tend to be described as 'nesting' beds that allow your dog to burrow down and snuggle inside them, where they can feel safe and comforted.
---
Now you've read through our buyer's guide, click here to jump up and see the list.