What shoes do you wear to help your feet and lower legs recover after a tough workout? Kane Footwear would like you to wear their Revive shoes, which are recovery shoes designed for athletes.
Most runners and endurance athletes will tell you that their recovery shoe of choice is going to be a slip-on, supportive shoe that helps to ease the aches and strains they may be feeling on their feet.
Aside from flip-flops, slippers, and sandals, are there other options out there that will do more to help you recover from lower leg muscle fatigue?
The company addresses this niche of the footwear market with these slip-ons, which are specifically designed to help speed up post-workout recovery, rather than just providing something comfortable to put on your feet.
In this Kane Footwear review, I share my experience of wearing these recovery shoes and my verdict on how well they work.
---
Kane Footwear Review – Table of Contents
---
About Kane Footwear
After a wildly successful Kickstarter campaign, Kane Footwear has grown in size and popularity, especially among runners, cyclists, and triathletes.
Kane Footwear has been conscious of its carbon footprint from the outset. Their sugarcane-based BounceBack foam, made from sugarcane ethanol, is a carbon-negative material that holds CO2 sequestered during the sugarcane's growth process.
The first product created by the company is this planet-friendly, Crocs-like recovery shoe – the Kane Revive.
These shoes are made with a proprietary EVA foam, which comes from Brazilian grown sugar cane, a renewable, sustainably-sourced material.
The first thing to know about these shoes is that they're designed to provide relief from muscle fatigue, especially in the feet, ankles, and lower legs.
To achieve this, they have been specifically created to reflect recovery-focused orthopedic principles, in conjunction with Dr. Daniel Geller, a foot and ankle surgeon who focuses on sports injuries.
Our feet are complex – they're made up of 26 bones, plus a load of muscles, tendons and ligaments.
Many of us are on our feet every day, standing or walking on hard (often, unnatural) surfaces, so it's no wonder there's a market for shoes that are designed to help undo some of the impact and strain we put them through.
---
Kane Revive Slip-Ons – Key Features
Recovery features
The Revive features focused on helping deal with fatigue in the feet and lower legs are:
Support – including a 10mm heel-to-toe drop, an anatomical last design, and arch support.
Stimulation – the footbed features small raised nodes, designed to activate blood flow.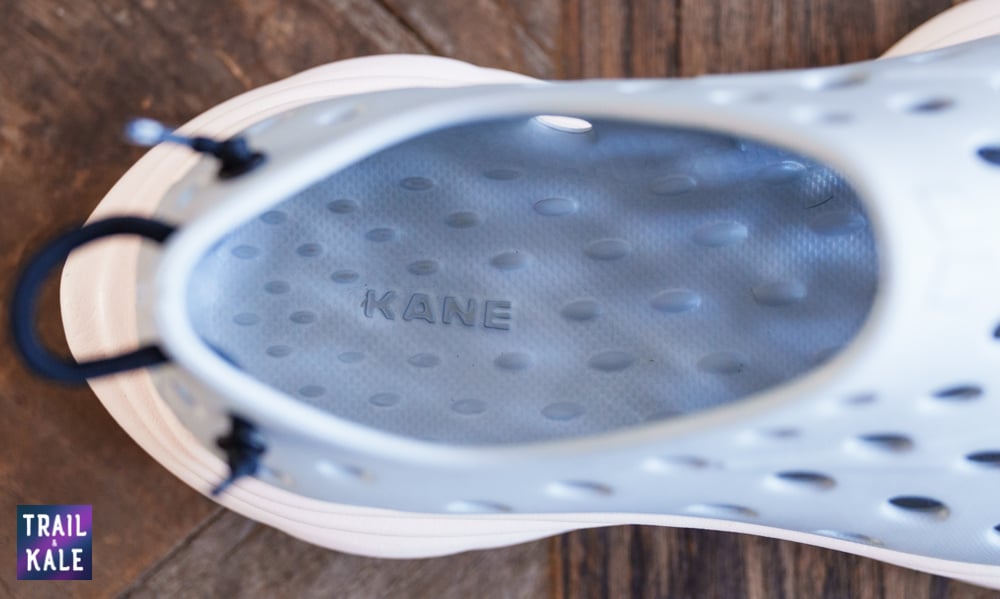 Cushioning – they're made using EVA foam construction that rebounds and helps provide a spring in your step.
Breathable design – this is why the shoes have holes in the upper!
Additionally, the soles have a good amount of texture to help provide traction, and in my experience are more durable than a regular foam flip-flop, while still being lightweight enough to not really notice they're on your feet.
The grip/traction could be further improved if KANE were to use a more rubbery material for the outsole but overall it's pretty good – just be careful on highly polished floors.
They also have what the company calls 'hang loops' on the heel, that you can swap out for different colors, use to hang the shoes up with, or – probably most usefully, you can use to pull the heel up over your foot when putting them on.
Each pair of KANE Revive recovery shoes come with two extra lace loops in different colors – should you wish to mix things up with your style. [See a photo in the gallery below]
Appearance
I personally think the KANE revive is a very attractive-looking shoe.
They're very distinctive but some may see a resemblance to Crocs due to the upper material and bold colors.
For many, however, Crocs definitely don't have a strong association with athletes. They're slip-on clogs, and don't look particularly streamlined.
KANE's Revive shoes, on the other hand, are more of a cross between running shoes and water shoes.
With the absence of features such as shoelaces or a tongue making them pleasing to the eye – or mine, at least – I'm a magpie when it comes to unusual-looking running gear.
I think the company knows that the style is a strong one and some may not be fans but others definitely will be.
Sizing
These sugarcane-foam shoes come in unisex, whole sizes. The Kane Footwear website offers some guidance regarding what size to choose if you're between sizes like Helen is.
I'm usually a size US(M)9 and went with a size 9. I can confirm that the Revive fits true to size in my experience.
If you do usually wear a half-size shoe, and don't have a particularly wide foot, the best advice is to size down, which is what Helen – She's normally a US 7.5 and sized down to a 7.
Helen tells me that there's still plenty of space in the toe box and that she has no issue getting them on, with or without socks. The EVA foam stretches so you can use the heel loop to pull the heel out as you slip them on.
Color options
At the date of writing this review, Kane Revive is available in 15 different color options. Many of these have different colors on the upper vs. the sole, however, some are all one color.
Generally, the colors are either very dark, such as black, or white and other lighter shades – there's little in between. Check out all the cool colorways HERE.
Given I would mostly be wearing these in and around the house, I chose a lighter shade (Stone/Cream, as shown in the pictures throughout this review).
Helen went for the Heather/Pink color pictured below:
Washing the Revive slip-ons
These shoes are waterproof, washable, and dry quickly. There's no fabric or insole material to retain water either.
This actually makes them an alternative to water shoes or sandals for watersports such as stand-up paddleboarding as you'll get plenty of traction on the paddle boards' deck pad.
They also float – which is great if you're doing most watersports including stand up paddleboarding and kayaking.
To wash them, I typically wipe them with a wet cloth, but you could just wash them in the sink or bath, using dish soap if needed.
---
My experience wearing the Kane Revive
As a trail runner and generally active person, spending most of the day standing, I ask a lot of my feet. I often run for a few hours at a time, on some pretty gnarly trails with lots of ascent and descent, in the hot California climate.
It's not unusual for me to get Achilles tendonitis niggle, after large training blocks, in preparation for a mountain race. Luckily I have a way to recover from an achilles tendonitis injury fairly quickly.
Often the latter are simply niggles that go away with some rest and recovery. But wouldn't it be nice if that fatigue and those aches could subside more quickly, simply by choosing a better shoe for recovery?
While recovery shoes are not a new concept, you do have to be convinced of the benefits and choose to wear them intentionally.
I have been wearing the Kane Revives after my runs, as well as at other times during the day, around the house, to see if I can discern the benefits.
My favorite features are the cushioning and the nodes on the footbed.
The cushioning makes it easy to stand, even on hard surfaces.
Helen previously reviewed slippers such as these Teva slip-ons, and explained how they really help when standing for long periods (particularly on hard floors), and it's a similar experience wearing the Kane shoes.
The raised nodes on the footbed aren't something you find on slippers, or many other shoes (most insoles are soft and smooth).
The massage you get from these is rather pleasant! They don't stick into your feet, but you can feel them on your soles and toes, with and without socks on.
I like the ventilation aspect of the shoes as I often get warm feet. Helen on the other hand regularly has cold feet, and she would prefer a closed upper with less ventilation.
However, given the construction is 100% EVA foam, this is, presumably, the only way to ensure these shoes are breathable.
It's difficult to gauge tangible benefits such as whether wearing these shoes helps my feet recover quicker than an alternative such as house slippers – but I think they work. My feet are more comfortable and I don't feel niggles that I may normally when I'm wearing them.
Time will tell if they work long term! Drop a comment below to see how I'm getting on with them over time.
I will say however that the cushioning and sole massage you get from wearing the Revive is a pleasurable sensation, so if it's also helping ease niggles and stimulate blood flow circulation to my feet, then this has to be a good thing!
If I had an acute foot or ankle injury, such as a sprain, I would probably opt for a supportive flip-flop style slip-on (such as the Olukai Ohana sandals), to allow for the swelling and pain of getting a shoe on or off.
However, for regular post-run and everyday foot-pleasing cushioning and massage, especially for an aching sole of the foot (plantar fascia) these are very enjoyable to wear.
---
When should you wear recovery shoes?
I suppose the question should really be 'when shouldn't you wear recovery slip-ons?'.
In theory, you could wear these for much of your day, when in / around the house, or for errands and going to or from the gym.
In theory, you could wear them other places, too, if you're a fan of the strong look. I would not expect the soles to be as durable as other trainers designed to be worn every day (such as the On Clouds), though – but then they're half the price.
As mentioned above, another area where the Kane Revives can excel is for casual watersports such as stand-up paddleboarding or spending time at the beach, as they're waterproof and quick-drying, and have holes to allow sand and water in and out.
---
Cost and where to buy
The Kane Revive recovery shoes cost between $70 and $75, depending on the color option.
While more expensive than other, more basic slip-on recovery shoes, I feel the price is appropriate given the eco-conscious development and design process that has gone into their creation.
For the quality of the shoes, and the efficacy of how well they help recovery, I think $70 is a very reasonable price to pay for these shoes – and worth it in my opinion.
They're available to buy directly from the Kane Footwear on their website, and ship worldwide:
---
Kane Revive Video Review
Get deeper insights into the Kane Revive and really get a feel for what these recovery sandals are like in real life by watching my video review:
---
Review summary
Kane Footwear Review
PROS
Really like the tingly sensation from the raised nodes on the footbed
EVA-Foam midsole is very well cushioned which makes them comfortable to wear all day.
Lots of great color options
Very reasonably priced at $70
They float, don't absorb water, and are waterproof which makes them good for watersports like SUP and kayaking too.
CONS
Would be nice to have a version without ventilation holes for use in cold places, or to better suit those who generally have cold feet.
---
Image gallery