Since releasing their first shoe in early 2022, Lululemon has upped their shoe game and released their first workout shoe, the Chargefeel. Interested in getting massive discounts on Lululemon gear? Visit Lululemon's 'We Made To Much' page to see their latest deals.
This Lululemon Chargefeel review explains what these women's workout shoes are great for, their pros & cons, how much they cost, and where to get them if you want to buy yourself a pair.
The Chargefeel is a women's workout shoe designed as an all-round gym companion to support you (and your feet) throughout your toughest workouts, from HIIT to mixed cross-training workouts and even your run to and from the gym.
Looking for a more running-focused shoe from Lululemon? Read my Lululemon Blissfeel 2 Review next, or read our Best Lululemon Shoes buyer's guide to see which ones are best for you.
This trainer is different from your regular running shoes as it offers more stability for women who prefer to mix up their training in the gym and classes such as cross-training sessions that blend cardio on the treadmill or bike, for example, with HIIT intervals and strength work. More on that, later.
As regular visitors to Trail & Kale will know, being runners and fitness enthusiasts, we review a whole lot of running shoes.
We also have a whole section dedicated to our men's and women's Lululemon gear reviews and buyer's guides, including our popular guide to our favorite Lululemon gifts for runners.
Chargefeel Low first impressions
The Chargefeel shoe is one good-looking gym trainer – especially if you can grab it in vibrant bright color, like my magenta purple-pink pair pictured throughout this review.
For more images, also check out the image gallery at the end of this post.
Lululemon released two types of workout shoes at the same time: the Chargefeel Low, and the Chargefeel Mid.
My pair are the Chargefeel Low, which looks more like a regular trainer, whereas the Mid has a different, sock-style upper.
For a more in-depth comparison between the Chargefeel Low and Mid, head over to my lululemon shoe comparison guide, which also compares the Chargefeel to the Blissfeel running shoe.
Similar to the Blissfeel, there's no doubt the Chargefeel Low is a Lululemon shoe. The logo features on the heel, tongue, and sole, and 'lululemon' is embossed along the side of the outsole.
This shoe feels solid and well-built, with pressure-mapped tread patterns on the sole, and a soft upper liner and tongue.
Color options
Similar to other Lululemon workout and running gear such as their popular leggings, their shoes are available in a range of often-changing color options, which vary depending on availability and limited edition color runs.
The current color range includes black, white, yellow, pink, and more subtle tones. My shoes are magenta purple and I'm loving how strikingly bright they are.
Fit and sizing
The Chargefeel trainers are available in women's US sizes 5 through 11, including half sizes.
I bought them in my regular size (US 7.5) and they were comfortable out of the box. That being said, they feel slightly long in that I have more space than I would normally want behind my heel.
The solution to this is to wear slightly thicker socks than my regular running/workout socks. Alternatively, sizing down by half a size should provide a more snug, yet comfortable fit.
Key features of the women's Chargefeel workout shoes
Starting with the upper, the tongue is made from a soft, suede-like (man-made) material, and the padding around the ankle is soft and cushioned, while also being supportive.
The upper features plenty of perforation for to allow your feet to breathe while you get your sweat on.
The laces have a small amount of giving, which makes them comfortable with little to no adjustment required as your feet get warmer and need more space within the shoe.
The outsole is firm and has a good amount of tread, similar to many road running shoes designed to be worn on the pavement.
This outsole design means they do a good job of maintaining grip and traction if you choose to wear them for runs – for example, to get to and from the gym, or for running intervals as part of a more diverse workout.
The midsole of the shoe is fairly firm, and supportive. The arch support is noticeable, and could make these shoes a good option for women with high foot arches who prefer the added support in this area. If you have flatter feet, you may prefer a shoe with a lower arch, especially if you plan to run in these shoes.
All these features make Chargefeel Low super-versatile, and the best women's Lululemon shoe for all-round workouts and cross-training – as well as everyday wear, if you choose to do so.
If running is a relatively small part of your regular workout regime and you don't want running-specific shoes plus gym shoes, then you will likely find a lot of benefits in owning a shoe such as the Chargefeel.
Not only is the Chargefeel shoe capable of supporting you on shorter runs, but it offers improved side-to-side stability and a firmer landing and responsiveness for HIIT and other cross-training efforts, compared to regular running trainers.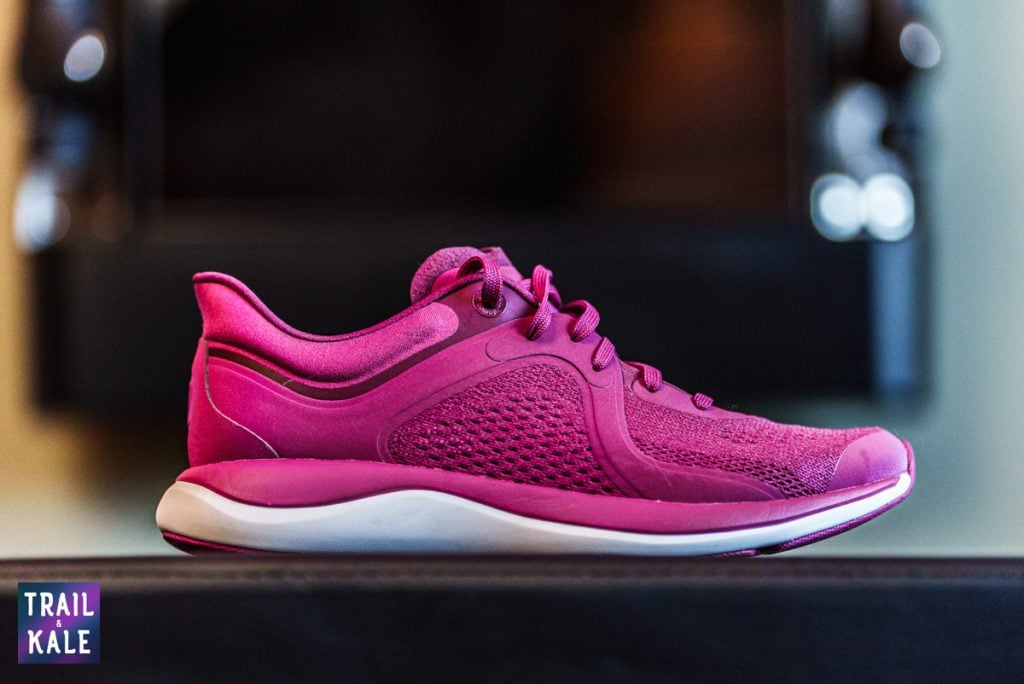 Chargefeel is also a great pair of gym shoes to have in your shoe rotation if you do a lot of traveling (for work or pleasure) and want a do-everything shoe that you can wear every day but are capable of supporting you through workouts as well.
If you're more of a runner, then you will still probably want a dedicated pair (or pairs) of running shoes that can offer you the level of cushioning and support for running for 30+ minutes at a time.
If this sounds like you, then the Lululemon Blissfeel running shoes (like mine, pictured above) would be a great choice to consider.
Cost and where to buy these Lululemon shoes
The Chargefeel Low shoes cost $138 from Lululemon.com or in-store, and the Chargefeel Mid cost $148.
For the best choice of sizes and color options, this page on Lululemon's website shows their current availability.
As with other Lululemon shoes, you can buy the Chargefeel with no risk as they offer a 30-day free returns period.
So, if you don't get on with them in those first few weeks then you can return them during that time for a full refund.
Lululemon Chargefeel review summary
If you want the most versatile shoe to do it all, the Chargefeel is a well-designed, comfortable and attractive women's-specific workout trainer and you can't really go wrong.
This is especially so at this reasonable price point – which is competitive with other workout shoes of a similar caliber.
Lululemon Chargefeel Shoe Review
PROS
Comfortable for everyday wear and workouts
Breathable upper is well-designed for sweaty HIIT sessions
Arch support will suit women with high arches
Women's-specific fit
CONS
Outsole is likely to wear down faster than expected if you use this shoe for long-distance running
Other shoes (such as the Lululemon Blissfeel) are a better option for more dedicated runners, especially those with lower arches
Image gallery