You've probably seen Solo Stoves advertised online or perhaps in your local REI store and wondered if a stainless steel wood burning firepit like this is worth the money.
In this Solo Stove Bonfire review, I explain the key features of this smokeless firepit and what makes it different from other camping and backyard options out there.
I also cover what accessories are important to ensure you can maximize your enjoyment if you choose to buy one of these fire pits.
There are a lot of accessories ranging from an entire cooking system to more safety-focused accessories – and some will be more important to you than others, depending on how and where you plan to use yours, so I'll do my best to help you decide if you need them or not too.
You can even cook stonebaked pizza over your Solo Stove Bonfire – read my Pi Fire firepit pizza oven review to learn more about that!
There's now a Fire Pit Bonfire 2.0 which for all intents and purposes is the same as the first wood-burning Solo Stove fire pit version but with a patented removable ash pan that negates the need to lift your entire fire pit to remove ash from the burn chamber. The exterior looks the same.
This makes cleaning up your wood burning fire pit after a fire easier than ever. It's the first ever update to Solo Stove's smokeless fire pits, and Solo Stove is excited to implement this feature that customers have been asking for!
---
Table of Contents
---
What is a Solo Stove
Solo Stove offers a range of portable wood burning fire pits, campfires, and cooking systems that you can use in your backyard, or take car camping.
They also make portable wood-fired camping stoves that you can take camping and backpacking, for cooking on.
READ NEXT: Best Backpacking Stoves For Cooking On The Trails
Backyard fire pits are gaining in popularity, and with these Solo Stove fire pits being so portable in design, they offer a more versatile option for those who do not have a built-in brick or stone fire pit.
They are also a great option who plan on moving the fire to a different location in their yard and storing it away when it's not in use.
As well as being portable, Solo Stoves are particularly popular because they're marketed as being smokeless fire pits.
What this means is that they produce significantly less cough-inducing, eye-stinging, and clothes stinking smoke as a result of innovations used in their construction.
While the primary use for these firepits is as a gathering spot and source of warmth for family and social gatherings, you can also cook on a Solo Stove (and not just marshmallows or hot dogs). More on that, later in this review.
Which size is best?
Solo Stove offers several different size wood burning fire pit models. This review covers the Solo Stove Bonfire, however, which is their best-selling, mid-size fire pit.
Solo Stove also offers the Ranger, which are smaller than the Solo Stove Bonfire, making them even more portable fire pits, and the Yukon which is their largest fire pit for larger backyard gatherings.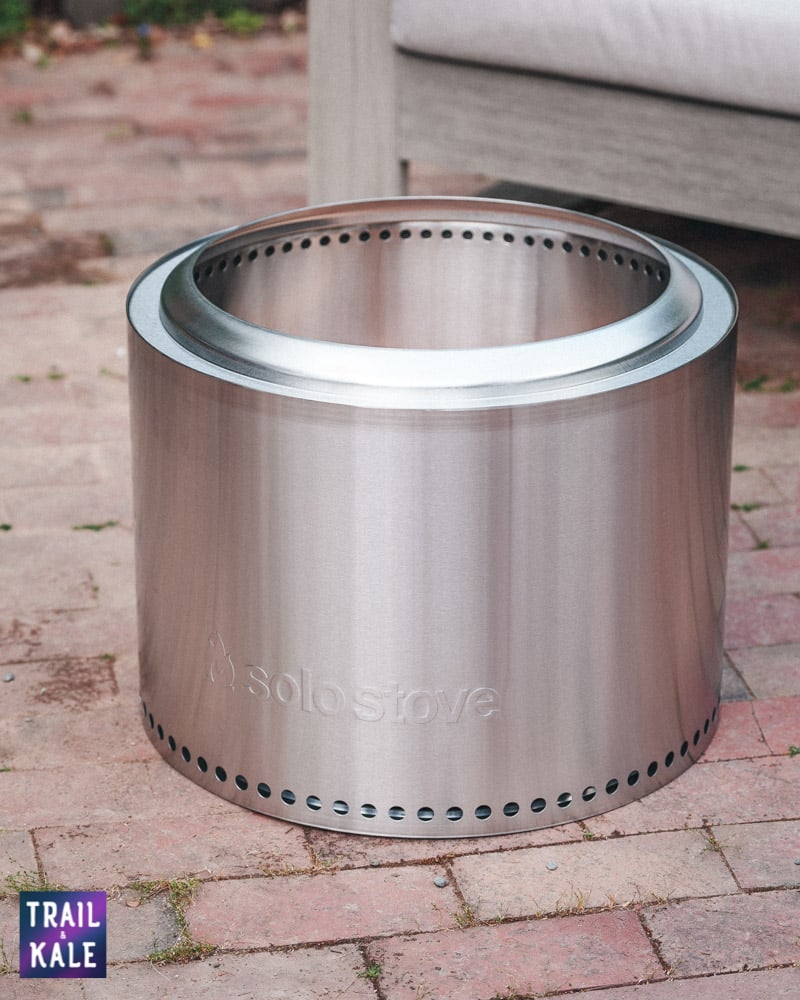 The smaller firepit, the 'Ranger' is lighter and more portable, while the Yukon can cater to, and keep more people who gather around it warmer (say, six or more).
The Solo Stove Bonfire is still reasonably light and portable and still produces plenty of warmth for a small group of two to five people to sit around, which is probably why it's their most popular firepit model.
You can compare all three and answer a quiz to help choose which size is best for you, on Solo Stove's website.
Regardless of which size Solo Stove you have your eye on, the majority of the features (except the dimensions, weight, and price) are the same across all models, so hopefully this review will help you work out which is best for your needs and intended use.
---
The Solo Stove Bonfire's key features
Firstly, as mentioned above, the Bonfire is described by Solo Stove as being a smokeless firepit. That is, once it's fully burning, it has a very efficient burn, and gives off very little smoke compared to a traditional campfire or firepit.
This smokeless feature is enabled by the Bonfire's double-walled stainless steel construction.
It has vent holes at the top and bottom, which means improved airflow.
The firepit is designed to suck rising hot air from the bottom and push it up to the top, where it re-enters and creates what they call a 'secondary burn'.
This secondary burn feature makes the firepit burn significantly hotter than traditional campfires, virtually eliminating smoke and creating finer ashes.
This innovation, which has been around for a while in more traditional (indoor) wood-burning stoves, also means that Solo Stoves burn ultra-efficiently.
You can achieve a good flame within minutes, which is easy to light and then maintain for the duration of your evening's use.
Other key features of the Solo Stove Bonfire include:
Weight

: 20 lbs

Dimensions

: 19.5 inches wide x 14 inches tall

Materials

: 304 Stainless Steel

Accessories

: it comes with a nylon carry case bag
It's fairly easy to store. While it arrives in a large cardboard box, the stove itself is neat and compact, so it's not too difficult to find somewhere suitable to keep it.
It also comes with a well-made cover that encapsulates and protects the fire pit when not in use.
---
How to use the Solo Stove Bonfire Firepit
The best place to locate the Solo Stove Bonfire is on a hard, non-combustible surface, such as a brick or stone patio.
However, if you are looking for a portable firepit you can use on other surfaces, Solo Stove also offers a fire pit stand as an optional accessory, which elevates it from the ground and gives you more options where you can safely operate your firepit, such as on a deck.
What's the best wood to use?
Any firewood logs that will fit inside the firepit will work.
We found that logs sized up to 16 inches long work well inside the Bonfire – and that's most logs you can buy in a bundle at the supermarket or hardware store.
Or, of course, you could chop your own firewood if you have access to tree logs, and the means (plus inclination) to do so.
Generally, hard woods burn longer than soft woods, so fire logs made from hardwoods are a better choice.
Solo Stove's advice to create the most efficient fire in your Bonfire is to not over-fill it with logs.
You want to keep them below the top vent holes so it can work most effectively and reduce the smoke it gives off.
We've found that between four and six good-sized logs work very well.
How to light the Bonfire
To light the fire pit, you can use kindling or other appropriate fire-starting materials to get it going.
The easiest way (in my opinion) to light the Bonfire is to include a firestarter block in the middle of the stack of logs, and light that with a long lighter or match.
It takes a couple of minutes to heat up, and before you know it, you'll have a roaring, warming firepit!
The first few minutes result in smoke being created.
Don't worry!
This is normal and happens because the Bonfire needs time to heat up and get that important 'secondary burn' airflow going, which reduces the amount of smoke it gives off.
Give it a few minutes and you'll notice the amount of smoke reduce significantly.
I wouldn't say it's 100% smoke-free (that would be inaccurate) however there is very little smoke once the firepit is up and roaring.
Once your firepit has heated up, unsurprisingly but worth pointing out, it also gets VERY hot to the touch – especially at the top. So don't try to move a Solo Stove during or after use, as it will burn you.
Also, of course, keep kids, pets, blankets, and clothing away from the fire pit's flames.
Puffy blankets such as our Rumpl in the picture above are often shown being used around campfires, but you have to be careful to keep them well away as they are flammable (although less so if you get the newer Rumpl Nanoloft Flame, which is fire-resistant on one side!).
You'll also notice our energetic adventure dog Kepler is not anywhere near the fire in these photos, intentionally so. 🙂
Using a Solo Stove in an existing fire pit
As well as using it on its own, on a suitable outdoor surface, you can also place your Solo Stove inside an existing stone firepit, if you have one in your backyard.
However, the company recommends you have at least 2 inches of extra width all the way around, to allow for adequate ventilation and for the Bonfire to function correctly.
How to put it out
Solo Stove's advice in the instructions manual is to let the firepit burn out of its own accord.
To do this requires some planning because it typically takes an hour or two from placing the last log, for the firepit to be really 'out' – and even then, it will still be hot.
The first time we used it, we needed to know the fire was safe and it could be put away, so we put water on the flames, which is not something they recommend because the rapid change in temperature is harsh on the metal, and the water mixes with ashes in the base of the firepit.
Instead, to help keep the firepit safe while it's cooling down, the company sells a spark/ember Shield which you can place on top of the firepit to reduce the chances of any embers escaping while there are flames.
We have one on its way to use with our Bonfire going forward – it will be great to have that added protection against sparks and embers popping out, although of course, the Shield is not going to be a substitute for keeping an eye on it as it dies down.
Additionally, another useful extra is the Solo Stove Bonfire Lid, which you can place on top of it to contain ash and embers.
The lid also allows you to use it as a table, when not in use for a fire. This is not something we have for ours (yet), but is high on our wish list.
Cleaning and storage
It's simple to clean – just tip out the ashes. We also wipe it down with a soft cloth before putting it aside, and then you can store it in the storage bag it comes with.
There's also a raincover you can buy (yep, another extra), which is called the 'Shelter', if you intend on keeping your Solo Stove outdoors between uses and want to protect it from the elements.
Can you cook on a Solo Stove?
Yes! If you have the desire to cook on your firepit, you can also get a cast iron griddle and/or wok, together with a raised stand that acts as an adaptor to convert your Bonfire from a firepit to an outdoor cooking station.
The stand (called a 'Hub'), allows you to place the cooking system – whether that's the griddle or wok – at an appropriate height above the flames.
It's sold on its own, or bundled together with the other items as a cooking system.
If you like the idea of cooking but don't want to invest in these branded extras, you could, of course, also get creative with existing grill equipment you may already own!
An alternative solution to the Bonfire is the BioLite FirePit+ which is unique in its own way – it is also smokeless, portable, and can be used to cook on.
---
Our experience using the Bonfire
We use our Bonfire mostly in the backyard (you may have already seen it featured if you're following our Instagram account).
Living in California, this means it's mostly being used in the winter and at times when there's low wind, and low fire risk.
Our winter evenings can get chilly and the firepit helps create a convivial atmosphere as well as prolong our time outdoors at night before we get really cold!
After having a smokeless firepit, it's hard to go back to sitting by a really smoky campfire.
As someone whose eyes are particularly sensitive to smoke, and will sting very quickly after being near a campfire, the Solo Stove really offers an enhanced experience.
It's much easier on the eyes (and lungs), and provides great all-round radiation of heat, as well as looking very cool.
Having the option of cooking on it adds versatility, it looks great pretty much anywhere and is well-designed, engineered, and crafted – definitely something that's been built to last a lifetime.
This is not a cheap backyard accessory, but you're paying for that quality, craftsmanship, and years of enjoyment to come.
---
Cost and where to buy
The MSRP of the Bonfire is $399, however, Solo Stove often offers deals, including bundle offers with various accessories. At the time of writing this review, it's on sale for $240!
You get free shipping in the contiguous US for orders over $75, and these products come with a lifetime warranty.
You don't need to buy accessories to enjoy a Solo Stove, however, it's definitely worth also considering the following options, depending on how you plan to use it, and factoring them into your total budget:
The most popular accessories are included in various different bundles that offer a combined discount over buying them all separately, so it's definitely worth checking the bundles out before you order a stove on its own.
To check the current prices for bundles as well as any live deals or offers, visit Solo Stove's website using the first button below. You can also find them for sale at other stores such as REI:
---
Solo Stove Review Summary
Solo Stove Bonfire Review
PROS
Virtually eliminates smoke
Efficient heat output
Reasonably portable to take car camping and move around the backyard
Cooking system available
CONS
Hard to fault - expensive to purchase but designed to last a lifetime
You may want to buy several accessories to maximize use / enjoyment, which bumps up the initial cost
---
Image gallery