Ever felt the thrill of lacing up a brand-new pair of running shoes that promise to redefine your running experience?
Being a running shoe reviewer, I know that feeling all too well, although it doesn't come around as often as you may think.
In this Brooks Ghost 15 review, I'll be going over the key specifications of these daily cushioned running shoes, what I really like about them, what could be improved, and finally whether I believe they're worthy of becoming a part of your road running gear. But before I get into all that, here's a quick bit of background on the Ghost 15 and who they're best suited to.
Today, I've got something that might just give you that feeling again, especially if you're new to running or are in that intermediate phase and are looking for a very affordable running shoe for bagging daily miles. Heck, even if you do a lot of walking and are in need of a new pair of cushioned trainers, the Ghost 15 could be exactly what you're looking for.
The Brooks Ghost 15 is a shoe that has not only captured the hearts of many runners but has made some serious strides in blending comfort and performance over the years since the first version back in 2008.
Ghostly by name but solid in performance, this update to the popular Ghost series has brought something exciting to the road.
Let's dive into the details and my experience running in them!
The key specifications of the Brooks Ghost 15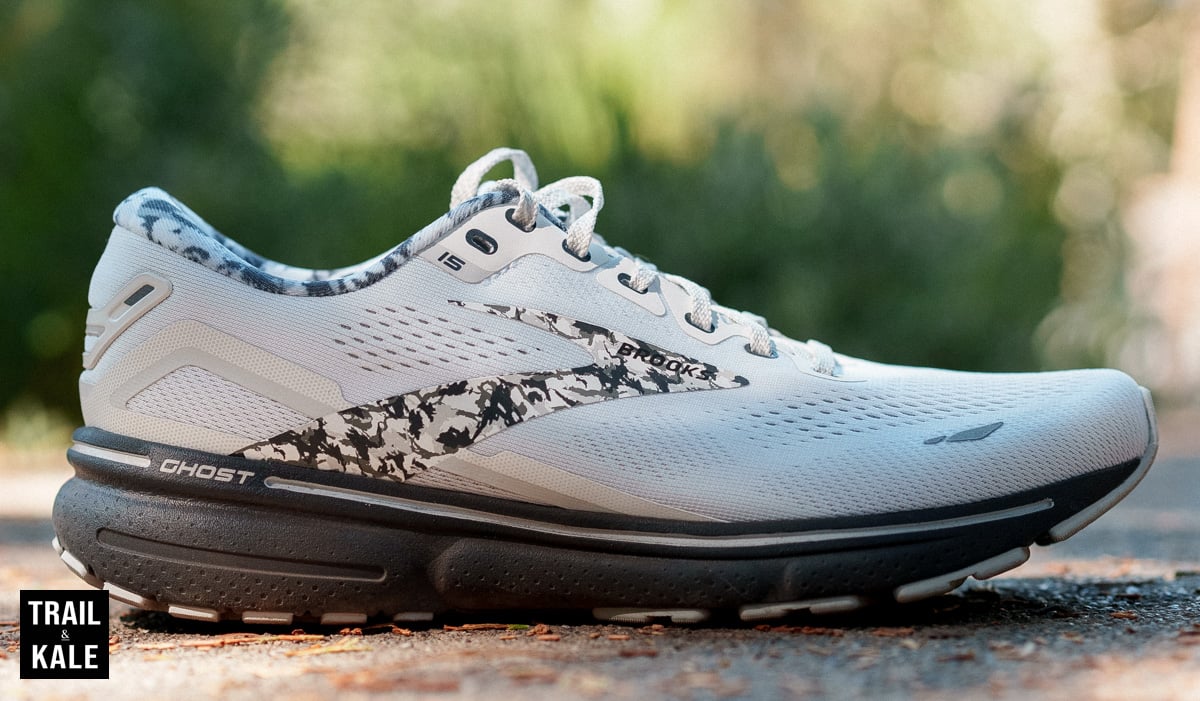 Usage: The Ghost is one of Brooks' most-loved running shoes. With a soft feel, smooth ride, and trusted fit, the Ghost 15 delivers the comfort and performance runners rely on.
What's new: New midsole features soft and lighter-weight DNA LOFT v2 cushioning which has a unique balance of rubber, air, and a less dense, lighter foam for a plush feel
Price: $140
Weight: 10.1oz / 286.3g for a size US(M)9 (my pair)
Drop: 12mm
Toe box width: medium
Midfoot width: medium
Stability: Neutral
Cushioning: medium cushioning
Also available in: GTX waterproof version, and 2 wide versions.
---
Brooks Ghost 15 Sizing and Fit
If you're wondering about the fit, I can confirm that these running shoes do indeed fit true to size and the medium width accommodates average-sized feet perfectly.
So, go with the sizing you are used to for Brooks and other running shoe brands like HOKA, On, Nike, and Salomon, and you won't be disappointed.
Comfort is an important factor for Brooks Running, and the Ghost 15 upholds this just as the previous versions of the Ghost have done so in the past.
My experience running in the Brooks Ghost 15
The day I laced up the Brooks Ghost 15 and headed out for my first run in them, it was the engineered air mesh upper that was the initial standout feature for me.
It feels as though my feet are wrapped in a gentle comforting embrace, the kind that breathes life into a those essential easy runs, where recovery pace help build long term fitness.
I mean just look in the image below at how soft and cushioned the shoe walls around the heel and ankles is, who wouldn't enjoy stepping into that?!
The 3D Fit Print adds just the right amount of structure without holding me back and I couldn't help but feel like these shoes knew exactly what I needed on those hot California roads which by the way is breathability.
The second feature I noticed when running in the Ghost 15 was the DNA LOFT v2 cushioning – which is hard to notice because it's what gives these running shoes that soft, cushioned landing whilst reming responsive. See my photos below for a side and bottom view of this foam midsole.
I had read about this foam prior to running in the Ghost 15 and Brooks Cascadia 17 trail running shoes which also features the same foam, but feeling it actually work is always nice.
Strides feel soft and forgiving forgiving, like the feeling of running on clouds. Whether it was a tempo run, or a simple jog with my border collie Kepler, this cushioning system felt like it had my back with the smooth transition from heel landing to toe off.
As I ran more miles in the Ghost 15, I couldn't shake the thought of its unique origin. A shoe named after a night-running product manager, evolving since 2008 into a symbol of soft cushioning and seamless strides.
With each run, my mind kept wandering back to that feeling that I was somehow becoming part of a community that's shared the same experience over the years.
But the Ghost 15 isn't just about performance; it's also about principles. I was delighted to discover that Brooks has incorporated sustainably made, recycled materials.
Running in these shoes, I felt a connection not just to the road but to the planet – which is something we feel strongly here at Trail and Kale. It's a comfort that goes beyond the sole, and into my soul, knowing that I'm wearing something that aligns with my values.
No story is without its twists, however and while I love almost everything about the Ghost 15, the 12mm drop from heel to toe is a bit more than I would usually run with.
Higher drops in running shoes are more noticeable when running longer distances where proper running form and biomechanics, correct breathing techniques, and tailored cadence are essential tools to running with efficiency and good economy.
However, this small quirk was just a minor note in a well composed melody that the Ghost 15 played for me while running – how poetic, I know.
In the end, the Brooks Ghost 15 has become more than just a pair of running shoes. They've become companions, supporting me mile after mile, from easy recovery runs to those precious moments walking with my new baby boy, Seb.
They're a testament to a brand's commitment to comfort, performance, and taking care of our planet.
Brooks Ghost 15 performance review (YouTube)
The video below shares my performance review, and how they actually perform when running, along with additional insights on the design of the Ghost 15 running shoes. If you enjoy the video, subscribe to our YouTube channel for more running shoe reviews just like it!
I also created this reel on Instagram which shows me running at speed in them.
Are they worth your hard-earned money?
The Brooks Ghost 15 won me over with its comfort, performance, and eco-friendly approach, and although that 12mm drop is too much for me personally when it comes to longer runs, so many runners are going to love this shoe for everyday running.
It's more than just a shoe; it's a running partner that will find a special place in many a runner's running journey.
For only $140 at brooksrunning.com, I highly recommend giving the Ghost 15 a try; I'm noticing a trend with Brooks Running shoes whereby they release very reasonably priced shoes that just perform really well, in a manner that's accessible to most runners.
Whether you're an experienced runner like me or just starting out, these shoes have something for everyone; oh and if you have wide feet, Brooks also offer the Ghost 15 in a narrow version (not for all colors though), two different wide versions (2E) and (4E), as well as the medium version I have here.
They also have a GTX waterproof Gore-Tex version to help your feet stay dry when running in the rain; you can find all those different variants by following the button links below.
If you do end up getting these running shoes (or you already own a pair) for your run training or leisurely jogs with family and four-legged friends do let me know in the comments down below – I love seeing how you all get on with my recommendations! 🏃‍♂️💚
---
Brooks Ghost 15 review summary (rating with pros and cons)
Brooks Ghost 15 review
PROS
The engineered air mesh upper and 3D Fit Print provided a snug but breathable fit, like a gentle hug for your feet.
The DNA LOFT v2 cushioning turns every step into a plush, cloud-like experience.
The use of recycled materials resonated with my values, making each run feel ethically rewarding.
True to size and accommodating for average-sized feet. No fuss with the sizing here!
Excellent value for money at only $140 for a cushioned running shoe that performs very well.
Available in 4 different widths including narrow (not for all colors), medium, wide, and extra wide. Also available in GTX waterproof version for rainy days.
CONS
The 12mm drop might not suit everyone, especially those used to a lower drop and anyone who plans to run long distances at a time (half marathon or more). This wont bother those who are used to a high drop however.
---
Brooks Ghost 15 Photo Gallery