We've been impressed by BioLite Energy's range of innovative LED camping and outdoors-oriented products, and their rechargeable AlpenGlow lanterns are no different.
To call these just camping lanterns doesn't do them justice – you may just find yourself using one every day in and around your home.
In this BioLite Lantern review, I cover the key features of the AlpenGlow 500 & 250 camping lanterns, and what makes them so versatile and enjoyable to use. Whether you camp in a tent, camper van, your backyard, or just enjoy chilling in your living room with some Apple TV+ shows, BioLite AlpenGlow lanterns are a must-have.
Read on to find out why I awarded the AlpenGlow camping lantern an Editor's Choice award.
---
Table of Contents
---
BioLite AlpenGlow Lantern Overview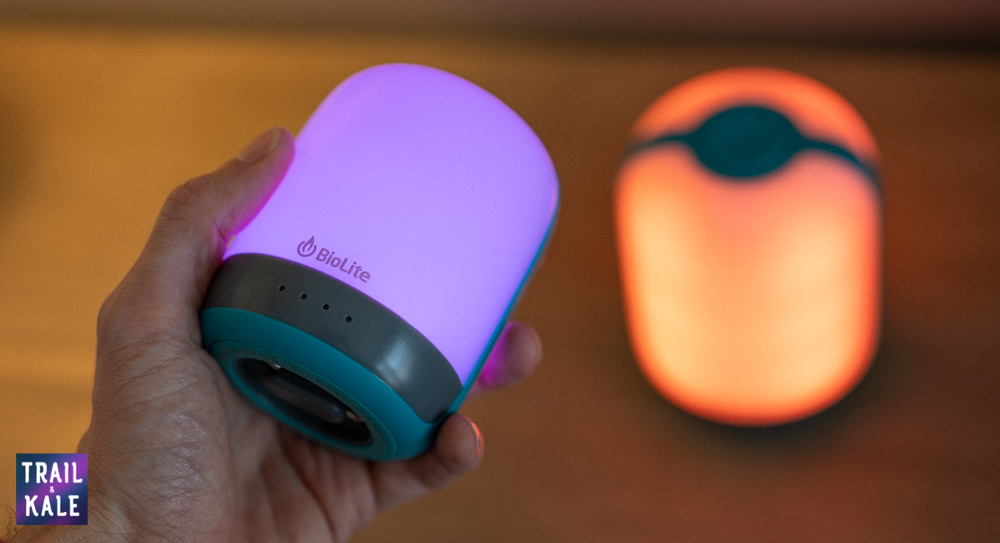 The BioLite AlpenGlow LED lanterns offer a wide range of 360-degree white and colored ambient and task light, with additional features including a candle-flicker mode for a candlelight effect, and an Aurora Borealis-esque multicolor light show that cycles through the whole color spectrum.
READ NEXT: Interested to learn about other excellent camping lanterns? Read our Best Camping Lanterns Buyer's Guide next.
These rechargeable battery-powered camping lanterns come in two sizes, the 250 and the 500. These numbers stand for lumens (a measure of brightness).
The AlpenGlow 250 is a small camping lantern measuring 3 inches in diameter by 3.7 inches tall and weighing 7.6oz. The BioLite AlpenGlow 500 is quite a bit larger – it measures 3.8 in diameter x 5.4 inches tall, and weighs 13.4oz.
Both offer almost the same features and have similar battery life, which is an incredibly long time, at up to 200 hours (when used on lower brightness settings) on one charge!
As the 500 is twice the size of the 250, it naturally gives off more light and also has a slightly different look and color options when it comes to the multi-color light settings.
These lanterns use a technology called ChromaReal LED, which accurately renders colors with a natural (rather than artificial) glow, and helps colors pop and textures stand out, which is particularly useful if you're using the lantern for outdoor cooking in your camp kitchen, for example, and need to inspect your food to ensure its readiness.
Both have an IPX4 rating, which means they're designed to be able to handle being splashed by water, but note that they're not waterproof so not intended for use somewhere they could be submerged intentionally or accidentally.
---
AlpenGlow lantern light modes | This LED camping lantern brings so much joy
The lanterns offer the following base light modes:
Cool and warm white light, which are both dimmable
Candle flicker
Single color
Multicolor / blended color modes – where one half of the lantern is a different color to the other
Cycling through single or multiple colors
The multicolor mode is slightly different between the BioLite AlpenGlow 250 and 500. The 250 emits two complementary colors (one on each side – see above), which you can cycle through. The BioLite AlpenGlow 500 shows a blend of colors on both side – which is how you can get those sunset or Aurora Borealis-type hues (also in the image above).
When you press and hold the on-off button, with the lantern on, this dims the light to your desired brightness level (on white light settings). If you press and hold it a second time, it brightens the light.
On color settings, it cycles through the color options and combinations so you can use the color you want to leave it on, depending on your mood. I demonstrate all these functions in my hands-on video review below.
---
What happens when you shake the AlpenGlow lantern?
Shaking the lantern (up and down rather than side-to-side) allows you to access special light modes. The special mode output varies depending on what light setting you have the lantern on:
Cool white: becomes single-sided white (useful for conserving battery or for providing directional lighting rather than 360-degree light).
Warm white: becomes a candle flicker (our favorite setting for camping chilling and at-home movie-night. You get a candle lantern you can take camping, but without the fire risk and mess that comes with actual candles). I love this mode when relaxing in the evening because the warm color of the light combined with the subtle candlelight flicker has an instant calming effect.
Single color: starts cycling smoothly through the color spectrum.
Multi-color: starts cycling through multiple colors (which are different on each side of the lantern on the 250, or a blend of colors on the 500).
As a bonus feature, for the Alpenglow 500 lantern, if you shake it again while already in the multi-color cycling mode, you get to 'firework mode', which is a rapid color-changing blend of hues. Jazzy!
With so many features, it can be hard to remember how to access them all, however, there's a helpful video on BioLite's website that talks you through each of them, or you can always come back to read this review as a refresher 🙂
---
Other lantern features worth a mention
The built-in metal loop in the base flips out allowing you to hang the lanterns from the top of your tent, a tree branch, or anything else you can think of. The AlpenGlow 500 and 250 both have this fold-out hook on the bottom.
The lights have an IPX4 weatherproof rating means that they can withstand rain and splashing (but not submersion, so don't go throwing it in the lake or hot tub – it would probably also sink!).
You can lock the lantern to prevent it from being accidentally turned on while being stored or carried in a duffel or backpack, for example. This is done by pressing and holding the on-off button for 8 seconds while the lantern is off.
If you have other BioLite lights such as the Site Lights, you can connect the Alpenglow to them using the USB side-port, to add your lantern to a string of other lights in your backyard or campsite.
It's a well-made and solid gadget, offering an incredible range of lighting options, making it a great choice for any type of outdoor living or even ambient light around your home, including your living room and bedroom.
It's definitely a great thing to take camping, although the AlpenGlow 500 may be larger than you may want to carry for ultralight backpacking. See my video below for a reference on the actual sizes of both camping lanterns.
Because of the multiple color options, it's also a fun accessory for lighting at parties and makes a great camping gift for kids and adults alike.
---
AlpenGlow Battery life and charging
The rechargeable battery on both AlpenGlow models lasts up to a crazy-long 200 hours on low, and 5 hours on high (bright light), and takes 3 hours to fully charge using the included USB cable.
Because they're so bright on the full brightness setting, we rarely use ours on the brightest settings, as we prefer the less intense light of the dimmer hues, so we often get a lot of hours of use between recharges.
The lanterns both have a battery indicator on the front, which shows how charged the battery is out of four levels, using four white LED dots that light up for a short while after pressing the on/off button and are easy to see without interfering with the main light.
Using the BioLite lantern as a portable power pack
These camping lanterns also have the ability to charge other devices, using the USB out-port which is found on the side of the base. This could come in useful if you need to add a little more battery into your headlamp or phone, for example.
Speaking of headlamps – BioLite makes excellent headlamps for running, hiking or camping, such as the great-value BioLite Headlamp 425, the super powerful BioLite HeadLamp 800 PRO, and the mini but mighty BioLite HeadLamp 325.
---
Cost and where to buy
The BioLite AlpenGlow is definitely one of the best camping lanterns I have tested, and with RRPs of $60 for the 250 and $80 for the 500, they're also great value for money.
If you like the range of colors, light temperatures, dimming functions, and features of these lanterns, then they're a great choice – especially if you can see yourself using them regularly at home and in your backyard rather than only for camping – this way, you'll get many hours of enjoyment out of them.
Oh, and because they are very reasonably priced for such a premium product – they also make for great gifts.Biolite AlpenGlow 500 Lantern
Amazon.com
$79.95

3 new from $79.95

See Deal
Rei.com
$79.95
See Deal
Bioliteenergy.com
$79.95
See Deal
Backcountry.com
$79.95

out of stock

See Deal
Last Amazon price update was: 2nd June 2023 2:30 pm
---
BioLite Lantern Video Review
---
BioLite lantern review summary
BioLite AlpenGlow Lantern Review
PROS
Wonderfully designed lanterns that look attractive and also function very well.
The plethora of color options will keep you entertained for a long time. The color modes are great fun when you have friends over, or you want to get creative with your photography.
The clip on the bottom is very useful for hanging up the lanterns.
Love that they are rechargeable, and the battery life is excellent, and I love that you can also charge devices with the lanterns (as though they are portable power banks).
The weatherproofing means you don't have to worry about damaging them from a bit of rain.
The warm lighting modes have a calming effect when you want to relax in the evenings.
CONS
Would be nice to see a USB-C port on there too.
Other than that, I honestly, I can't fault the AlpenGlow camping lanterns - they deliver on what they were designed to do, at an affordable price.
---
Image gallery