REI's annual member's sale is a big one! In this year's REI Member Coupon Moment sale members get 20% off eligible gear at the REI store (not just REI branded gear) and an extra 20% off one REI Outlet item.
So, if you've been waiting for the right time to buy some new outdoor adventure gear, now is your chance, but be fast because this REI Co-op sale ends soon (3/27) and product stock may not last until the end of the sale.
Keep reading to learn all about the REI Membership benefits and what it means to become an REI Member, including access to the REI Co-op Sale.
If you can't find something already included in the sale, you can still save 20% on one full-priced item and an extra 20% on one REI Outlet item, by using coupon code MEMBER23 at checkout!
You must be an REI member to take advantage of the code, but REI membership is only $30 for a lifetime and worth doing for the reasons outlined below.
---
REI members can follow these simple steps to save 20%:
Step 1 – Put an eligible full-price item and/or one REI Outlet item in your cart. Exclusions apply. See terms & conditions here.
Step 2 – Enter coupon code MEMBER23 in the Review and Pay section of checkout to get your discount through the end of the sale.
Step 3 – Enjoy your new gear! Sign up below:
---
REI Membership Benefits: Discounts, Exclusive Gear, Dividends
We have been REI members for years, and love that REI is a cooperative that invests in causes that we care so much about.
The benefits of becoming an REI member include:
Every year you'll receive a member dividend of 10% back on what you spend – You'll see these returns in spring every year. This is effectively an extra 10% off every purchase!
Free standard US shipping on all online orders
Gain access to member's only exclusive gear – Every now and then you'll see exclusive gear pop up that's only available for purchase by REI members.
Gain access to exclusive member-only events and sales – like the Member Coupon Moment sale in March/April.
Influence the future of the company
Shop and trade in used gear for REI store credits
Play, learn and travel for less – When you become an REI member you'll get special pricing on REI Outdoor School classes and events, rentals, bike and ski shop services, and REI Adventures trips.
Be part of a welcoming community – If you're just getting into the outdoor scene then you're lucky because newbies and hardcore adventurers alike belong to the REI co-op. Within the REI community, you can advance your skills, make friends, gear up and get outdoors.
Support causes you care about – Each year, the REI co-op invests in the work of nonprofit partners who help hundreds of organizations improve outdoor access for all.
REI Membership Cost
Becoming an REI member only costs $30, and with that, your memberships will last for a lifetime.
To understand more about what makes REI such a great organization what makes them different, click this page to learn about REI's values.
---
Our Top Picks In This Year's REI Member's Sale
On Cloudmonster running shoes – $170 $136 with coupon
The On Cloudmonster is a beast of a shoe that's fun to run in, but also delivers the goods when it comes to improving your running route/race times – so it's no surprise this On shoe ranks highly in our On Running Shoes comparison guide.
This is a great road running shoe for comfort and speed – and this REI sale is one of the few times you'll be able to pick up a pair for so much less than the $170 MSRP!
By the way, other On Running shoes and apparel all have 20% off in this year's REI member moment coupon offer! This includes tees, shorts and their super comfortable Performance bra that's designed for running and other high impact activities. See On Running products included in REI's member coupon moment.
---
YETI Roadie 60 Wheeled Cooler $500 $400 with coupon
Quite simply, if you want the best insulation on the market, and a well-constructed, robust and good-looking hard-sided ice cooler, YETI coolers are a top choice, and their largest wheeled cooler, the Roadie 60 is the perfect option for bringing your provisions over backcountry trails, across sandy beaches and through packed crowds, especially when you can pick one up with 20% off!
---
REI Flash 3 Tent $499 $399 with coupon
REI's range of Flash tents are their lightest and highest-performance backpacking tents. The freestanding REI Co-op Flash 3-person tent is designed for backpackers seeking lightweight livability – perfect for two people who like a little extra space, or have a young child or dog camping with them!
REI's Flash tents are also available in 2 and 1-person capacities.
---
REI Co-op Flash 55 Backpacks $199 $159 with coupon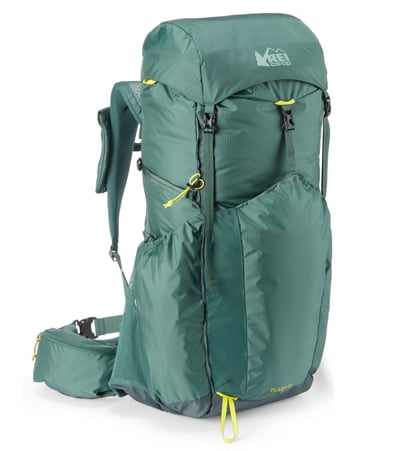 Speaking of backpacking, REI's popular Flash backpacks are also included in the sale. For 2023, these backpacks have a redesigned fit with integrated suspension and an adjustable torso, and come in men's and women's sizing.
At around 55 liters of capacity, these backpacks are perfect for everything from overnighters to being fully loaded for a week of backpacking.
---
Members Get 30% Off Co-op Cycles Kids Bikes
30% off is a huge discount, especially when it comes to buying bikes! REI's Co-op Cycles kids bike range, including the Rev 16 above, are discounted for Members in this year's members coupon sale.
The Rev 16, for example, is normally $229 – that's $160 after the discount.
---
Cloudvista trail running shoes $150 $120 with coupon
One of On's most popular trail running shoes, great as an all-round trail shoe for intermediate runners, the Cloudvista is included in this year's sale, with 20% off.
---
Co-op Cycles Generation e1.1 Electric Bike $1499 $1349 for members
Rarely discounted, REI is offering members 10% off select e-bikes and nonelectric bicycles in this year's sale.
The Co-op Cycles Generation e1.1 electric bike, pictured, is included in the sale – that's $150 off the regular price! This popular e-bike has 5 modes of pedal-assist power (great for getting up those hills) up to 20mph, those ever-populr wide tires and a stable, comfy ride.