This Rumpl blanket review explains what you need to know about the Rumpl brand, the pros & cons, and the differences between the range of puffy blankets they offer, including the Original, Nanoloft, Nanoloft Flame, and down camping blankets.
In this review, we also provide an overview of Rumpl's other products, and how to choose which material and style of camping blanket are best for your needs, style, and budget.
---
Table of contents
---
About The Rumpl Brand
If you've been researching puffy camping blankets, the chances are you've come across Rumpl and their puffy down and recycled synthetic blankets (both the 'Original' and 'Nanoloft' versions).
Perhaps you even saw the company's founder negotiating a deal in Shark Tank and are wondering whether it's about time you treated yourself (or a lucky gift recipient) to an insulated blanket.
The idea behind the brand was inspired by a cold night spent in a campervan, where the founders dreamed about having insulated sleeping bag blankets that would keep them warm when the temperature dropped.
While the blankets were originally marketed as being ideal warm layers for camping and chilly evenings around the campfire, you may in fact find a permanent home for a Rumpl blanket on your bed or couch, ready for you (and your pets) to enjoy during movie night.
Because they're designed to be packable, portable, and versatile on account of being so lightweight and having water-repellent properties, other uses for these insulated, water-repellent blankets include tailgating, travel, backpacking, picnics, festivals, stargazing and, of course, van life.
If you work at home and spend a good deal of time sitting at a desk, you may also enjoy using your blanket over your lap and feet for warmth, or even wearing it like a poncho, over your shoulders.
---
The different types of Rumpl puffy blankets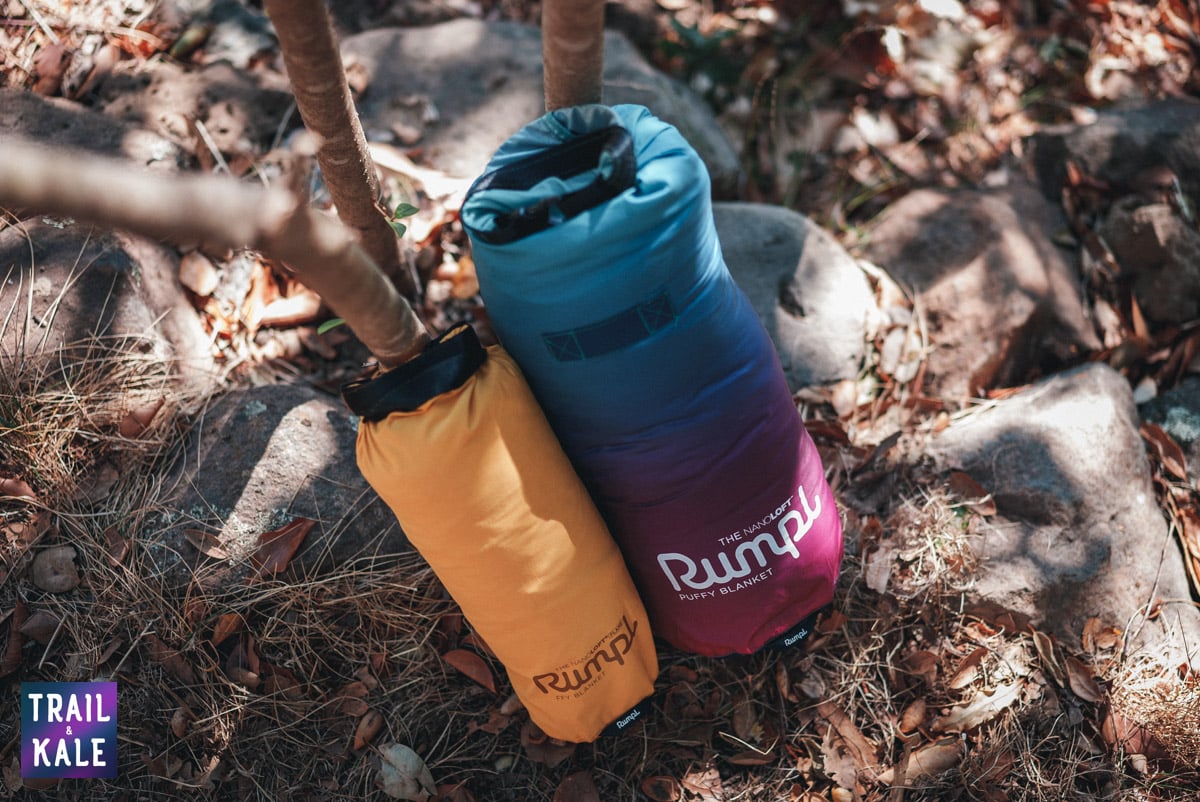 In the last few years, the brand has expanded its range of products to include different types of blankets, as well as other products such as quick-drying towels, puffy ponchos, and beer blankets (aka koozies).
When it comes to the Rumpls that are designed to be used 'everywhere' as opposed to just indoors, the current range includes:
There are also travel and kid-sized blankets in this category, but the versions above are the most popular options.
The Nanoloft Flame is the latest release in the puffy blanket range, and this is a special one because it has fire-resistant properties on the face side. This makes the Flame ideal for using around firepits, campfires and other open flames.
To learn more specifically about this version, visit our Rumpl Nanoloft Flame review.
It's also worth noting that Rumpl now also makes blankets designed for use indoors, including their fleece-style sherpa blankets, and soft Merino wool blanket designs.
---
Rumpl blanket materials, sizing, weight, and warmth
Materials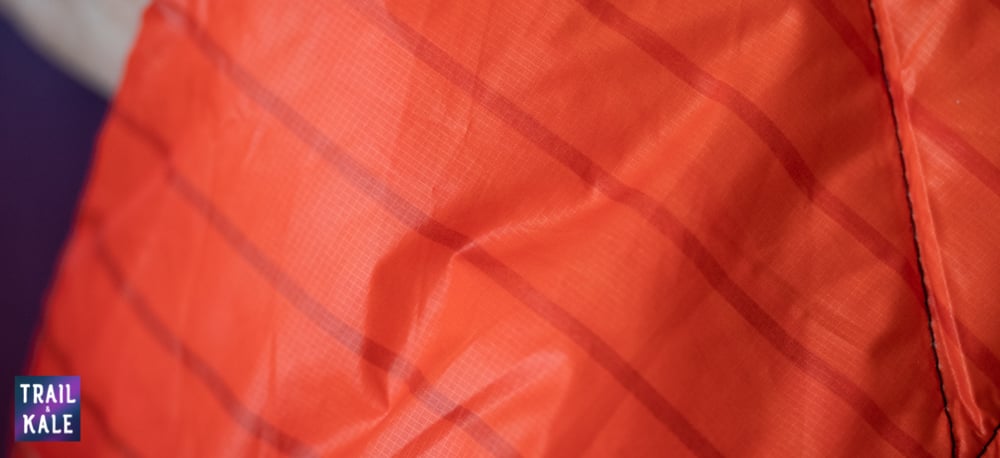 The 'everywhere' Rumpl blanket styles have 100% recycled ripstop shells. This material feels like a lightweight parachute or sleeping bag to the touch and is designed to repel water, stains, dirt, and odor.
The shells are treated with a water-repellent coating which means water beads and runs off them if dipped or splashed. It will soak through, though, over time so it's not designed to be left outdoors or used in water or heavy rain.
It's also pretty tough – it stands up to some abrasion, including pet claws. We are yet to make a hole in our Rumpl, but even if we did it can be readily sewn or patched, given it's ripstop material it won't unravel or 'pull' like other fabric such as wool blankets can.
Another benefit of the smooth shell is that you can simply shake off elements such as pet hair and sand!
Pet hair has a tendency to really cling to softer warm blankets and fleeces, so to be able to use the blanket around (and with) hairy/furry pets is a great advantage.
Plus, your pets will probably love it and steal your Rumpl from you at any given opportunity. Especially snuggle-loving dogs, and probably all cats known to man.
On the downside, if you plan to use your Rumpl on a bed, as it is a very smooth and non-clingy fabric, be prepared for it to slide off you (and possibly the bed) when you move around.
Both the Original and the Nanoloft Rumpls use 100% synthetic shells and fills. The difference between the two is that the Nanoloft fill is a down-alternative, which mimics the properties of down clusters, providing a greater warmth-to-weight ratio.
The Down puffy camping blanket is filled with sustainably-sourced 600-fill hydrophobic duck down, which is commonly used in warm camping and backpacking sleeping bags and quilts as it's so warm and lightweight.
Size options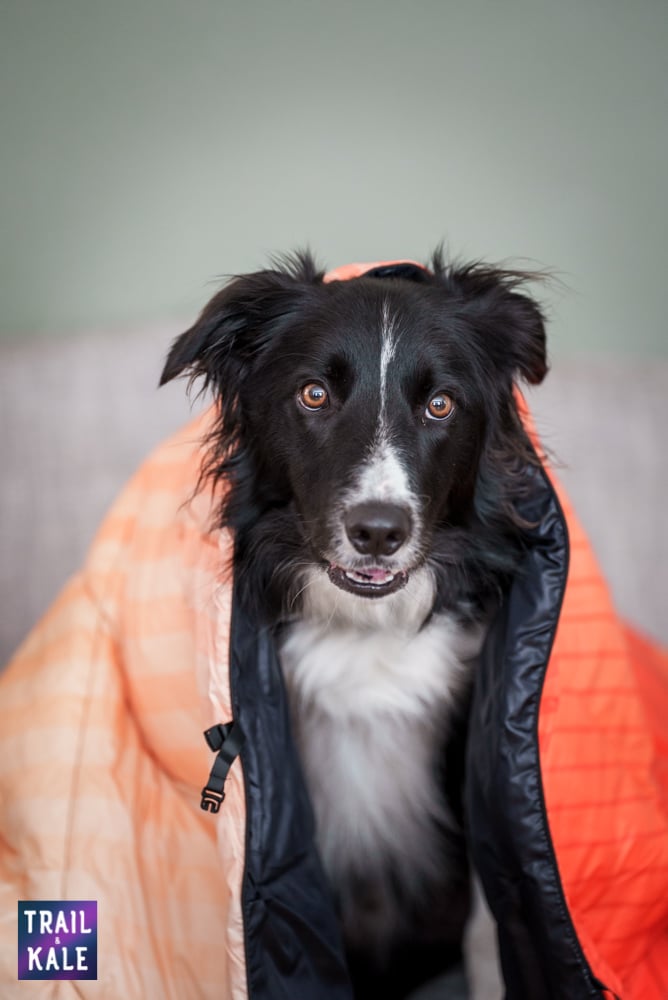 The 1-person Rumpls are the most popular and are ideal for one person or two people sharing on a couch or camping chair. The Original and Nanoloft measure 52 x 75 inches, the Nanoloft Flame is a smaller travel-blanket size, measuring 38 x 52 inches.
You can often see our whole family enjoying our Rumpls on our Instagram feed.
The 2-person Rumpl blanket offers more warmth as you can double them up if used by yourself, and are better for sleeping under when there are two of you sharing (or one of you that likes to spread out). The double Rumpl blankets measure 80 x 84 inches.
When packed into the included roll-top stuff-sack, the blankets measure either 6 x 14 or 8 x 16 inches, depending on which size you choose.
Weight and warmth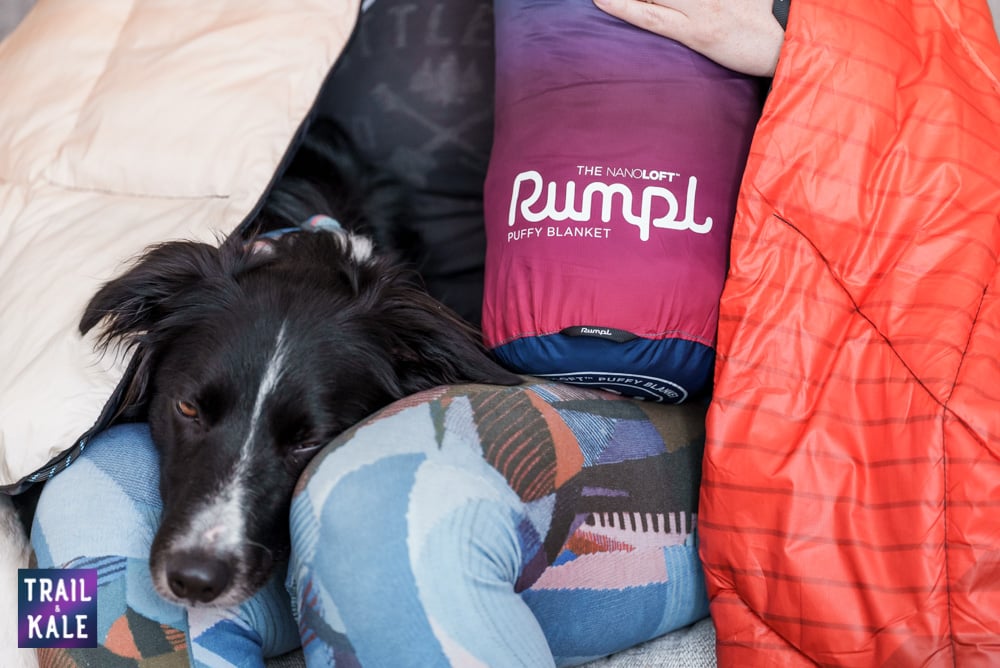 If you're looking for an ultralight down camping blanket, then consider the Down Puffy. It only weighs 1.2lb for the one-person option (2lb for 2-person) and so is the most lightweight Rumpl for adults.
Otherwise, there's only a small amount of difference in weight between the Original and Nanoloft puffy blankets. The main difference between these two really comes down to the warmth factor, with the Nanoloft offering more effective insulation:
Original: 1-Person: 2.1 lbs, 2-Person: 3.7 lbs
Nanoloft 1-person: 1.8lb, 2-person: 3.4lb
Rumpls are not temperature-rated like sleeping bags are. However, the company says their blankets should keep you plenty warm in 45º and above, and suggests that if you need added warmth, you could layer two singles or consider getting a 2-person blanket that you can fold over.
---
Other key features
In addition to the features mentioned above, these camp blankets have the benefit of being windproof, to keep the chill from a fresh breeze off your body.
Other features of the Rumpls include:
Paracord corner loops, for tying it down, or even joining two together (image above).
The 1-person Rumpls have a clip (that they call the 'cape clip') so you can wear it around your shoulders, hands-free (image below).
They come in a light compression roll-top stuff bag (see image gallery at the end of this post). They can actually be compressed further than what this bag provides, but it's a neat way to store the blanket when not in use.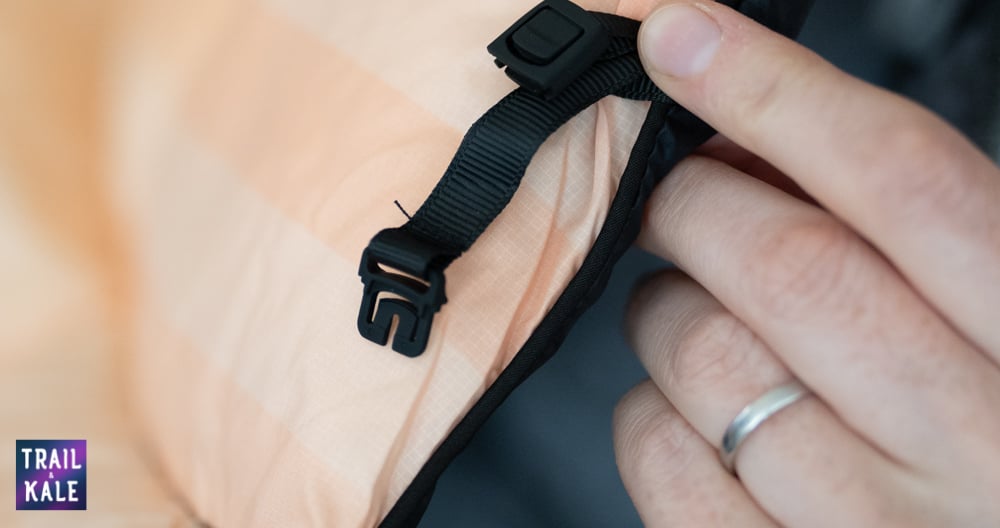 It's also worth noting that in addition to the most popular single-color and patterned options, such as the various 'Fade' designs like the one in the pictures, Rumpl frequently offers limited edition brand and artist collaborations, as well as special National Parks and NFL team edition blankets.
The National Parks editions include Zion, Grand Teton, Olympic, Denali and Glacier National Park designs.
---
How to wash the Rumpl camping blankets
All of the Rumpl puffy quilts are machine washable, and the company recommends you wash yours on cool or warm settings, with a minimal detergent that is less likely to adversely impact the waterproof treatment (DWR).
Their website suggests you can either hang the blanket out to dry, or tumble dry it on a low setting.
We find that the latter helps ensure that it is truly dry (and won't smell damp or musty) as the insulation can take a long time to fully dry out when hung out to dry.
---
Cost and where to buy
The cost of a Rumpl blanket starts at $99 for various editions of the Original puffy, with some of the limited edition designs and the Nanoloft Flame costing $129. Most styles of the Nanoloft puffy blankets cost $179, and the Down puffy costs $249.
Rumpl also offers free shipping, and free returns if you're not satisfied with your blanket within the first 100 days.
For the best choice of sizes and design options, including all the previously mentioned Artist design, NFL and National Parks edition Rumpls, head over to their website where you can also take advantage of any current special offers:
REI also stocks a variety of Rumpls so REI members may find a great deal, especially if you're shopping during an REI member sale event, and you can also find them at stores including Zappos (prices for the Original are compared below):
Rei.com
$125.00
See Deal
Rumpl.com
$125.00
See Deal
Amazon.com
$138.98

3 new from $138.98

See Deal
Zappos.com
$125.00

out of stock

See Deal
Last Amazon price update was: 29th September 2023 12:30 pm
---
Rumpl blanket review – video review of the Nanoloft Puffy
Our video review below demonstrates the key features of the Rumpl Nanoloft puffy blanket.
---
Review summary
Rumpl Blanket Review
PROS
Versatile puffy blanket, not just for camping
Great range of fun and limited edition designs
Material repels dirt, water and pet hair doesn't cling to it
100% recycled materials used on the Original and Nanoloft blankets
CONS
We'd like to see more designs in the 2-person size
The smooth fabric can slide off you if you sleep under it
---
Image gallery