The Leatherman FREE P4 is advertised as the most advanced multi-purpose tool ever made! So we were curious to get hold of one, find out what makes it such a great multi-tool, and share our thoughts in this Leatherman FREE P4 review.
At first glance, many multi-tools can look similar, or advertisers seem to place too much emphasis on the number of tools they include, rather than how good those tools are and how easy they are to open out, use safely and put away again. All of these multi-tool aspects are where the FREE P4 really stands out.
The FREE P4 is a stainless steel multi-tool which looks the business even when closed, with its perforated-metal exterior design.
It is sold with a gray nylon case, although depending on how and when you (or the person you are buying it for) will use it, it may spend more time out of its case and clipped on to a belt or bag using the integrated belt clip (which can also be removed if you don't want to use it).
This Leatherman FREE P4 review covers the key features of the P4, how it compares to the P2, what differentiates the Leatherman FREE tools from other multi-tools as well as the pros and cons in our review summary.
---
Leatherman FREE P4 Review – Table of Contents
---
Key features of the Leatherman FREE P4: what makes the Leatherman FREE P4 special?
The Leatherman FREE P4 is designed with ease of use in mind. Other, cheaper multi-tools I have had in the past have been fiddly to use, whether because blades or tools are stiff to open, do not stay open, are not large or durable enough to stand up to use and wear-and-tear, or they're just not comfortable to use.
Specific features of the Leatherman FREE P4 include:
One-hand operable, with all tools accessible from the outside
All-locking feature
Leatherman FREE series magnetic locking mechanism
To elaborate on these features:
Every feature on the Leatherman FREE P4 tool can be opened and operated with one hand. This enables you to keep the other hand free for situations that require multi-tasking or a free hand.
It also means that if you only have the use of one hand that the tool should be easier to use than alternative multi-tools available.
In addition to every feature being operable with one hand, every tool and knife on the body of the handle, except the plier's head, locks into place.
This means that if the tool is suitably locked into place, then it should not move while in use.
The magnetic locking system allows smooth, quick access to tools. It feels really nice to use, and it's pretty fun working out how to open and close each tool one-handed, in a slick gun-slinger stylee.
---
Leatherman P4 Review | List of the 21 tools included on this multi-tool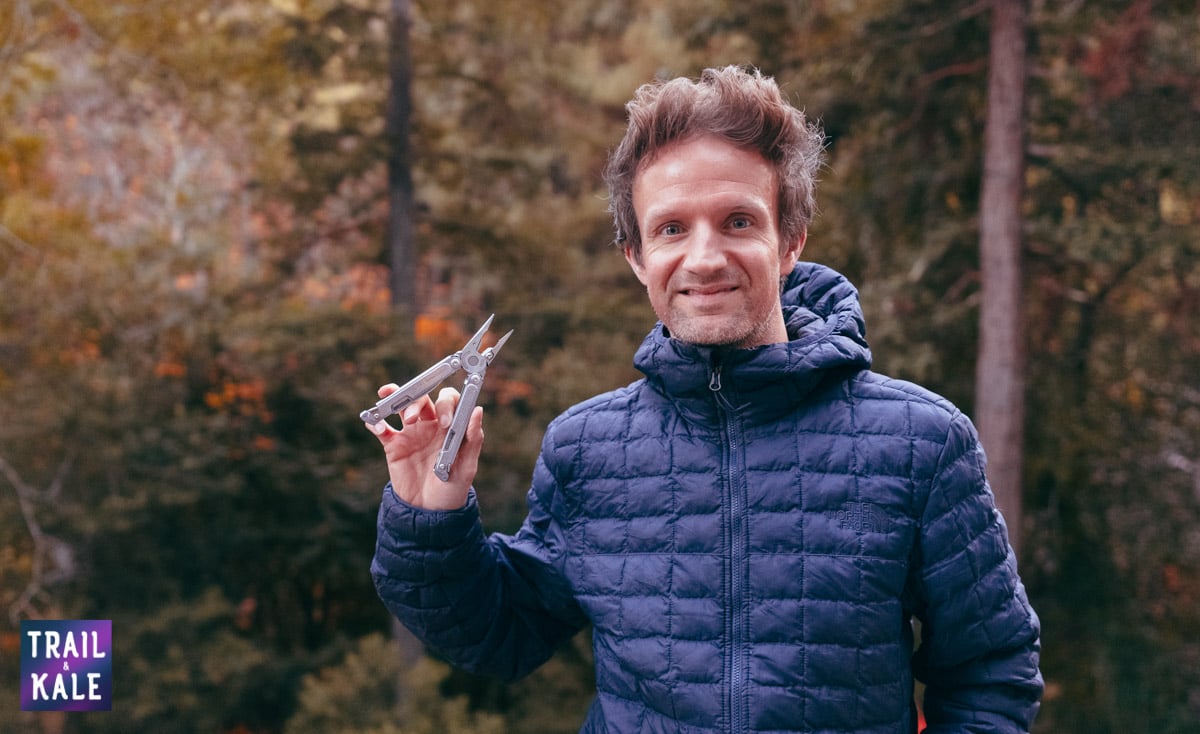 Needlenose pliers, regular pliers, replaceable wire cutters, replaceable hard-wire cutters, 420HC knife, 420HC serrated knife, spring-action scissors, saw, pry tool, package opener, awl, can opener, wire stripper, ruler, wood/metal file, bottle opener, electrical crimper, philips screwdriver, medium screwdriver, small screwdriver, extra-small screwdriver.
---
How does the Leatherman FREE P4 compare to the Leatherman FREE P2?
The Leatherman P4 is described as a more robust version of the P2, specifically: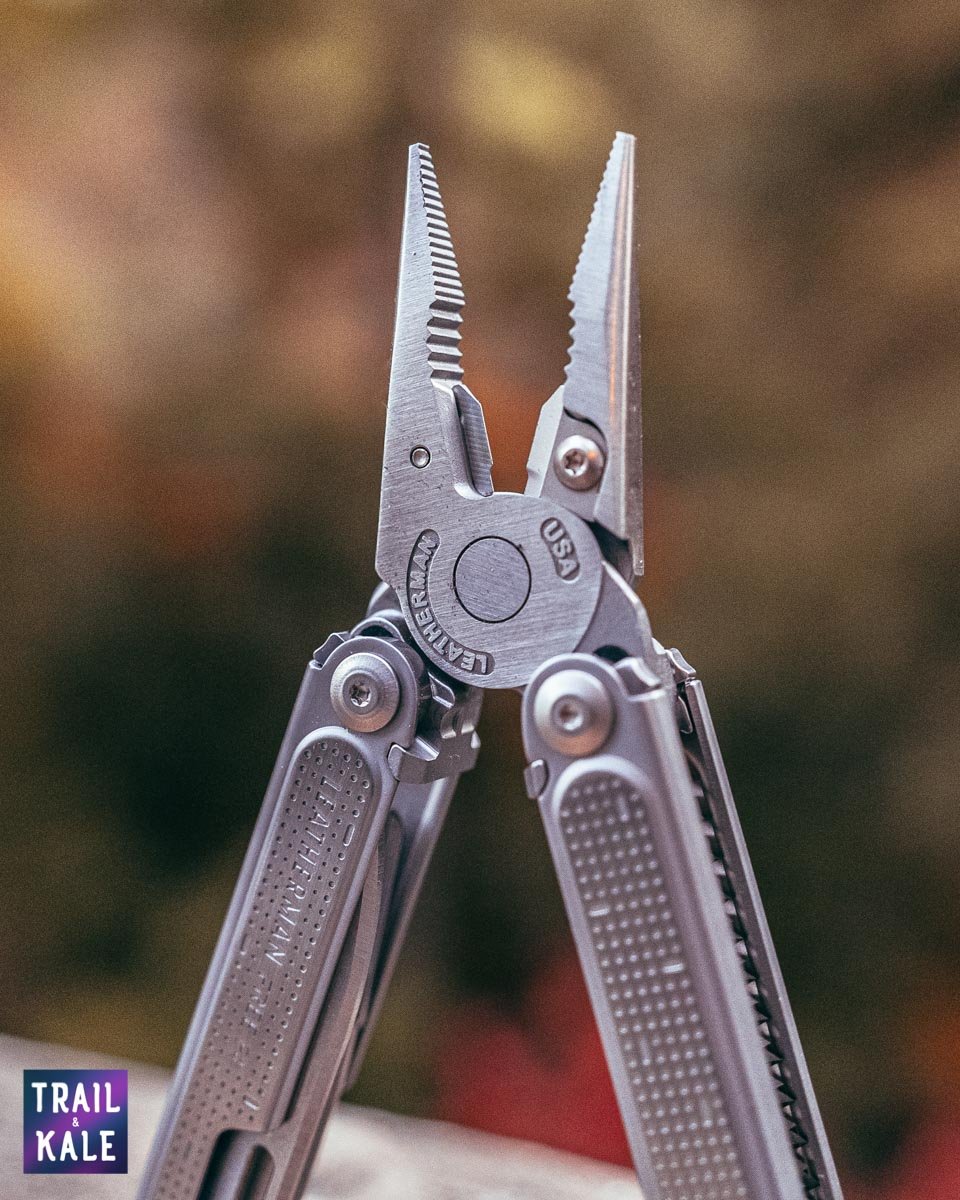 The Leatherman FREE P4 includes a saw and a 420HC serrated knife
The FREE P4 weighs 1oz more than the FREE P2 and is 0.03in thicker to allow for the two additional tools.
At the time of writing this review, the FREE P4 costs $20 more than the P2.
The FREE P4 measures 4.25 inches when closed (the same as the FREE P2). The FREE P4's relatively lightweight compared to other similar spec'd multi-tools is very impressive.
As another comparison, the 8.6 oz is significantly lighter than my Leatherman Surge, which comes in at 12.5oz. Like the Leatherman FREE P4, the Surge comes with 21 tools, and you can read more about that Leatherman in this post.
However, as the FREE P4 is that much lighter than the Surge that it makes an even better choice if you're planning on carrying your Leatherman multi-tool around with you on your person or in a backpack, for example.
My FREE P4 now lives in my backpack and the Surge lives in our Sprinter van.
---
Other features of the Leatherman FREE P4
Leatherman custom blade engraving
Another neat feature of many Leatherman multi-tools is that you can have the main blade custom-engraved on your Leatherman FREE P4.
The company offers a range of patterns, such as constellations, wood-grain, and stars-and-stripes, or you can have custom lettering or a design engraved instead.

The blade engraving is a really nice touch if you're looking to personalize a gift, or to make damn sure that everyone knows it is YOUR Leatherman because it has your name on it 😉
Where is the Leatherman FREE P4 made?
As with all Leatherman tools, the FREE P4 is designed and made in the US, by Leatherman in Portland, Oregon. As with other Leatherman products, the FREE P4 is covered by their 25 year warranty.
---
Leatherman FREE P4 Review Summary
While individuals may have varying needs for the size and range of tools contained within a multi-tool, if the 21 tools included in the Leatherman FREE P4 meet your (or your gift recipient's) needs, then it is really hard to fault this multi-tool.
It looks good, feels good, and is ergonomic to use.
Leatherman.com
$139.95
See Deal
Amazon.com
$149.95

3 new from $149.95

See Deal
Rei.com
$149.95
See Deal
Backcountry.com
$149.95

out of stock

See Deal
Last Amazon price update was: 4th December 2023 1:30 am
Leatherman FREE P4 Review
PROS
One-handed use and smooth locking, opening and closing
Smart, stainless steel appearance
Solid, yet lightweight compared to other 21-tool multi-tools
Customizable blade engraving option
CONS
One of the more expensive Leatherman multi-tools
In my opinion, once you've had a multi-tool you can open with one hand like the Leatherman FREE P4, you probably won't ever go back to fiddling around with one that requires more effort to use.
The only downside may be the cost, however as we often find ourselves saying, you do get what you pay for, however if you are looking for a high quality tool that is easy to use and will last many many years, then the FREE P4 makes a great choice.
---
Leatherman FREE P4 Review Photo Gallery